As many things of value, the first person to introduce me to Trader Joe's was my older sister. She was living in Boston and we went into this tropical-style hippie "grocery store" where she showed me different things that she was buying and me (as a 17 year old who could care less about grocery shopping) nodded along paying more attention to the cashiers in their floral shirts then my sister. What did catch my attention is when she told me that I had to try these peanut butter cups that were better than Reeces. Not possible dude. But they were, they so were.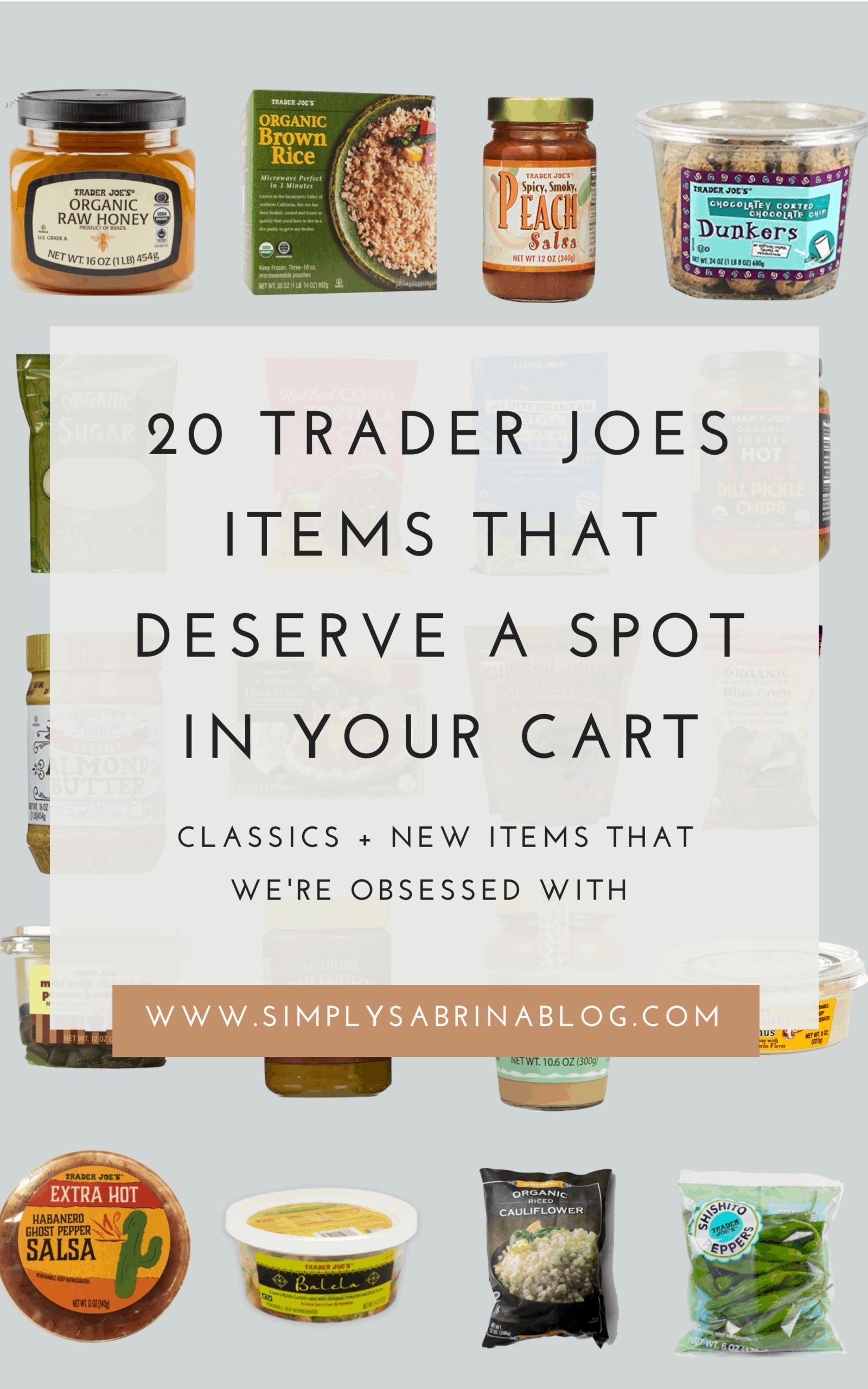 Trader Joe's Essentials That You Need
I did my first Trader Joe's shopping list post about a year ago here and it was such a hit. I know they are constantly coming out with new products and throughout the last few months Sahir and I have been sampling our way through the store. Today I wanted to share our Trader Joe's picks that always make it back into our cart.
Related: Beginner's Guide To Trader Joe's

Organic Raw Honey
Tea will never be the same with regular honey. While local is always best, there is something magical about raw honey that you can't get with the teddy bear squeeze bottle.
Organic Frozen Brown Rice
This is a freaking lifesaver. Sahir and I prefer it to regular rice and it takes 3 (yes THREE) minutes to cook in the microwave. The box has 3 packs in it which are perfect for 2 people. Instant (and delicious) rice!
Spicy, Smokey Peach Salsa
Normally we opt for spicy salsas or just make our own, but lately we have been into fruit in our salsa: mango salsa or peach salsa and this Trader Joe's one is awesome.
Chocolatey Coated Chocolate Chip Dunkers
Chai and toast? Chai and biscotti? How about the real deal – chai and cookie! These dunkers don't last very long in our house (mostly because I break them off and eat them as cookies throughout the day) but they are essential for chai time in our house. You can see my favorite chai recipe here.
Related: The Best Homemade Salsa Recipe That You'll Be Addicted To Making

Organic Sugar
Another favorite in our home is raw sugar. I don't know how we used to use refined sugar, there is just a whole new experience with cane sugar and I'm not going back to the old one – you can't make me!
Rolled Corn Tortilla Chips: Chili & Lime Flavored
If it walks like a duck & talks like a duck… it must be a taki! Takis are like the new Doritos and I was obsessed – until I tried the Trader Joe's version. Not only are they healthier(ish) but they taste even better than Takis. You can't miss this hot pink bag, but fair warning when you open the bag you'll probably eat the whole thing.
Mediterranean Style Salad Kit
I'm not a huge fan of salad kits but this is one that I will make an exception for. I like that the lettuce and veggies are already chopped and it has a variety of textures and flavors in it. The dressing is a light red wine vinaigrette which is always nice!
Organic Kosher Hot & Spicy Dill Pickle Chips
I'm high-key addicted to pickles. Kosher sour pickles have been my jam for pretty much my entire life, but my sister recently introduced me to hot pickles and I'm kinda digging it. I'll still always have a spot in my heart for a good old deli pickle, unless it's a sweet one – yuck.

Creamy Almond Butter
Trying to cut out dessert after dinner? Opt for a piece of whole grain toast, a thin slab of Almond Butter and a sliced banana. You'll feel good and full after this "sweet" treat and your body will thank you too. So much goodness in this!
Frozen Chicken Tikka Masala
Normally I wouldn't eat any store bought Chicken Tikka Masala and certainly not a frozen one – but I mean this as the biggest compliment when I say it's not that bad. Great to keep for a rainy day when you just need to eat something. It's under 300 calories and actually well portioned and delicious. Keep this one in your freezer.
Chicken Recipe Jerky Strips
This one is NSFH – that's "Not Safe For Humans" this is actually if you have a furry friend! Theo is obsessed – literally obsessed with his Trader Joe's dog treats. Each bag is about $2-$3 and worth every penny. Theo loves it and we love giving them to him.
Organic Stone Ground Blue Corn Tortilla Chips
With all the salsa on this list, I had to give you some chips with it. We've tried a bunch and keep returning back to this one. These round blue corn tortilla chips are flavorful and full of nutritional goodness. Now you can snack on salsa to your heart's desire.
Related: Foods That You Must Buy Organic

Mini Milk Chocolate Peanut Butter Cups
I mentioned these earlier, but this is where it all started. Better than Reeces' Milk Chocolate Peanut Butter cups do exist and they even come in minis in case you were wondering what to bring over as a housewarming present for your friends.
Crunchy Cookie Butter
Again, let's blame my sister for this one (or praise her?) You know when you get on a Delta flight and they ask if you want the cookies? Those buttery, delicious cookies are pretty much what Cookie Butter is made of and I wasn't living until I tried the crunchy one.
Trader Joes Organic Tahini
Tahini is a key component in making hummus, but it's actually great for making salad dressings too. I want to try out Gaby's Avocado Kale Caesar Salad and her dressing is made from Tahini instead of the normal fatty things in caesar salads. Yum!
Roasted Garlic Hummus
Hummus is a weekly purchase for us and Sahir and I pretty much tried all of the types of hummus at Trader Joe's (except the Chocolate Hummus because a) It's new and b) Ew. — anyways, we ended up on this one. May not be great for first dates, but otherwise Roasted Garlic Hummus is where it's at. Sprinkle with Sumac or Z'atar for extra seasoning.

Habanero Ghost Pepper Salsa
As I mentioned before, we are big salsa fans in the Molu household. I saw this recommended on Instagram, the girl literally said she cries while she eats this but keeps eating it anyways. I thought she was crazy… and then I started doing it too. Oops
Balela
Making a chickpea salad is super easy, but if you want an extremely quick dinner – Trader Joe's also has premarinated Chicken Shawarma that you can toss on the grill or in a frying pan and have a side of the Balala salad.
Organic Riced Cauliflower
Trust me when I tell you that this is hands-down the best Cauliflower rice you'll ever have. In this case, frozen is best and I've done my research. Fresh cauliflower rice can get mushy, but this riced texture will have you fooled that you're having the real thing. I highly recommend starting with a dish like Stir Fry to get you accustomed to Cauliflower rice.
Shishito Peppers
I talked about this on Instagram a few weeks ago, but boy do I love my Shishito peppers. These are not spicy peppers, but they say 1/10 can be spicy. We like to toss them with Extra Virgin Olive Oil and then pop these babies into the oven and bake them at 375 degrees for 8-10 minutes. Sprinkle with Kosher salt after and enjoy!
---
Would love to know what's in your Trader Joe's cart! Send me a DM on Instagram and tell me what to include in my next list!