Can't decide if it's awesome or appalling that this is now the third Trader Joe's post that I've done, but let's go with awesome. TJ's is such a destination for affordable specialty items and it's easy to get overwhelmed if you don't know what you're searching for. These 7 items are new finds that I've found and I'm including a full checklist below if you're interested in more items that are Simply approved.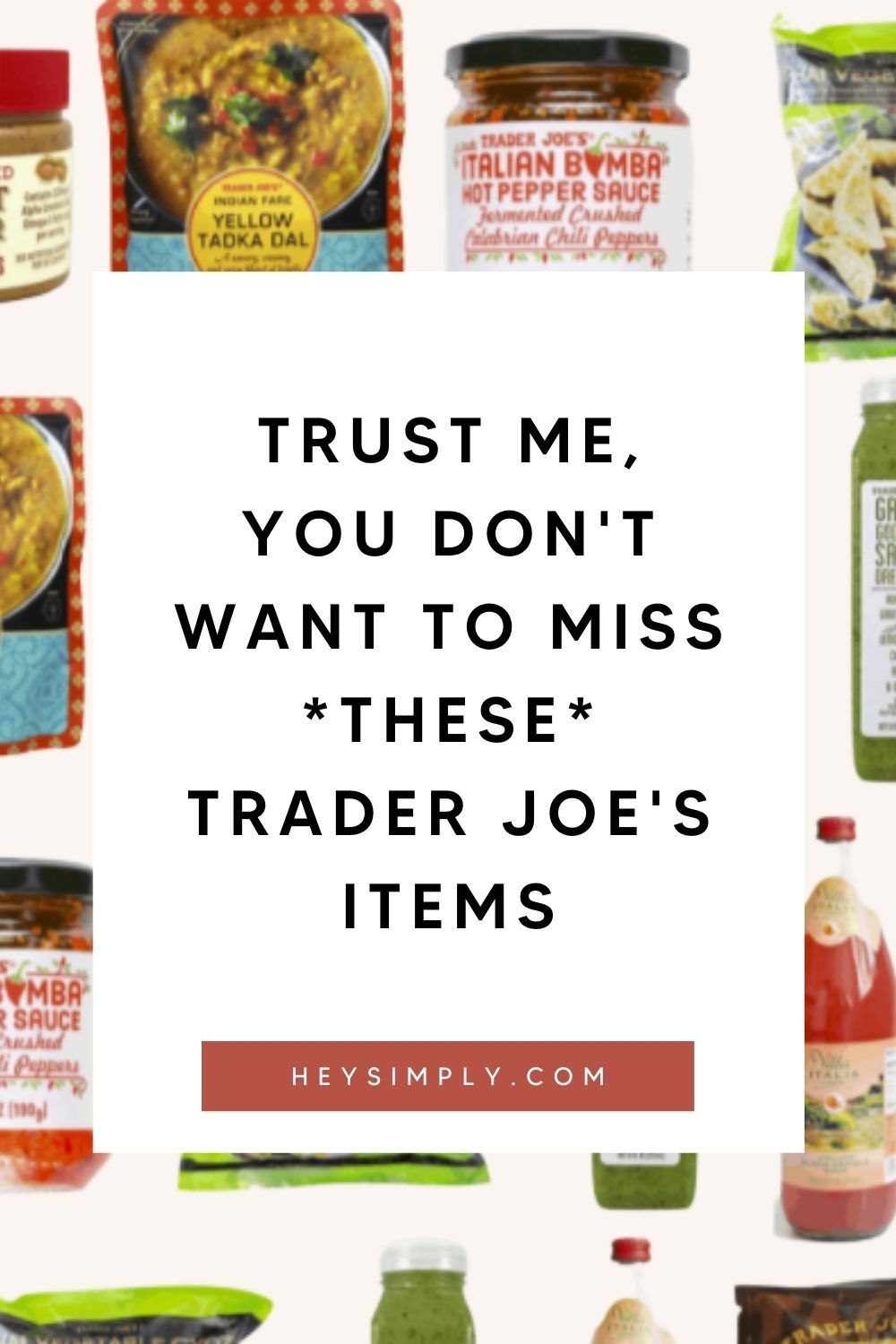 Italian Bomba Hot Pepper Sauce
One of my favorite food bloggers, The Chutney Life, told me about the Italian Bomba Hot Pepper Sauce from Trader Joe's. It is made of Calabrian chilis and is great on pizza, pasta, and my personal favorite – eggs. Strange I know, but don't knock it until you try it!
Related: 20 Trader Joe's Items To Add To Cart
Taco Seasoning Mix
My bar for successful taco seasoning is pretty damn low. Old De Paso gets the job done and we are used to just adding a little cayenne pepper because nothing is ever spicy enough for two Pakistani-Indians. But then comes this little gem, $.79 cents a pack and boy it's so good. It's spicy, it's tangy and outright delicious. No extra seasoning needed! (Note: we've tried this on ground beef and turkey and both turned out great!)
Crunchy Salted Peanut Butter with Flax & Chia Seeds
Sahir is the peanut butter fanatic in our home. I'm more of a cookie butter person myself, hehe, remember my Trader Joe's round-up here? But in case you are a peanut butter person (obviously crunchy not smooth, don't be a serial killer) this one is chock full of goodness and is delicious on a piece of toast, sliced banana, and a drizzle of honey.
Thai Vegetable Dumplings
I love dumplings but, unfortunately, most of the ones that I find out are made of pork, which I don't eat. The good news is that veggie dumplings are a new thing and -dare I say it? Better than the meat ones! I took these to a girl's night dinner and it was such a hit. It is easy to pan fry them, but for the record, I've also tried air-frying them. The latter option makes the dumplings a bit crispier, but tasty nonetheless.
See Also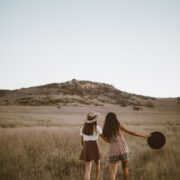 Yellow Tadka Daal (Lentils)
Okay so don't take away my South Asian card, but this Trader Joe's Daal is actually kind of amazing. My initial expectations were pretty low. In fact, I kept this little packet tucked away in my pantry for weeks until my mom came over because I wanted her to help me "fix" the daal i.e. add tadka (or tempering) which is the technique in which ground spices are quickly roasted in oil to make their flavor more aromatic and make this daal more appealing. It turns out that even my mom was impressed and said that no tadka was necessary. Win! Note: It is a single-serve packet and we always warm it up on the stove vs. a microwave.
Villa Italia Blood Orange Soda
If you aren't a big soda person but like to have something stocked in your home for guests, then this is for you. I love Blood Orange soda after my sister introduced me to it ages ago and now my friends always ask for it when they come over. The Villa Italia Blood Orange Soda is also great mixers for cocktails and you can sugar the rim and add some herbs if you want to style a mocktail too!
Green Goddess Dressing
This is one of those things that you hear about a hundred times, but don't try it. Sahir and I finally caved and bought the Green Goddess dressing and we love it! It's an easy staple in our home and I get the hype. I generally like to add a little lemon on top of my salads and I added it to this dressing too. As always, making your own dressing is best, but if you don't have the time then this is my favorite store-bought option.
---
I hope these Trader Joe's gems find their way into your cart soon. I love discovering new products so I've left something off the list or need to try your favorite Trader Joe's item, send it my way on Instagram!