There's nothing like a cute pair of workout attire to inspire you to put on your sneakers and break a sweat. Or… just lounge around your house. Trust me, I'm not judging. Whatever your ammo is, if you need an excuse to buy cute new workout clothes here's two: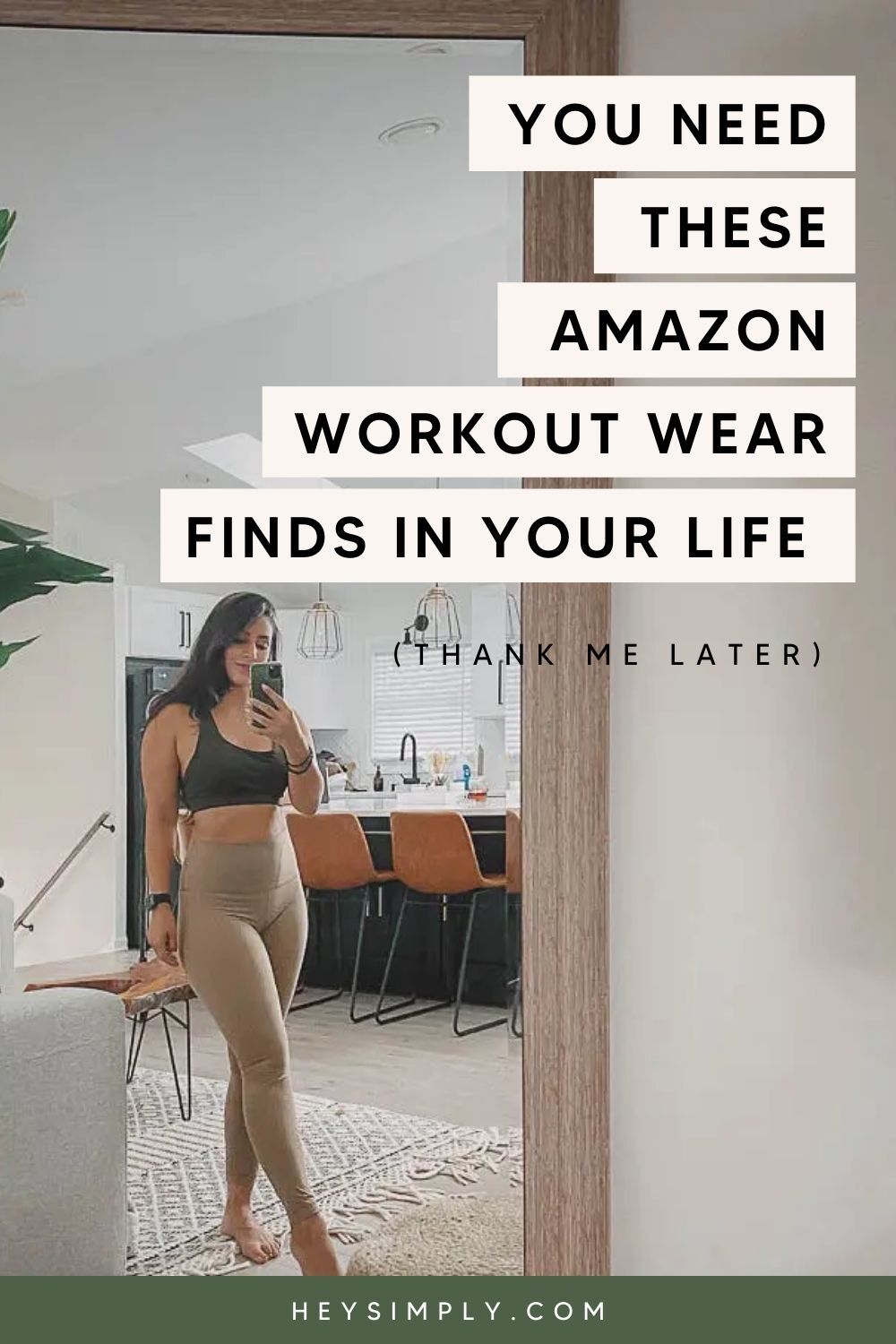 1) These are all extremely affordable and 2) They are from Amazon – so you literally have no excuse. Bonus: I bought them all first, tried them on for you – and have created an entire review.
Yes, squad – you are welcome.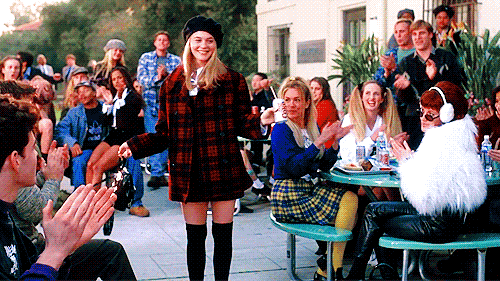 Amazon Workout Wear Finds Under $50
These buttery soft leggings may not a very popular brand that rhymes with Moomoo-melon, but they sure are similar. I bought the tan color because I wanted to test if they were squat-proof and sweat-proof.
The verdict? These leggings are high quality and something I would definitely purchase again. I get the hype and with the color range on these, you'll be pleasantly surprised.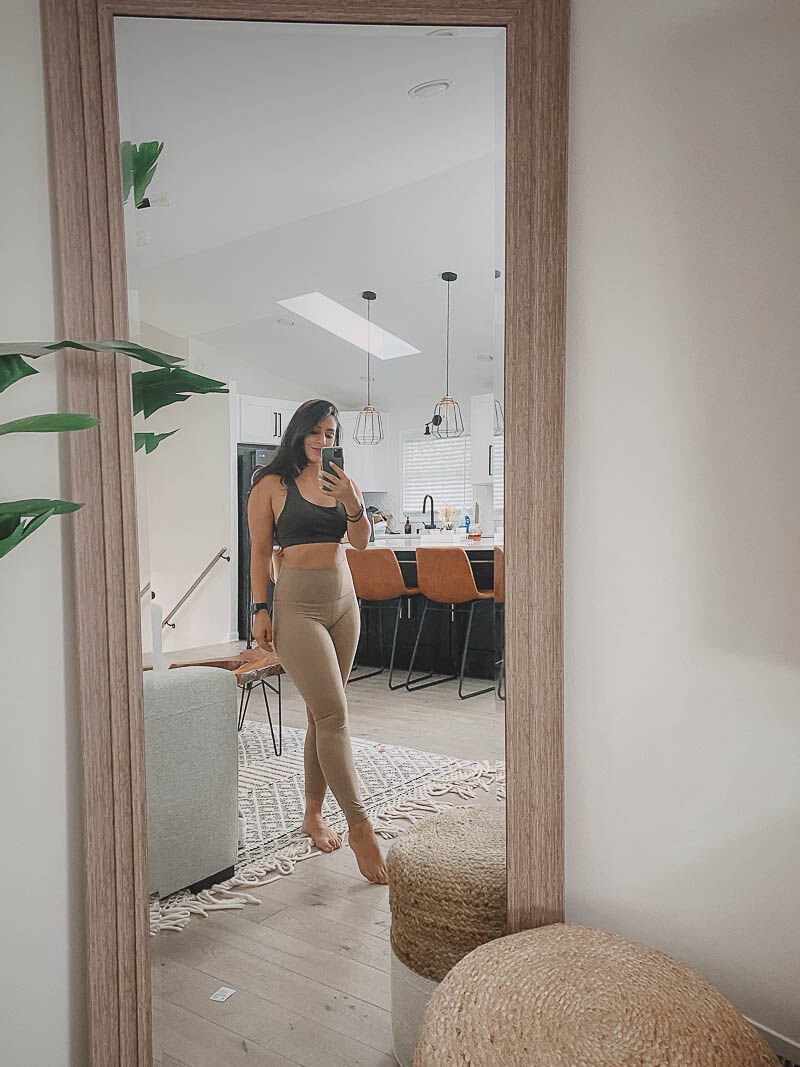 I'm usually a size 2/small and ordered the small here. They listed it as a 4/6 but it fits perfectly.
I used to shy away from wearing white when I workout which was clearly a mistake because hello, tan skin looks ah-mazing in white! But when sports bras are made of thin material it can quite literally be a recipe for disaster.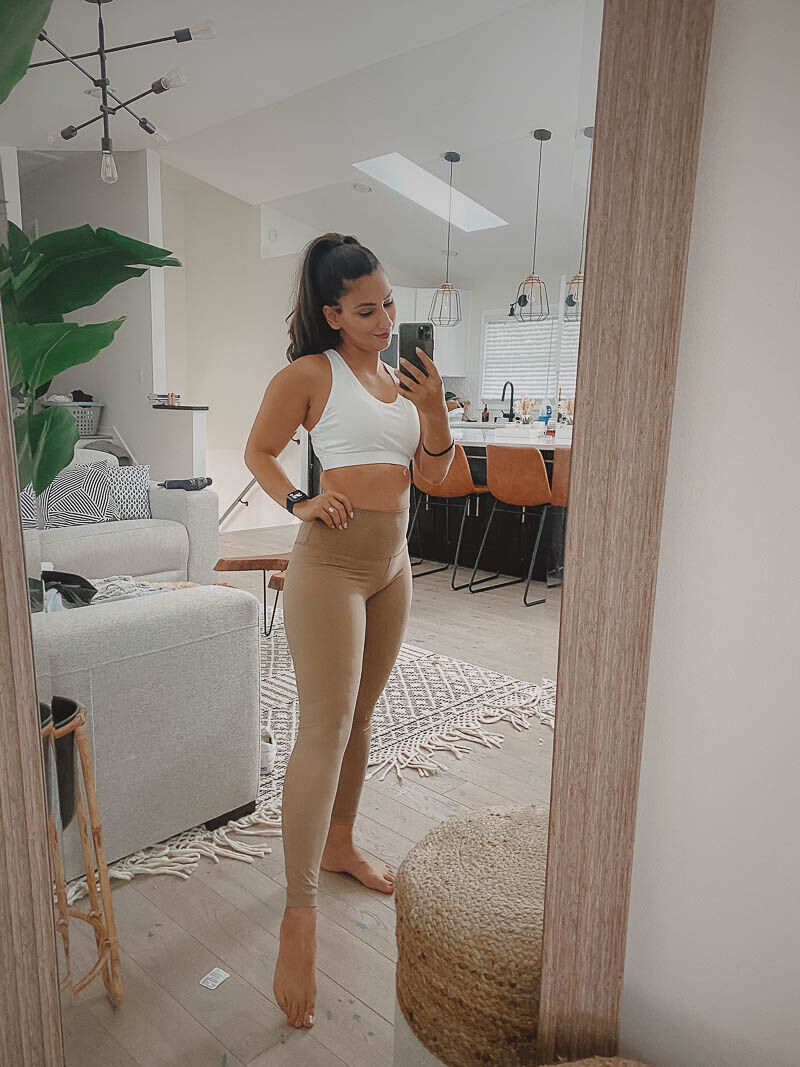 Not only this sports bra padded, stretchy, and comfortable – but it also allows me to take it on and off without wanting to poke my own eyes out. If you've ever gotten sweaty enough in a sports bra – you know what I mean and if you don't know what I mean you're probably a man. Hi, welcome to my blog, it's generally written for women but perhaps you wandered here looking for a gift for a lady in your life or maybe you lost a bet, either way, welcome.
I also got a small in this. Truth be told, are there cheapest sports bras? Sure. Are there more expensive ones? Yes. But there are $10 leggings and you know that one use items aren't worth the money you spend.
You don't need to spend over $50, but invest in sports bras at will keep you comfortable and last for a while. This one is worth the price at $18.
Finding the perfect crop top length is like finding a $20 in old jeans. Possible, but not probable. I love the length of this sweatshirt for warmups and cool downs. I generally prefer to workout in a sports bra or fitted tank, but especially for warmer weather these long sleeve hoodies come in handy.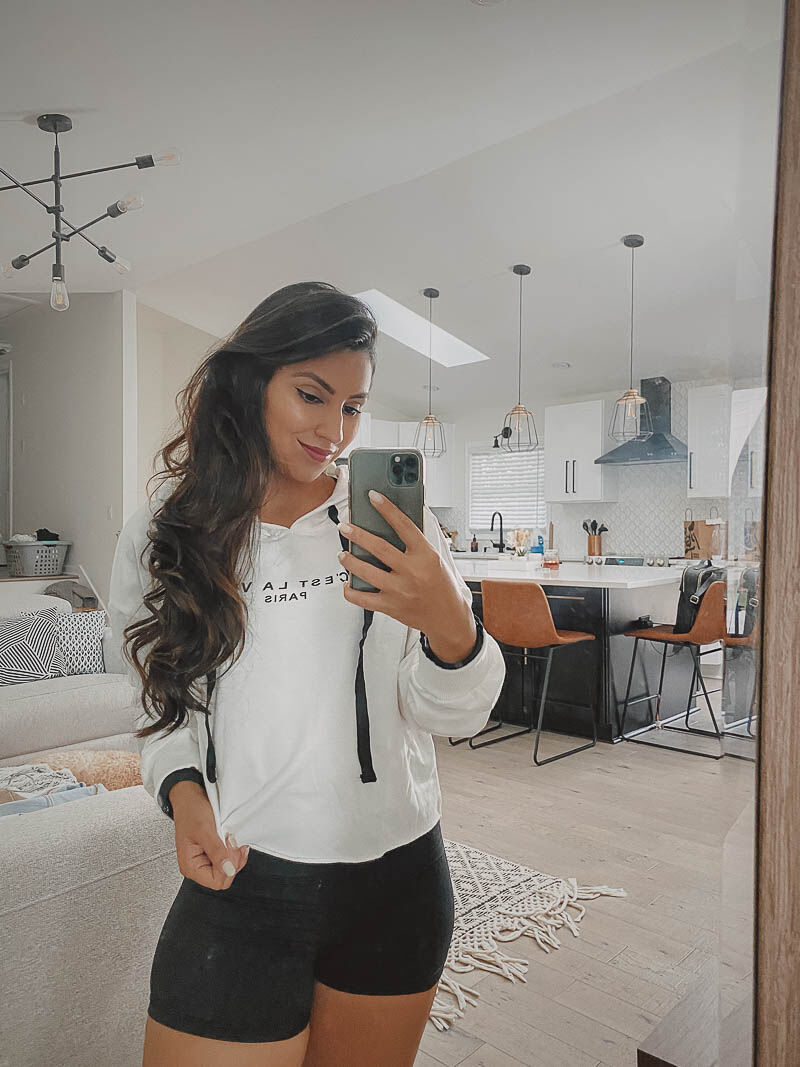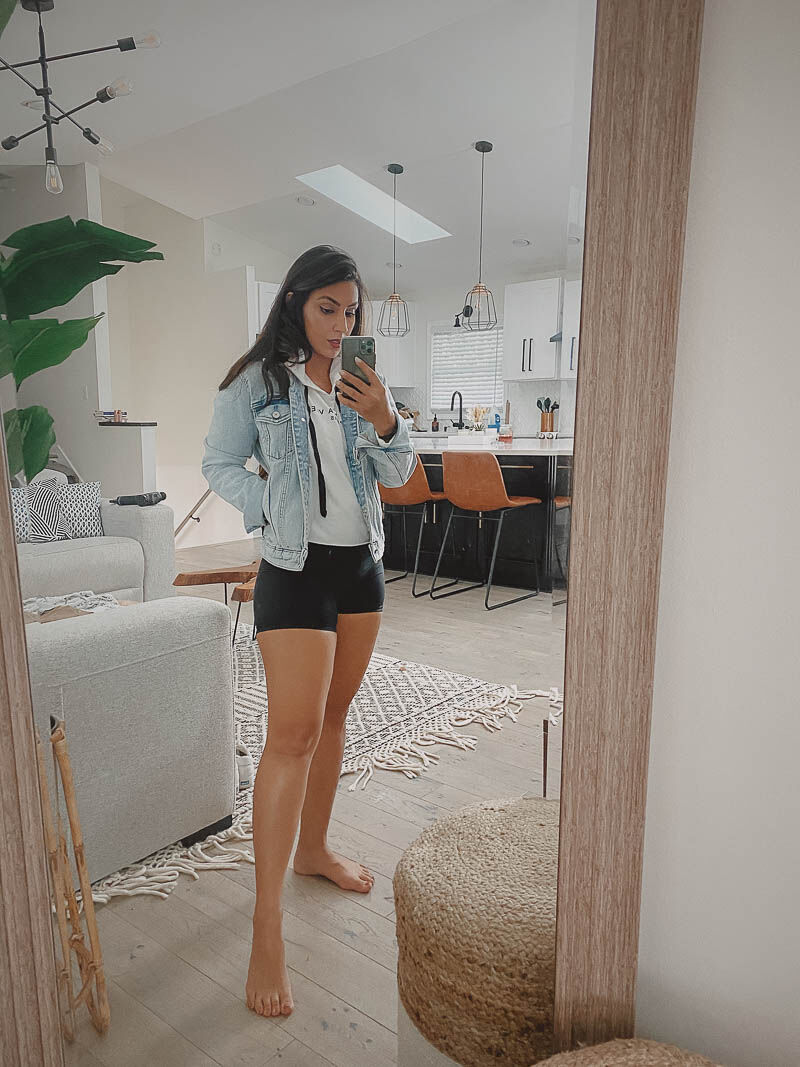 Also, I miss Paris so there's that. This sweatshirt will take you from Fall to Spring as a light layer that's easy to put on or take off. Plus its under $25 & a steal!
I paired this with a cropped denim jacket to give you an alternative way to wear this. Obviously, opt for black joggers or leggings over bike shorts in colder temperatures.
I wear a ton of black bottoms so finding complementary tops is the epitome of a first world problem. This sports bra is comfortable, padded, and is dark green in the front and had black accents in the back.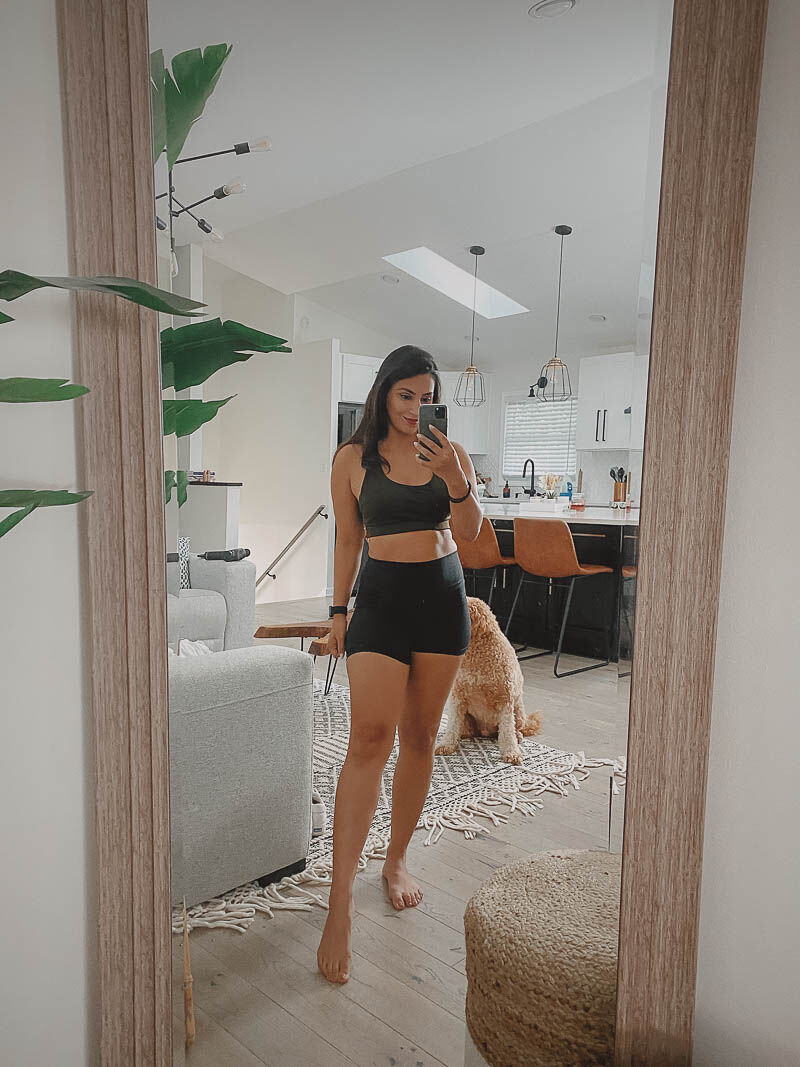 Not sure why I always prefer wearing black when working out. Probably some residual 2000s brainwashing from Kareena Kapoor or the Kardashians.
This sports bra is under $17 and I plan on getting it in multiple colors. You can snag one off Amazon here.
I've bought and returned 4 different pairs of bike shorts looking for the perfect ones. I was quite certain they didn't exist. I found that for my height a four inch inseam was what I was going for.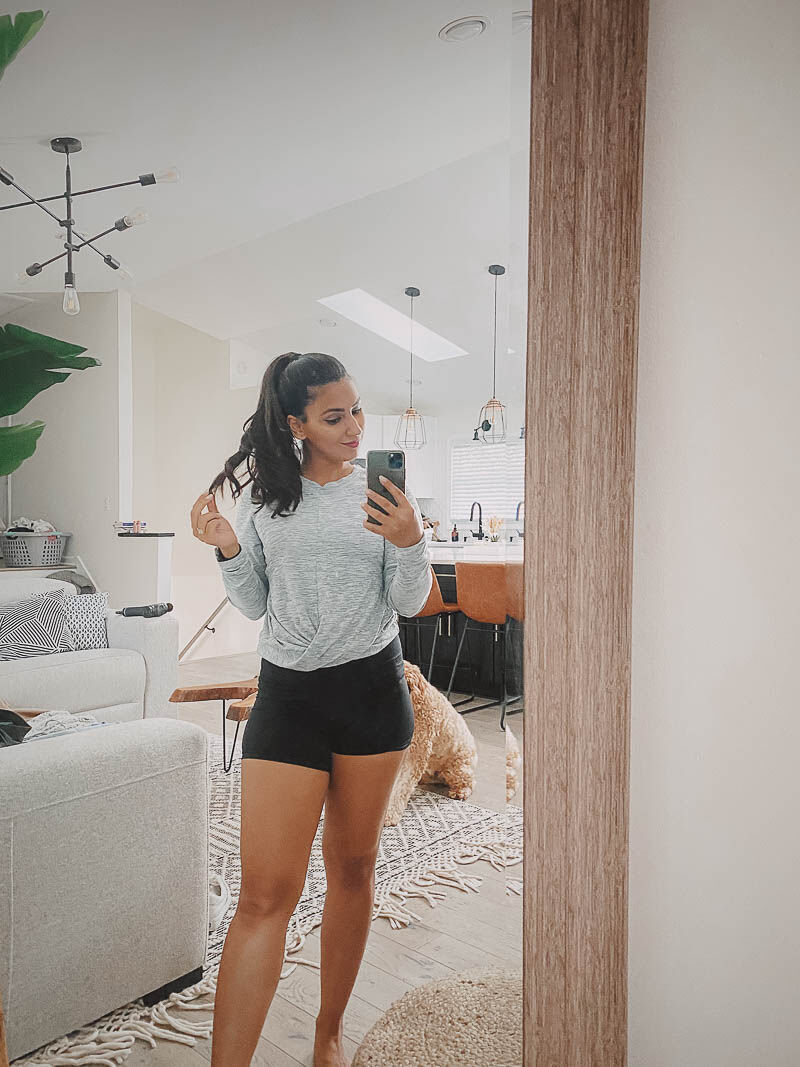 Are these traditional biker shorts? No. Those fell into the pits of hell somewhere along with the year 2020 – but these are what I like to call a new and improved version that I can get on board with. I've been wearing these when I spin and workout – so worth it.
Okay, I'm kinda cheating with this one because it's not quite activewear, but I've been living in these bralettes for the past few months and I had to share. I bought the 4 pack of these and it comes in black, white, grey, and tan and I wear one pretty much every day.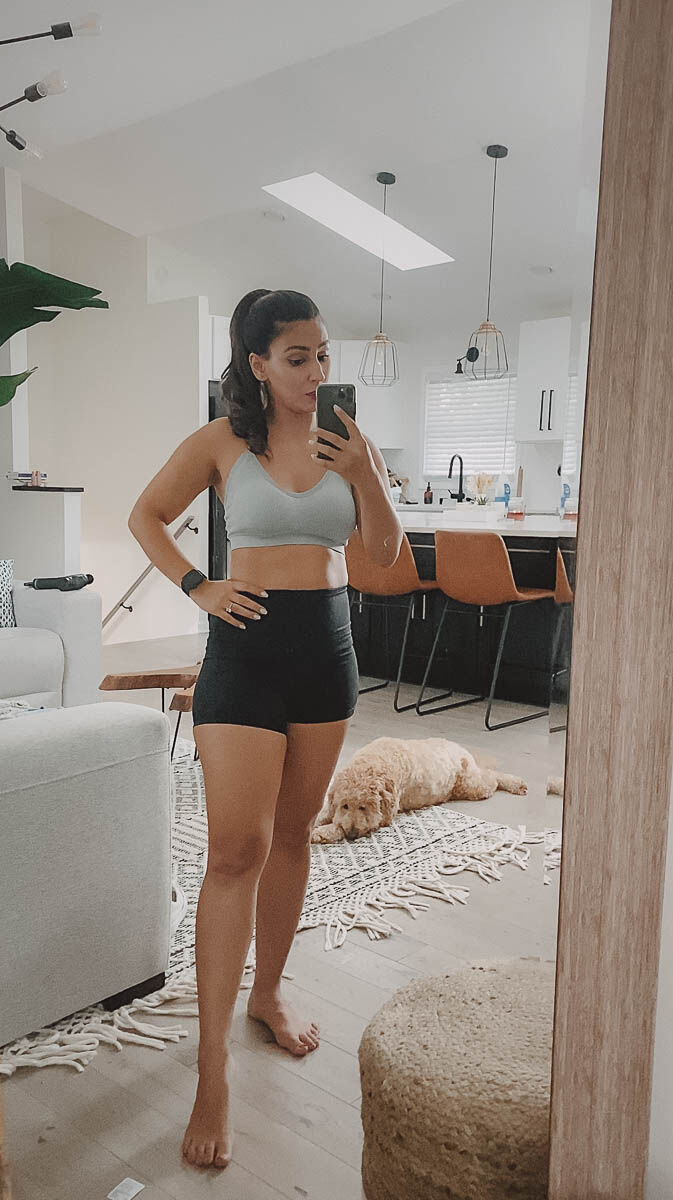 Since I work from home the chance of me getting dressed for the day is already pretty slim, and if you add underwire to the mix it's even lower. This four pack allows me to always have a padded bralette in rotation. You can get the entire pack for $23 which breaks down to less than $5 per bra. Buy the set here.
Amazon reviewers swear that this bra is just like a particularly famous brand. While I will admit that the length (more crop top vs. bra fit) and cross-back pattern is similar, you can be your own judge.
My own is in the wash which is why it didn't make it to the photo session, but trust that you should testament enough. I will say that I'm usually a size small and went with a size 4. In the future, I'd probably size up even more and go for the next size just to have a little more breathing room. You can get the link here.
I hope you loved this Amazon round up. You can shop all of the items directly from my Amazon page here.