I was ecstatic – no, that's not ___ enough, I was over the moon when Drunk Elephant sent me a package of their best sellers to try out. I, like you, was so curious about the social media sensation that is Drunk Elephant skincare products. Instead of casually trying out a few products I spoke to my dermatologist and safely made a full switch and did 30 days of only Drunk Elephant products and now I'm ready to share the results. Ready? Here's my honest review of Drunk Elephant products.
What's Drunk Elephant
First a little background: Drunk Elephant started as and all products are made, designed and tested in the US. They say they are committed to only using ingredients that directly benefit the skin's health and pick them based on their biocompatibility. They promise you won't find any of what they call the "Suspicious 6" in their formulas. This includes: Essentials Oils, Drying Alcohols, Silicones, Chemical Sunscreens, Fragrances/Dyes, and SLS.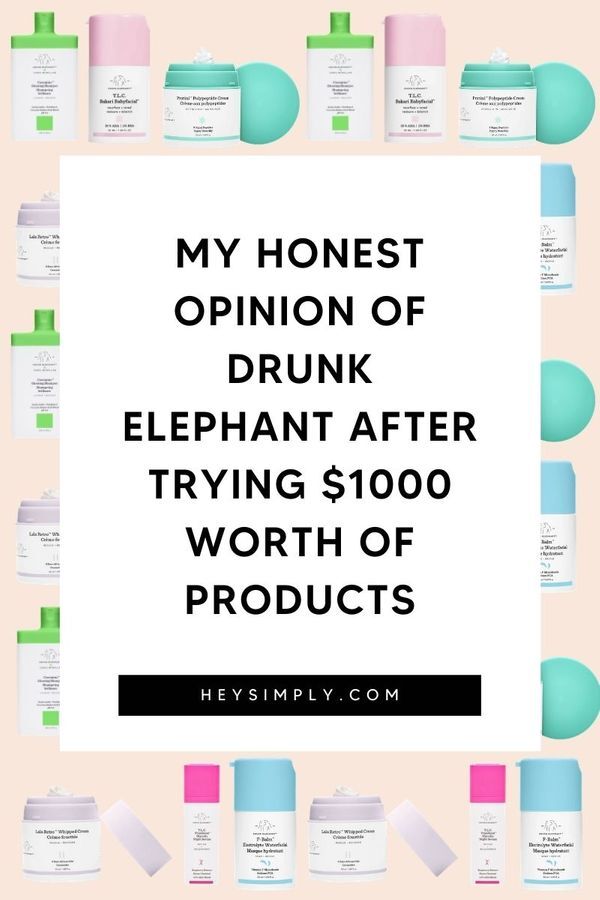 The name Drunk Elephant is rooted in a myth that says the elephants love to eat the fruit that has fallen from Marula trees. Once eaten, fermentation occurs inside their very large tummies and the elephants become drunk! Okay, enough background. Here we go!
Honest Review of Drunk Elephant Products Summary
Throughout the 30 days, I found my skin to be more hydrated, more glowy, and more bouncy. I wore less makeup and I think that contributed to a rather healthy complexion. Where I think Drunk Elephant came up short is with blemishes. I still had some breakouts (as per, always) and I didn't find a spot treatment that I thought worked for me.
Best Drunk Elephant Products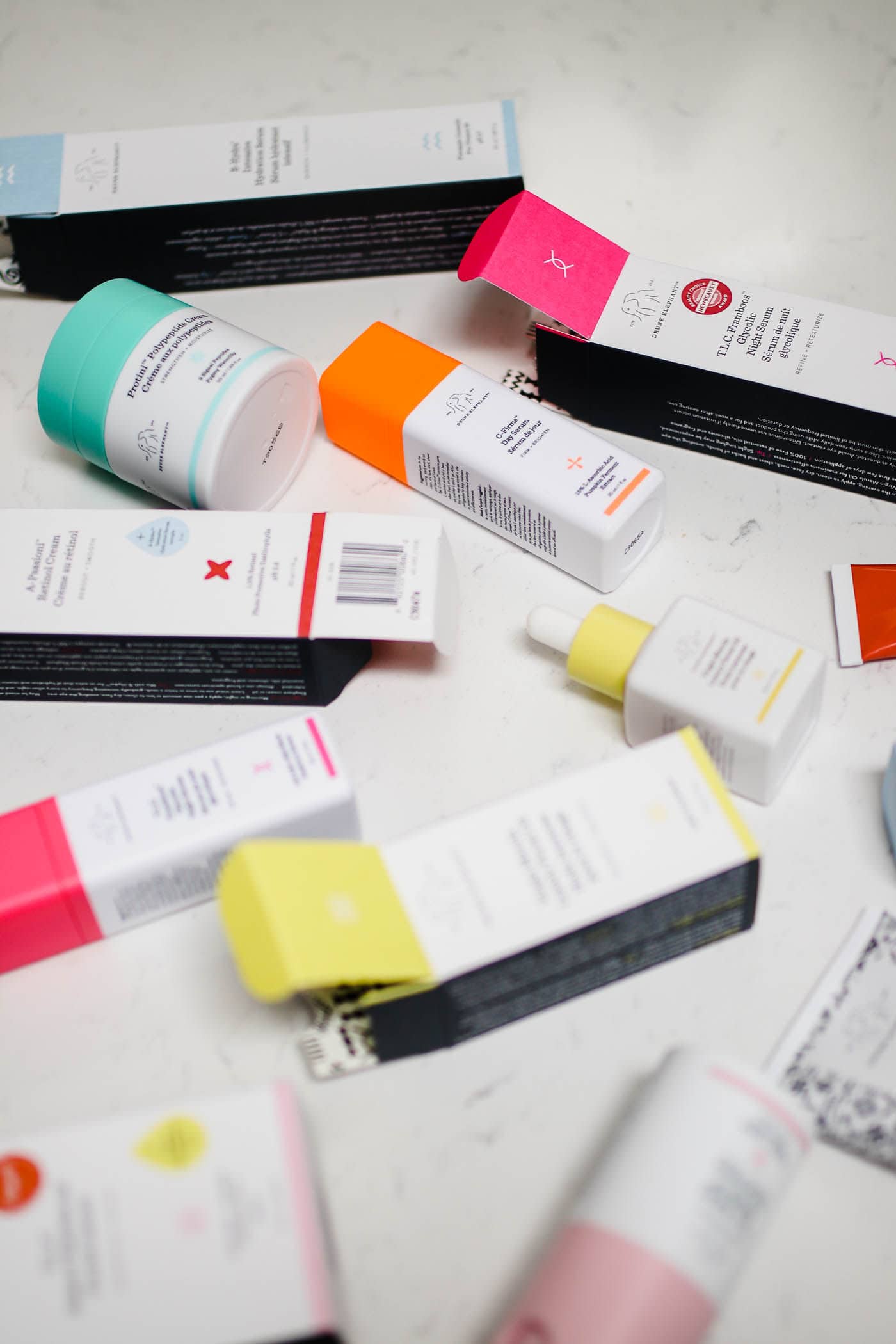 T.L.C Babyfacial
This is Drunk Elephant's top-selling product and literally the one that put them on the map. I get why. I loved the way it made my skin feel and the application was easy. There is a slight 'ting when you first apply it but it goes away quickly and the other 19 minutes are blissful.
What it is: A weekly face/treatment for your skin
When to use it: PM and follow with the Virgin Marula Oil
Virgin Marula Oil
If you talk about an oil that doesn't make your skin feel "oily" it's this one. This can be used in the morning after your serums, but I especially like it after the Babyfacial.
What is it: Cold-pressed facial oil that's high in Vitamin E
When to use it: Weekly after the Babyfacial
BHydra Intensive Hydration Serum
Drunk Elephant describes it as a "drink of water for your skin" and I felt similar after I put it on. I made it a part of my daily morning routine, but if you are feeling especially dry at any point you can apply just a pump for all of the difference.
What is it: Hydrating Serum made with Pro-Vitamin B5
When to use it: Morning and Night
CFirma Vitamin C Day Serum
This has won its fair share of awards as well including "Best of Beauty from Allure & InStyle. They say it has a reservoir effect which means it will stay active on your skin for up to 72 hours. Whoa.
What is it: A Vitamin C Day Serum
When to use it: Morning Only
Protini Polypeptide Moisturizer
Moisturizers are important no matter which one you choose, but I have been so interested in collagen-boosting formulas that I was especially curious to try this one.
What is it: A collagen-supporting moisturizer
When to use it: Morning and Night
FREE SKINCARE CHEATSHEET
---
Drunk Elephant Products I'd Skip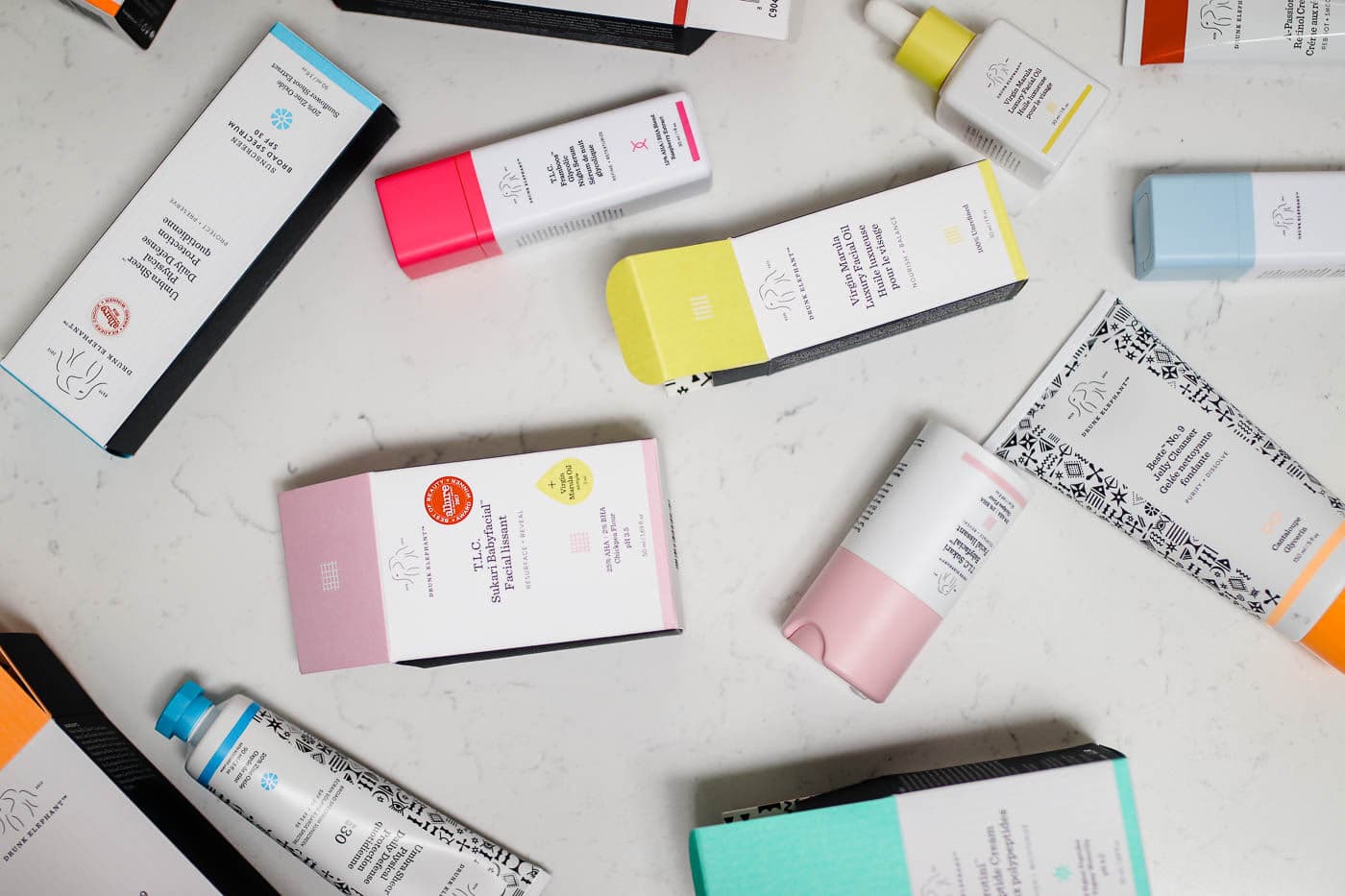 T.L.C. Framboos Glycolic Night Serum
I've tried many night serums and while this one was good, it just wasn't my favorite. I did like that it was an AHA/BHA formula. Its goal is to enhance the performance of other products by "clearing the way for maximum absorption".
Note: I've since switched back to my Farmacy Honeymoon Glow Serum
Beste No. 9 Jelly Cleanser
I'll admit that this one was on my best list until a few weeks ago. I still think it's a great product but for the price I think there are others that are similar if not just as good. I loved the consistency of the Jelly Cleanser and that it didn't have any harmful exfoliants, but the price was a no-go for me.
A Passioni Retinol Cream
Hands-down I think that everyone should be using a Vitamin A (retinol/retinae) product in their skincare regime, but it doesn't have to be this one. I have been using the Cosmedix formula for over a year now and found that the A Passioni was still pretty strong (and that's coming from someone who uses Vitamin A daily) I would start with something else if you are new to Retinol.
Umber Sheer Physical Daily Defense SPF
Similar to A Passioni, I think that SPF is essential to a skincare routine and in fact, if you are are using retinol you can actually damage your skin further by using a retinol at night and not using an SPF protectant in the morning. I felt that the Umber Sheet was well formulated and it didn't leave a white cast on my skin. However, there are so many other great Drunk Elephant products that I would start with if you are on a budget.
Still Undecided: The CTango eye cream + Shaba Eye serum. Upon my research, I realized that I may not have been applying my eye cream properly (this might be a whole other post, more on that soon) I'm still using these and will update the post when I have a better answer.
Final Thoughts on My Honest Review of Drunk Elephant Products
Skincare is essential to everyone but especially if you are in your 20s and older. Our skin loses elasticity as we get older and that's the core principle of many of our skin issues like aging, sun spots, and wrinkles. Your skin is essential not only for cosmetic purposes but also for an overall healthier body. I encourage you to download my free skincare cheat sheet to see all of the skincare steps include what products to use and when.