Maybelline needs no introduction in the beauty world. Anyone who knows makeup knows that it is a drugstore holy-grail brand. Maybelline New York is often touted as an accessible and affordable beauty brand that has captured the hearts of makeup enthusiasts everywhere.
The products are easily available and are often some of the best additions to our makeup kits. I have compiled a list of the best products from Maybelline, and spoiler alert: you're gonna want to try all of them.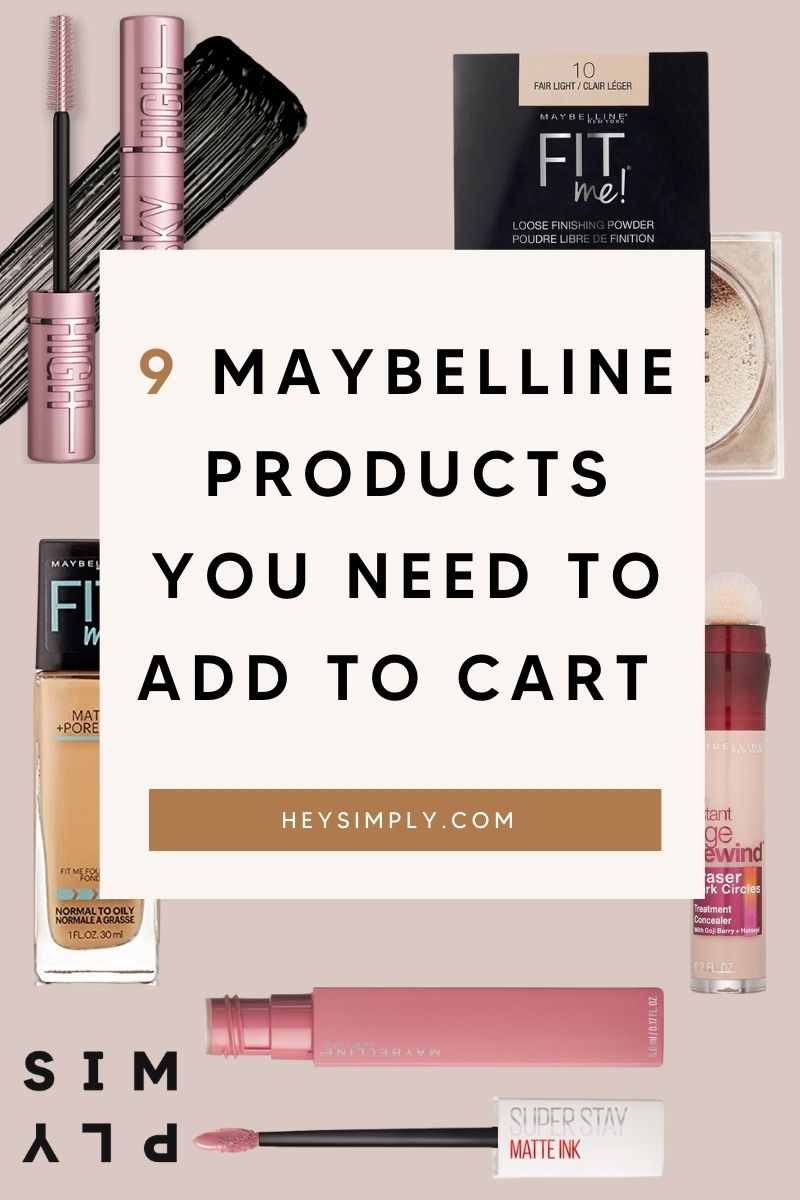 Are Maybelline Makeup Products Good?
The brand has been a staple in the industry for over a century. From its inception in New York City, the brand has catered to the needs of makeup lovers far and beyond. Maybelline products are consistently listed in the Best of Beauty round ups by Allure.
The key to Maybelline's success has been their ability to grow and their consistent commitment to innovation. Here is a list of products that you simply must try.
Best Maybelline Products to Try in 2021
Choosing the right primer will make all the difference to your makeup. Mattifying primers can do wonders to the way your foundation looks on your skin.
The Baby Skin Pore Eraser formula is clear and gel-like. It absorbs quickly into the skin to reduce the appearance of pores and provides a matte base for your complexion products.

This tongue-twister of a name is worth the hassle to say, because it really is that good. This product is the definition of a cult favorite and has been one for the past decade.
The sponge-tip applicator and the comfortable wear of the concealer quickly found a place in makeup users' hearts and bags. Any product that depuffs my eyes and covers up dark circles is a win for me.
We know that skintones vary from palest, milky-white tones to rich, deep, coffee-like browns. Maybelline figured that out too- which is why the shade range was expanded in 2018 to include a larger variety of shades. This change kept the Instant Age Rewind Concealer on our favorites list.

The perfect finishing touch to any look. The loose powder comes in 8 different shades. It creates a smoother finish to your makeup and prevents creasing. This powder is ideal for baking, setting your makeup and even the midday refresh.
Is it a designer dupe? The Fit Me Loose Finishing Powder has been called the best drugstore dupe for the Laura Mercier Loose Translucent Powder. It's not exactly the same, but gets the job done for a fraction of the cost.

Amazon's number one bestselling foundation AND a drugstore foundation that comes in 40 shades!? Pinch me, pls!
Yes, the Fit Me foundation is the most inclusive foundation at a low price point. You are bound to find the right fit for your skin tone, (rumor has it 97% of people can find their match).
This full-coverage foundation is perfect for normal to oily skin; it is long lasting and has a matte finish.

A lip color that will get you through your day with minimal touch-ups. The matte lipstick look is back… to be fair did it really go out of style?
With the Maybelline SuperStay Matte Ink Liquid Lipstick you will be on trend and comfortable. A good chunk of the 41 colors available are neutrals, so pick up one of these richly pigmented lipsticks for your everyday simple makeup look.
A few personal favorites?

Best Maybelline Mascaras
Did you know that the first mascara in the US was invented by the creator of Maybelline? Thomas Lyle Williams, a young chemist, created the basis for the modern-day mascara to aid his sister Mabel's efforts to win over a man that was in love with someone else, which Mabel eventually did.
So, never doubt the power of fluttery lashes ladies.
Have you ever tried the Great Lash Clear Mascara? Nope? You're missing out. Dealing with unruly brows and straight lashes? Here is your one-stop solution. Armed with an eyelash curler and the Great Lash Clear Mascara, you will be prepared to look a little more polished and wide awake.

If you want clump-free fluttery lashes that fan out, the Lash Sensational Mascara should be in your collection. It's no doubt that the best feature of this mascara is the brush.
The curved spoolie allows you to target each lash individually and enhance the look. Plus the waterproof formula stays on all day which is always a nice bonus for us ladies on the go.

If your first mascara wasn't the iconic pink and green bottle I'd be surprised. This lengthening mascara has been in the market since 1971.
Calling Maybelline's Great Lash mascara a cult favorite or even a holy grail product feels like an understatement. I think we can safely trust the opinion of makeup wearers over the course of almost 5 decades and add this to our collection.
Oh, and a tube of this mascara is sold every 1.7 seconds. Can you think of a stronger endorsement than that?

This new mascara has been making its rounds on TikTok — which yes, means it's sold out everywhere. The lengthening formula paired with the flexible brush offers proper separation and lashes for days. TikTokers showing off their lashes with the Sky High mascara has shown that it layers really well.
A StyleCaster article also pointed out that this product didn't flake or rub off over the course of the day. Isn't that what we all dream of? Long separated lashes that give the fluttery false-lash look and last all day?

Final Thoughts on Best Maybelline Products
If you've ever browsed a drugstore or are looking to add some new goodies to your makeup bag, these are my favorite Maybelline products to try. Makeup is fun and for many a tool to feel good and drugstore brands like Maybelline allow that to happen for everyone.
A Popsugar article highlights how accessible and awesome Maybelline products are. Maybelline is an amazing starting point for newbies in the makeup world and for seasoned users, it keeps us coming back for more.
Shop The Post