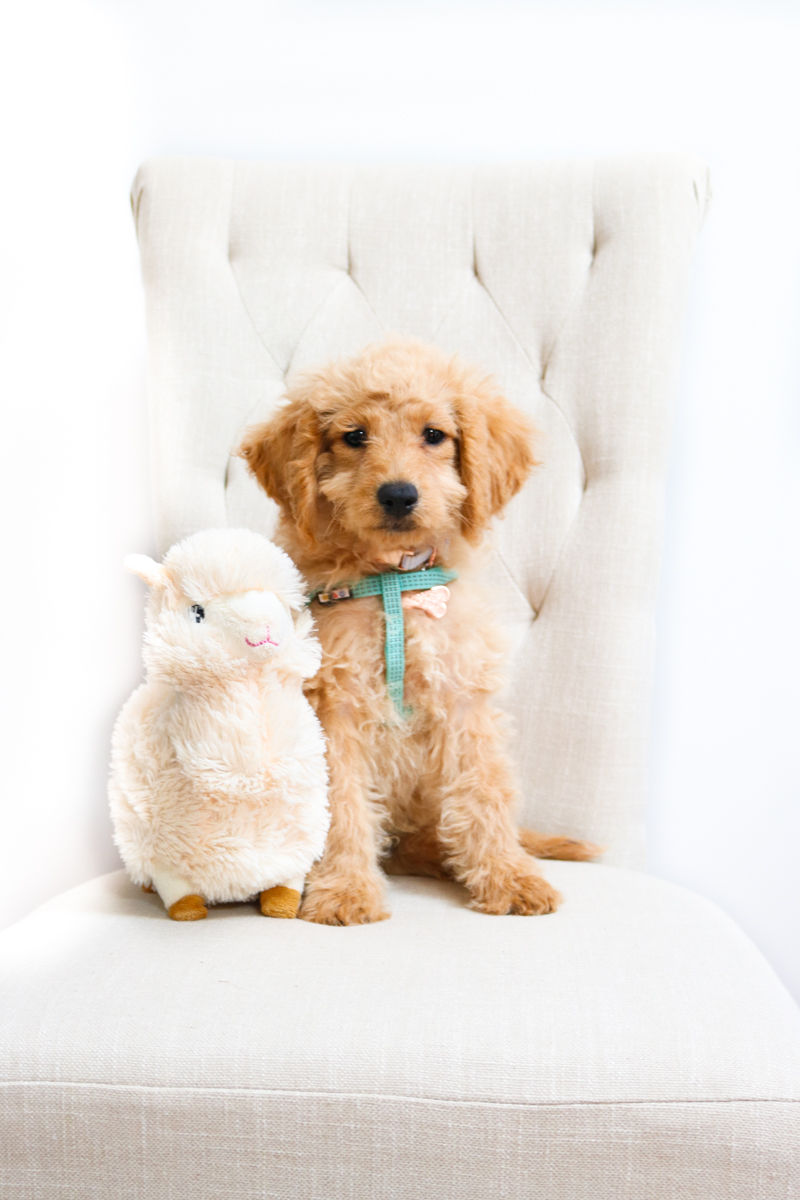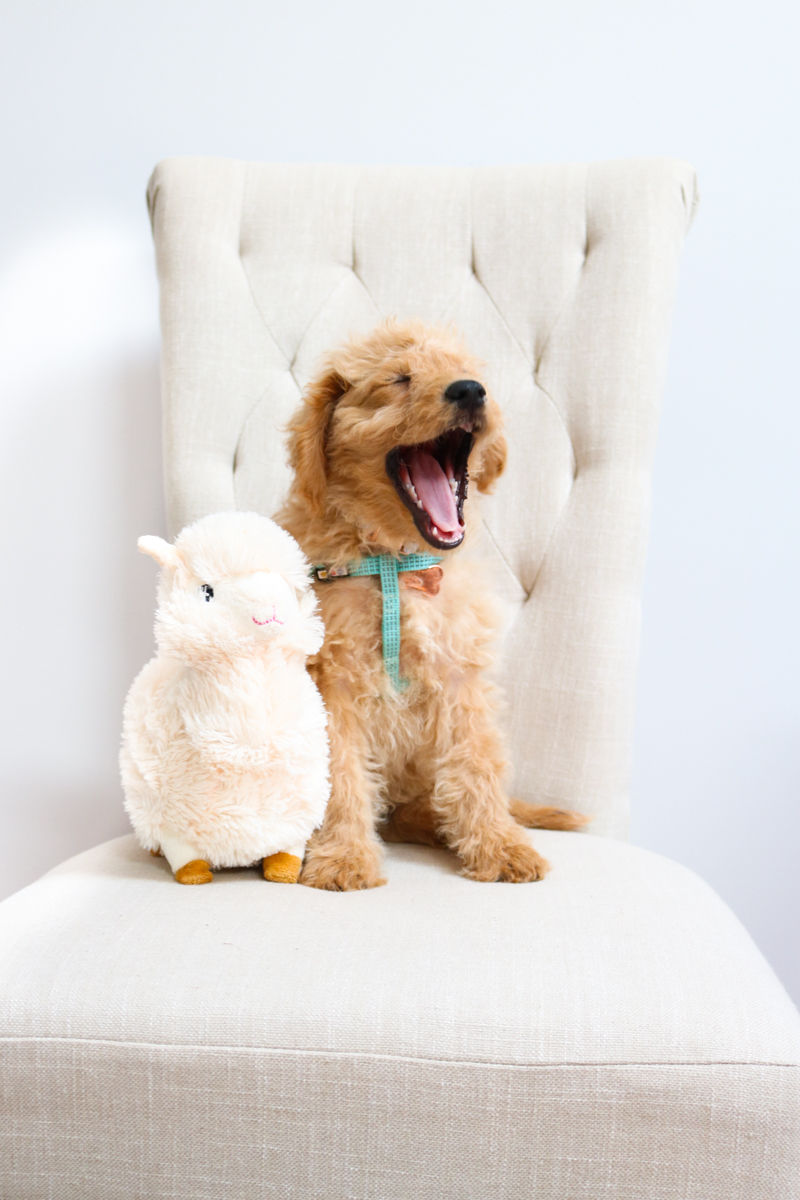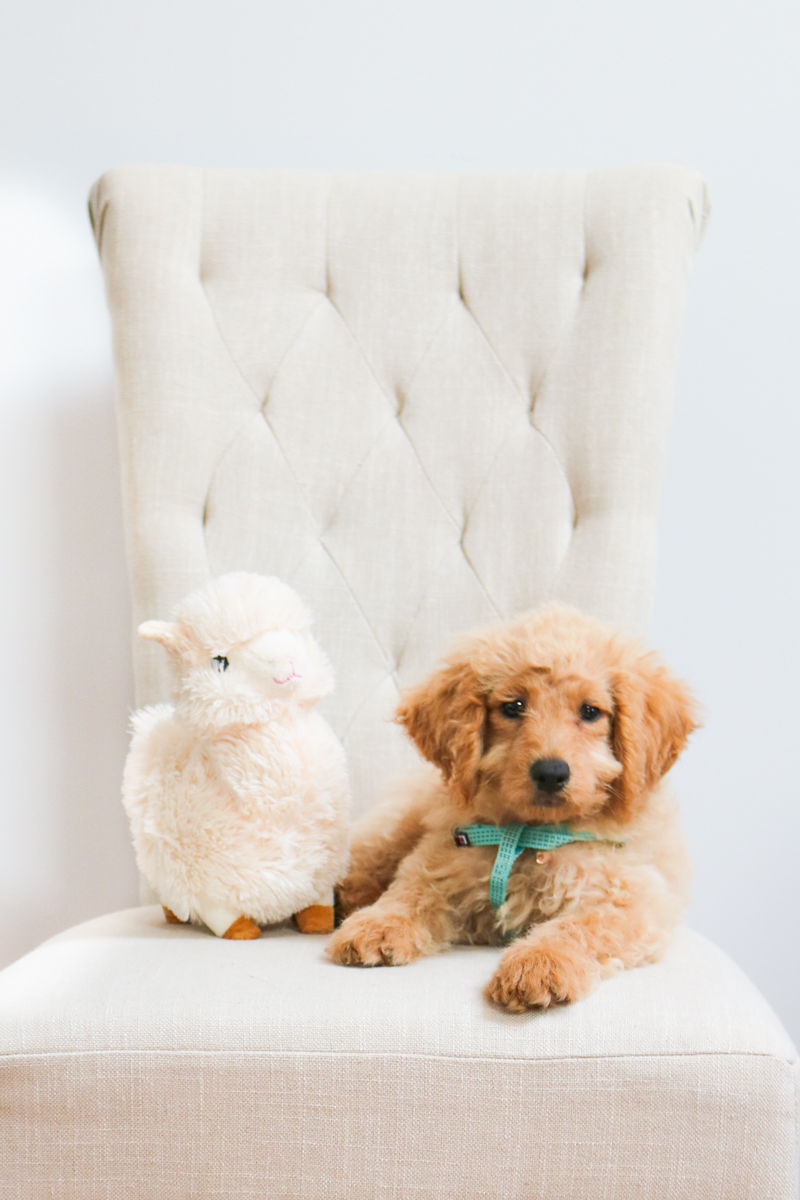 Everyone, meet Theo Molu, the newest addition to our little family. We've been talking about getting a puppy for so long, and much to my disbelief, it actually happened! Theo is my birthday present (for the next 5 years… or so Sahir says) and we have had him for about 10 days now. I've been sharing photos and videos of him on my Instagram and you can even follow Theo on his own Instagram here! Since you guys have so many questions – here's a little FAQ!
What kind of dog is he?
Theo is a F1B Mini Goldendoodle. That means that he is 75% poodle and 25% golden retriever.
Where did you get him?
A reputable breeder outside of Athens. We wanted to make sure that our puppy didn't come from a puppy mill and was well taken care of before we adopted him.
Why adopt when you can rescue?
This was tough because, in our heart of hearts, we really wanted to rescue a puppy. Although, since this was our first dog for both Sahir and me, we needed to be comfortable with what we were getting ourselves into and have more control over the background of our puppy, his temperament, adult size, etc. We always say if we were to get a second we would rescue!
How big will he get?
Theo is supposed to be between 20-30 pounds, but apparently, his paws are big so he may grow to be a little bigger.
Is he growing fast?
We think so! Theo gained a pound and a half in the one week that we got him. We think he will be full grown at about 8 months old.
How is training him? Are you doing it yourself?
It's difficult and yes we are doing it ourselves. Working with a puppy takes a lot of patience and it's been a test for Sahir and me to stay calm and work with him.We are crate training and it's only been 10 days, but we think he is making good progress.
What has been the hardest part?
Hm, for me it's been keeping the house clean. I love our house and it's my sanctuary. We put a lot of effort into designing each room and collectively, we decided to pull up all of the rugs and carpets until Theo is housebroken – but that means our house always has things in odd places. Not keeping shoes on the ground is hard!
What has been the best part?
His sleepy cuddles! Theo has a lot of energy but he also sleeps a lot. I can't wait till he is old enough to just snuggle next to me and watch TV – right now he will let me just hold him if he is sleepy enough!