This post was created in partnership with Exuviance, as always, all thoughts and opinions are my own. Thank you for supporting the brands that keep Simply up & running. 
It seems like these days every beauty editor is talking about retinol and different ways to introduce it into your skincare routine. High-potency retinol can be a game changer for your skin, but there are some things that you should know before using it. I tried out the Exuviance Advanced Series Pure Retinol Correcting Peel for 30 days — and I have a few things to say!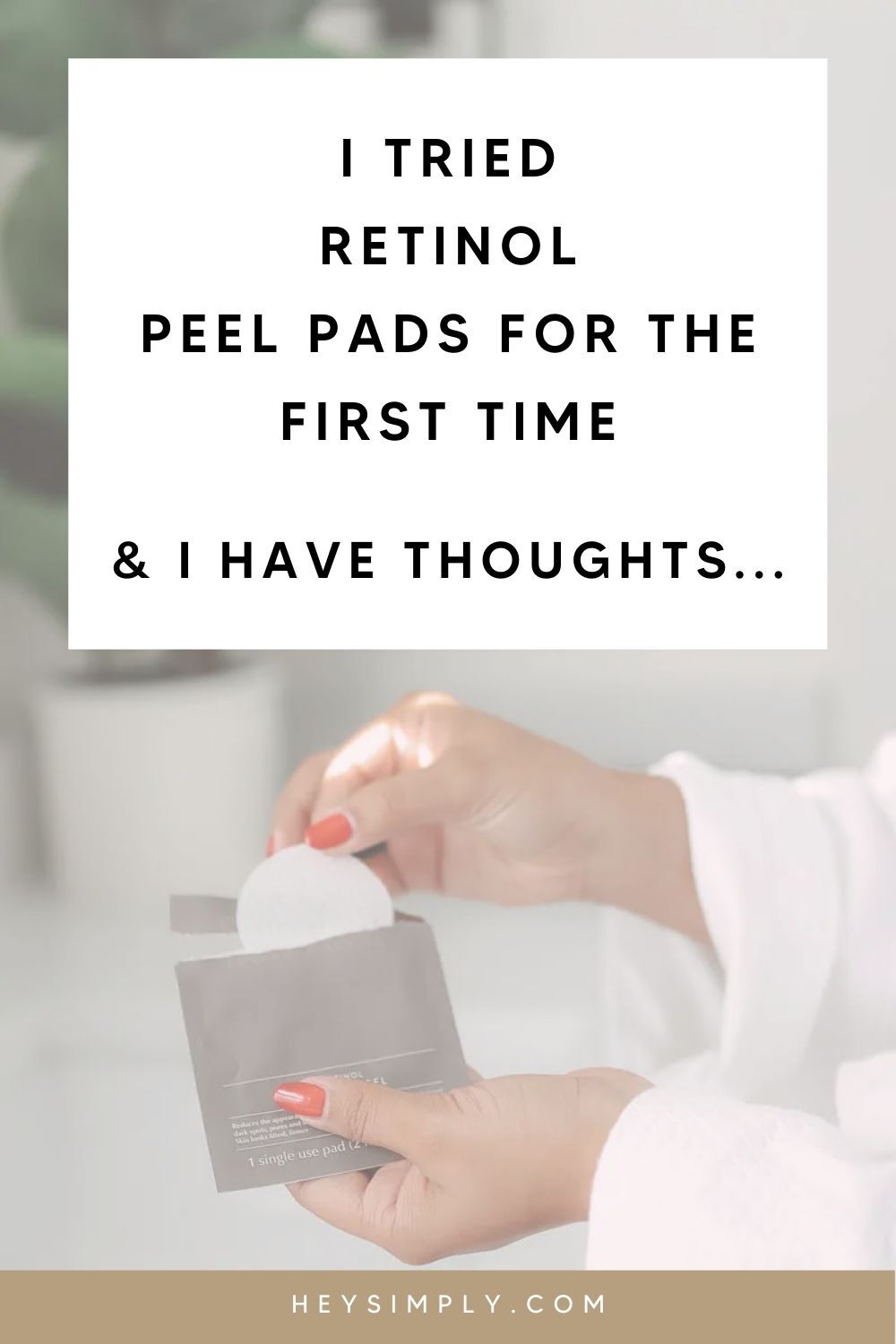 Here's a little background information. Exfoliating your skin is essential to a good skincare routine. Exfoliating is quite literally shedding a layer of dead surface layers to increase skin turnover, so the skin is continually sloughing off dull cells, revealing healthy, more radiant skin below.
Related: The Ultimate Beginner's Guide to Retinol
Remember when you were a teenager and your mom told you never to pop that pimple, but you did it anyways? She warned you about scarring, but those scars faded pretty fast. Until you got older… and the scars faded slower? There's a reason for that. It's called cell turnover.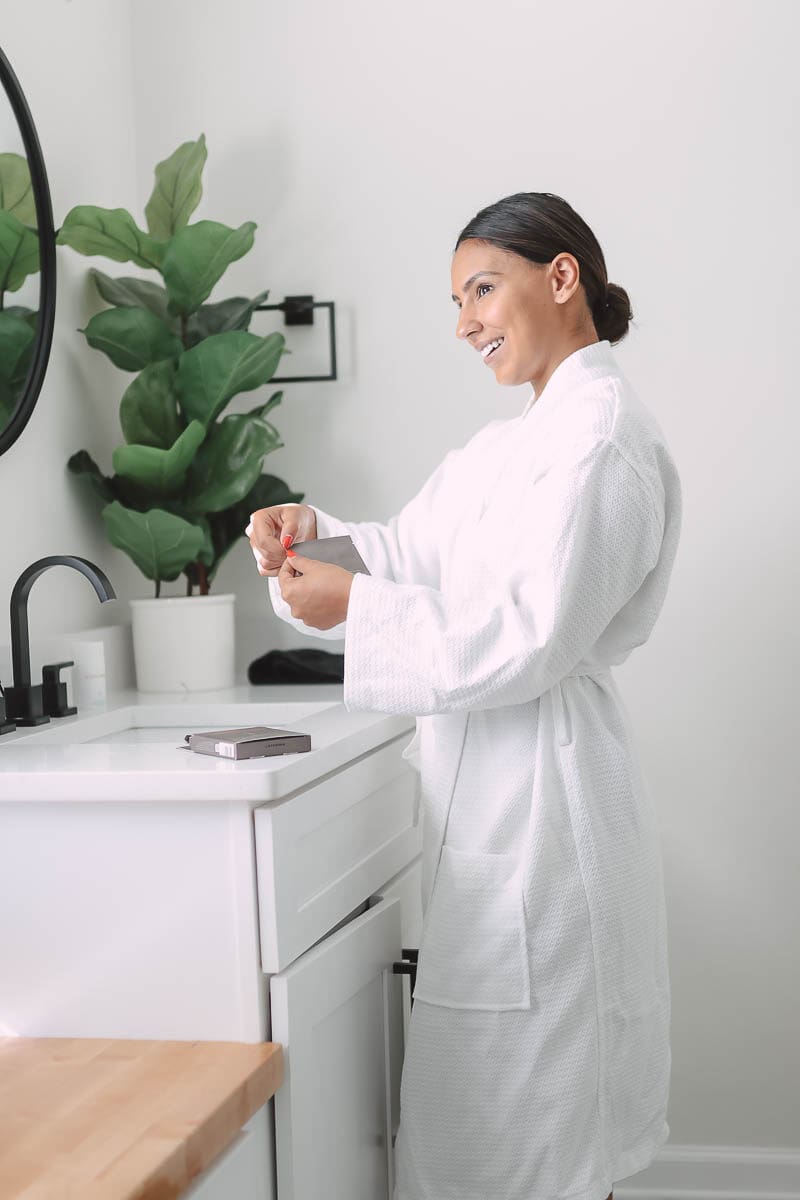 When you are younger, your skin naturally "turns over" faster. In fact, when you're a baby it's every 2 days. But when you get older the process slows down, so the majority of us are somewhere in the 1-2 month cycle. Yikes! 
In general, there are two ways to exfoliate your skin: a physical exfoliant like scrubbing beads or a Clarisonic-like massage cleanser OR a chemical exfoliant which is a mix of chemical actives that will create a (safe) chemical reaction on your skin and exfoliate those dead surface layers. Retinol and Retinol peel pads are chemical exfoliants.
What Are Retinol Peel Pads?
They are circular pads that come out of a one-time-use packet pre-saturated with the chemical actives that you need. Retinol peel pads are a new way to peel your skin in a safe yet effective way in the comfort of your own home.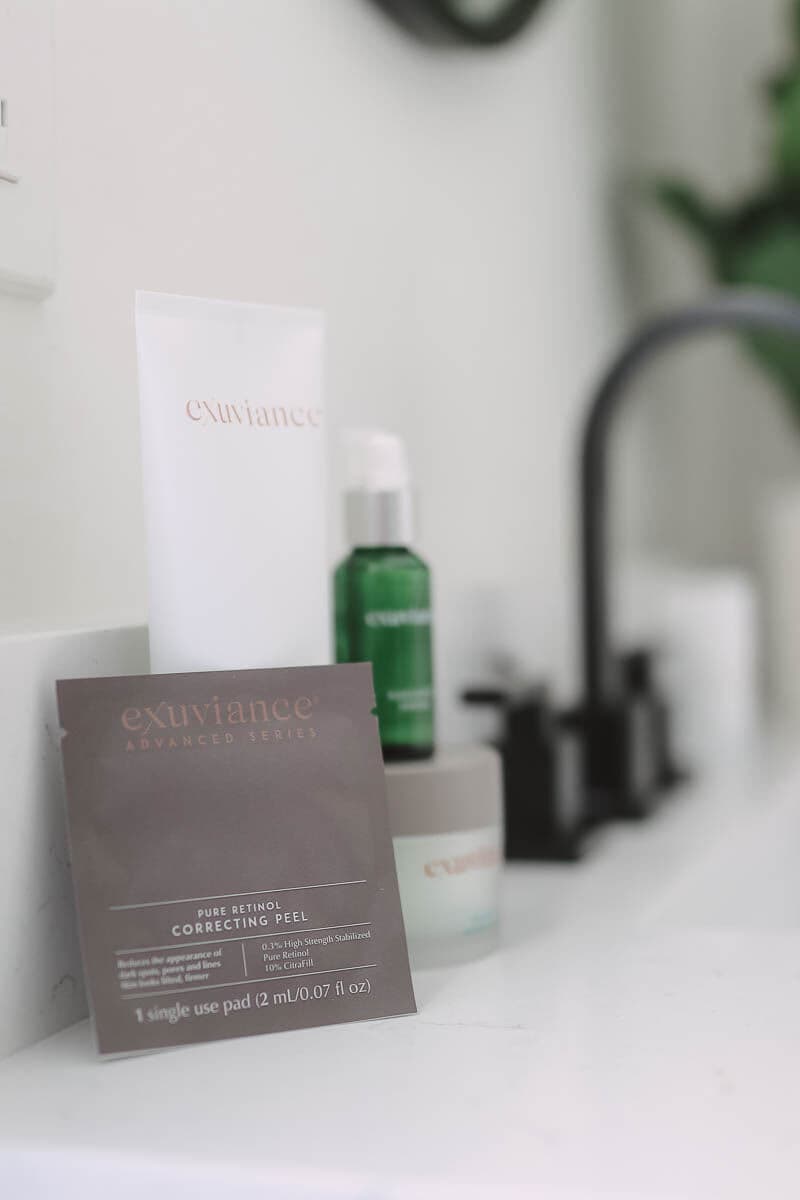 How Do Retinol Peel Pads Work?
They work by exfoliating dead surface layers and accelerating the skin's natural renewal process and increasing skin turnover. Some formulas are low-potency so you have to use them often to see results. The Exuviance Pure Retinol Correcting Peel is high strength which means that you can see results by using it just once a week.
Does It Hurt?
Not at all. In fact, there is no downtime when using the peel pads at home. You may feel some slight tingling, but you should absolutely not burn or hurt. 
In general, you want to avoid your eye area and any open legions. I like to follow mine with a moisturizer to reduce any sensitivity. Also, be sure to rinse your face off in the morning!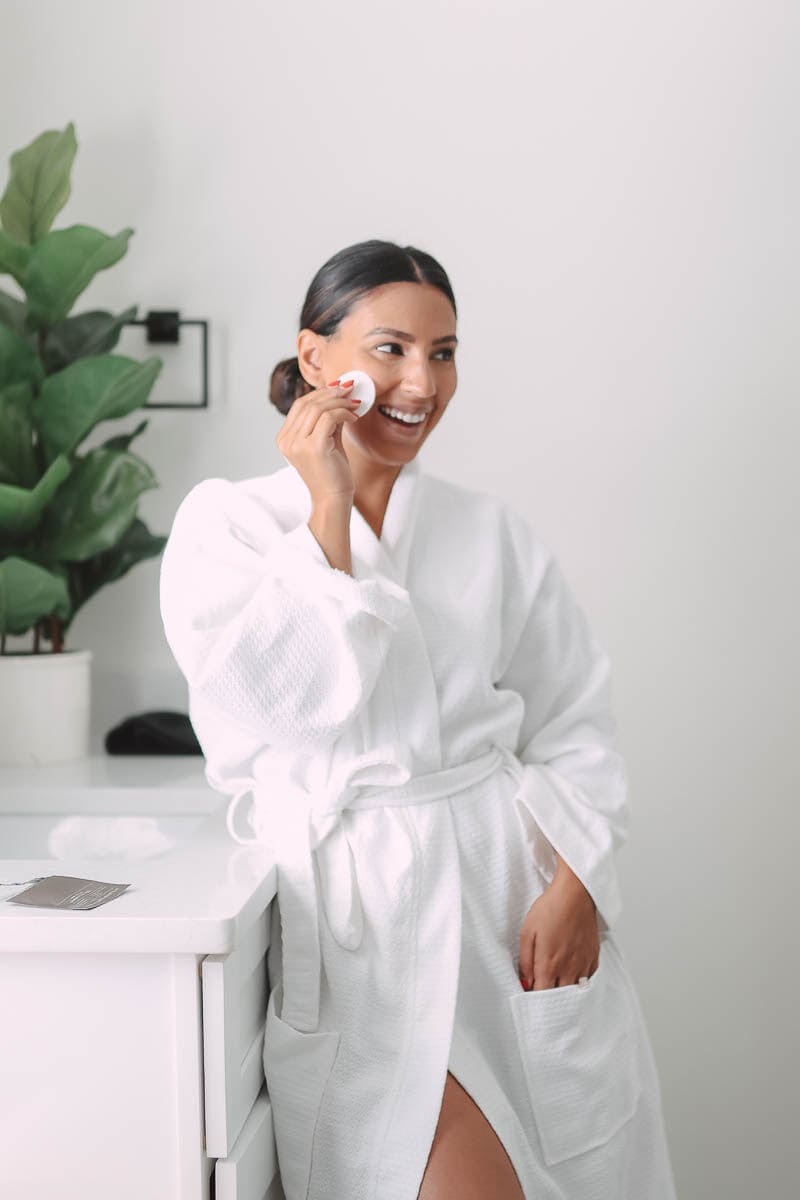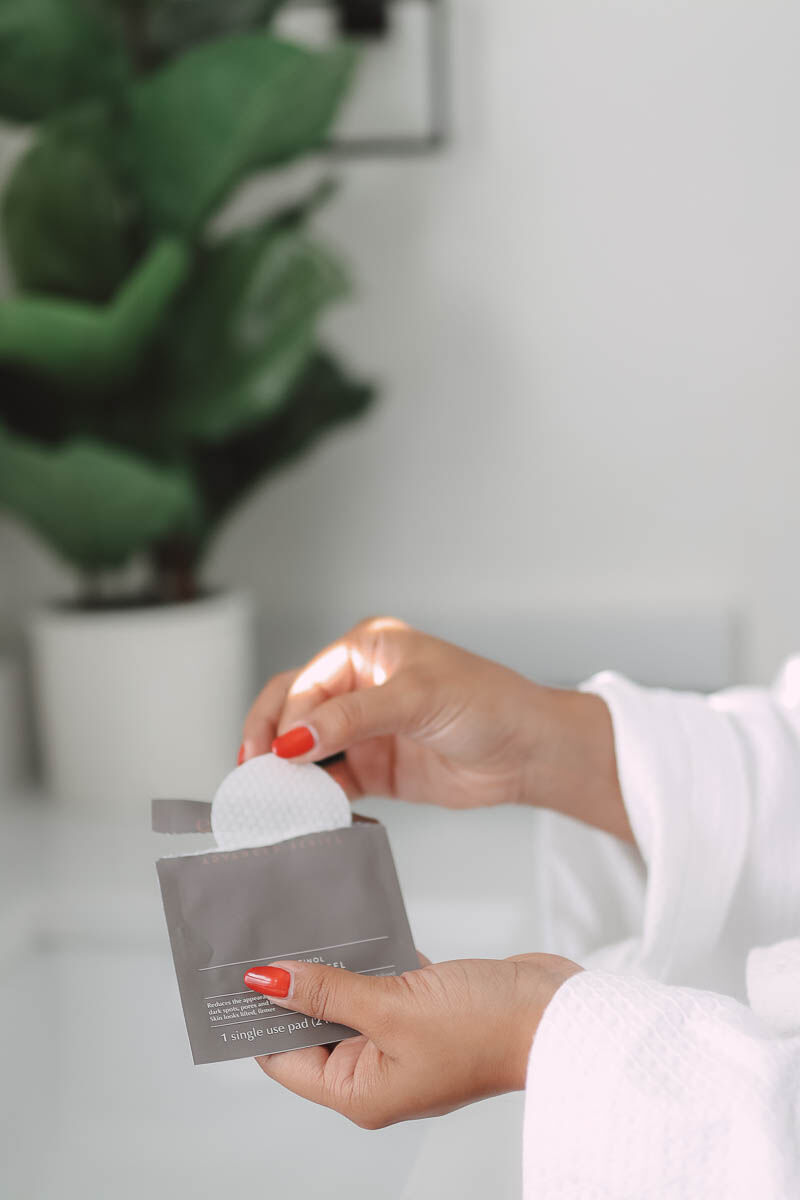 What Percent of Retinol Do They Have?
Peel pads can come in any percentage of retinol, but the Exuviance Advanced Series Pure Retinol is a whopping .3% – which is definitely high potency.
What's The Benefit?
Retinol peel pads have been clinically tested to show results that smooth the look of age spots, fine lines, and wrinkles, and strengthen the skin's moisture barrier. You can see brighter skin tone, firmer skin, and fewer breakouts due to clarified pores.
How To Use Retinol Peel Pads?
You should apply retinol peel pads to clean dry skin. That means you need to cleanse your face and allow it to completely dry before applying the peel pad. 
To use, just gently sweep the product across your face and neck and be sure to avoid the eye area. You might feel some light tingling. I like to follow with a moisturizer to dampen any risk of skin sensitivity. 
You should only apply this product once a week at night. Sun sensitivity is real, so you should avoid applying it during the daytime hours.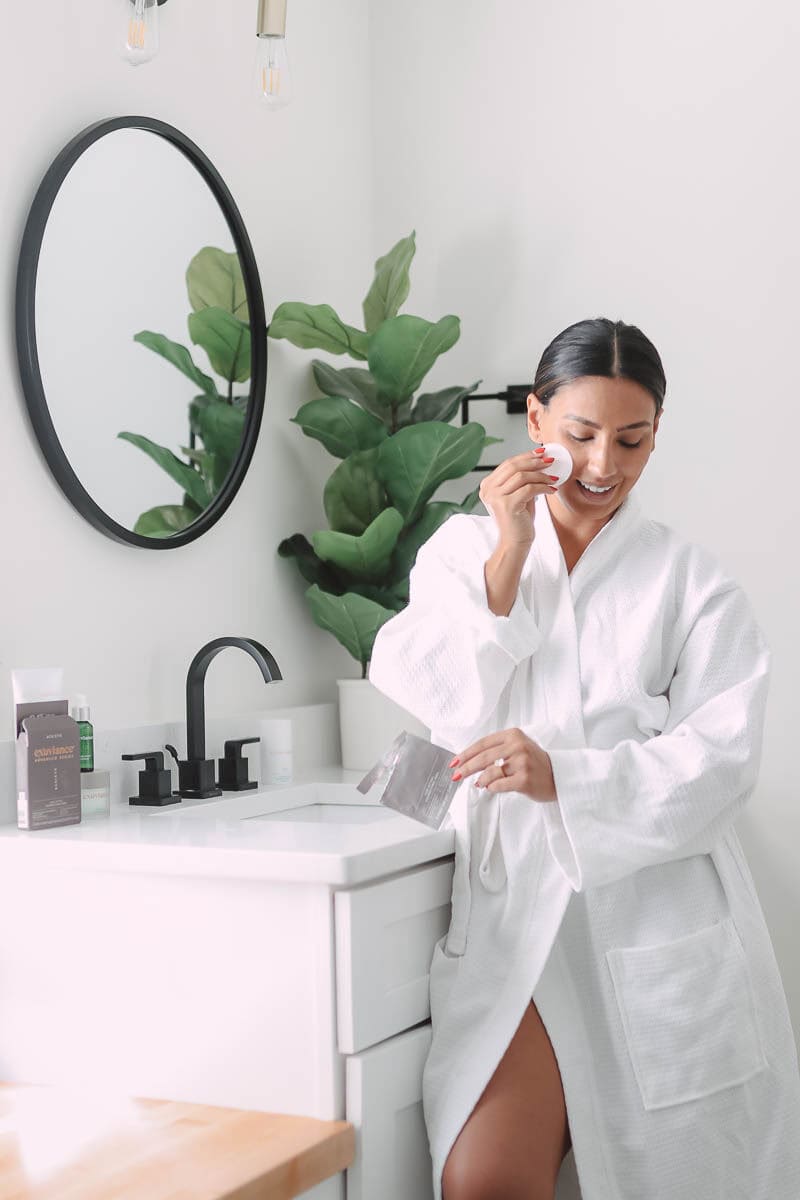 Anything Else I Should Know?
As always, you should spot-test any new product before applying it to your skin, and this is no different. If you'd like a reminder on how to spot-test skincare products, check out this post.
Retinol does make your skin more sensitive to the sun, so make sure that you wear high-quality sunscreen when incorporating this or any retinol formula into your skincare routine.
Final Thoughts on Retinol Peel Pads
Retinol peel pads are a great way to incorporate retinol into your skin's routine. You can try out Exuviance Advanced Series Pure Retinol Correcting Peel here and use the exclusive promo Sabrina20 for 20% off any Exuviance product from now till 12/31/20.