Ever wanted to know the trade secrets of professional makeup artists? Me too! I grew up learning how to do makeup on YouTube. Unlike the generations before me, I had a plethora of self-proclaimed "gurus" to teach me everything I wanted to know about baking, highlighting and contouring. What shade to wear? What was the difference between mineral and pressed powder? Do I really need makeup brushes? How many brushes is enough? What was missing in the YouTube beauty space was a general lack of women of color on camera. When Michelle Phan came into the picture I was so excited to see another Asian who may not look anything like me – but hey, we check the same ethnicity box on government forms!
Nearly 15 years later we are lucky to have the internet to connect us to skilled makeup artists who have developed their trade into successful professions and I am lucky enough to call some of the best my friends. I asked some Instagram's most famous makeup artists to dish on their favorite beauty secrets, specifically for women of color, and boy did they deliver.
Related: What We Need To Teach Our Moms About Beauty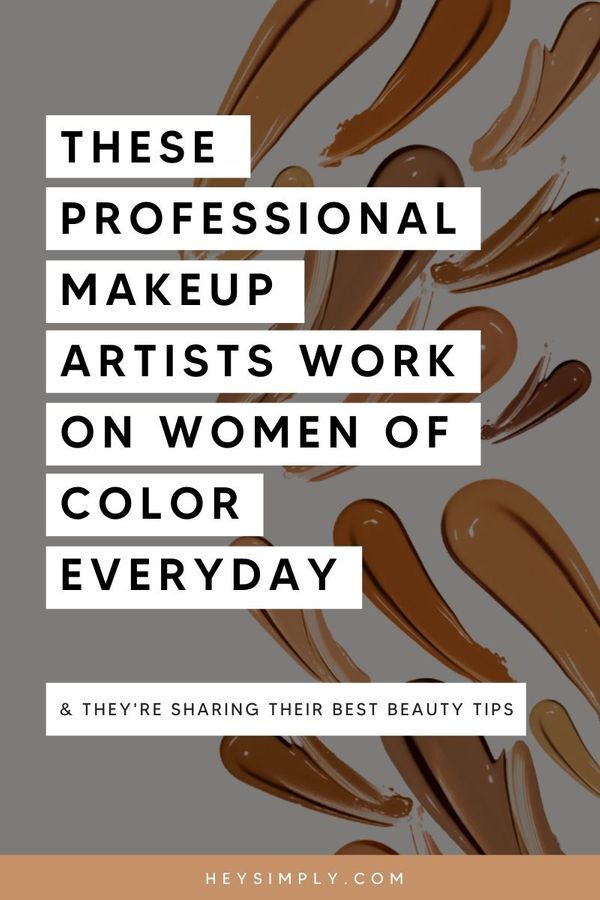 What are the top tips and tricks you use when applying makeup for women of color?
Women of color are multi-dimensional in their skin, so I make sure I match each area correctly with the right undertones. If the center of the face is lighter, I'll use a concealer in that area instead of bringing the foundation all the way in or all over the face. It's all about balance and really polishing the skin without making it look gray. My key is to brighten not lighten. I love using golden tones and reds to really warm up the skin & marry all the tones together. I'm not afraid to use more than one color to get the perfect match! -Noor, Noorfaced Atlanta
As women of color, we have discoloration and hyper-pigmentation. Some tips I have for finding the right shade of foundation are finding a color that you feel closely matches you, and also finding one shade warmer. We want to highlight most areas of our face with our natural shade and cover areas where there is more hyperpigmentation (around the mouth and forehead) with a warmer foundation. It gives those areas a much more natural look. – Payal MUA, PA / NJ / NY
Understanding Your Undertone Is Key
"You will determine the undertone of your skin. Most women of color have a more golden tone to center of face and warmer tones around the outer portion. I suggest using 2 different types/tones of foundation or using a concealer to match this to create dimension on the face. Do a swatch test on your cheek or chin where you will be wearing the foundation, not on hand or other areas of body that get more sun and are typically darker. Allow it to settle 10 minutes to see how it wears on your skin. Some foundations tend to oxidize over time or read ashy on the skin. Always check the color in natural light to get most accurate read on the color." – Erica Bogart, Atlanta
Related: The Difference Between Under Tone & Surface Tone
"The key to proper match is understanding your undertone. Warm undertones tend to have traces of yellow, orange, and reds. Neutral undertones I would say have an equal mix of both warm and cool. Cool undertones pull more pinks and blue. When choosing concealer, you will choose to go 1-2 shades lighter than your foundation (1 is more natural). For contour/bronzer you'll want to go down 1-2 shades. If you are dark skinned and can't find a bronzer dark enough, using an eyeshadow with a hint of a deep eggplant color or dark brown will work when blending it in sparingly." – Mimi Johnson, The Glamatory Atlanta
Related: Take This 3 Minute Quiz To Finally Determine What Your Undertone Is
Alright, I have to know -what's the REAL Makeup Order
Atlanta Makeup artist, Mimi Johnson, The Glamatory Atlanta – Everyone's process is different, but this is my normal process:
1) Clean/prep skin with moisturizer/toner
2) Rosewater/dry facial oil
3) Foundation primer
4) Brows
5) Eye Makeup
6) Concealer / Highlight and blend
7) Contour and blend
8) Foundation application
9) Setting Powder
10) Lips
MAKE YOUR NEXT TRIP TO THE NAIL SALON EASY
Less Is More
"Keep in mind not everyone needs a full face of makeup from the hairline on the forehead to chin and ear to ear. Start in the center of the face for most coverage and blend out for a light natural application to even out skin tone." – – Erica Bogart, Atlanta
Related: Uh Hello, You're Using Your Beauty Blender Wrong
Any Favorite Products?
I like to make sure the skin is hydrated! My favorite product to use is SKINGLASS! I'll use it before moisturizer or pat a little bit on tops of the cheeks after makeup. It gives the most amazing fresh, radiant skin & the foundation applies effortlessly on top. A lit from within type of glow! – -Noor, Noorfaced Atlanta
Concealer can be tricky! I'll keep it simple. If you're trying to just cover dark circles, try a concealer that has fuller coverage. If you're worried about fine lines under your eye more, try a concealer that dries quickly and test it out for the day. Also, set it with a loose powder to prevent creasing (Huda Beauty Easy Bake Loose Powder in Banana Bread is my favorite!). If you're aiming for the bright under eye look, go one shade brighter than you normally would. Tarte Shape Tape concealer, in my opinion, checks all the boxes. – Payal MUA, PA / NJ / NY