One of the cool parts of my job is that I'm constantly testing out new beauty products. This is both a blessing and a curse because any normal person would find one formula that they love and stick to it.
I am constantly on the hunt for the newest product and eager to share that with you all, but there comes a time where we need to immortalize some of my favorites and that's where this post comes into the picture.

Here are my current favorite foundations for every coverage level that are tried and tested – extensively.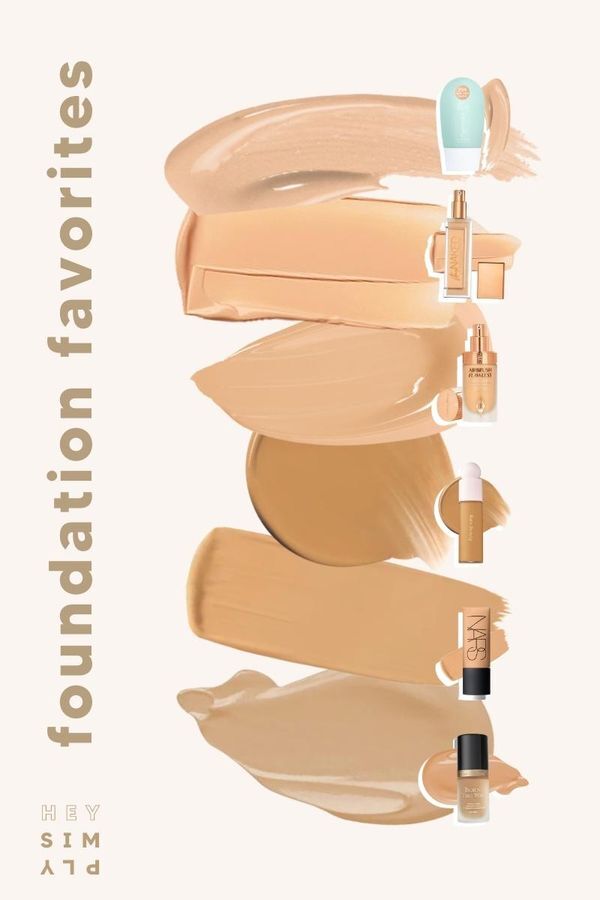 Related: Uh Hello. You Are Using Your Beauty Blender Wrong.
Tinted Moisturizer

The Tarte Hydroflex was one of the first tinted moisturizer formulas that I tried, and it kinda ruined them all for me.
It's a serum consistency that's super lightweight but has crazy good coverage without making you feel like there's anything on your skin at all. Of all of the tinted moisturizers that I tried (you can see all of them in this post here with a definitive ranking) this one took the cake.
When to use it: Work from home days, running errands, anytime you want very light coverage.
My shade: 36N
Light Coverage

I posted this a while back when I emptied it out and you guys said that you loved it too. It's very rare for me to finish a product because I just have so many to test, but I kept coming back to the Urban Decay Stay Naked for a reason. It's light coverage that's buildable and still a true foundation.
When to use it: Perfect for work days or if you're out on the weekend and need all-day coverage, but don't want to feel like you have makeup on.
My shade: 50NN
Medium Coverage

Medium coverage foundations are tricky because unlike the Three Little Pigs, when is the middle just right? Of all of the formulas that I've tried, this one is truly in the middle.
You get good coverage and it feels like you have makeup on, but you aren't worn down at all. The coverage is more extensive, but you won't look cakey.
When to use it: When you need to be out all day i.e. work day + dinner with friends and want your makeup to stay on without settling. 
My shade: 270N
Related: Instagram's Top Makeup Artists Share Beauty Secrets For WOC
Full Coverage

I had to pick two for this category because I truly couldn't decide. Of the two, the first one that I chose was the NARS Soft Blur Matte because it truly looks like your skin once it dries and is completely matte without being dry.
If you get the right color match, nothing matches your skin better with a flawless finish. It actually looks like a filter on your face.
I will say that I was tanner in the summer and lost my tan into the cooler months and needed a new shade match, so the color is key here.
When to use it: Events where you want your skin to look flawless all day, but it doesn't look like you have makeup on. Work events, wedding events, you name it.
My shade: Medium 3.5 Vanuatu

I needed to include this one to the list because I was a little late to try it, but became obsessed when I did. If matte formulas aren't your thing, then you need to try this foundation from Charlotte Tilbury. The dewy glow will make your skin shine that the K-beauty glass skin goddess that you are.
When to use it: Events where you can showcase your dewy glass-like skin. Weddings, events, and whenever you want full glam. 
My shade: 7.5 Neutral
Buildable Coverage

Before I had a neverending supply of makeup products that I want to try, this was the foundation that I repurchased the most on my own dime. I loved how good the color match was and I would use as much or as little as I wanted based on the occasion.
I haven't tried the concealer, but hear great things about it.
When to use it: Literally anytime. 
My shade: Warm beige
Honorable mention

This is a newer discovery for me and I've had it for about 3 weeks, but needed to mention it already. It's such a good formula and the fact that it's tinted sunscreen is kinda epic. I love the way it wears, it dries down so it doesn't look shiny and is very natural + no SPF smell or white cast. 
My shade: 30PCH
Related: The Biggest Mistake You're Making When Cleaning Your Makeup Brushes
Final Thoughts on Foundation Favorites
Okay, I hope that this post helped you find the perfect formula for you. If you're looking for shade recommendations, I love using the website findation.com – you just enter a current formula and shade that works for you and they match you to other brands and the color that would work best. It's a magical website.
Shop the Post