I used to stroll the aisles of my local CVS eyeing all of the shiny displays of beautiful models in their makeup. I loved the color, the texture, and all the options. When you are 13 and in middle school, Sephora is an adult oasis – you can get your fix at your local drugstore. Usually, towards the back of the aisle, there's an elegant display of Physicians Formula products. My very first blush was from there. It was made up of shiny little bubbles that looked almost too pretty to touch.
Did you know that the FDA does not regulate the cosmetic industry? I found out the hard way. If you are a longtime reader, you know that I went through a pretty terrible allergic reaction to a lip product back in November. It was two weeks of swelling, blisters, and pain. I never wanted to wear a lip product ever again. Since then, I've been super particular about the brands I wear. Physicians Formula is not only a drugstore brand, but they are allergen and paraben-free. If you are getting started with Physicians Formula, I recommend these 5 products: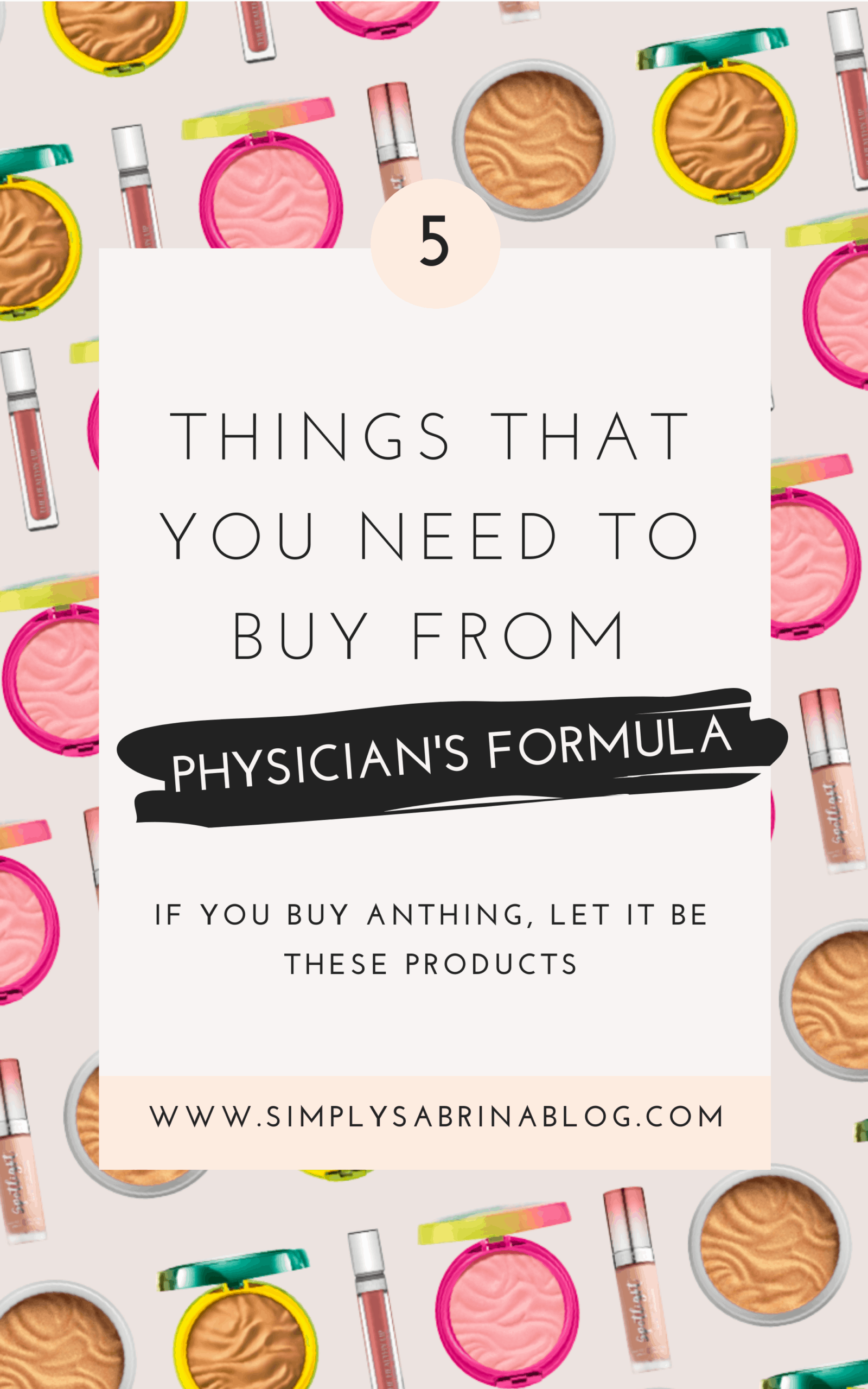 PHYSICIANS FORMULA BRAND HIGHLIGHTS:
Started by an allergist for his wife who suffered from lupus and she needed makeup that wouldn't aggravate her sensitive skin
Every product is created without the 150+ known skin allergens
Best seller is the Mineral Face Powder
Allergist, dermatologist, ophthalmologist and plastic surgeon recommended
Sold nationwide at drugstores
MY FIVE FAVORITE PRODUCTS:
Murumuru Butter Blush
The entire Butter collection from Physicians Formula is incredible. I've actually never felt a product that blendable that truly melts into your skin. The blush tones are gorgeous and I had a hard time picking just one. Ultimately for every day I chose the shade 'Vintage Rouge' but I really don't think you could go wrong with any of them.

---
Murumuru Butter Bronzer
I'll be honest with you. I've never been a cream bronzer person. For some reason, I can never get it to blend properly and I feel silly with harsh dark lines on the cheekbones. This formula is different though. Again, high-key obsessed with the Butter collection and the bronzer is phenomenal. It's hydrating and keeps your skin glowing. I love the shade "Sunkissed"

---
Spotlight Illuminating Primer
Are you on board with the "glass skin" trend? I'm all about a dewey look for the summer and the Spotlight Illuminating Primer not only preps my skin for makeup but also gives it a sheen (notice I didn't say shine) – all my oily skin girls, I'm here for you.

---
The Healthy Lip Velvet Liquid Lipstick
This is actually how I rediscovered Physicians Formula cosmetics nearly a decade later – the Healthy Lip Velvet Liquid Lipstick. After the allergic reaction, I ended up getting a patch test done to see what allergens I'm allergic to, and I found many of them are commonly found in cosmetics. I read all the complex ingredients and found that The Healthy Lip Velvet Liquid Lipstick line was in the clear for me. I love all of the shades and if I could only wear this one brand for the rest of my life; I think I'd be okay.

MAKE YOUR NEXT TRIP TO THE NAIL SALON EASY
---
Murumuru Butter Highlighter
It may seem like a buzzkill to have three items from the same collection on my list, but did you get it already? I really like the Butter collection. The highlight blends effortlessly and the champagne color was beautiful on my skin tone. Perfect for a little shimmer in the light, but not like you walked out of a Katy Perry concert.

---
I love the Physicians Formula was in the realm of clean beauty before it was 'trendy' to do so. The brand was created for women to have a trusted name in the cosmetic space that was committed to products without allergens.
SHOP THE POST

This post was created in partnership with Physicians Formula. As always, all thoughts and opinions are my own. Thank you for supporting the brands that keep Simply Sabrina's doors open.