When we bought our home 4 years ago, we were torn between a condo in the city for 1-3 years or a home in the slight outskirts (still in the city) for 3-5 years. When we weighed the pros and cons, it made more sense to take advantage of the good interest rate and buy a home with some longterm potential. As with all good things, time flew by and we soon found ourselves at a crossroads. Our own personal love it or list it situation. Our small 1800 square foot house was cute and cozy but sometimes impractical, especially if we ever wanted to expand our family in this home. After reviewing comps of what we wanted in the area we knew that our best bet would be to reinvest into our current space and make some dramatic changes for us to spend another 3-5 years here and help with resell value.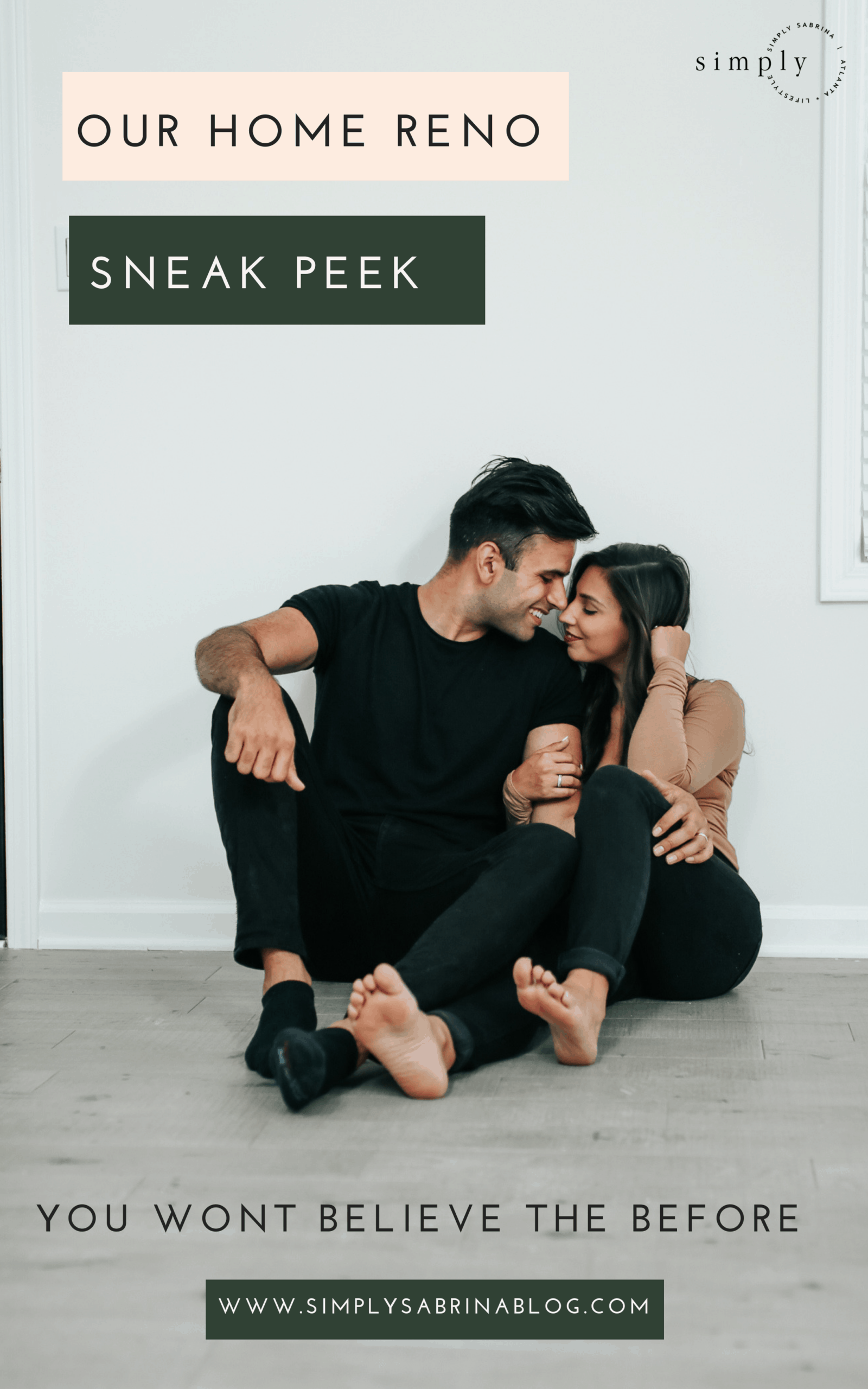 When we decided to "love" our home instead of list it there was a laundry list of "must haves" for our new space. Aside from the obvious things like a larger kitchen and redone master bathroom we also considered the flooring. The previous owners of our house swapped out the original hardwoods for a Brazilian redwood floor which sounds great in theory, but resulted in us having three different color floors for each level of the house. Which bothered me *so much*. You know those irrational things that bother you and no one else? That was the three different floor shades for me. Every time I stood at the foot of the stairs and saw the different floors, it drove me crazy.
MORE BEFORE PICTURES
Honestly, it was tough looking at these photos. It was even more nostalgic when the house was torn apart and I wondered why I even decided to take on this project to begin with. Were the three colored floors really that bad? (Short answer: yes). Once you've made the decision that you do indeed want to take on a flooring project the next thing to do is to decide what you want. Home Depot offers samples and I highly recommend ordering or picking up a few to decide what finish you really want. When I first put the natural color against the redwood I was shocked, but instantly fell in love.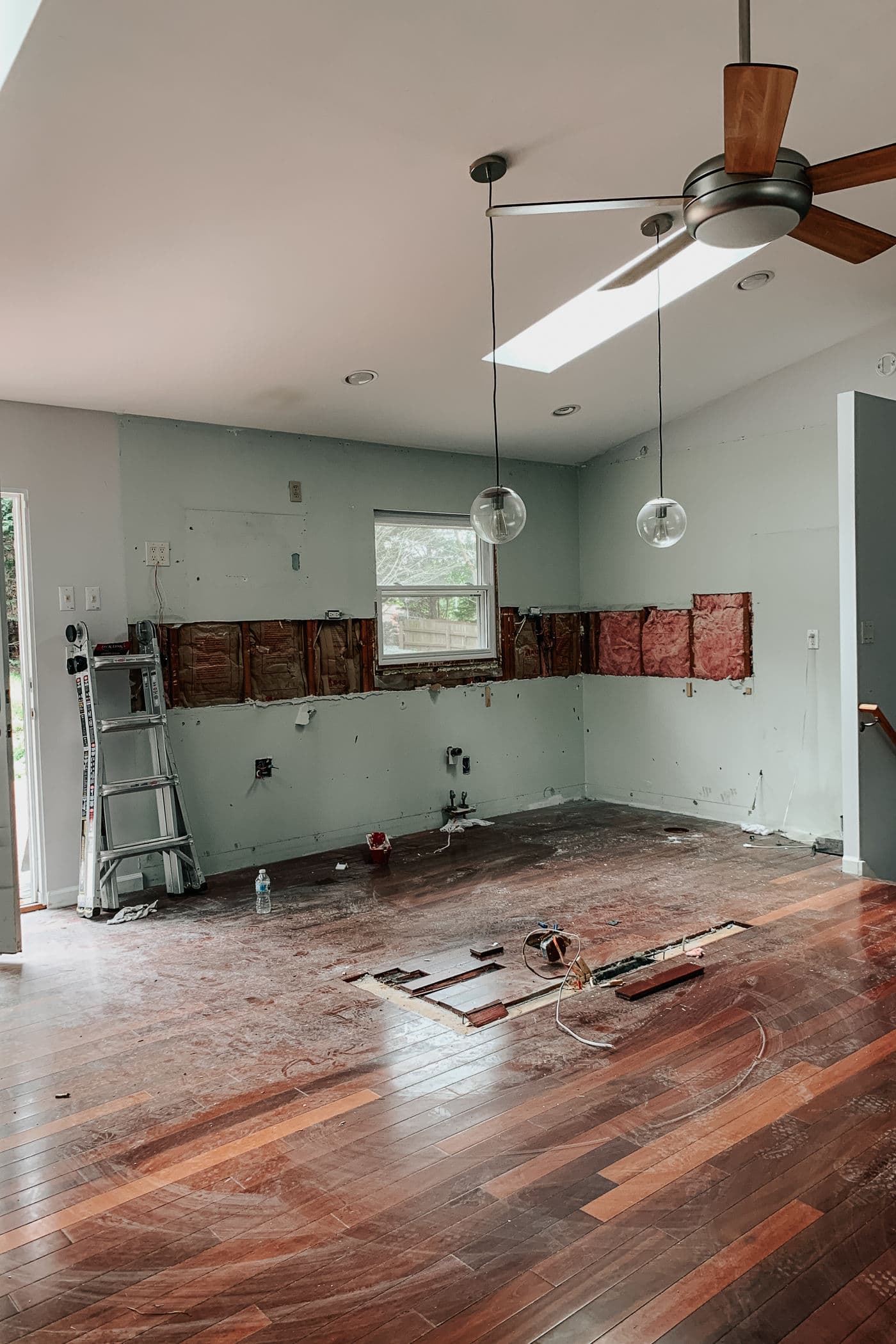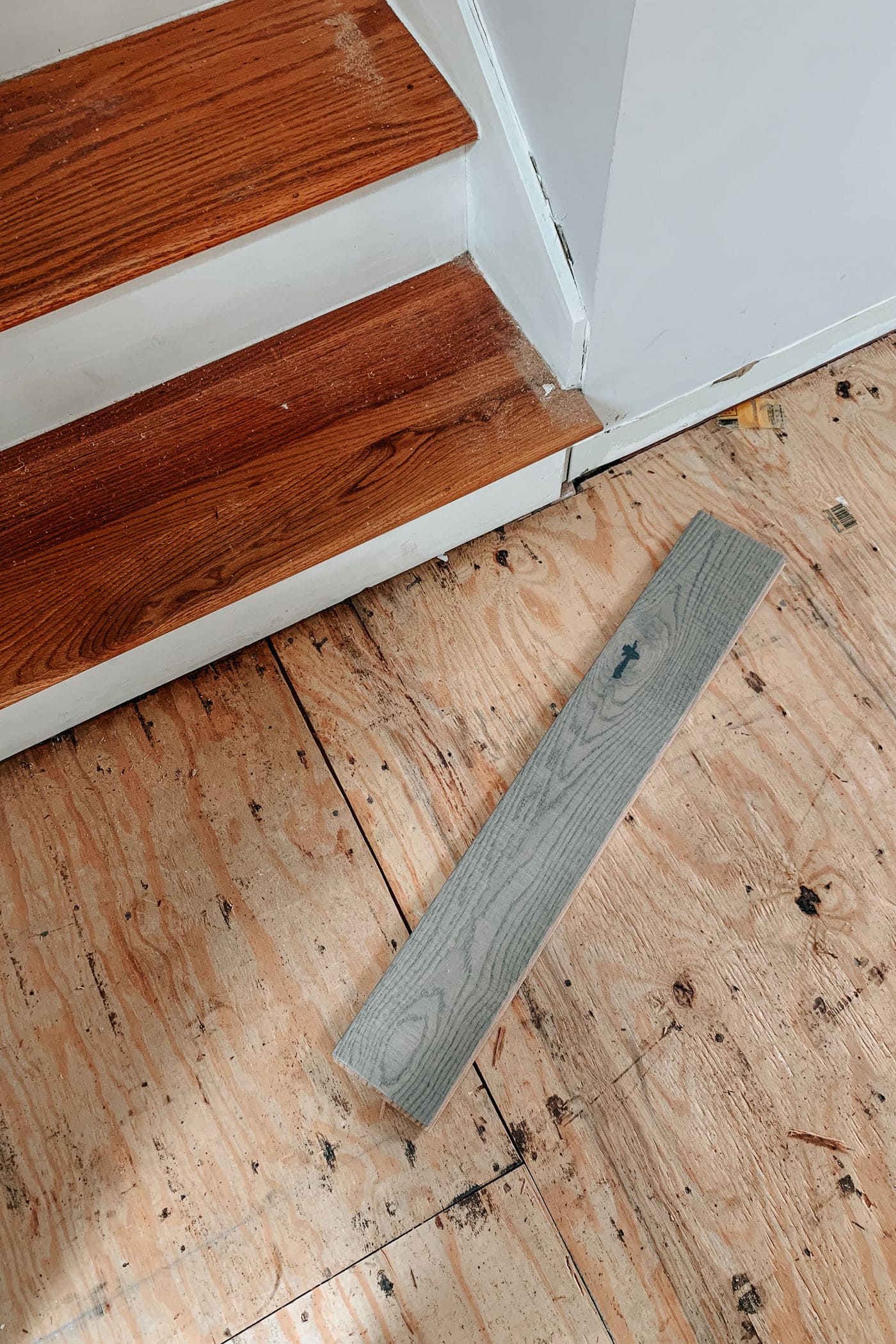 Please take a look at these stairs. Sigh, I can finally look at them without cringing. The floors that we chose didn't come with a matching stair tread, but staining them was an easy match. We also used the stain on the railing and went with matte black hardware to match the theme of the space.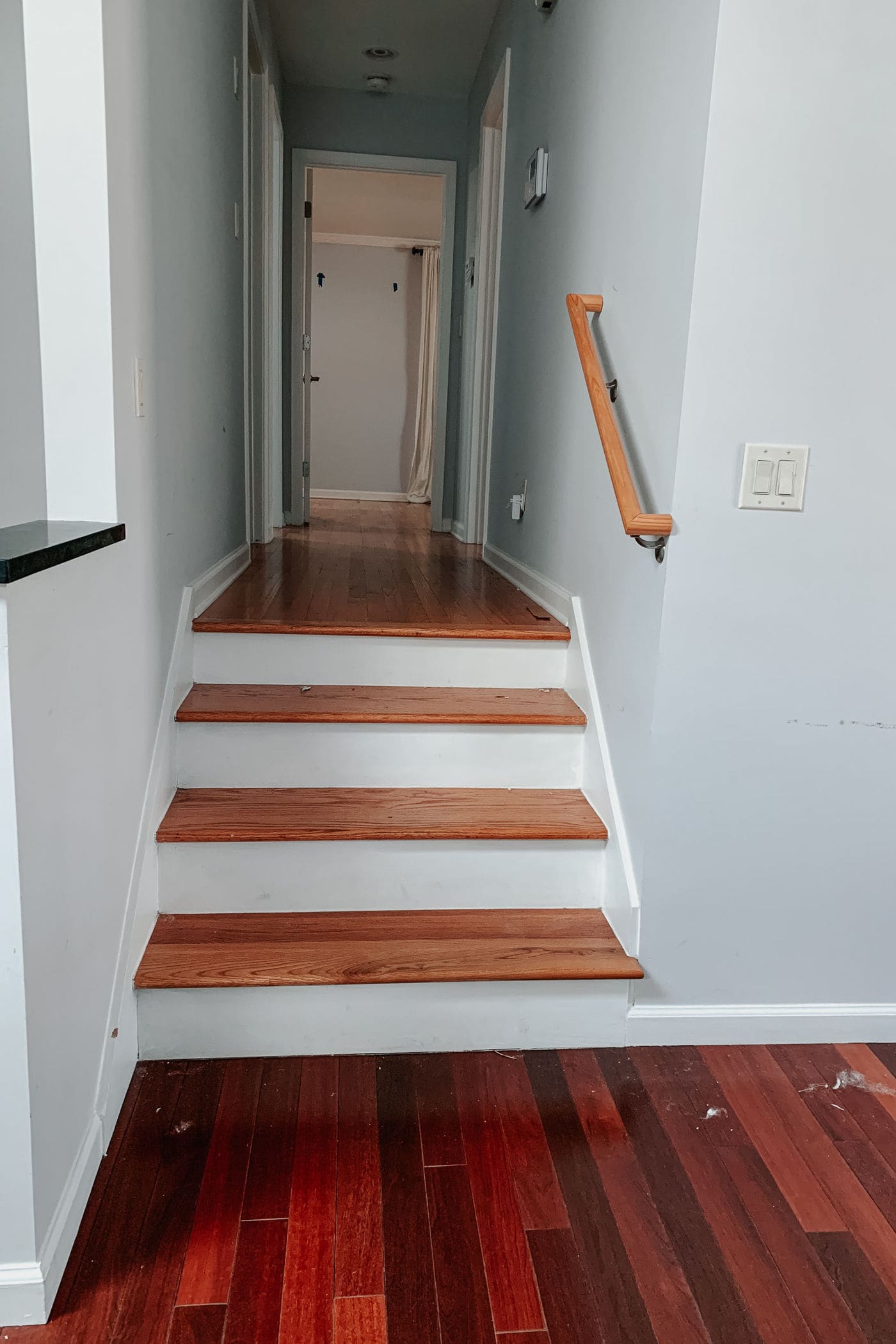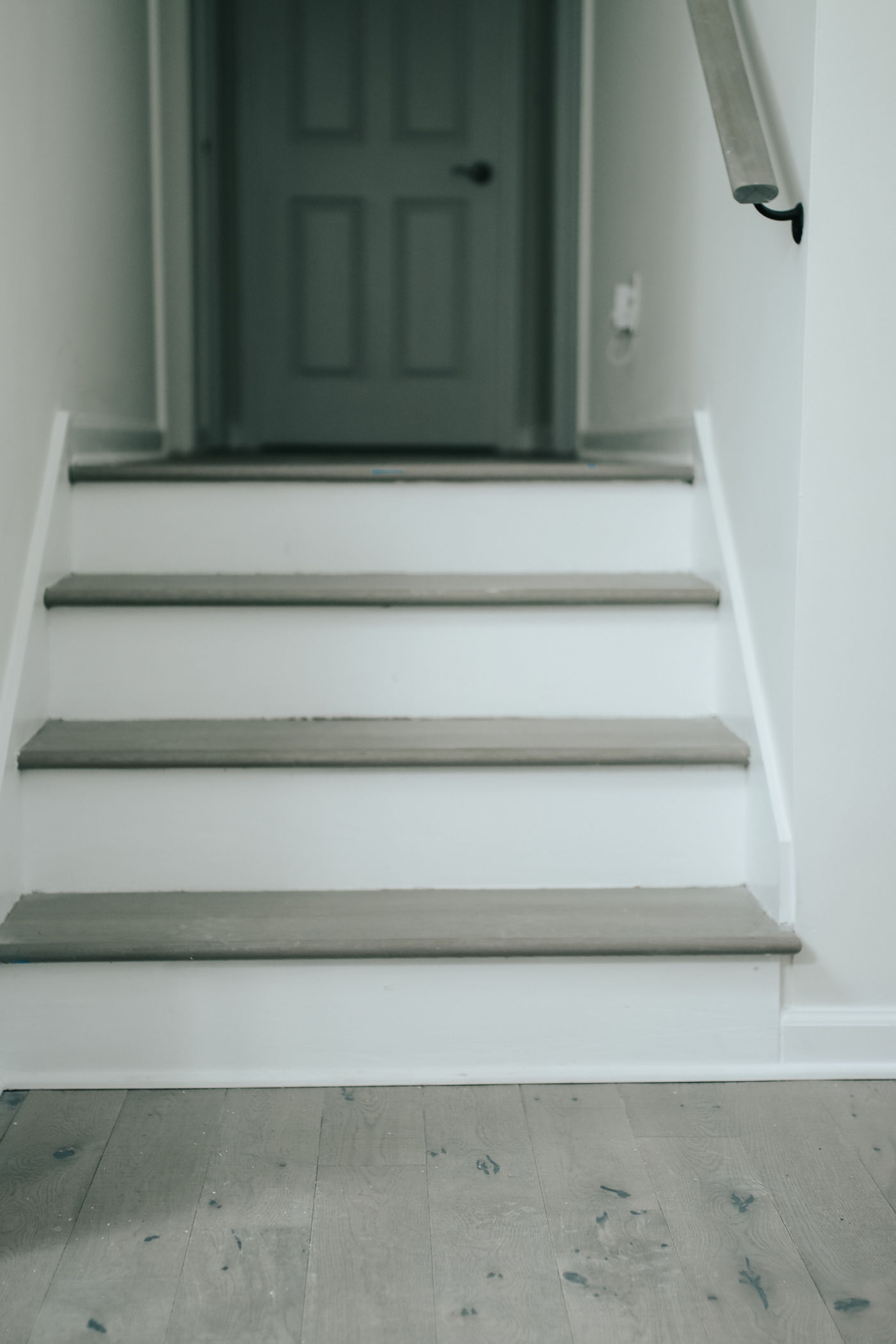 We considered all of our options and The Home Depot was the best place to do it. I knew that I wanted something durable, natural and trendy. Flooring styles can get outdated so quickly if you aren't careful. We explored the least expensive option to the most expensive option and everything in between. The contractors were told upfront that due to the varying colors, staining would be out of the question. We both loved having hardwood floors, but I'd be lying if I said it wasn't an investment. We explored so many different types of flooring like bamboo, laminate and even a short stint looking into wood-style tile, but ultimately we knew we wanted true hardwoods.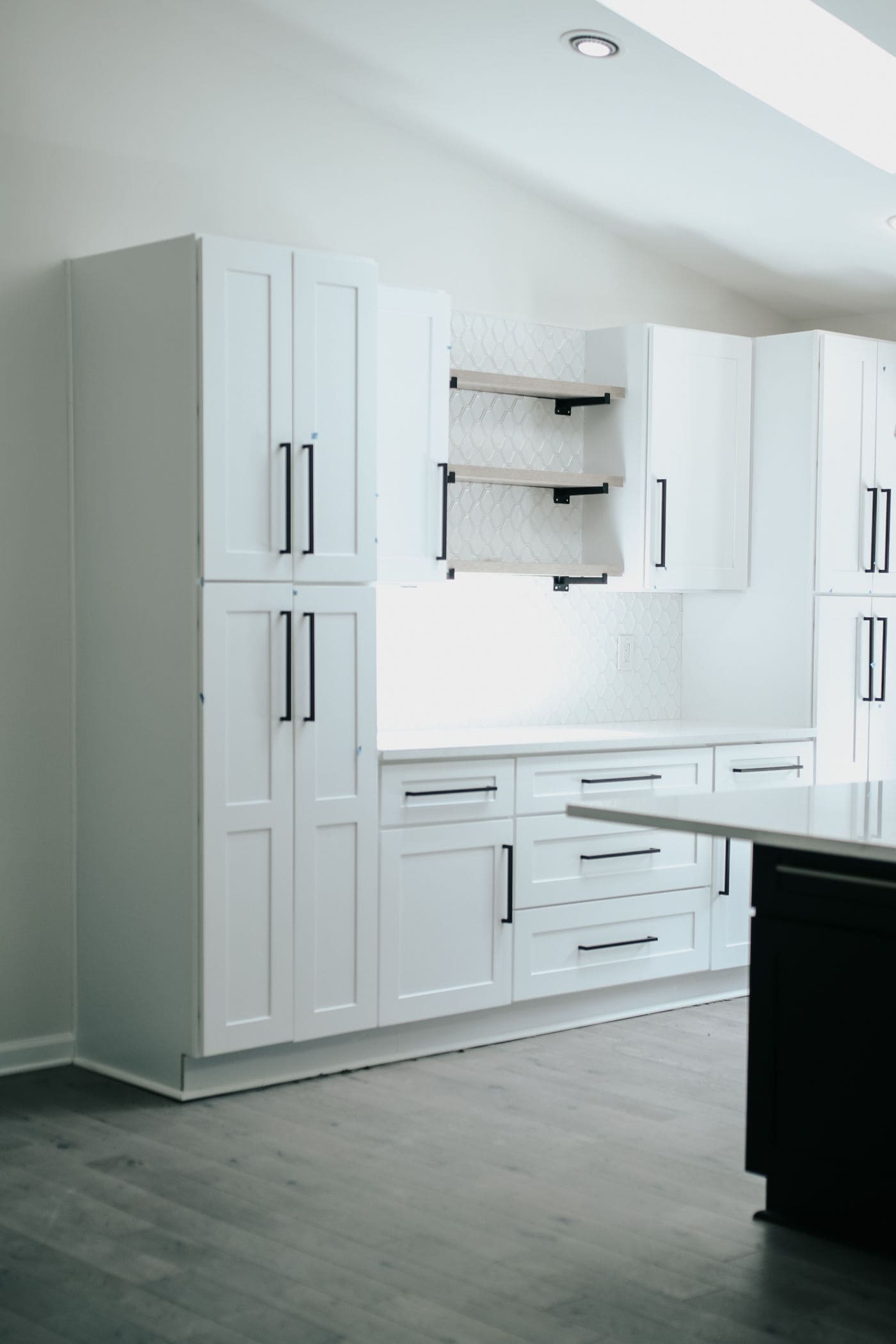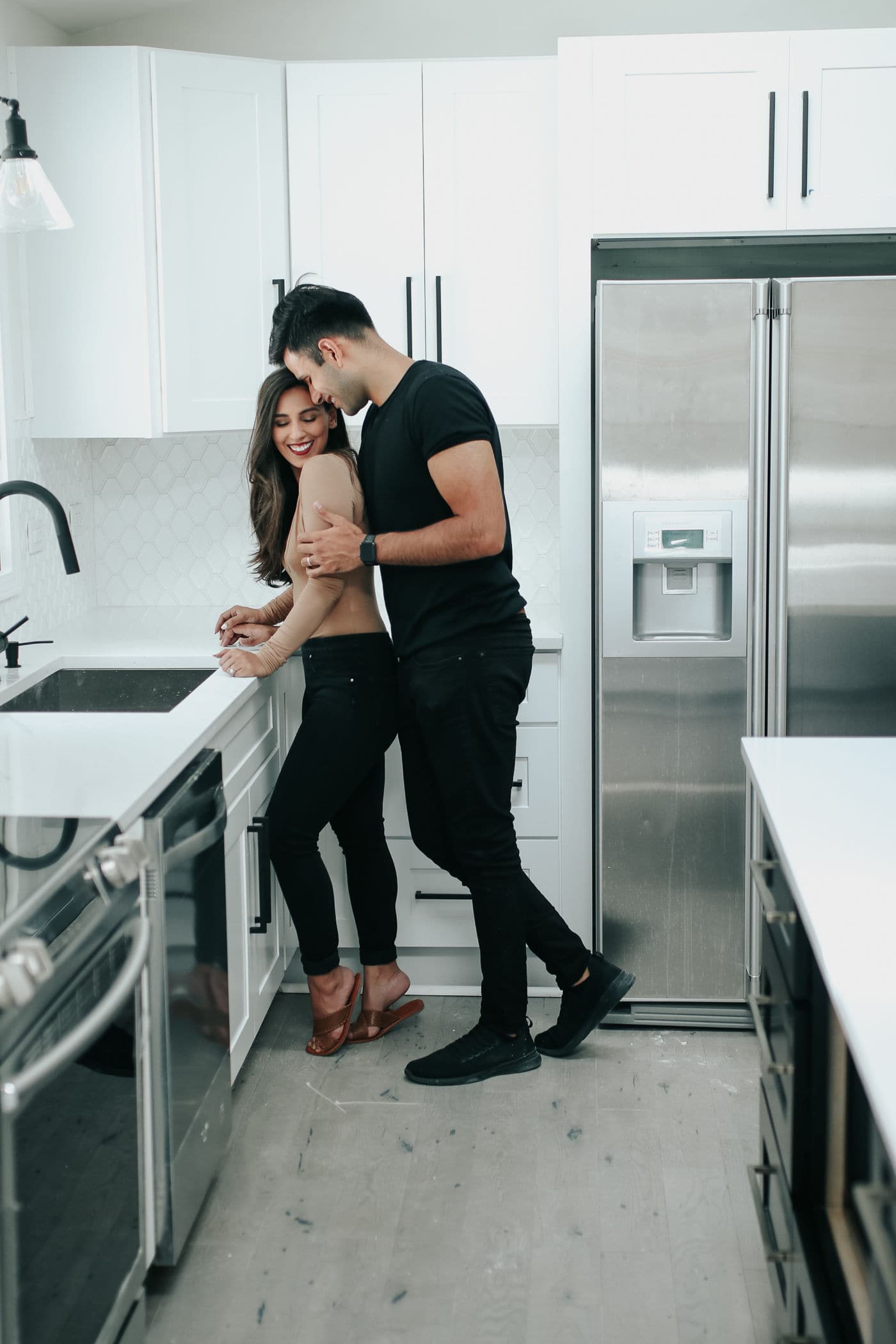 Once that decision was made the tough part was actually picking out the hardwood floors. We went back and forth nearly two dozen times on light v. dark colors and ultimately ended up with a neutral medium. With the design aesthetic of the house being modern timeless, we really wanted the floors to complement the space instead of the other way around. Ultimately, we ended up with the Malibu Wide Plank French Oak and could not have been happier. There was a slight grey tint to the otherwise neutral wood with natural markings that made it the perfect base for our home.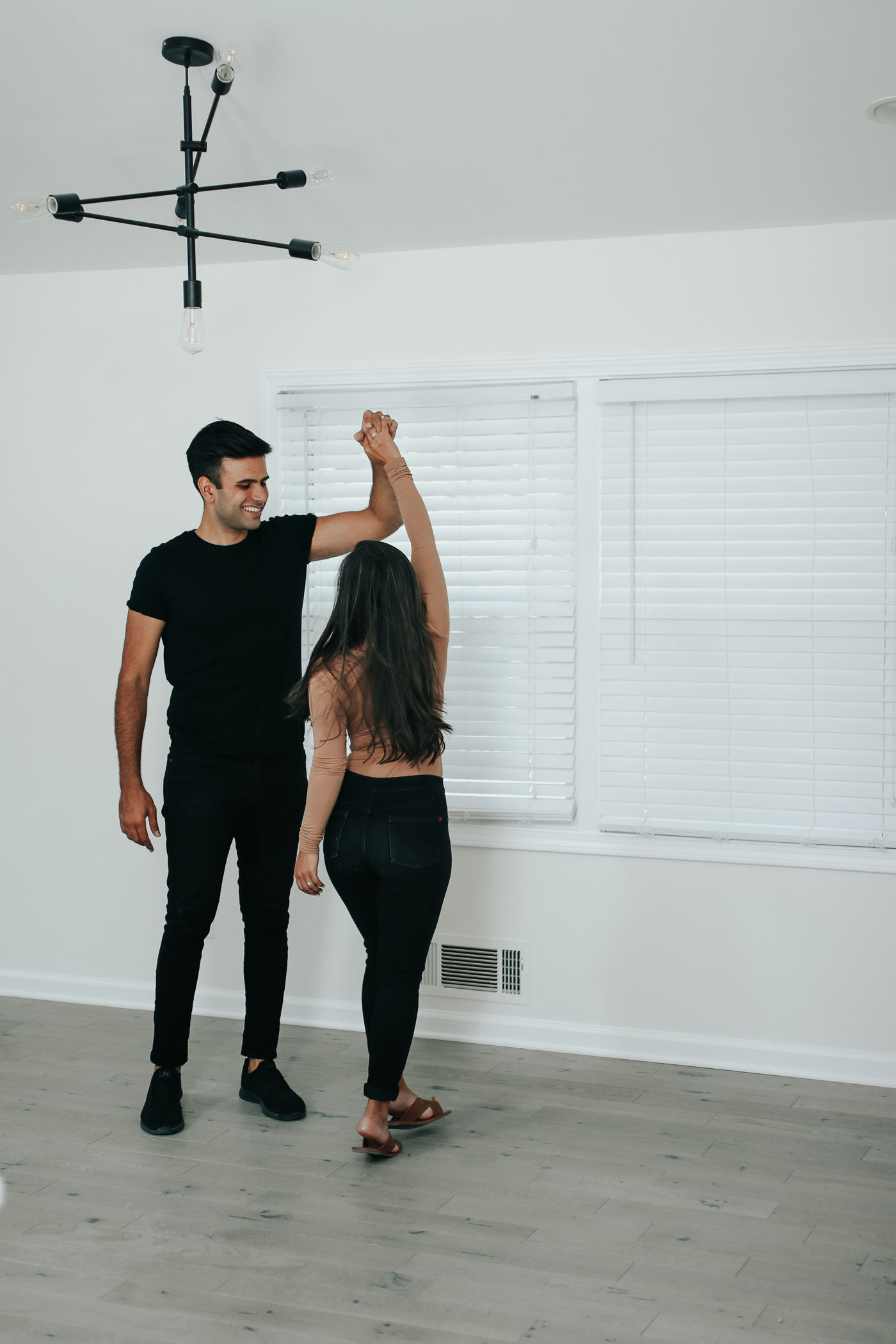 Keeping the home gender neutral was so important for us. When we first decorated our home it was amidst planning for the wedding and with both of us in busy career periods. We ordered pieces from different websites and tried to make them flow once they arrived. Clearly, that was not the right way to go about things. This time around, Sahir and I were equally involved in every decision that went into the house from the hardwood floors and color to the light fixtures. We wanted to make sure that we built a home that we both loved and that spoke to our taste equally. Our first order of business was picking out this rug for our kitchen. I was a little worried that this is where our taste would collide, but instead, it was such an easy experience. We used the filters on The Home Depot website and searched by size and color and within 5 minutes fell in love with the one that we added to our home.
I can't wait to share other areas of my home with you and eventually share a full home reveal. This renovation has been so tough and I couldn't be happier that we are almost to the end of the line with it.
If you're looking to update the flooring your home, now is the time! The Home Depot has the latest trends in flooring at great prices. We are so in love with how our floors turned out and you can check out other hardwood flooring highlights here!
A big thank you to The Home Depot for sponsoring this post. As always, all thoughts and opinions are my own. Thank you for supporting the brands that keep Simply Sabrina running.