I was on Instagram last week and saw a post from a friend sharing what age you should start saving. Not saving for retirement, or for a house, nope – saving for your wedding. It said the average cost of a wedding is 35k (South Asian weddings are multiple days and therefore much more expensive) so it calculated how much you need to start savings.
It said at the age of 24, you should start putting aside $500 a month so that by the age of 30 you can afford your wedding. That seemed crazy to me! But alas, weddings are indeed expensive and after Sahir and I paid for our own, we're aware of the steep costs of having a wedding.
So here's the question – is it all worth it? Looking back at your wedding years later, what do you remember?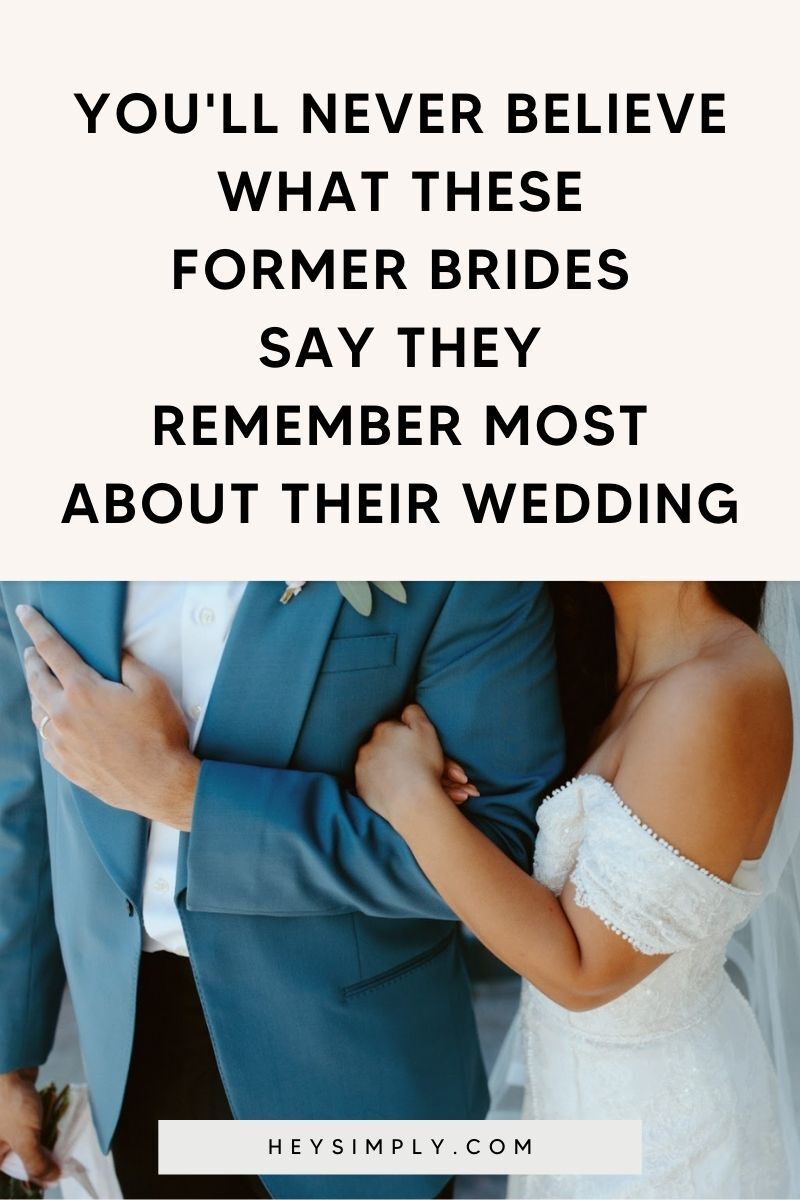 Well, I'll share my thoughts and then I'll share yours. We asked 100 Simply readers what they remember most about their wedding and it's good. So I'll go first and then you can read juicy deets from the squad. Deal?
What I remember most about my wedding is the weeks leading up to it. We had pretty elaborate dance performances all 3 days of the wedding so that meant a lot of dance practice. I'm pretty sure I counted like 12 dances that I was in!
Every Sunday for about 7 weeks leading up to the wedding, we had dance practice. Practice with friends, practice with cousins, and even practice for our parents who did a parents dance! (Seriously, cutest thing in the world, highly recommend). Those days weren't just filled with dance practices, but with laughter, pizza, aunts and uncles and cousins running around – and most of all an excuse for everyone to get together and spend time together.
The weekend of the wedding, a million things went wrong. I seriously thing I still have PTSD, but at the end of it – we were married. My boyfriend, turned fiance, turned husband was mine, and I was his. Being married is the absolute best thing in the world (when it's with the right person) and while I'm not sure I could be convinced to ever redo the wedding, I would marry Sahir again in a heartbeat because he's my soulmate.
Okay, sorry for the sap. Onto the squad!
Fun Things 🎉
Pre Wedding Events
The week leading up to the main events – traveling with friends (got married in india), pre-wedding fun and dance practices!
Dancing the entire week with hubby + family + friends
Fun time prepping with Fam especially cousins
All the planning prior to the wedding, the colours we used and celebrating our wedding with loved ones.
Being Surrounded By Loved Ones
The joyful atmosphere and having so much fun! Also the drinks and food and outfits I got to wear
Happiness, my husband had to wipe the sweat off his forehead every few seconds
Everyone was genuinely happy and celebrating
All of our friends and family dancing all night with us
The joy and love we were surrounded by! It felt like such an out of body experience to sit there and see all the festivities happening around us.
How happy my husband and I were to celebrate with our closest family and friends!
Feeling so thankful to be blessed with All of our loved ones – friends and family coming together to celebrate our love.
The Details
Yikes 😬
Family Drama
Being miserable with my family being there
How overwhelming it all was, I hadn't met much of his family and he definitely didn't provide much info about the dynamic. We also got married 3 months after being engaged because his sisters engagement fell through 3 weeks before the wedding date. All was paid for so someone was getting married that day and we were engaged so it was us. (Editor's note: whoa! This is like a movie!)
I eloped and went to a Justice of the Peace, then told my family so lots of mixed emotions
MIL drama
In law drama! Totally ruined my special day
My MIL complaining
The Stress
Didn't get to eat
How much work it was, it was like a marathon
It was stressful and emotional
Being hungry, tired, and uncomfortable. It was 103* that evening in a restaurant with 400 people.
The Cute 🥺
Stolen Moments
The food, dancing, spending countless hours with family from out of town, and sneaking away for even 5 min with my partner. Just to be alone and talk about how crazy the weekend is
Being so excited to be my husband's wife! And all of our friends and fam dancing the night away.
Lol well Covid pushed our wedding, but we got legally married. We had a small gathering to legalize our nuptials, and I actually loved that we got to share that moment with family only.
Honestly, it was a very calm day. I was ready to marry my best friend and everyone made the day super simple and carefree.
We eloped because our wedding was cancelled during covid. It was perfect. We got ready ourselves, enjoyed an activity we both enjoy, and could be vulnerable and only focus on one another and the moments we were in
My grandma's excitement & smile
Wedding Traditions
Exchanging our vows
Our first dance
My husband is a man of very few words. when wedding planning we both expressed our biggest priorities for the wedding day and mine was for us both to say and write our own vows those precious honest vulnerable moments will be with me forever. And thankfully we made sure to hire a videographer to record it too 🙌🏽
Father daughter dance
The Look in His Eyes
The way my husband was staring at me all night. And dancing all night(:
My patience when things didn't turn out the way I wanted to. Also that moment when he saw me walk down the aisle❤️
Looking into husband's eyes at altar/mandap
My husband crying when he saw he me walking down the aisle
His expression when I walked down the aisle
Final Thoughts
Whether you're a bride to be or someone dreaming about their big day, I hope reading this gives you some ideas of the things to look forward to. Brides are bombarded with expensive decisions about frivolous things like cloth napkins, wedding favors, and Chivari chairs. As you can see, not one woman mentioned anything about this. Not even one.
So when you have to choose between the expensive centerpiece and the bomb makeup artist, pick the makeup artist – because you'll be tired (hopefully from dancing all night) and a professional will bring you back to life in the best way. After all, everyone you love will be there, and they will have all eyes on you – not the chairs they're sitting in.
Your closest family and friends are there to see you be happy. That's literally it. No need to go out of your way to create a movie-style experience for them. Do what makes you happy and let the rest go. When it comes to Instagram vs. Reality in weddings the lines can be blurred – but when you're marrying your soulmate – reality is always better.