There are so many benefits to turning your passion projects into a side hustle. At its core, a side hustle is a way to make some extra money and while exploring your interests. It can be a chance to delve into something that you care about, without quitting your full-time job. Whether your goals are to gain financial freedom, pay off student loans, or just build multiple revenue streams, there are so many benefits to diversifying your income. With a side hustle, you earn money without quitting your job.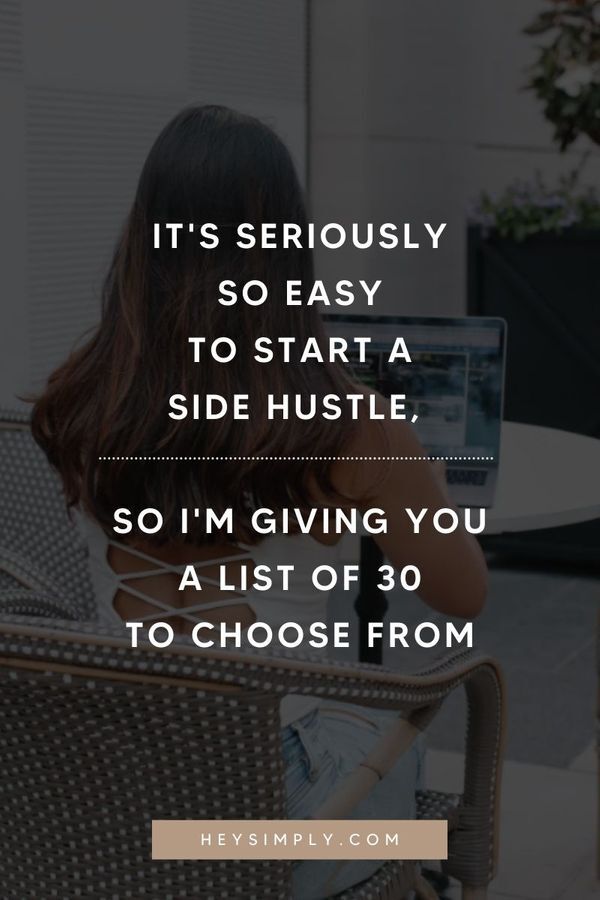 I know what you are going to say. "But I don't have any skills to monetize!" and while you may be right, you could also be overlooking a number of ideas that are optimized for your skillset. Here are 30 ideas to get you started:
Design Logos on 99Designs
Every business needs a logo, so the market is wild here. If you are good with photoshop (or willing to learn!) you can create a business helping others with theirs.
Music Instrument Tutor
If you know how to play an instrument you can teach your craft at a local level or even online with companies like Skillshare.
Foreign Language Tutor
Make use of that degree in French and keep yourself fresh by working with local students. You can also look into community programs and teach adults!
Teach Online Course
Really good at Pinterest? How about SEO? Create your own online course!
Be a Coach
Did you play a sport in high school or college? Consider being a recreational coach for softball, track, or tennis.
Tailor
Sewing is a bit of a lost art but alternations are still necessary. You can make a good amount of money by being a reliable tailor even if you just do small jobs like hems or sleeve alterations.
Editing College Admission Essays
There is such a need for this for students all around the world. You can start a business helping students achieve their college goals.
Design Websites
Website design is lucrative but takes a long time. Once you establish yourself, you can take on as many or as few projects as you want.
Start a travel blog
If you love to travel locally, nationally, or even internationally – you can monetize your hobby and build an online destination for readers. With the blog market being as saturated as it is, being a travel blogger with a niche is key. Are you a budget-travel blogger? West coast travel blogger? European travel blogger?
Sell stock photography
Do you love taking photos? Make money with your outtakes by selling your stock photography to websites like iStockPhoto.
Bake goodies
So many people choose to work with local bakers vs big shops. Nowadays a store front isn't necessary, so you can work with clients from the comfort of your home. I love finding a local baker to do my party cakes & gifts for housewarmings, birthdays, etc.
Start an Etsy shop
Do you love to craft? Can you embroider? Print? Draw? Paint? Sell your crafts on Etsy!
Create invitations or stationary
If you love designing on the computer, consider starting your own print shop and sell wedding invitation templates on Etsy. You can do bridal shower invites, baby shows, or even menus, flyers, etc.
Drive for Uber/Lyft
I love meeting new people in my ride shares. Especially if you recently moved to a new city, it's a great way to make some extra money while learning the ins and outs of a new city.
Sell tech services on Fiverr
If you are familiar with WordPress, Squarespace, Excel, Powerpoint, Photoshop, or really any software there is a huge market in this gig economy for ad hoc help. Services start at $5 and can go into the $100s based on what you can do.
Become an admin with Task Rabbit
Keep an eye out for virtual tasks that are administrative, work, or research help.
Start a food blog
Love to cook? Take a quick class on food photography and start sharing your recipes online. The food industry is highly lucrative. Think of specific markets like Keto food blog or gluten free.
Become a personal trainer
Are you #GymLife? Look into getting certified to become a PT and work with your network to get new clients on board.
Write resumes
Do your friends always send you their resumes? Make it a business by charging others for your skills. Build a portfolio and include some testimonials from clients on your website.
Video/Photo editor
If you are good at Photoshop, Final Cut Pro, Adobe Premier, or Lightroom you can offer to work for a media company and help in their editing process.
Fitness instructor
Love Spin? Why not turn your favorite class into income? Get certified to teach at your favorite studio.
Sell Vegetables at a local Farmers market or restaurants that source locally
If you are into gardening there is a market for people who only want to buy locally. Look into local markets to sell your goods.
Sell baked goods at a local market
Love to bake? People love to eat! Get your name out there in your community.
Freelance Proofreading
Advertising agencies are a great place to start here. They are always looking for folks to dive into their hundred page briefs and ensure that it's all done correctly.
Freelance Copywriter
This is perfect for those of you with English degrees and love correcting other people's grammar.
Online Mock Juror
Companies and Law Firms need users to practice on so there are opportunities to be a mock juror.
Be a transcriptionist
Is your attention to detail stellar? You can make anywhere from $15-$25 an hour by transcribing audio only files. See companies who hire here.
Tutor Chess Players
Love Chess? So do a lot of folks. Teach in your free time and enjoy the game yourself.
Take Surveys in your free time
There are so many sites where you can take surveys and help companies fine tune their products to meet a general user's needs. Start participating in them.
Review Movie Previews
You can earn hundreds a month by reviewing Movie Premiers with companies like Inbox Dollars