Times are a-changing and people aren't staying at the same job for 40 years and then retiring with a chorus of "She's a Jolly Good Fella" and a sheet cake. A new wave of employees is shaking up the way employment works. In fact, Bankrate found that over half (51%) of millennials have a "side hustle" and that makes total sense. Here's why: whether your goals are to gain financial freedom, pay off student loans, or just build multiple revenue streams, there are so many benefits to diversifying your income. Single points of failure are never a good idea – maybe thats why we have two kidneys, two eyes, and two ears.
On average, about 10 times a week I get messages from followers who are interested in starting their own blog, side business, or being an influencer. I LOVE inspiring the hustle and realize that I get so many questions that this warrants its own post. I've been doing this for six years and there are so many things that I wish someone had told me before I got started.
RELATED: 3 Things I Wish I Knew Before Starting a Blog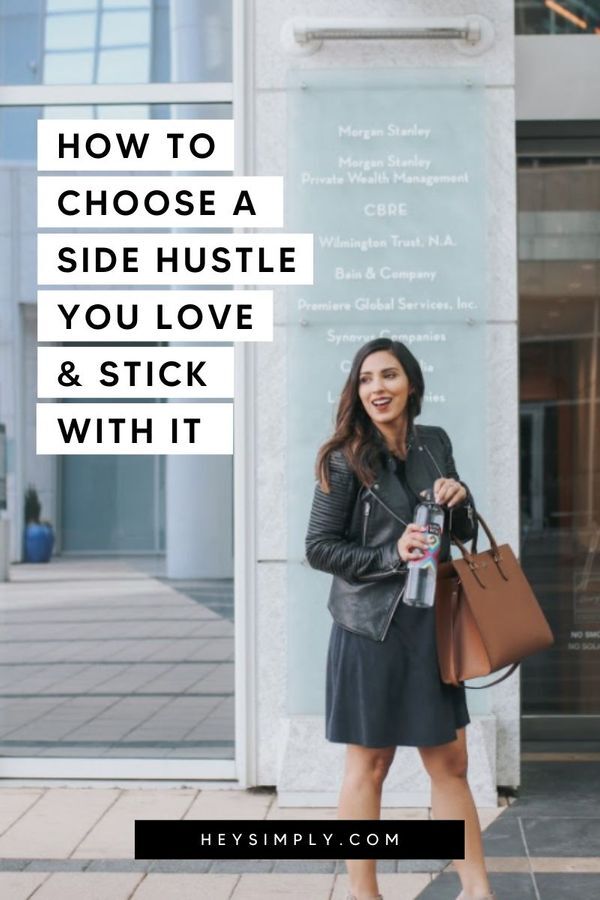 WHAT IS A SIDE HUSTLE?
At it's core, a side hustle is a way to make some extra money, while exploring your passions. It can be a chance to delve into something that you care about, without quitting your full time job.
There are so many different things you can do, but here are the 7 things you need to do FIRST when you are ready to jump into your passion project:
RELATED: 6 Habits Every 20-Something Needs To Start Immediately
PICK YOUR PASSION
You work during your day job in a field you may or may not be super excited about. When choosing your passion project, be sure to pick something where you don't realize time is flying by. If you love to play music, consider being a music instructor or if you love to write, consider writing for online publications. This shouldn't seem like a chore since you are replacing your free time with it. You have to love it.
BUILD A DESTINATION
Whether its a website, Facebook page, Instagram account or YouTube channel, find a place to redirect all of your traffic. You should write about yourself, your goals, services offered, rates, etc. Your potential customer needs a location to learn more information.
START WITH $100
I think this is one of the most common mistakes that people make. They aren't sure how lucrative this new initiative will be, yet they drop hundreds and sometimes thousands of dollars before they have even become profitable. You can validate an idea in less than $100, it's really the time that you will be investing.
DO IT FOR FREE
Don't expect to make money off the bat. If you want to be a travel writer, visit local and regional hotels, businesses, and restaurants and write the type of content that you hope to one day get paid for. If you want to sell cookies online, offer services to your friends/families or maybe an influencer or local business who can help market for you. Rome wasn't built in a day.
BE READY TO INVEST TIME
If you want to be an influencer because you think you'll get tons of free products by just posting about it, you'll probably be really disappointed. Being an influencer takes work and you are looking at spending about 20+ hours a week cultivating your brand for 2-5 years before you see any fruits of your labor. This isn't unique to just being an influencer. In any side hustle or business you need to plan on investing time and resources for a couple of months to a couple of years before it becomes lucrative.. or even breaks even.
RELATED: A Day In The Life Of a Part Time Blogger With a Full Time Job
GOOGLE EVERYTHING
Want to know where to start? Google it. There is virtually information for every single question you could ever ask online. What you shouldn't do? Ask someone their formula. Imagine if you were interested in being a wedding photographer and you asked your favorite one – "Hey, I want to do what you do – what do I do?" While your intentions may be good, asking someone to summarize the years of time, resources, and money that they spent into building their empire in an Instagram DM is probably over-simplifying. That, however, is a great question for Google! A better question for your favorite photographer? "Hey, I love your work and I'm interested in starting to learn photography. What was your first starter camera and do you recommend it?" – People are generally happy to answer specific questions! But asking someone how they built their business usually won't get you the answer you are looking for.
LEARN EVERYWHERE AND ALL THE TIME
Both my full time job, and my side hustle revolve around tech and the ecosystem is constantly changing. You have to be agile and open to adapt with it. I try to make the best use of my time by listening to podcasts like The Goal Digger by Jenna Kutcher, Girl Boss Radio, and Being Boss. We are so lucky that there is a world of information available to us on Pinterest too. If you ever wanted to know 'Top SEO Strategies for WordPress' or 'What Pixels Are Best For a Facebook Cover Photo' – literally everything is there. Use it as a search engine. I often share my favorite Girlboss podcasts, articles, and books on my Instagram account. You can follow me @_simplysabrina
SIDE HUSTLE IDEAS
I know what you are going to say: "But I don't have any skills to monetize!" and while you may be right, you could also be overlooking a number of ideas that are optimized for your skillset. (CLICK HERE for a list of 30 ideas!)
Here's some examples:
Create an Online Course: Love Excel? Do your coworkers always come to you for help? Consider teaching a course on SkillShare or Lynda.
Become a Virtual Assistant: Maybe you spend an exorbitant amount of time on Pinterest. If you are interested in the business of Pinterest you could get certified as a specialist and help small business with their social media strategy. Same goes for Facebook, SEO (Google), or even Instagram.
Get Tech Gigs on Fiverr: Have a knack for web design? People are always looking for ad-hoc techies who can help with their websites, email newsletters, or even freelance writing.
As we build into our 20s, having multiple sources of income allows us to save more for the future and get a hold of our finances. I want to be clear that this isn't some get-rich-quick-scheme. I'm not advocating that you quit your job to sell body wraps on your smartphone or flip houses with borrowed money. With a side hustle, you earn money without quitting your job and explore your passions.