This post was created in partnership with The Home Depot. As always, all thoughts and opinions are my own. Thank you for supporting the brands that keep Simply Sabrina's doors open.
When we first purchased our home nearly 5 years ago, it was coated in a terrible medicinal-pink color. We were a younger couple who saw good bones in a small home that was the right size for us. We knew paint was interchangeable and sleek & clean looks were in at the time. In line with what we saw on HGTV – we opted for a full grey wash both inside and outside of the house. It was manageable for a while, but as the years dragged on we realized that our home quite literally felt grey in comparison. We wanted to do something bold, some may even consider it risky, but we went for it – and we love it.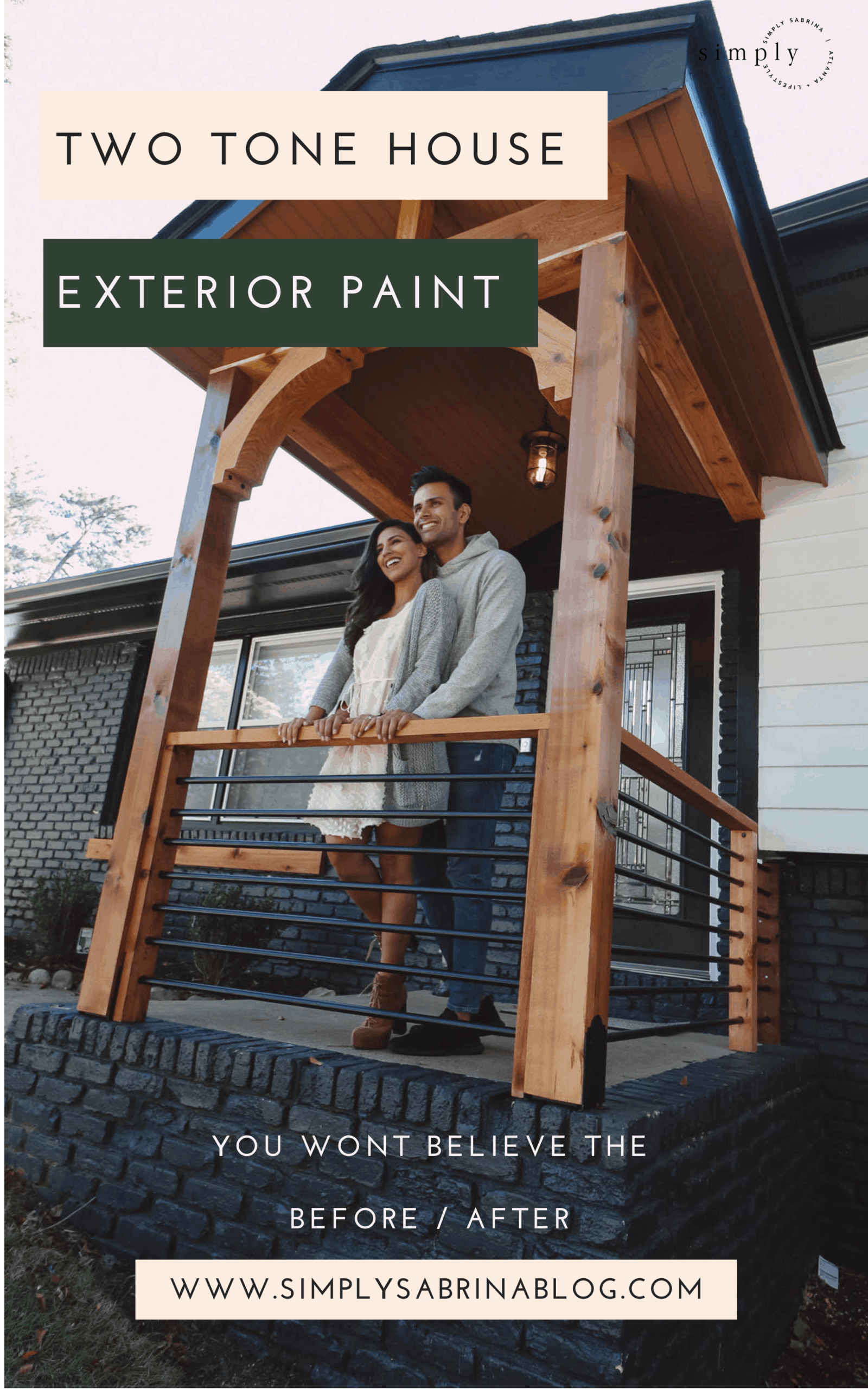 THE HOME WAY BEFORE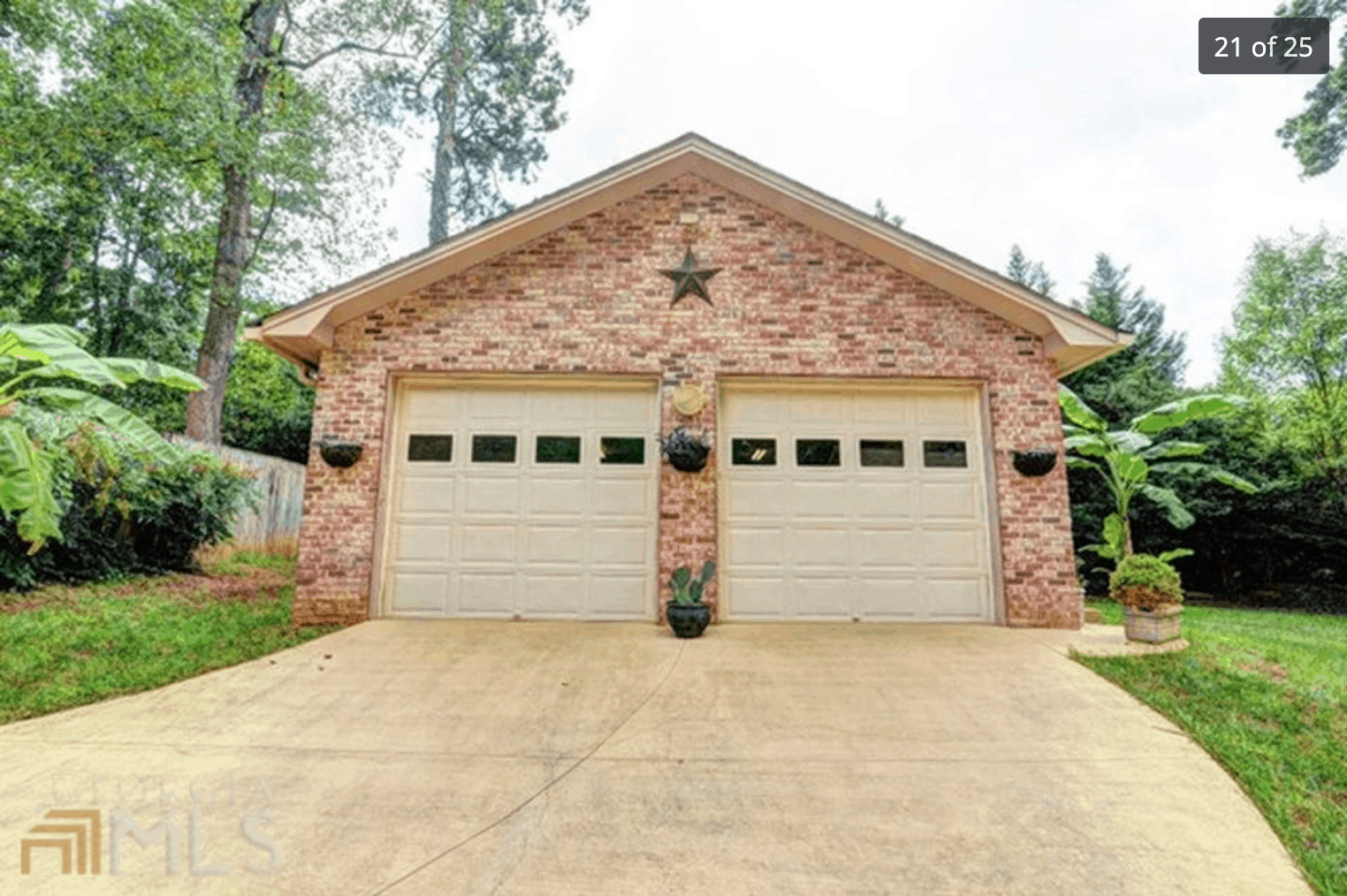 White-washing brick has been in style for years, but there was a heavy push about 5 years ago. We hired painters to give our home and updated look before we moved it. We removed the shutters for a more modern look, but somehow it just felt incomplete.
THE HOME BEFORE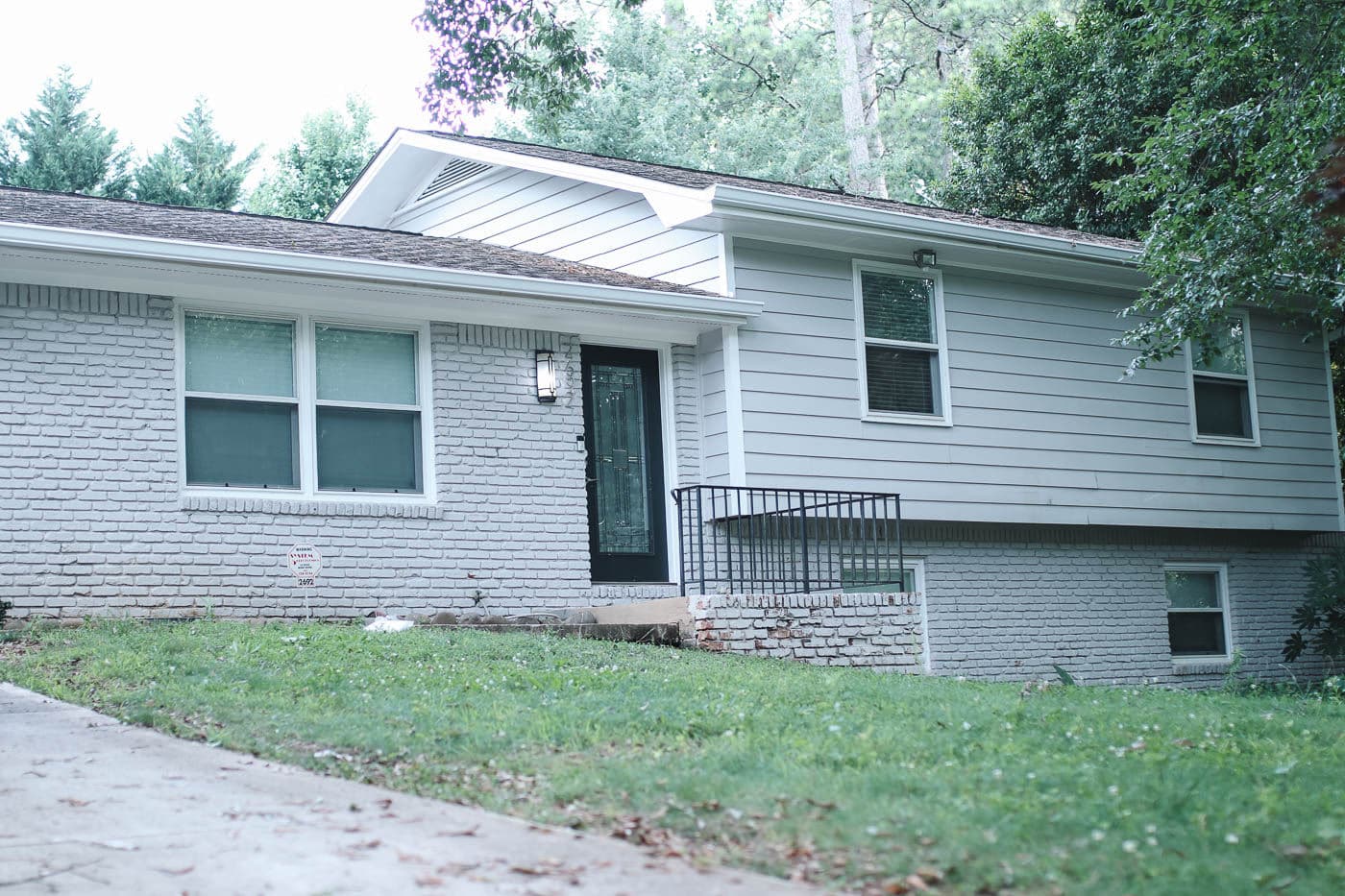 The grey home felt familiar and it's what we knew and loved. However, with a full interior home renovation, it was only fitting that the outside got an update too. We said goodbye to our drab, single-tone home and hello to a bolder choice that would help with curb appeal.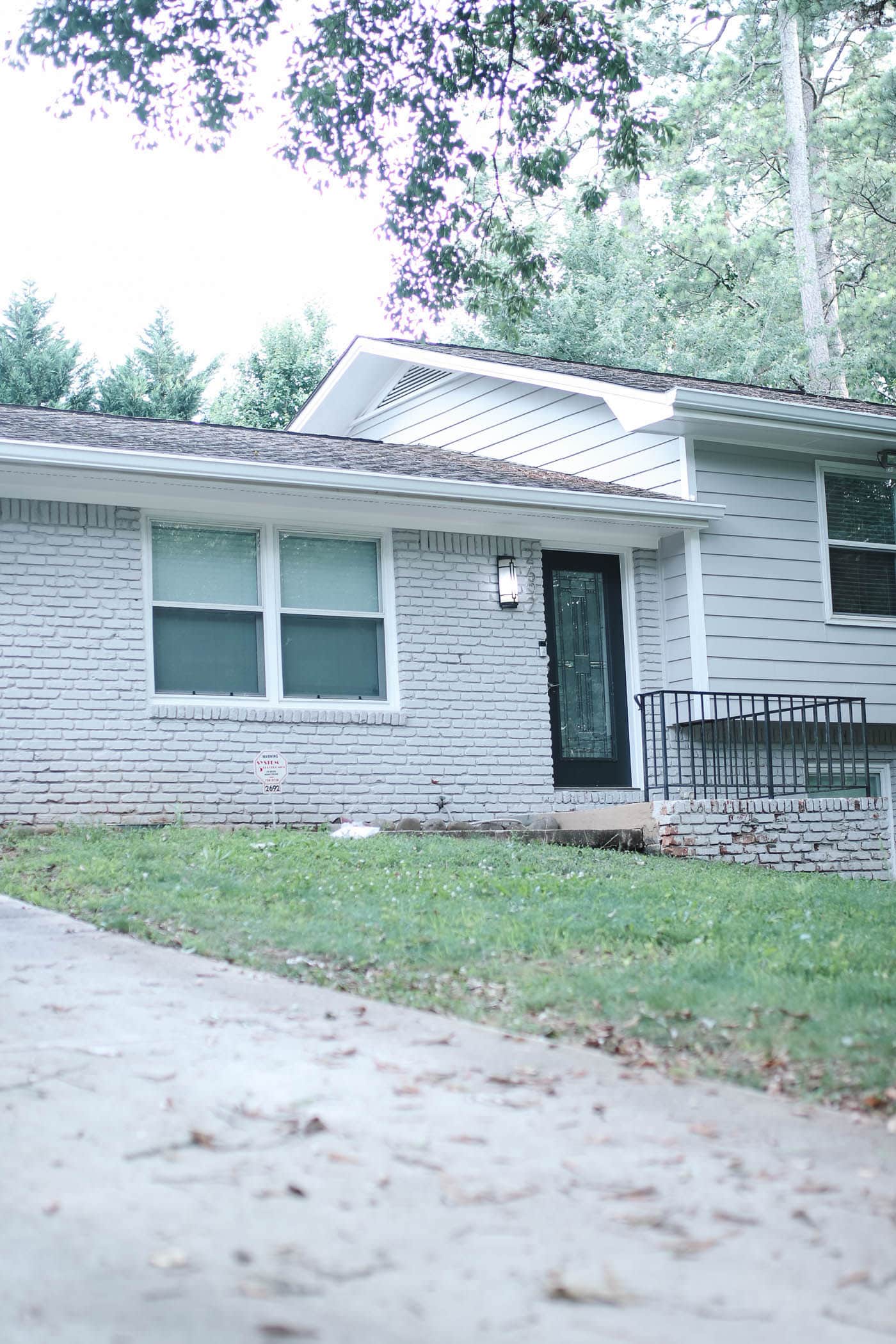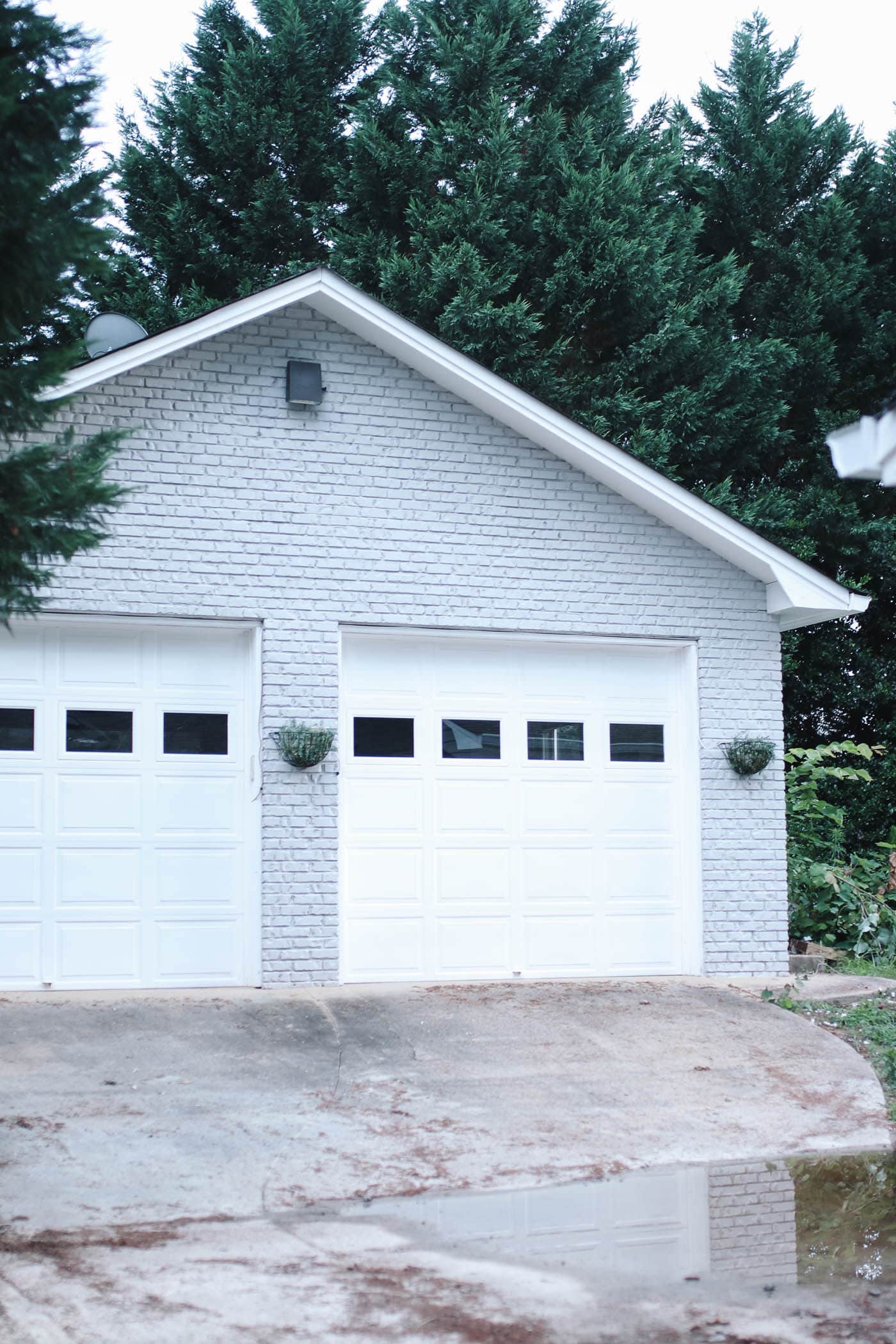 THE INSPIRATION
Aside from a few pictures on Pinterest, the only real-world example of a two-tone building was an office complex in the suburbs near my husband's office. Coincidently, we both had snapped a photo on our phones as we drove by the building one day and were surprised that the other did the same. I know what you're thinking – it's cool in theory, but your house doesn't look like that. Your house is smaller and more level. We thought the same thing.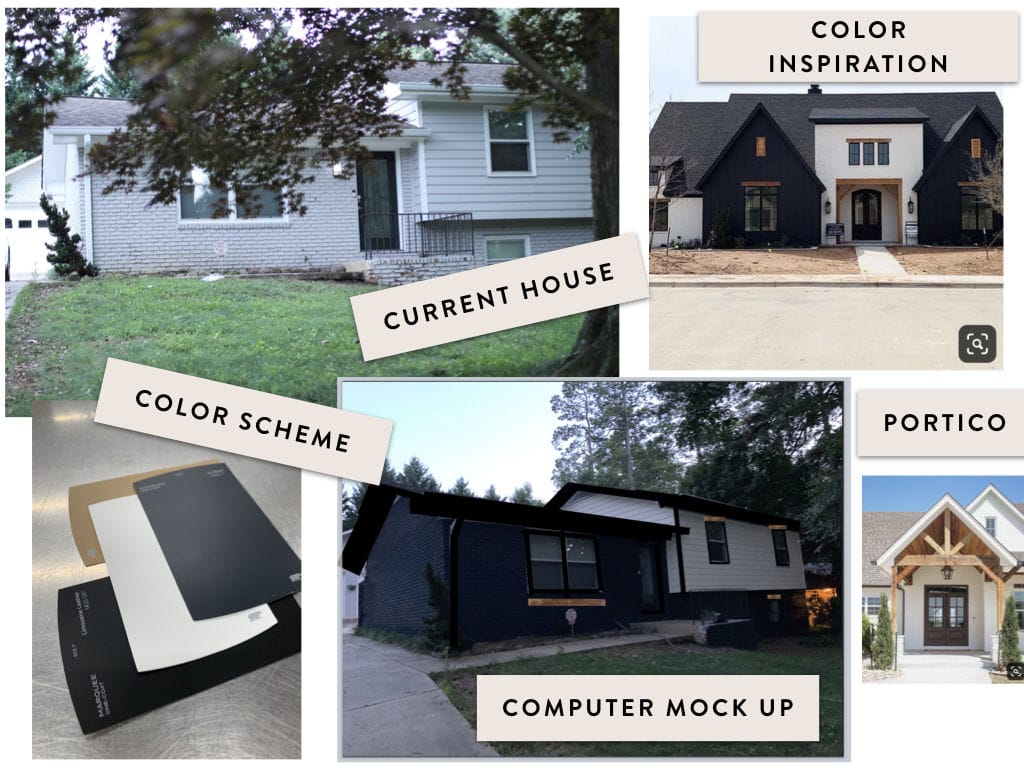 We decided that this would either turn out amazing or terrible, and I couldn't get on board with a 50/50 shot. I took to my computer and designed a mood board to help us visualize the dual-tone theme and whether or not this would work out for our home.
THE PROCESS
Once we decided that we were going for it, we needed to finalize colors. We turned to The Home Depot and got their help both in-store and online. We downloaded the Project Color App.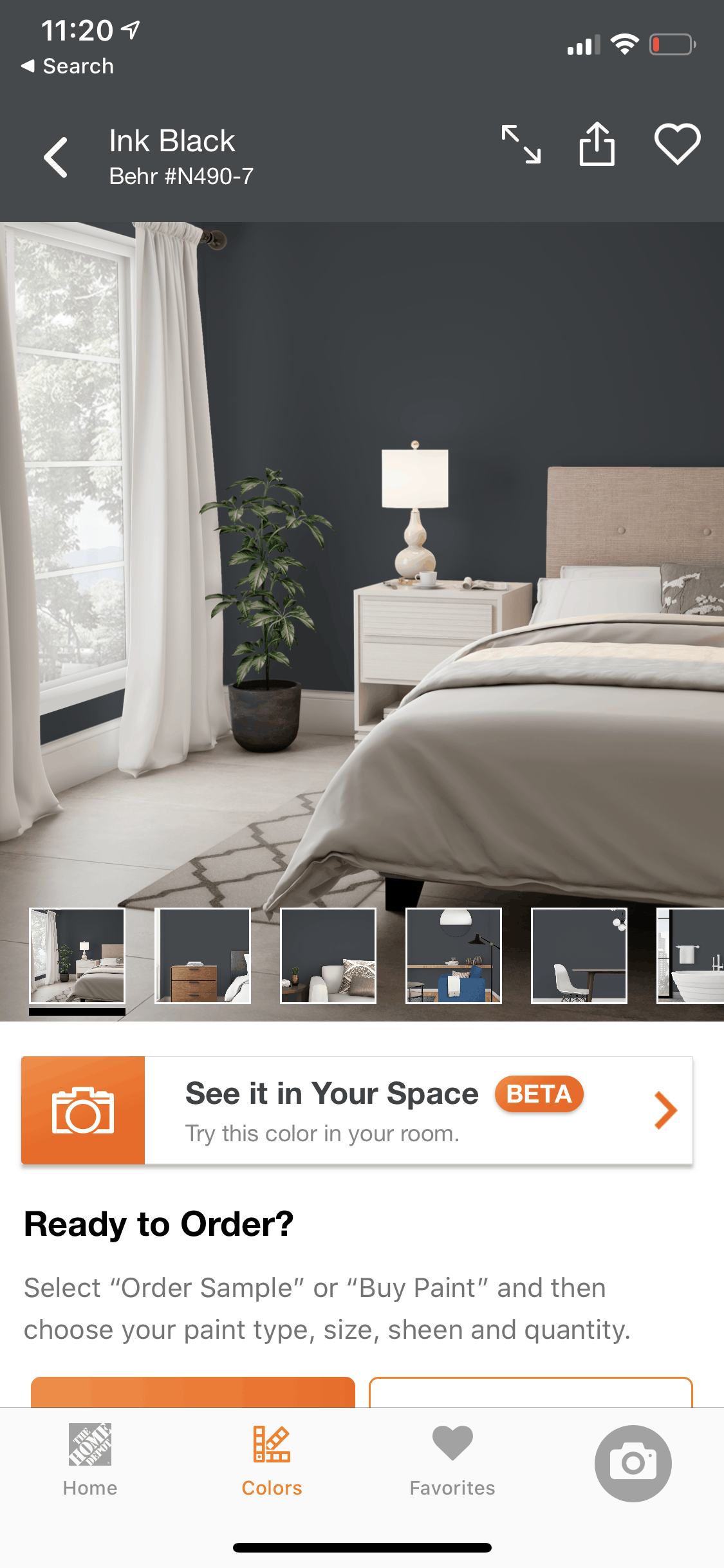 [/one_ha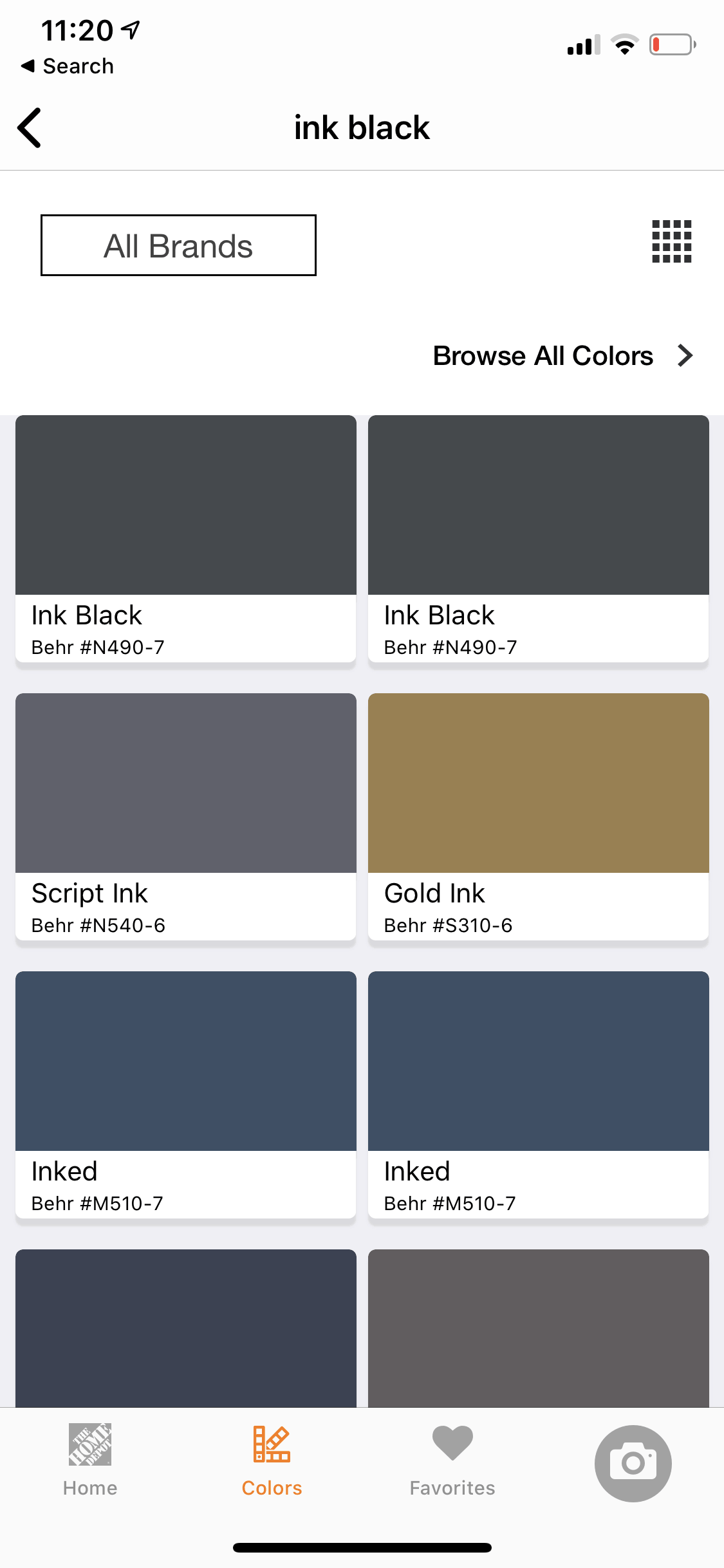 I know how scary it can be to want to paint your space without knowing how it will turn out. This is why the Project Color App from The Home Depot is such a helpful tool to help you feel confident about your decision. There are so many different color options and if you aren't sure where to start, they've curated a color palette to help give you some inspiration!
THE PRODUCTS
Our paint team also did our cedar work which is a big focal point of bringing the exterior together. We got all of our supplies from The Home Depot from the wood, to the paint, and even the lighting.
Colors from top to bottom: 1/ Ink Black, 2/ Winter Way, 3/ Night Club, 4/Tricorn Black, 5/Inkwell
What we chose:
Exterior Paint Color 1 – Ink Black
Exterior Paint Color 2 – White
Exterior Trim Color – Limousine Leather
THE FINAL REVEAL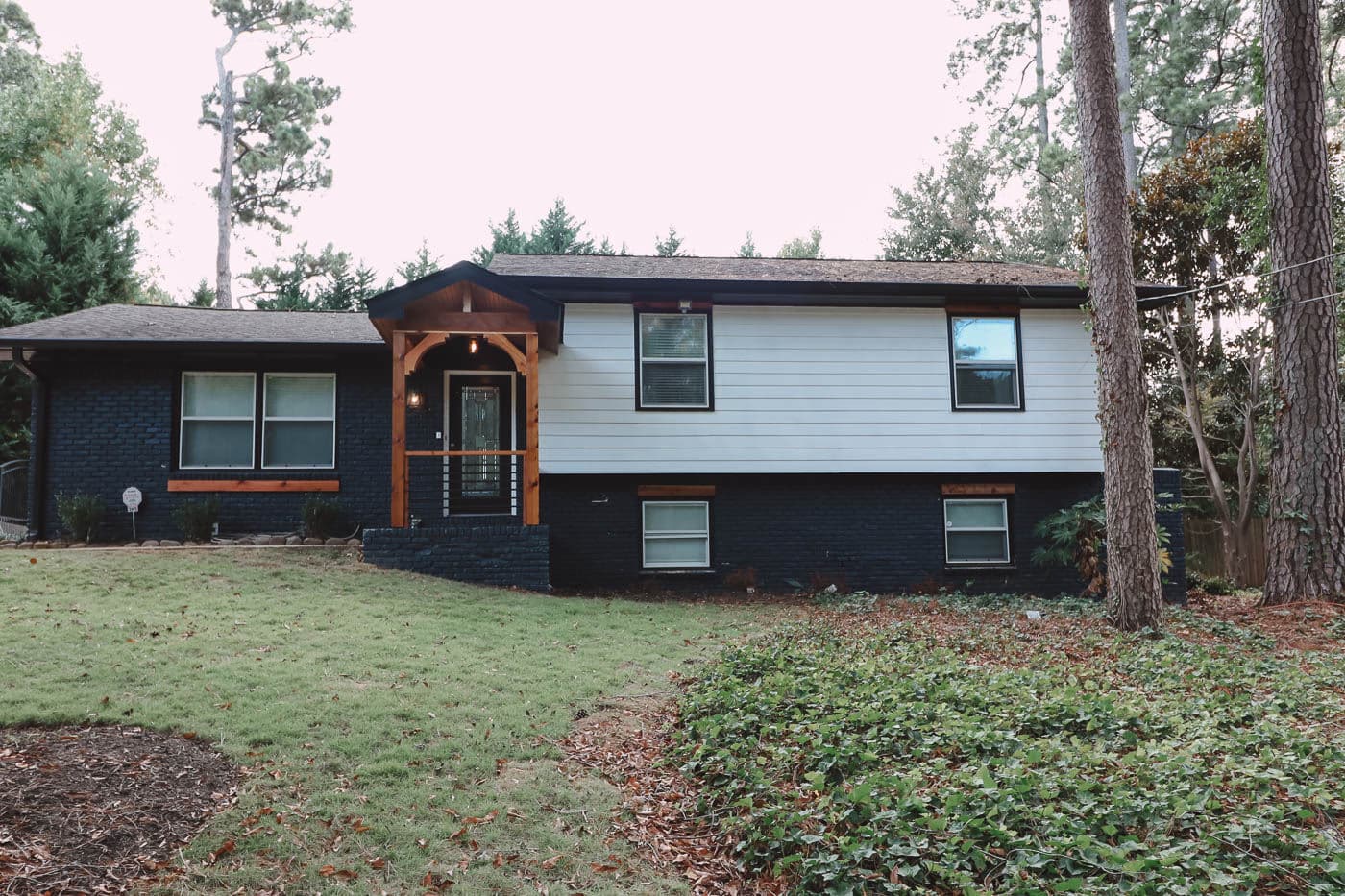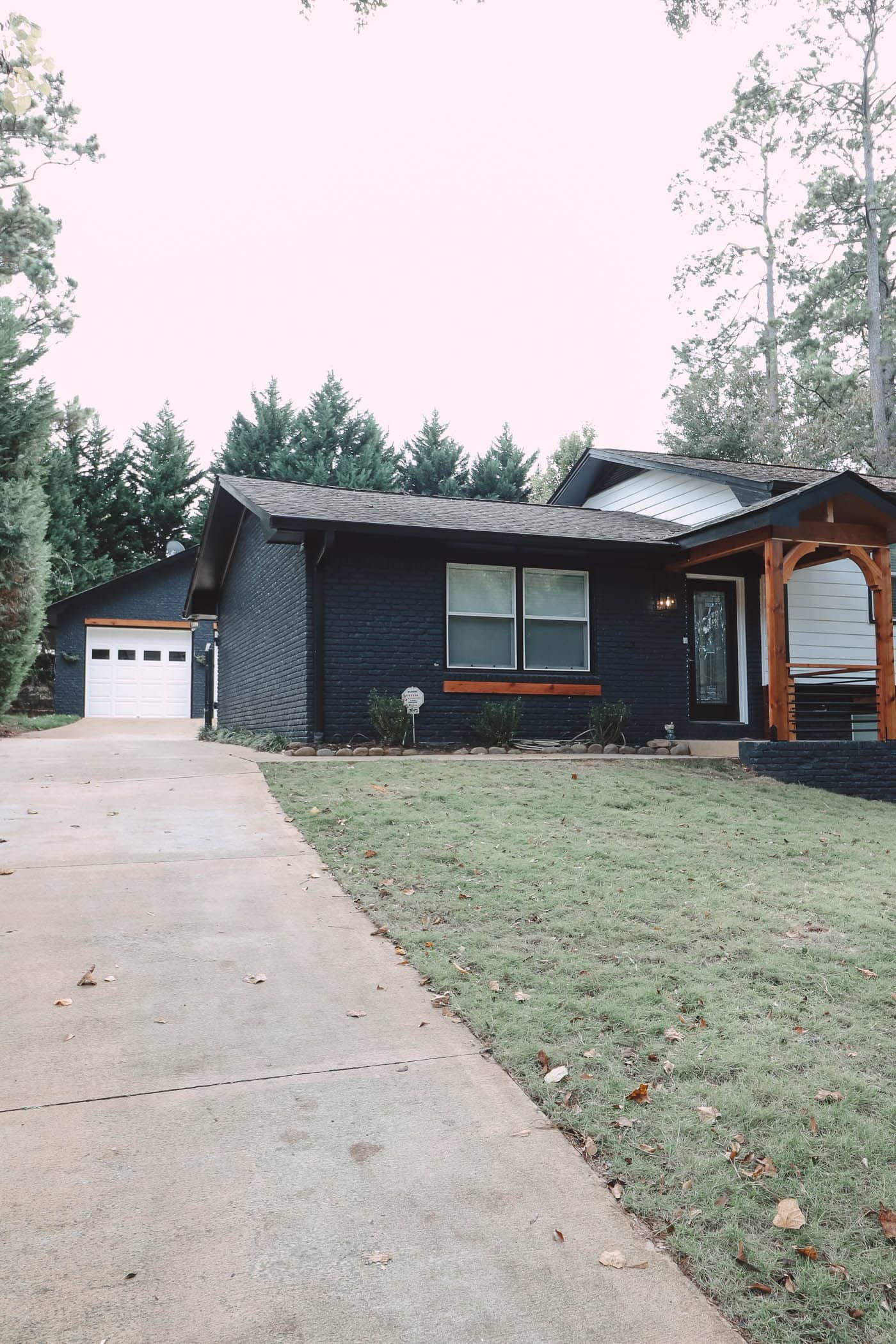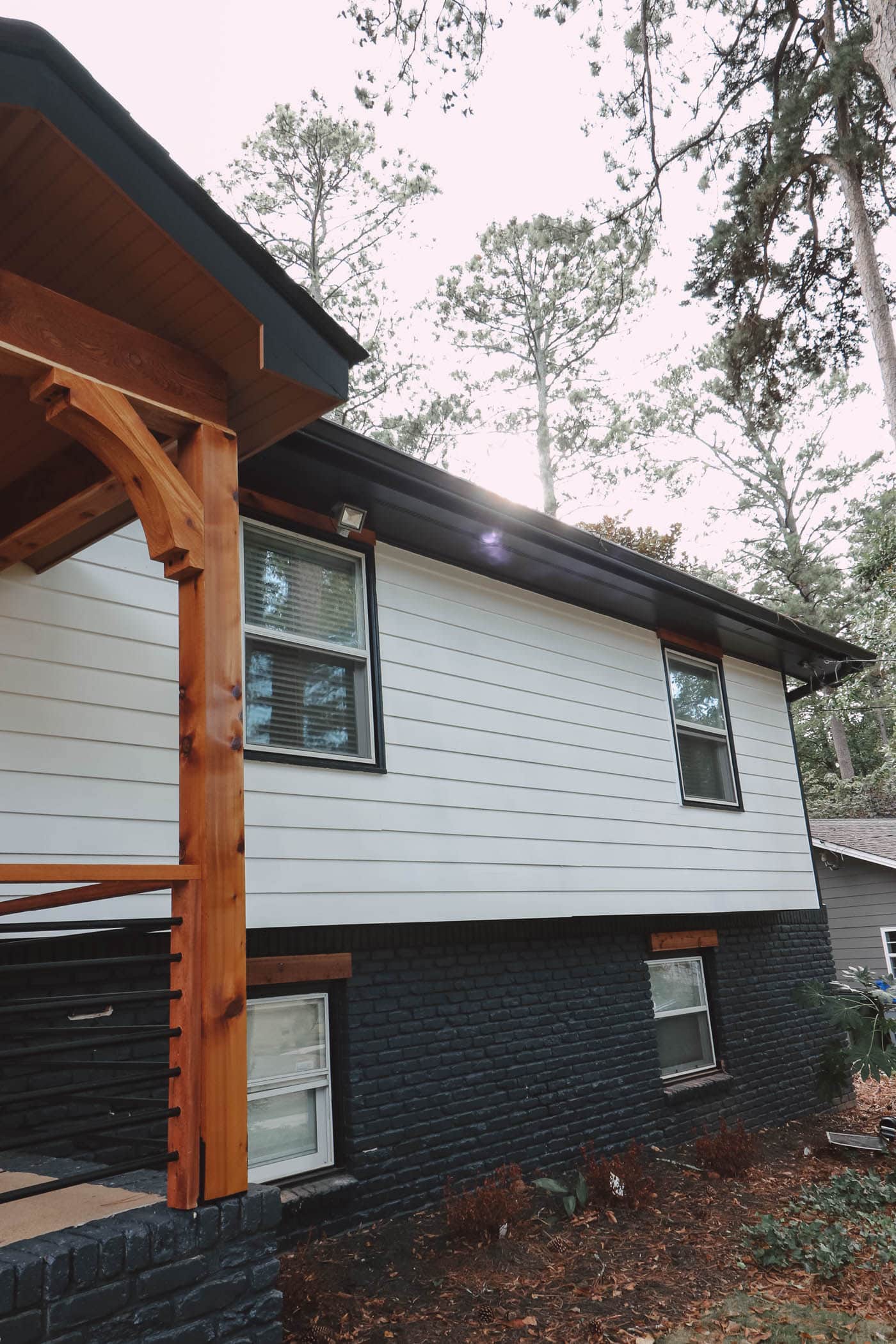 We couldn't be happier with how it turned out. Like I mentioned before, this was certainly a riskier option, but we love the way that it turned out. The cedar accents bring the entire space together and we love the new portico to keep out guests (and packages) safe from the rain.