I put together a post similar to this a few years ago when I was working full time and running my blog part time. In the last two years, things have changed. I've been working on Simply full time and my days look a bit different. Here's what A Day in the Life is like, brought to you in partnership with Verizon 5G home.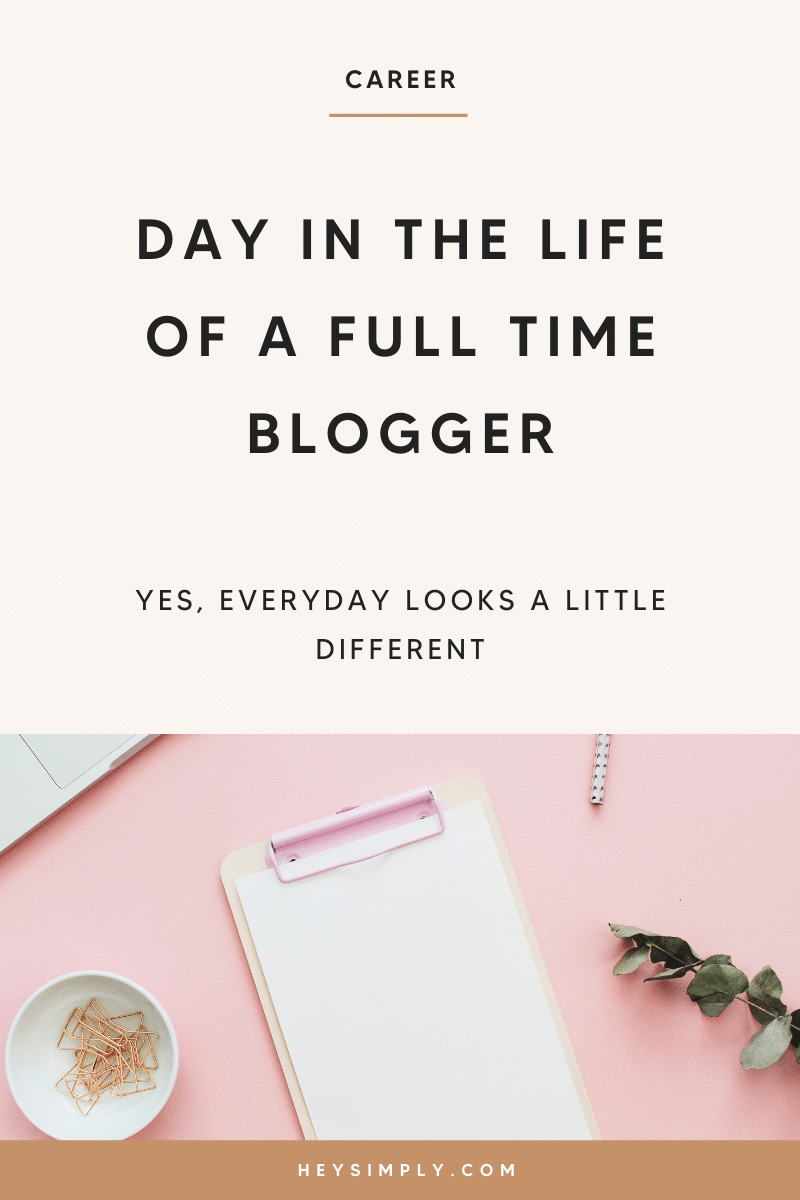 8:00 AM
I usually wake up around 8 AM and try to spend a little time in bed. I do a 5-10 minute meditation, say my morning prayers, and journal.
8:45 AM
This is when I generally get ready for the day. I will do my morning skincare routine, change into my daytime sweats (not to be confused with) my nighttime sweats, and take Theo for a walk.
9:00 AM
I try to make a quick smoothie and check the weather and top news of the day. I rely heavily on connectivity to get me through the day, which is why we love having Verizon 5G home and their no data cap plan.
9:30 AM
This is when I get started on my work day. My first task of the day is to sort out my inbox. I answer all urgent emails and then sort my inbox by priority. This usually takes about an hour.
10:30 AM
First team meeting of the day. I meet with my graphic designer and we go over what new posts are coming up and review any work she's been doing in the past. Video chat takes a ton of bandwidth so having a typical download speed of 300 Mbps, with speeds up to 1Gbps with Verizon 5G Home helps me review assets faster and zoom meetings high quality.
11:30 AM
I generally leave for a workout class around this time. My classes start around noon so I'll change and head out, tossing Theo a treat before I leave. Since our home is connected, I like to start my car (and the seat warmer) before I leave the house so the car is warm and toasty when I get in.
12:00 PM
My go to workout classes right now, focus on cardio and strength. I love half and half classes. They make the day go by so much faster and I get in a great sweat in under an hour.
1:00 PM
This is when I usually pick up lunch on my way home. Sometimes a salad from a local restaurant or I'll eat at home if we have leftovers (spoiler alert: we rarely have leftovers.)
1:30 PM
After a quick shower, this is my first "break" of the day. I usually give myself 30 minutes to eat lunch and watch an episode of a TV show. Lately, I've been streaming a lot of my shows, which operates off of Wi-Fi. See, told you we need lightning fast internet.
2:00 PM
The light in my house is prime from 2:00 – 4:00 PM, so this is the time I will shoot any content I need to shoot. Some days it's a hair tutorial, and some days it's a makeup video.
I transfer all of my files directly from my camera to my phone for quick editing and since Verizon 5G home works well on every floor of my house, I can do this while I'm shooting in the main floor or my basement office.
3:00 PM
Probably still shooting, but it's coffee time. I use my home coffee maker to make myself an iced latte.
4:00 PM
Time for a second round of email. This time it's usually administrative. I'm negotiating brand deals, reading contracts, sending invoices, and getting through the business side of work.
5:30 PM
Second team meeting of the day, (some days I have three!) and this time it's with my content admin. We review what's coming up this week on the blog, on my email newsletter, and on my social media accounts. We also go over any trends I need to know about and any upcoming content ideas for social.
6:30 PM
This is when my husband comes home, and we start dinner. We usually make dinner together and try to have it on the table within an hour.
7:30 PM
Dinner and a TV show. No buffering and high-quality stream makes it fun and easy to watch TV.
9:30 PM
We both go through another round of email #lifeofentreprenuers before cleaning up the kitchen and heading to the shower to get ready for bed.
11:00 PM
I try to journal again, answer some messages on Instagram and then start reading before bed. Sometimes this takes 30 minutes and sometimes it's an hour.
I know it's always interesting to read about other people's routines. I hope you enjoyed reading about my day and a big thank you to Verizon for partnering with me on this post. Verizon 5G Home has no contracts which allow you the flexibility to make sure that the service works for you month to month. We're so excited to have Verizon 5G available in our area, check here to see if it's available in your home.