As if the world of skincare wasn't complicated enough, it seems like new products are popping up every day. Most nights if you manage to wash your face it's a win, but if you're looking to up your skincare game it's important to learn the different types of products so you can determine which one is right for you. It gets a little complicated, but stay with me, I'll explain the difference between Essence vs. Toner vs. Serum.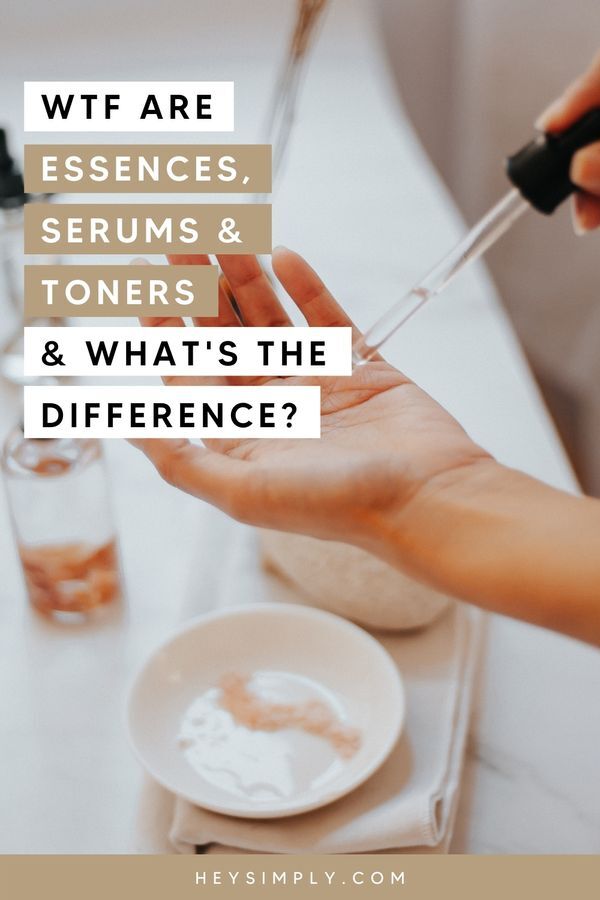 Essence vs. Toner vs. Serum: What's The Difference?
Sometimes the words are used interchangeably and while they have some similarities, make no mistake these are different products. In order of application, an essence or toner would be used first, then something like a serum, followed by a moisturizer. Do you feel like this is too much information, don't worry I'll explain.
Let's start with the basics.
What Is Toner?
A toner's job is to remove any remaining traces of product or impurities from your skin (even after cleansing) and restore your skin's PH levels.
PH? Yup. Remember your high school chemistry class? Turns out learning how to tie-dye wasn't the only helpful thing you learned. Your skin's natural PH lives somewhere around 4.7 and 5.75. Some cleansers can be as high as 7, so you'll want to use a toner to restore your skin to its ideal PH level.
Some of my favorite toners are the Innisfree Green Tea Moisture-Balancing Toner, The Ordinary Toning Solution, and the Pixi Glow Tonic.
This explains what toner is in the Essence vs. Toner vs. Serum combination.
How To Apply It: Pour some product onto a flat cotton pad and wipe gently across your skin. Or alternatively, you can pour a few drops to your fingertips and pat in into your skin.
When To Apply It: Morning or Evening
Related: The Art of The Double Cleanse
What Is Essence?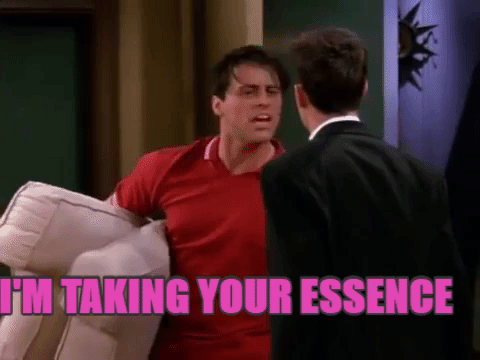 Essence essentially preps your skin for deeper penetration of the products to follow. They have highly concentrated levels of active ingredients which allows your skin to better absorb all of the products to follow. Essence is extremely popular in Eastern & Korean skincare spaces. Essence is a concentrated formula that treats skin at a cellular level, specifically target wrinkles, fine lines, and dull skin tones. The consistency of an essence varies from product to product. Some are more watery and others are tackier.
Some of my favorite essence formulas are the Then I Met You Giving Essence & Dr. Jart+ Biome Essence.
How To Apply It: Apply via your fingers and tap the product into your skin with your fingertips.
When To Apply It: Morning or Evening, after toner and before serum.
What Is a Serum?
You've cleansed, toned, and applied essence – what's next? It's time to apply your serums. There's no hard and fast rule here but more people recommend using no more than 3 serums in one skincare session. Serums traditionally come with a dropper and they deliver high concentrations of the specific ingredients in the product. I talked more about my favorite serums and how I use them in this post on Skincare Routines For Beginners.
My personal favorites for the morning are: Hyaluronic Acid & Vitamin C or Niacinamide on alternating days
My personal favorites for the evening are Hyaluronic Acid) & BHA or Retinol (on alternating days)
How To Apply It: Gently massage into the skin via fingertips
When To Apply It: Morning and Evening
Related: How To Start a Skincare Routine For Beginners
Do I need toner, essence and serum?
You can choose to use all these products if you really want to but there is no compelling to force yourself to do. Honestly, pick out products based on their active ingredients. Choose those that match your needs and go from there.
It might be nice to do all the things but if you are not going to be consistent and committed to the routine it is not going to make that much of a difference. I know that a couple of years ago the glass skin trend was so in but despite being so coveted not many women were able to achieve or even go through that 10 step skincare routine every single day. So, don't put that kind of pressure on yourself.
How to use toner, essence and serum in your skincare routine?
The basic rule is to use the thinnest products first and move on to the thickest. So, always use your toner right after washing your face. It offers the hydration you need the ingredients won't have to compete with anything.
Next, you apply your essence. It generally boosts the hydration and moisturization factors in your skin. Plus essences prep the skin to embrace all the ingredients that come after.
So, hit it with that serum that is packed with active ingredients after your essence and finish up with an occlusive moisturizer to seal everything in.
Do I need both serum and moisturizer?
Yes, you do! Serums are not designed to be occlusive and prevent trans-epidermal water loss. Oooh here is more science for you. Essentially your skin will not reap any benefits from your serums if you do not moisturize properly.
---
Your skin will be dehydrated, dry, and frankly not in the best shape without a moisturizing routine. However, moisturizer comes in many shapes and forms so choose what works best for you skin type.
Final Thoughts On Essence Vs. Toner Vs. Serum
All skincare products are made differently and it's important to pay attention to the ingredients. Your unique skin will require a unique formula so be careful about introducing too many new ingredients at one time. Start small and give your skin time to adjust, and don't forget to always patch test before using a new product.