As you dip your toe into the realm of skincare, you will inevitably find yourself asking, "what does toner do and why do I need it?" Trust me, we've all been there. Toner is one of the key components of any basic skincare routine that will leave you asking, "does this even matter?" – and this post is going to answer all of your questions. Think of this as your complete guide to toner.
Maybe you have a toner stashed in the back of your bathroom cabinet or you're on the hunt for a new one, either way we're here to help. Think of us as your friendly toner tour guide. Let's dive in.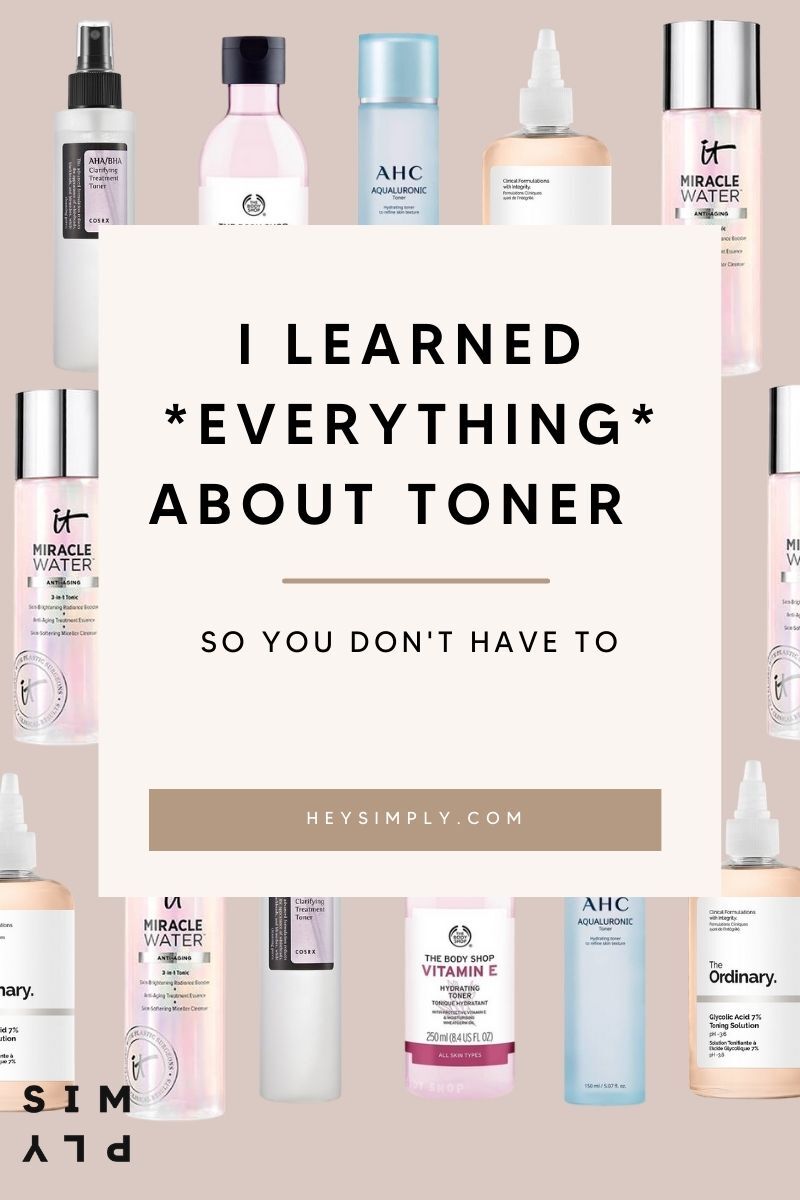 As an Amazon and Rewardstyle affiliate, we may earn a small commission for any purchases made through these links, but the price never changes for you. Click here for the disclosure statement. As always, we only recommend products we love. Pinky Promise.
What is Toner?
Toners are designed to restore the pH of the skin. What most people don't know is that your skin's natural pH is around 5.5. Most face cleansers have a high pH (around 7.5) and are considered "alkaline". Toners help restore your skin's pH balance after using a cleanser and also allow for better penetration of the products that follow.
Toner is a serum designed to penetrate your skin quickly. It preps your skin with hydration and creates a good base for the rest of your skincare products.
It's important to note that not all toners are created equal. They are designed to help with skin concerns. So, your options are limitless. From toners that contain acids like glycolic acid to break down residual oil for oily or acne-prone skin types, to antioxidants that provide anti-aging benefits and even anti-inflammatory ingredients to reduce redness and soothe the skin.
Can I Skip Toner?
Well, you can, but you probably shouldn't. Hear me out, though.
Using a toner is the easiest way to aid and abet your skincare routine. It is one additional step for the extra benefits that you want to see. You've already spent money on your products, so why not help them work better?
5 Face Toner Benefits You Need to Know
Toners are soothing to your skin
It was more common for older formulas of toner to include alcohol, which can be drying to the skin. Newer formulations include ingredients like fruit extracts and antioxidants along with humectants like glycerin and hyaluronic acid, these products are created to refresh and rebalance your skin.
Hydrates and helps retain moisture
Toners can help your moisturizer work better by prepping the skin and providing the skin with a hydration boost. Ingredients like glycerin will allow deeper penetration to help your skin look more radiant.
Refresh your skin
Toners don't just have to be used in the morning or evening or even strictly as a part of your skincare routine. You can use formulas in a mist form like the Saturday Skin Daily Dew Hydration Essence Mist. These types of toners contain formulas and ingredients that refresh and rejuvenate your skin for an added boost to your day.
Helps remove leftover makeup and oil
Anytime you wear makeup or sunscreen you should be double cleansing your skin. Even then, traces of makeup and oil can linger. Your serums, lotions and creams can't help you if your skin isn't perfectly clean so use a toner make sure your skin is pristine before applying more products.
Minimizes the appearance of pores
Toners with ingredients like salicylic acid can help dissolve and remove the oil in the pores to minimize its appearance. Over time caring for your pores like this will create a smoother look.
Balances pH of the skin
Using facial cleansers that are often alkaline offsets the pH of the skin. Toners are created to bring the skin's pH back to its original state at about 5.5 which prepares the skin to absorb and benefit from the serums and moisturizers that follow.
Prevents breakout
Your skin produces natural oils that keep it healthy, but sometimes it needs help to find the right balance. Using toners with ingredients like glycolic acid or even the right botanical ingredients like green tea extract will remove excess oils and prevent breakouts.
So, What's The Difference Between Toner and Astringent?
The simple explanation is that astringents are a type of toner. Often harsher and designed for the purpose of removing excess oils. Astringents were popular during a time when facial cleansers were limited to bar soaps and cold creams. The stronger astringent formula was ideal for removing the residue and truly prepping the skin for moisturizers.
Astringents often contain alcohol to help break down oils and many skincare experts discourage the use of alcohol in skincare today.
What is The Difference Between Toner and Essence?
Essence is specifically designed to help active ingredients penetrate the skin. Especially moisturizing ingredients. The idea of using an essence was popularized by the Korean skincare industry. The product is rising in popularity in the West since many are drawn to the nourishing and moisturizing effects of the essence.
For some skin types, an essence can replace a toner but the right toner and essence can be used together. The essence should come after toner and the best method of application is to use your fingers and tap it in.
How to Apply Toner
Depending on the type of toner you are using you can either choose to use a cotton pad, cotton ball, or your fingers.
For acid-based toners using a cotton pad is a good idea to ensure that the product is distributed evenly. You will also have more control and prevent any accidental contact around the eye area.
With hydrating or soothing toners, you can place a few drops on your fingers and tap it in.
Simple and efficient!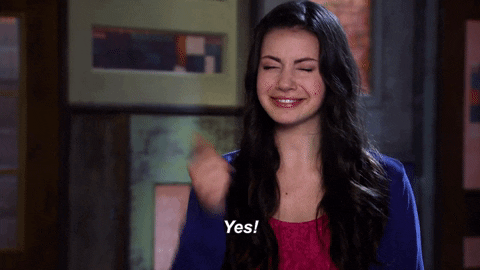 Which Toner is Right for You?
Understanding your skin type and determining your biggest skincare concern will help you choose the best toner for your face.
Do you want to hydrate, remove oils, or maybe even out your skin tone? A perfect toner is out there waiting for you. Let's explore some of them.
Popular toners and their benefits
With a heavy price tag, this product comes with heavy promises. Byron is a balancing toner packed with 33 different greens like broccoli, artichoke, and matcha green tea to feed (see what I did there) your skin with amazing antioxidants. The product claims to have anti-aging properties and I love the way it makes my skin feel.
While I'm not a huge fan of multi-use products, this one is the exception to the rule. I love using this as micellar water to remove makeup before cleansing and again after for its toner benefits. This tonic purifies, hydrates, and transforms your skin. It is perfect to truly clarify your skin at the end of the day before the rest of your skincare routine.
Witch hazel gets a bad reputation because some formulas have alcohol in them which can be drying to the skin. Thayer's Witch Hazel is an alcohol-free toner and is created using a different extraction processes compared to other witch hazel toners in the market. This toner in particular most definitely has a cult following. The toner provides the skin with antioxidants and antibacterial benefits.
Best toner for sensitive skin
Less is more when it comes to sensitive skin. The Mario Badescu toner has a simple formula that refreshes and balances the skin. Its alcohol-free and fragrance formula is perfect for sensitive skin.
Best toner for dry skin
The product contains hyaluronic acid to add hydration and secure moisture in your skin. I'd say it's a pretty perfect solution. Yes, it has rose petals. How pretty is that?
Toner for normal skin. Do you need one?
Technically you can get away without using a toner. But seriously it is a ten-second process that can definitely improve your skin in the long run.
A hydrating and refreshing toner with vitamin E for your daily needs. It absorbs quickly and has a wonderfully comforting scent.
Best Toner for Oily Skin
PIXI Glow Tonic
We all know and love PIXI and there's a reason. This toner is a gentle exfoliant to remove dead skin cells and any traces of oil. With oily skin, the glow can be a scary word, but I promise this will give you the right kind of glow.
Choosing the best toner for acne-prone skin
Yes, we are fans of the Ordinary! Acne-prone skin needs some extra love, but it doesn't need to sting and burn to work. This toner clarifies the skin and encourages skin resurfacing to improve texture.
Should I use a Korean Toner?
We'd be doing the skincare world a disservice if we didn't mention Korean toners as part of a comprehensive skincare routine. It comes after the mandatory double-cleansing part of the process. Unlike western skincare, Korean toner was never dismissed as optional. They got it right from the beginning.
K-beauty toners focus on soothing ingredients and hydrating the skin.
Best Korean Beauty Toners to Try
To hydrate your skin and watch your skin glow tap in a few drops of a Korean beauty toner onto your face. You will instantly feel refreshed and your skin will be hydrated, smoother, and nourished within a few weeks.
The green tea essence adds a moisture boost to balance the skin's needs and prepare it for any active ingredients that might come after.
This toner provides mild chemical exfoliation. The low concentration of Alpha Hydroxy Acid and Beta Hydroxy Acid makes it suitable for daily use.
The key ingredient in this product is hyaluronic acid. You can count on this toner to add a boost of moisture and repair your skin barrier to help retain the moisture.
Final Thoughts on the Benefits of Using Toner
One tiny skincare step for women, a giant leap in skincare.
I know that skincare isn't as revolutionary as the moon landing – but listen, toners have changed, grown, and evolved over the years thanks to science. Toners are often made out to be more complicated than they are. Hopefully, this helps you understand the basics of toner, and added benefits, and demystifies the enigma of toner.
SHOP THE POST