Whether it's an apocalyptic pandemic or an impossibly busy schedule, we've all gotten to the point where our brows become unmanageable. For women, this can be anywhere between 2 weeks to 2 months after you get them done. It's kinda like an extended-release five o'clock shadow, but for women. Whether your torture of choice is threading, waxing, or tweezing – every woman is a little too familiar with the self-inflicted anguish that is removing facial hair. When you can't make it to an expert, I've brought them to you. I chatted with brow artists and they shared what you should and definitely shouldn't do when trying to groom your eyebrows at home.
Related: Everything You Ever Wanted To Know About Baking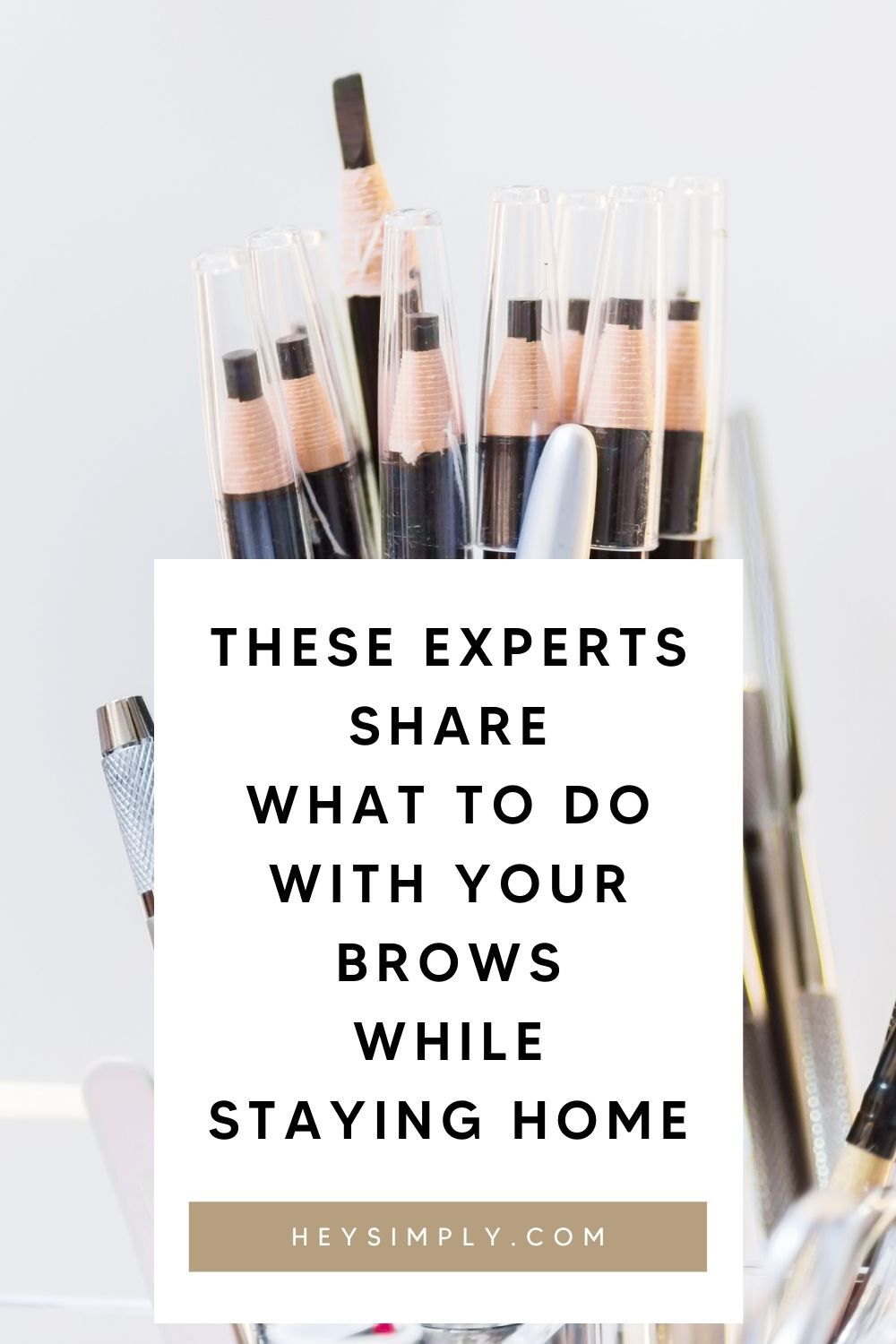 Experts Share How To Groom Your Eyebrows At Home
First, meet our experts: Noureen from Beauty_By_Noureen is a local Atlanta celebrity when it comes to the brow business. Her clientele loves her charismatic personality and warm hugs. I prefer my eyebrows threaded and Noureen has been doing my brows for years. We also have Milly from BrowsbyMilly who is an award-winning microblading specialist. She's a brow wax wiz and offers some great insight in this interview.
What Solutions Can People Use For Their Brows at Home?
Noureen: While it may not be ideal, this could be the optimum time to let your brows grow out full & bushy. A properly trained brow artist will be able to create wonders with a full set of brows and little when your brows are thin and over-plucked. It is best to allow your brows to grow out completely in order to figure out your natural shape.
Editor's Note: I hear you, but what if that is unrealistic at this point? I love a full Cara Delevingne / Glossier-style boy brow myself, but at a certain point I'll go from Cara to Caveman and that won't be cute for anyone.
Okay, if I absolutely have to, what do I do?
Noureen: Knowing which hair to take out & which to leave alone makes a huge difference. The first step is to fill in your brows to the desired shape and then pull out the tweezers to remove the extras. Try to avoid using a magnifying mirror because that will be your worst enemy. Nothing good can come from looking at your brows at extreme magnification. You will get end up tweezing more than you expected and it will be too late to turn back.
Milly: People tend to overpluck the beginning of the brows. If you absolutely must do your own brows, fill in the brows before plucking anything. Only touch the strays that are outside of the area that you filled out.
Related: 8 Beauty Staples I'll Only Buy From Amazon
HATE CHOOSING A NAIL COLOR?
What tools do I need to do my brows at home?
Milly: I love the Tweezerman tweezers. They are my go-to & 18-time winner of the Allure award.
Editor's Note: I also recommend having a clear brow gel, brow trimming scissors, and a spoolie.

Okay fair, what should I never do?
Noureen: Never attempt to go back to 90s-style brows. Kidding, kinda. On a serious note, if you're intimidated by taking matters into your own hands but need to shape your brows, please DO NOT overpluck your brows.
Milly: We often think making our brows thinner will make them look cleaner – but it's the biggest mistake I see. Thinner brows are not only dated but look unnatural. From a brow professional's perspective, it is also difficult to fix it once the damage is done.
Noureen: Also please never make the mistake of shaving your brows. Not only is it a terrible idea for obvious reasons it also causes ingrown hairs. Just put the razor down and walk away slowly.
When is the best time to do my brows?
Milly: When you're on your period it will hurt the most, so I recommend avoiding that time.
Noureen: Try to tweeze right after the shower if possible. Warm water will open up your pores and hair follicles, making it easier for hairs to slide out.
Related: The Truth About When To Throw Out Beauty Products
What is the best brow shape?
Noureen: Honestly, the best brow shape is the one that makes you feel most confident. If you're wanting to reshape your brows, I would suggest you wait till you can come to see a licensed esthetician who can help you create a shape designed to compliment your face. What I generally suggest to my clients is that the beginning of the brow is aligned with the center of the nostril and the arch should normally fall over the back third of the eye.
Anything else I should know?
Milly: If you've had your brows micro bladed don't forget to wear sunscreen!
---
There you have it. A big thank you to both Noureen & Milly for their insight as we navigate this crazy world where you have to groom your eyebrows at home without our brow fairies. I hope you found this post helpful.