For ages, women have debated the essential questions of life. Questions like, "Is it possible to have a family and a career?" and "How often should I wash my hair?" Well, I haven't figured out the answer to the first one, but I've made progress on the later. I chatted with the experts to discuss the ins and outs of hair maintenance and what we need to know about how often to wash your hair based on your length, texture, and color treatment.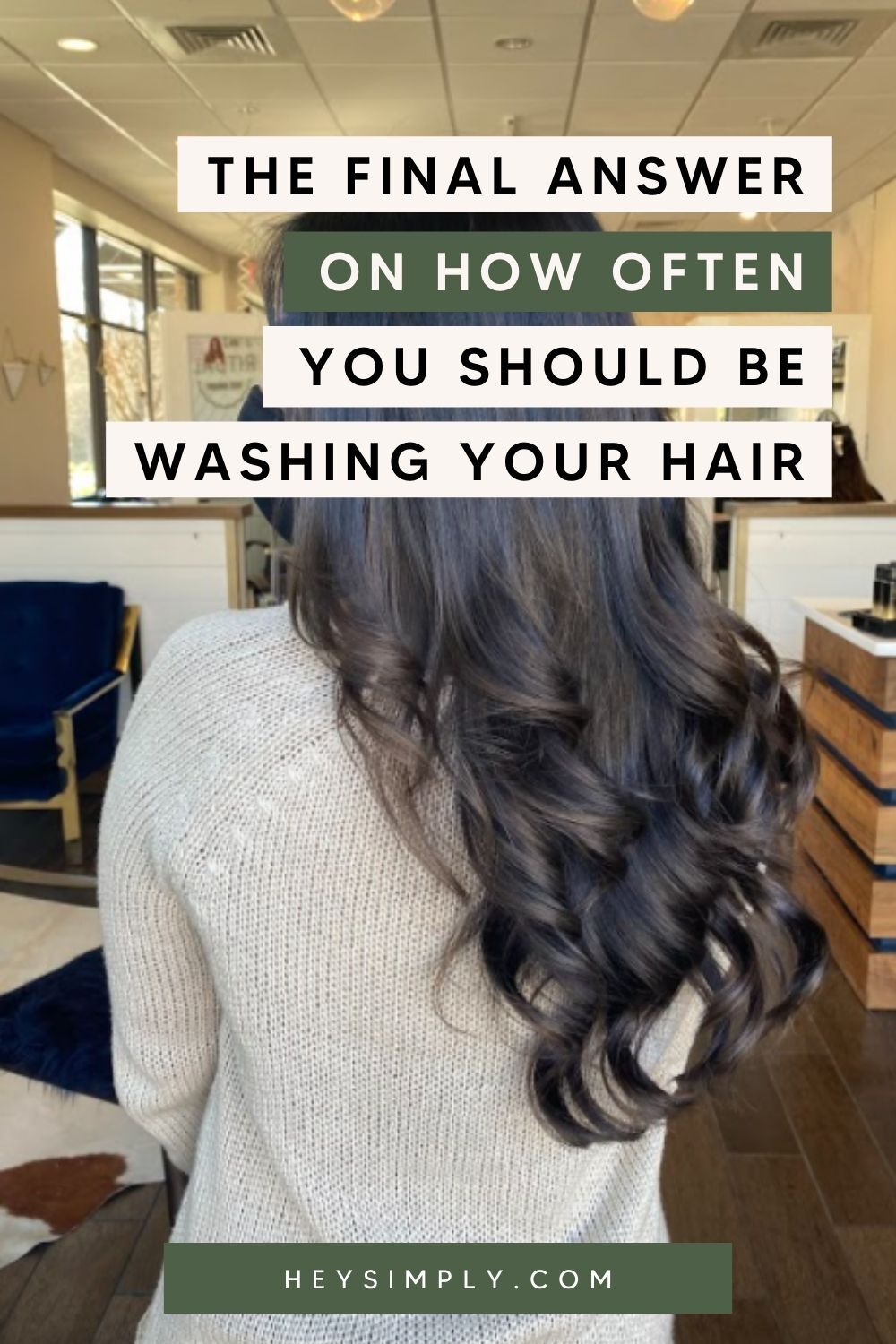 First, let's learn a little more about our expert. Lauren Blauser is the owner of
Ritual The Salon
, just outside of the Atlanta area. She has been in the field for over 20 years and has worked alongside industry experts. Lauren's award-winning salon provides an artistic space for stylists to grow while giving her clients a luxury experience with a relaxed environment. She is also the only person that I trust with my own hair color and has worked with dozens of Simply Sabrina readers over the past few years.
What happens if I wash my hair too often?
Excessively shampooing your hair can cause an overproduction of sebum. Sebum is the oil released from your scalp to help moisturize your scalp and hair. It actually adds a layer of protection. While you may be washing your hair often to prevent it from getting oily, you are likely to increase the oil production in the process.
Break that down for me
If you strip the sebum (oil) from your scalp over and over again by washing your hair daily, you will create an overproduction which will result in a very oily scalp. For someone who excessively shampoos, it can take about 30 days of washing your hair every other day to reverse the sebum production and get your hair back to normal.
So, let's get to it: how often should I wash my hair?
There are so many factors that come into play here. Depending on your hair texture, your lifestyle, and hair type the frequency that you should wash your hair varies.
Got it, how about a general rule of thumb?
For fine or thin hair, you should try to shampoo your hair every other day.
For normal or oily hair, every other day or every third day.
For curly dry hair, I would shampoo once a week, but I would condition every other day.
And if I have color-treated hair?
Both color-treated and/or chemically treated hair need to be a little more careful with the frequency that they use. For people with highlights, dyed, or treated hair, I would shampoo a maximum of twice a week. I would condition once in between and use dry shampoo sparingly.
Do you have any special notes about hair washing if you have long hair?
Clients who have long hair should not shampoo the ends of their hair more often than once a week. Hair generally gets oily at the scalp and long hair ends tend to thrive with moisture, in fact, it adds a layer of protection. Don't be afraid to condition long hair every time that you wash it.
Have any insider secrets to share?
I really feel conditioning is the holy grail for our hair, regardless of how often you shampoo. Hair masks and conditioning are a crucial step and we need to normalize using conditioning products outside of just showering.
What's one thing that gets overlooked for washing your hair?
Our industry has started to be more inclusive about hair health and begun promoting scalp exfoliation. There are studies out there that show that scalp buildup can contribute to hair loss, breakage, and overall brittle hair.