It was somewhere between the second Royal Wedding and when Beyonce performed Coachella that Jade Rollers became a household name in the beauty space. Jade Rollers promise benefits for the chronically puffy and have ancient roots in Chinese medicine. We chatted with Atlanta esthetician and salon owner Maureen Herrman for a real-life chat on jade rollers and if they are really worth the hype.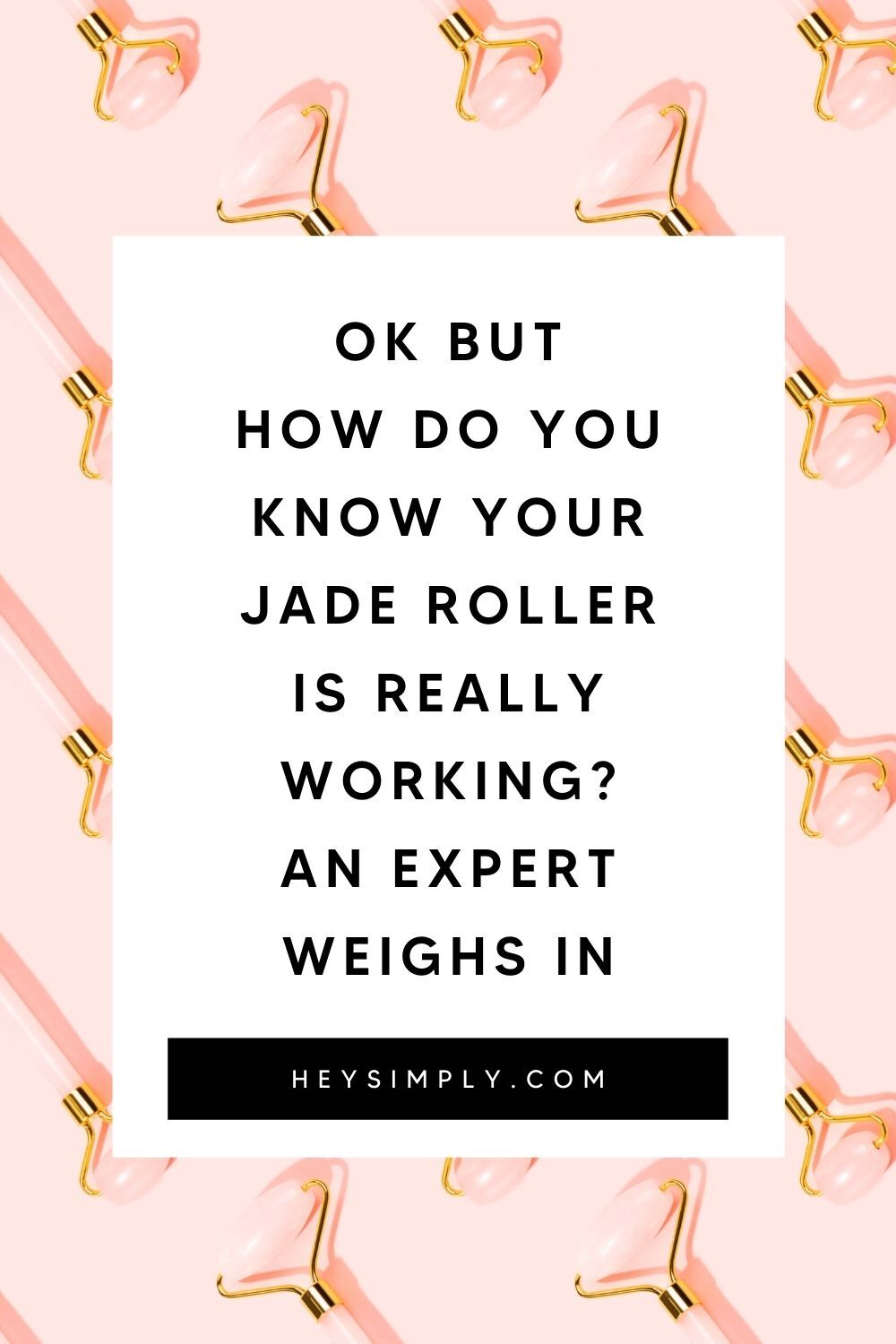 About our expert: Maureen Herrmann is a nationally recognized leader and industry consultant. With more than 20 years of experience, Maureen co-founded Ageless Remedies Franchising Company in 2004. Maureen is an advocate for patient safety standards within aesthetic medicine, as well as advancing ethics. Maureen's aim is to guide clients to the safest, most-effective technologies available for rejuvenation of the face and body.
Okay, let's get into it –
What are the benefits of jade rolling?
While there is no scientific evidence of jade rolling benefits, both patients and estheticians report benefits such as improved circulation, lymph reduction which eases puffiness, and the ability to reduce muscle tension. It also acts as a great mechanism for waking up your skin by stimulating the lymphatic system. It increases the blood circulation giving your skin a healthy glow.
Okay, that sounds promising. Do you need a pure jade stone?
Pure jade rollers are going to last longer and slightly more effective in product penetration. There are only two types of pure jade: jadeite and nephrite. Genuine jade is on the decline and replications of colored marble stones, etc..are being used instead.
Are affordable options still a good fit?
Unfortunately, some of these nonauthentic stones are coated with chemicals to replicate the jade luster, this is not ideal and usually not transparent in its marketing of these versions. I do not advise using these on the skin as chemicals can increase the risk of sensitivity and irritation to the skin.
Editor's note: It's near impossible to tell the difference between real jade and imitation models aside from what the seller has listed. I personally have tried a few and I prefer the Revlon Jade Stone Facial Roller. Revlon says that it is made from real jade stones and I can attest that it does stay cool to the touch. It's surprisingly affordable too and is on Amazon for $10 right now.
If you've found that your Jade Roller is indeed fake, you likely won't reap the benefits of good luck, prosperity, and good health. However, it can still be a good vehicle to apply your serums and increase circulation.
Do jade rollers transmit bacteria?
Jade is a nonporous stone that resists collecting bacteria. However, like all tools, they need to be properly cleaned and stored between treatments especially when used on different people.
How to clean and sanitize jade roller between uses?
Rubbing alcohol for quick sanitizer and deep cleaning with the use of warm soapy water.
What is the difference between jade stone and rose quartz?
Both facial rollers use naturally cool stones and can improve microcirculation and the flow of fresh oxygen into the skin. Basically, these crystal rollers are made out of polished crystals. Jade's molecular structure disperses heat more effectively, Rose Quartz is more smooth. Both can be used with serums, masks, facial oils, and moisturizers for better absorption. They are designed for penetration and to be used for lymphatic massage purposes.
Editor's note: The stone themselves have different properties i.e. Jade Stone promotes balance, calm, and positivity while Rose Quartz promotes love, energy, and harmony.
Okay, I'm sold. How do I use the Jade Roller?
The best technique is to start at the chin, roll horizontally out to the hairline. Keep the pressure light without adding too much pressure. Move up to the nose rolling out toward the ear. Using the smaller jade roller for under the eye and in the infraorbital area, roll out toward the temples. From eyebrows roll upward toward the hairline moving it across the forehead. Complete by rolling horizontally across the forehead outward to the temples from the center of your forehead. When in doubt, roll upwards.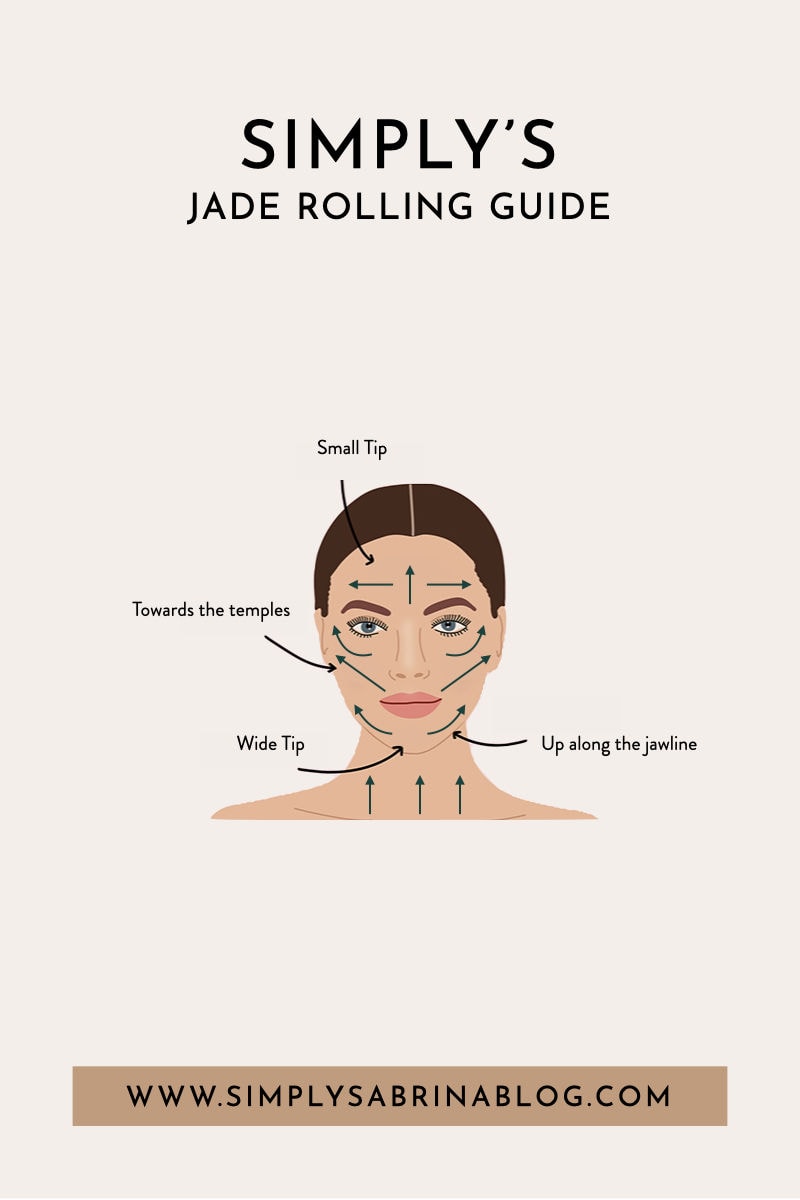 I heard you should keep in the fridge, is this true? Do you know of any benefits to keeping it cold?
Room temperature or cold are both acceptable when jade rolling the skin. Keeping it cold will assist in improving the circulation of the skin. It also feels quite refreshing when chilled prior to use. A chilled jade rolling treatment post injectables or certain cosmetic procedures can be very comforting. Always make sure to use light pressure when rolling the skin post-procedure.
What serums or masks do you recommend using with the jade roller?
I prefer lightweight serums or masks to use in conjunction with jade rolling. Light ingredients that are calming such as green tea, hyaluronic acid, and vitamin c for brightening are great to pair with the jade roller. I like to use the jade roller with sheet masks. It feels great and improves product penetration.

Should I use the jade roller in the morning or night?
I personally prefer morning to wake the skin up. It also can help remove some of the under-eye puffiness we wake up to after sleep. At night it can be beneficial to penetrate your products. The night is the best time to use your super serums and apply before sleep.
Jade rolling can assist in quicker product penetration. Jade rolling can be safely done morning and night.
How do I know if it is working?
I think this is a personal assessment. I do not think you are going to get collagen stimulation, it is great for acute things like redness and puffiness and helps to improve with short term effects. The relaxing benefits are also a nice perk but with jade rolling it is important to be realistic in the expectation and not to over-promise what this instrument can do.
There are claims that it improves elasticity, removes toxins from the skin, and reduces wrinkles, there are no published studies to prove these claims. I prefer to promote jade rolling in line with the universal belief that they can help reduce puffiness, increase skin circulation, and improve the blood flow.
---
Final Thoughts on How To Use The Jade Roller
So there you have it. Overall of the other promises, the reason I choose to Jade Roll is that serums and sheet masks can get costly. If I can ensure greater skincare absorption and penetration by using a tool like this instead of my hands then it makes sense to me. Jade Rollers don't have to be super costly and can be a small investment. Overall, don't expect miracles to happen, but increased blood flow and circulation to your facial muscles can give the appearance of less inflammation, under-eye circles, and yes, puffiness.