Sahir and I bought a house 4 years ago in a very convenient area that was up & coming. The value has certainly paid off, but we are slowly trying to make this house everything we wanted in a home. Have you ever hated something so much you just wanted to avoid it at all costs? This was me & my laundry room. It's not that I hate doing laundry (okay, who loves it?) but it was the sheer fact that this room is the ugly duckling of my house. It was a dark corner that no one visited unless they needed to turn a few knobs and get clean clothes. My laundry room sits on one side of a rather large utility/storage room in the basement. So if we were going to tackle one part of it, we were going to tackle it all.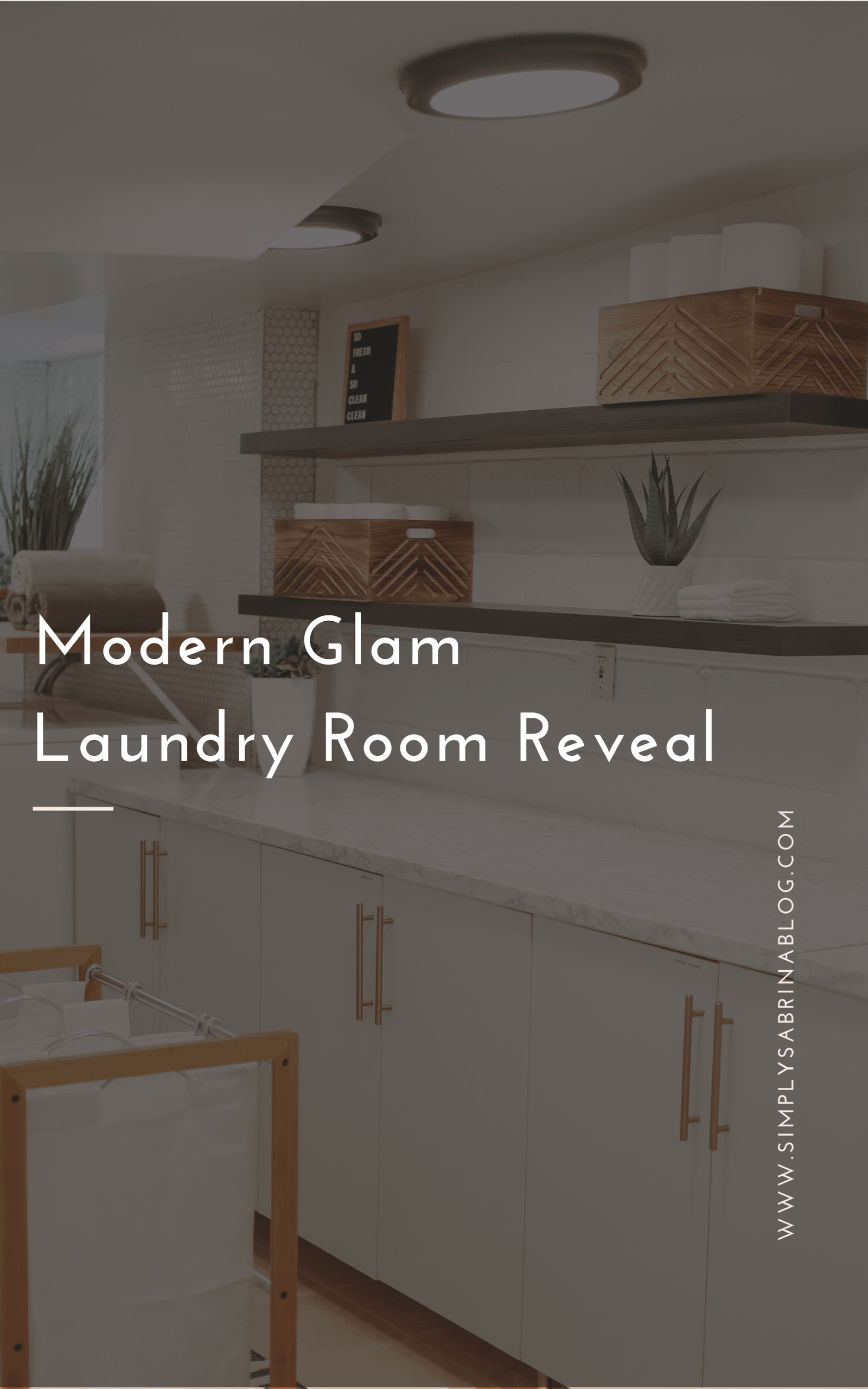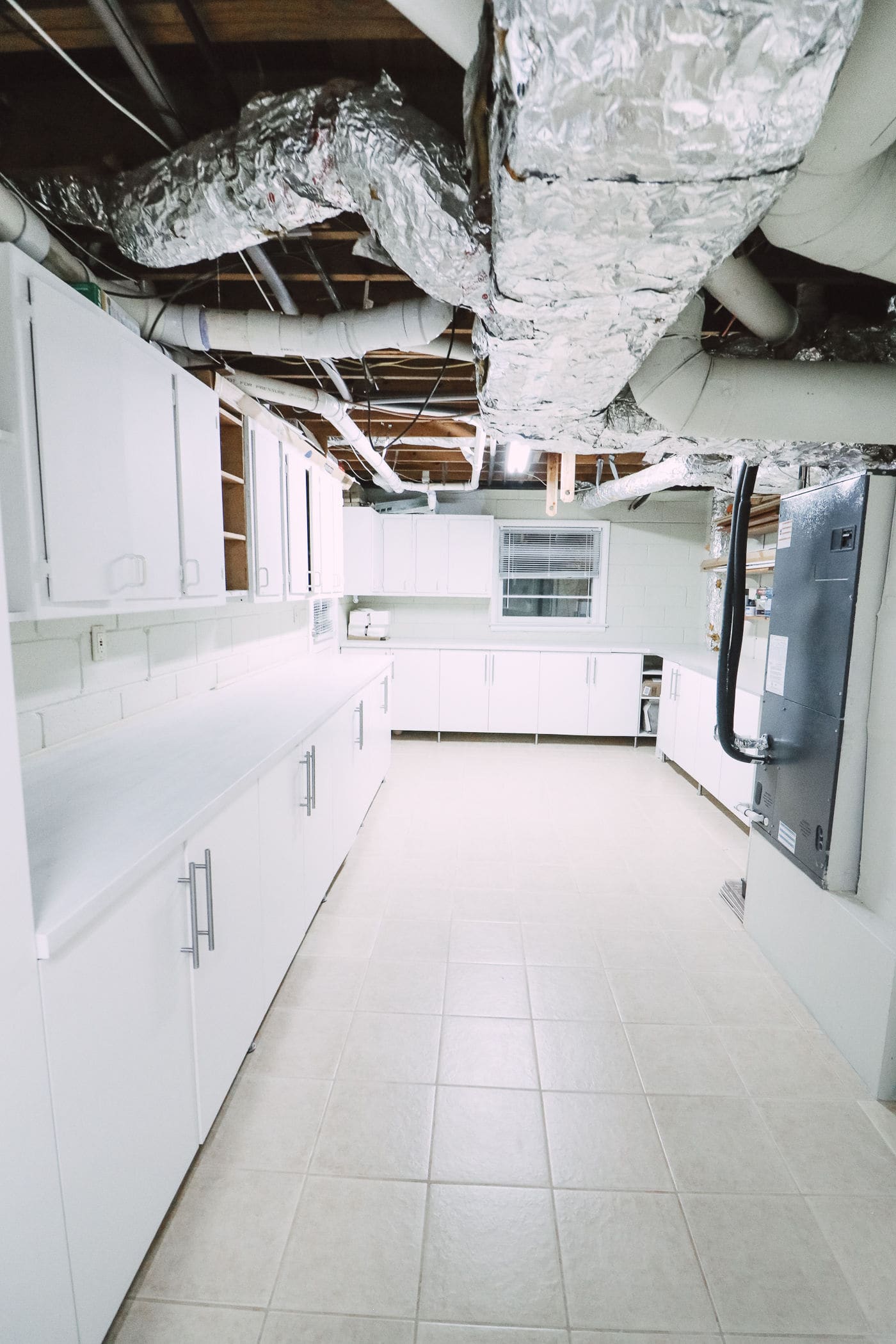 When The Home Depot and I started talking about a project I had an extensive list. I wanted to do the kitchen, guest bathroom, patio – you name it. When they said, "How about the laundry room?" I cringed. This room has unfinished walls, no ceiling, exposed wires, and the world's ugliest utility sink. How could we possibly make this Pinterest-worthy?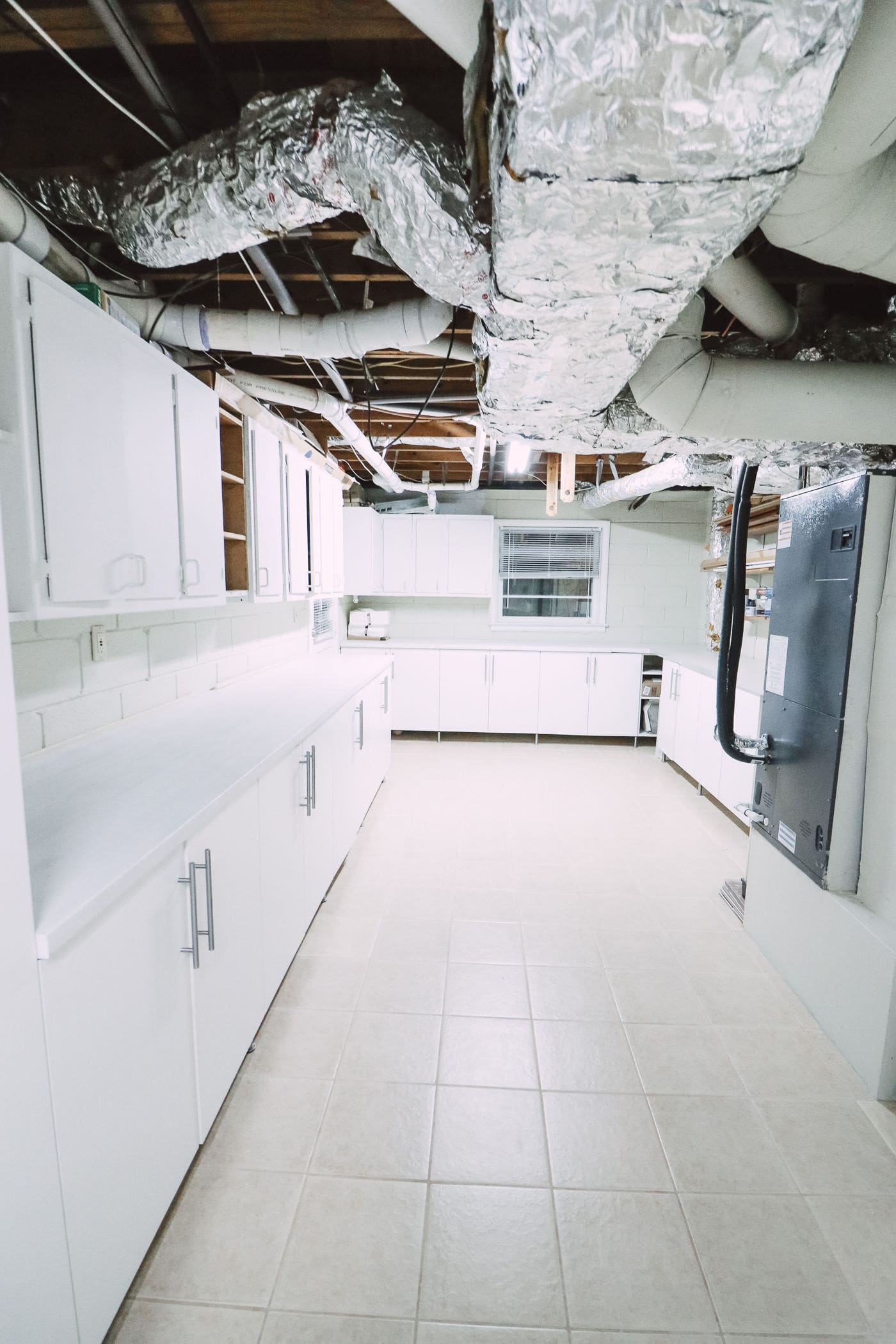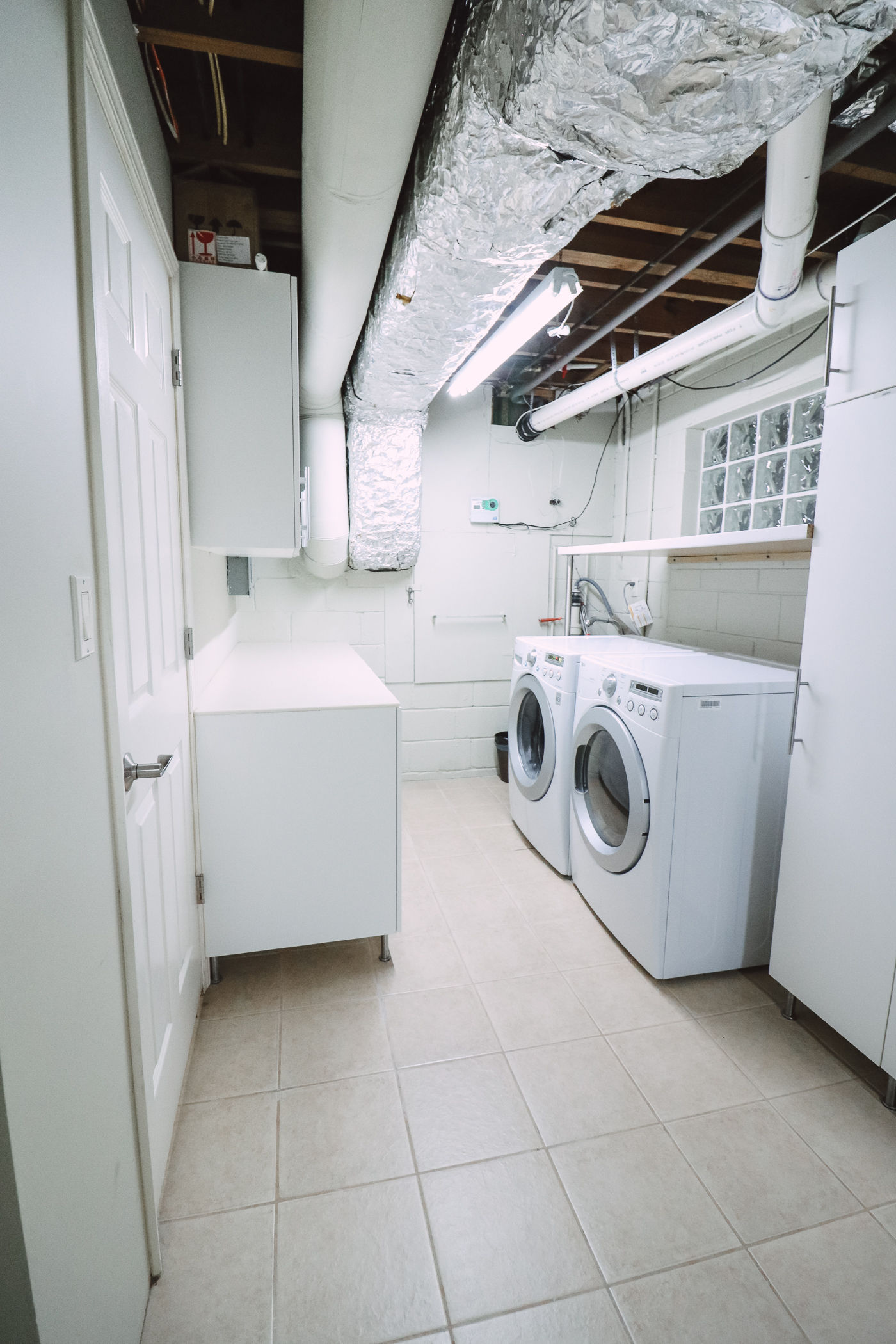 I got to work designing what I wanted my dream laundry room to look like. I knew I wanted it to be white with accents of black and bronze. (Note for women with particular husbands: It is bronze, not gold) I made a supply list and got to work to find a contractor that could help us get the work done. I can't stress enough how much research goes into finding the right pieces when you are designing a space. We wanted the space to look custom and fit our needs, but also not too trendy so that it would be outdated.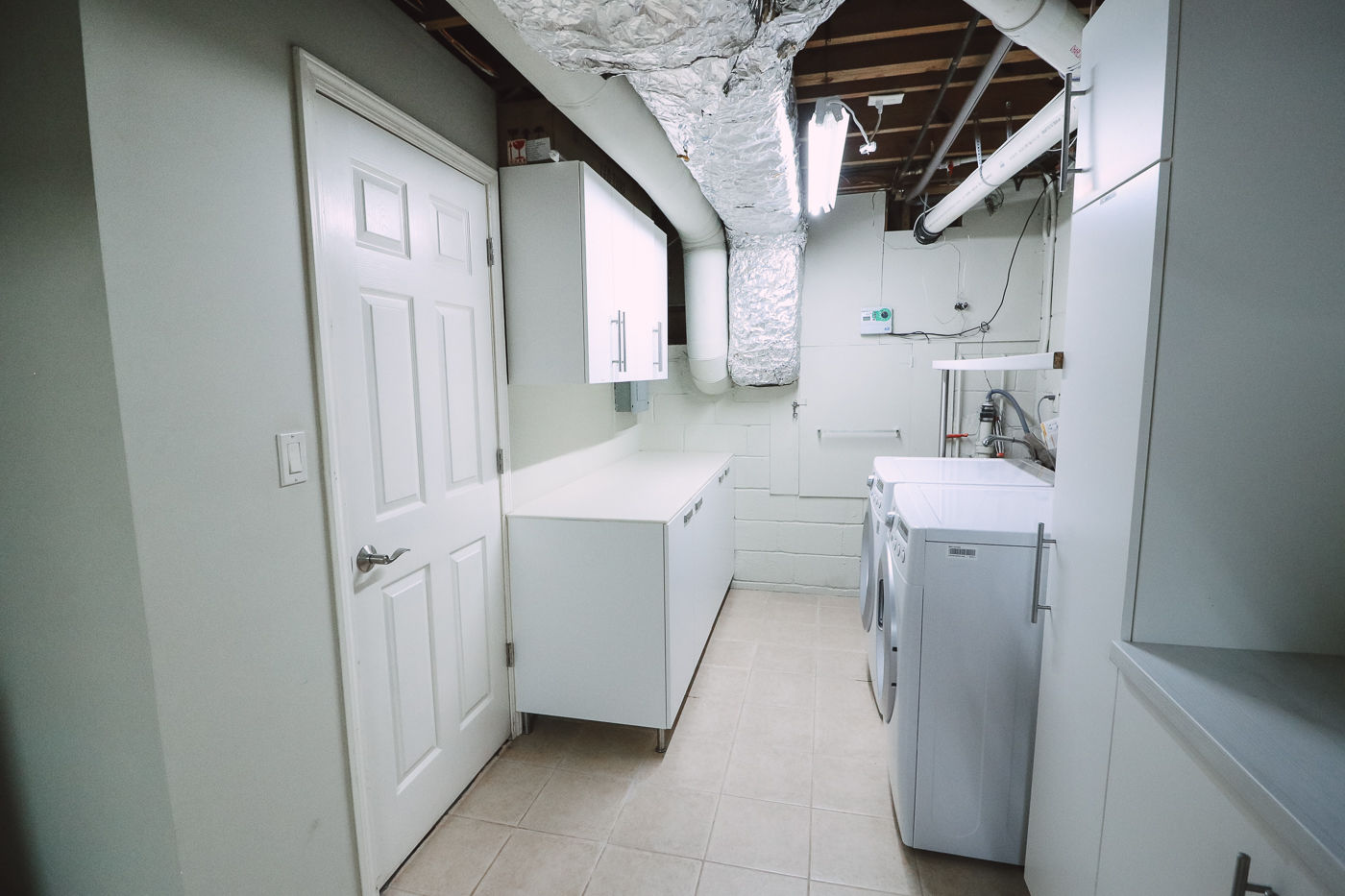 Here were the things we knew we wanted:
High-quality appliances that would be big enough to wash comforters, Theo's beds, and rugs.

Quick and simple changes that would drastically improve the space without spending too much time or money.

A large utility sink that would be functional and beautiful.

A sleek look that concealed the wires, utility boxes, and other unsightly basement essentials.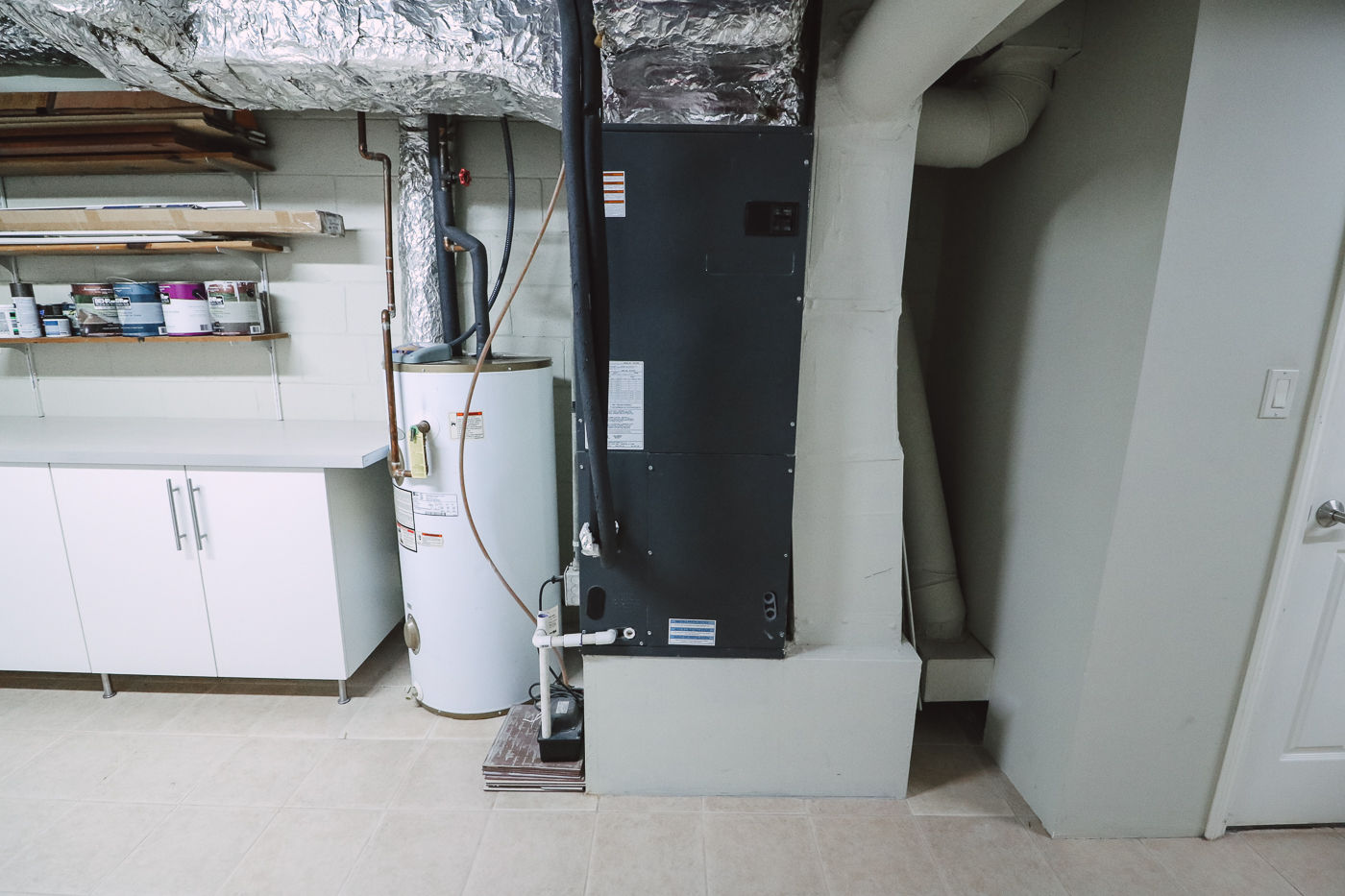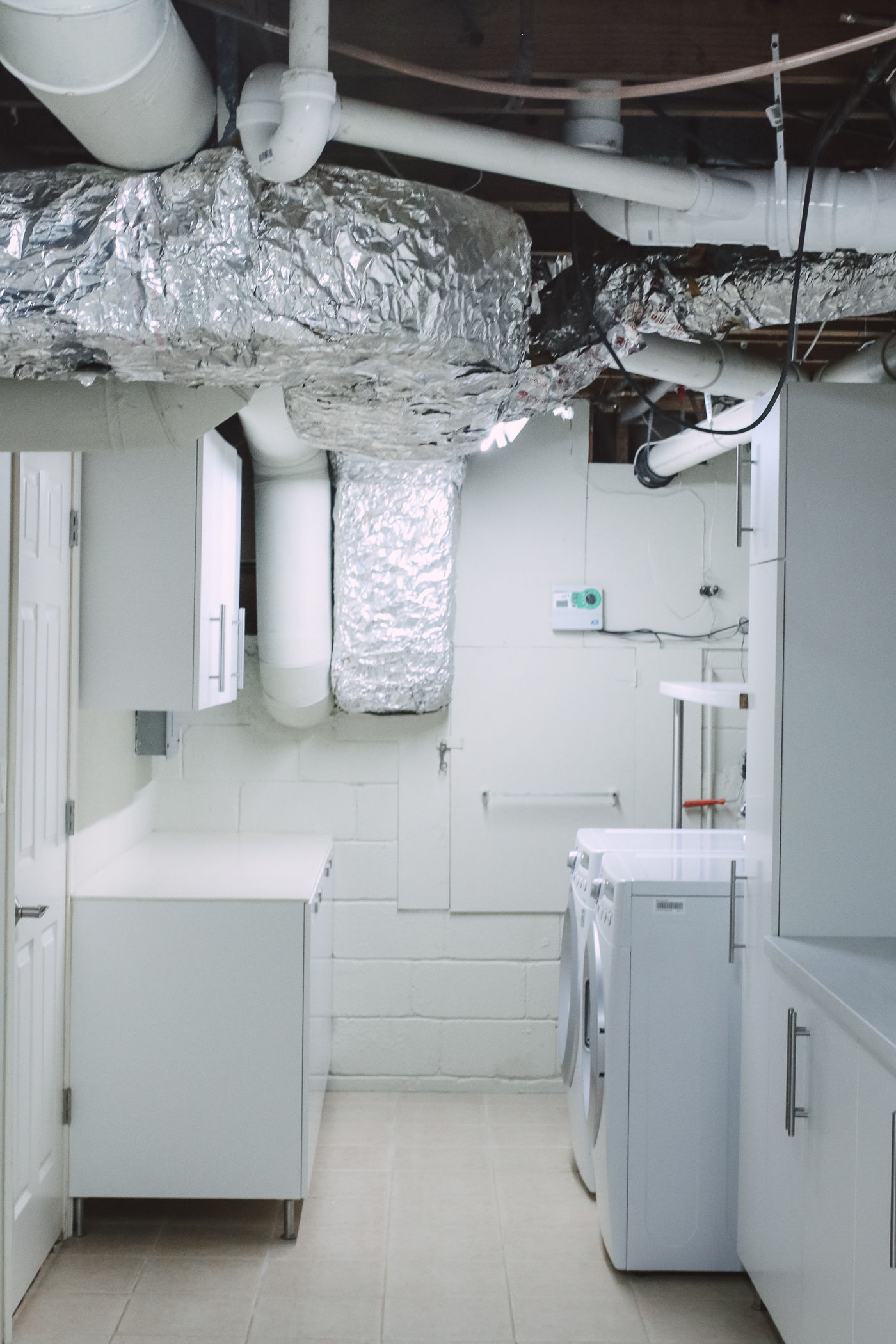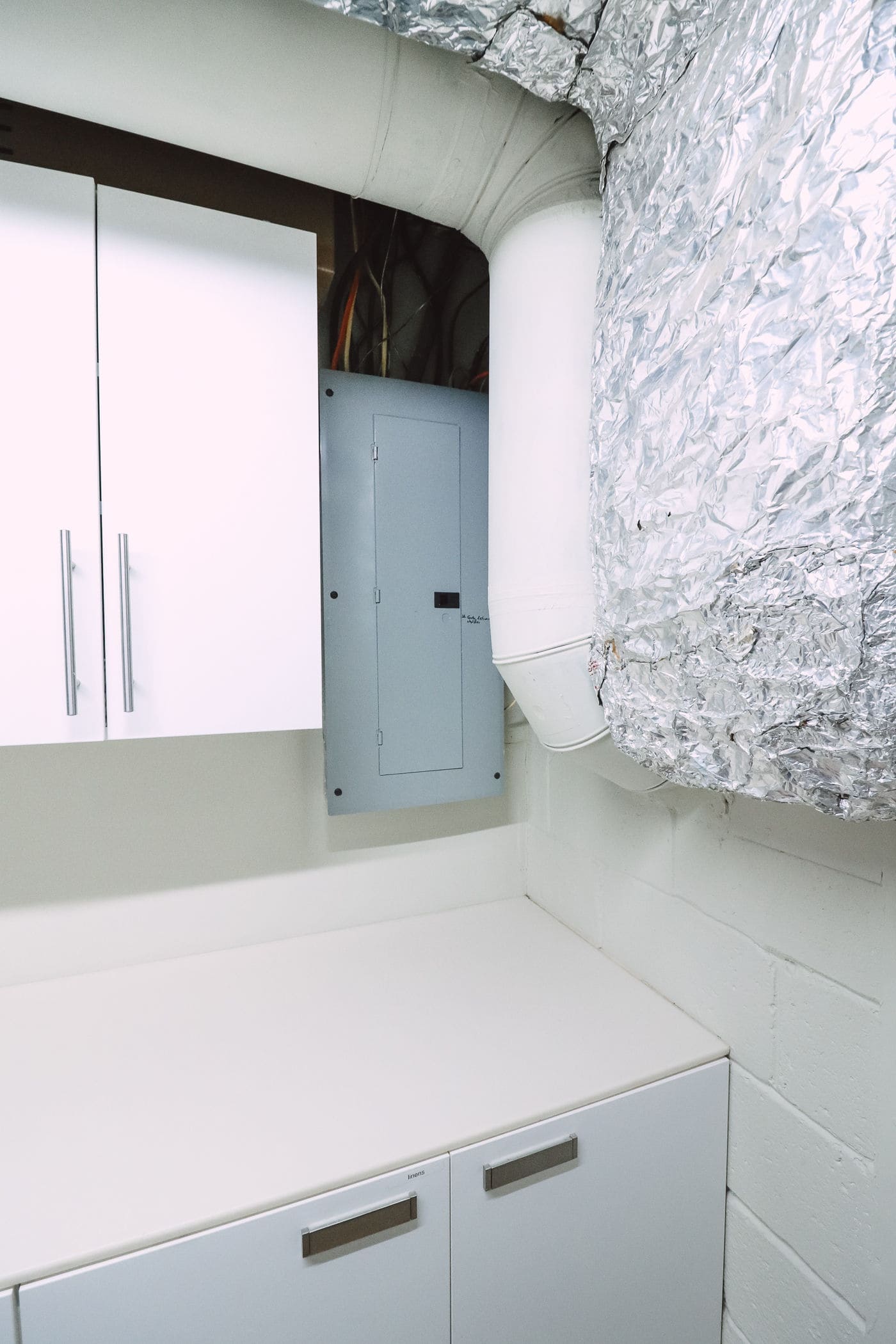 For the appliances, we knew that we wanted LG products so that helped us narrow down the options for a washer and dryer. Unfortunately, the one that we chose is now discontinued, but my top choices were either this one or this one because they are smart devices and can be controlled with your phone or even an Alexa.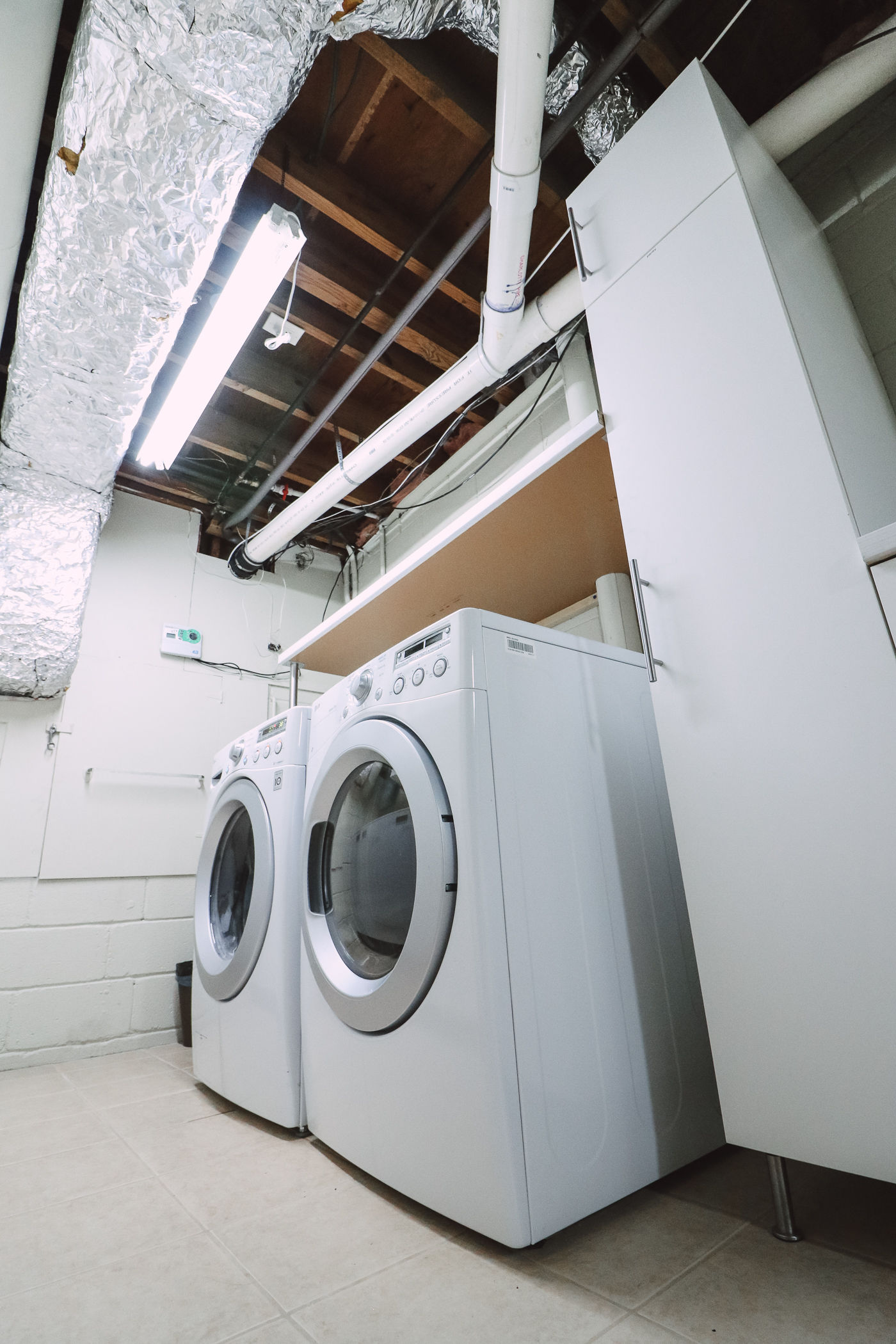 We needed to make some drastic changes to the space, but didn't want to spend the entire budget, so we opted for a few cosmetics changes that would help amp up the look. The first thing we did was remove all of the top cabinets which were older, and replace them with open shelving. We could store the toilet paper and paper towels that we were putting behind cabinet doors out in front, just needed a nice basket to put them in.
Another thing we did was to swap the basic silver hardware for champagne bronze cabinet pulls. This was a simple fix that really makes the space look refreshed, and dare I say, custom!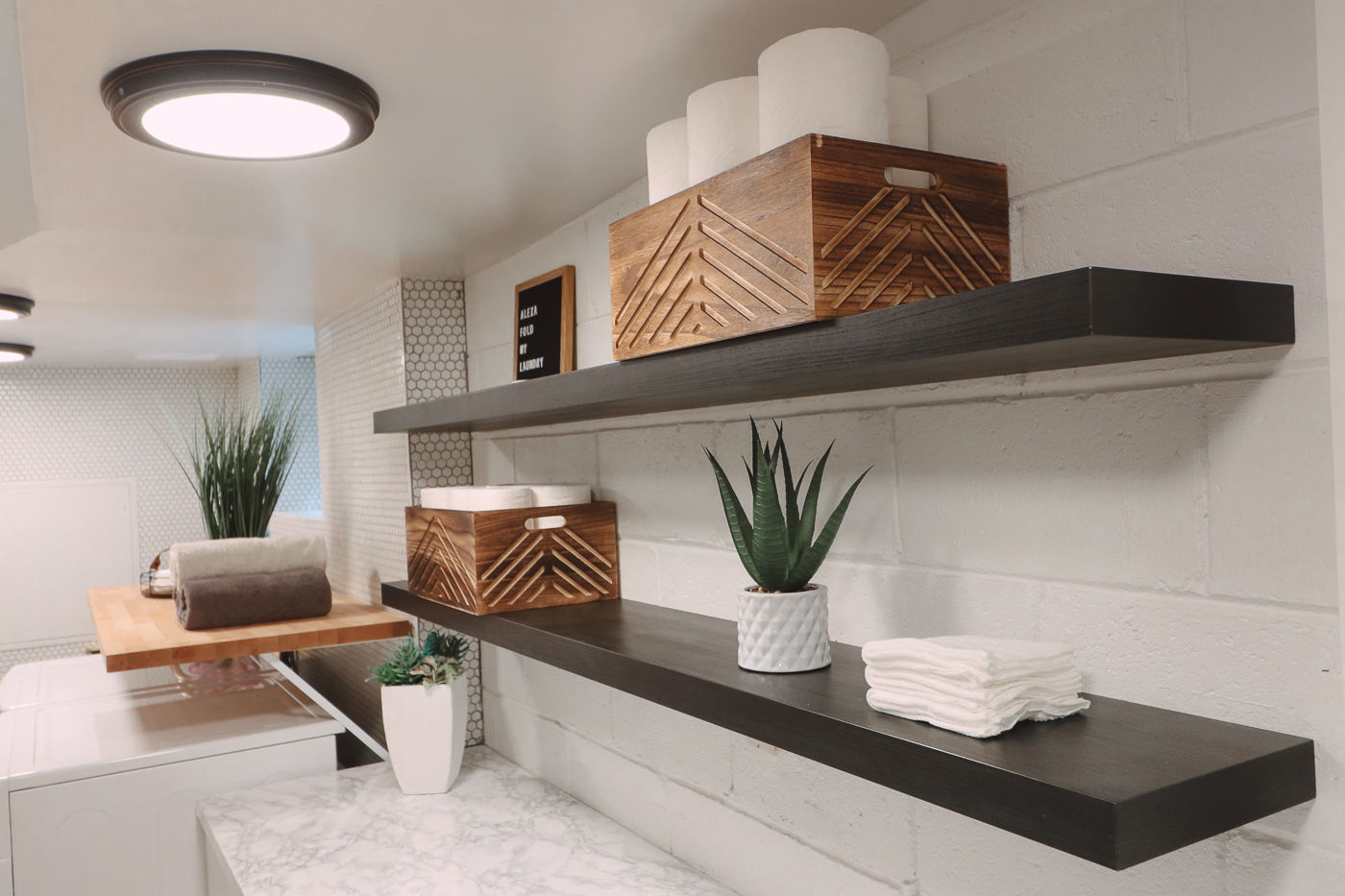 We didn't want to replace all of the counters, so we went with a wood butcher block for the main laundry area and for the rest of the storage space, we just added a vinyl marble sticker that gave the right look without the price tag.
Lastly, we swapped the old door to this room with a fresh new shaker door that allows you to look into the room. The door was already primed so it just needed a quick coat of paint. Be careful when picking a door because there are all sorts of caveats: right-handed handle or left? Inbound or outbound swing? Make sure you match what you already have to make an easy swap.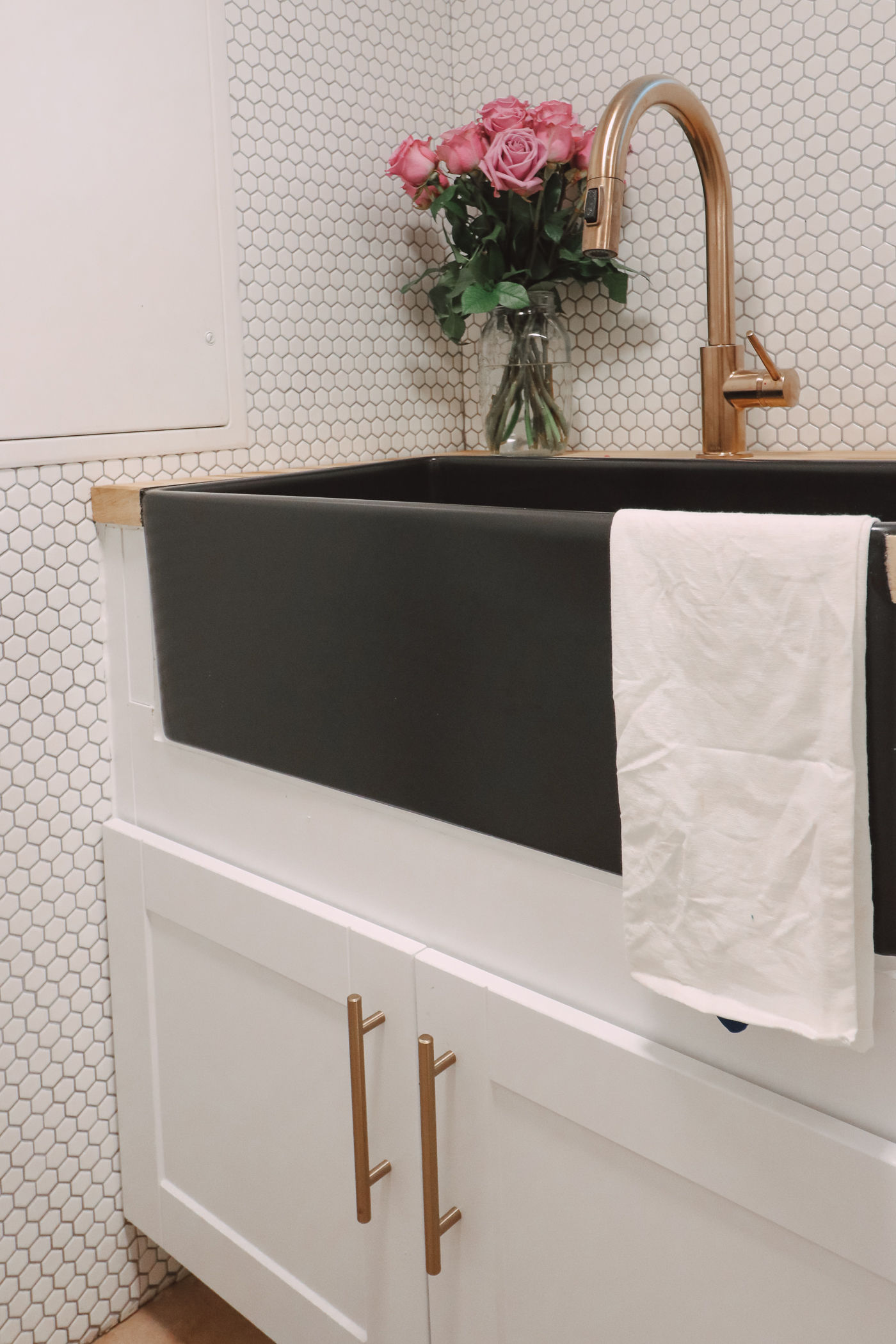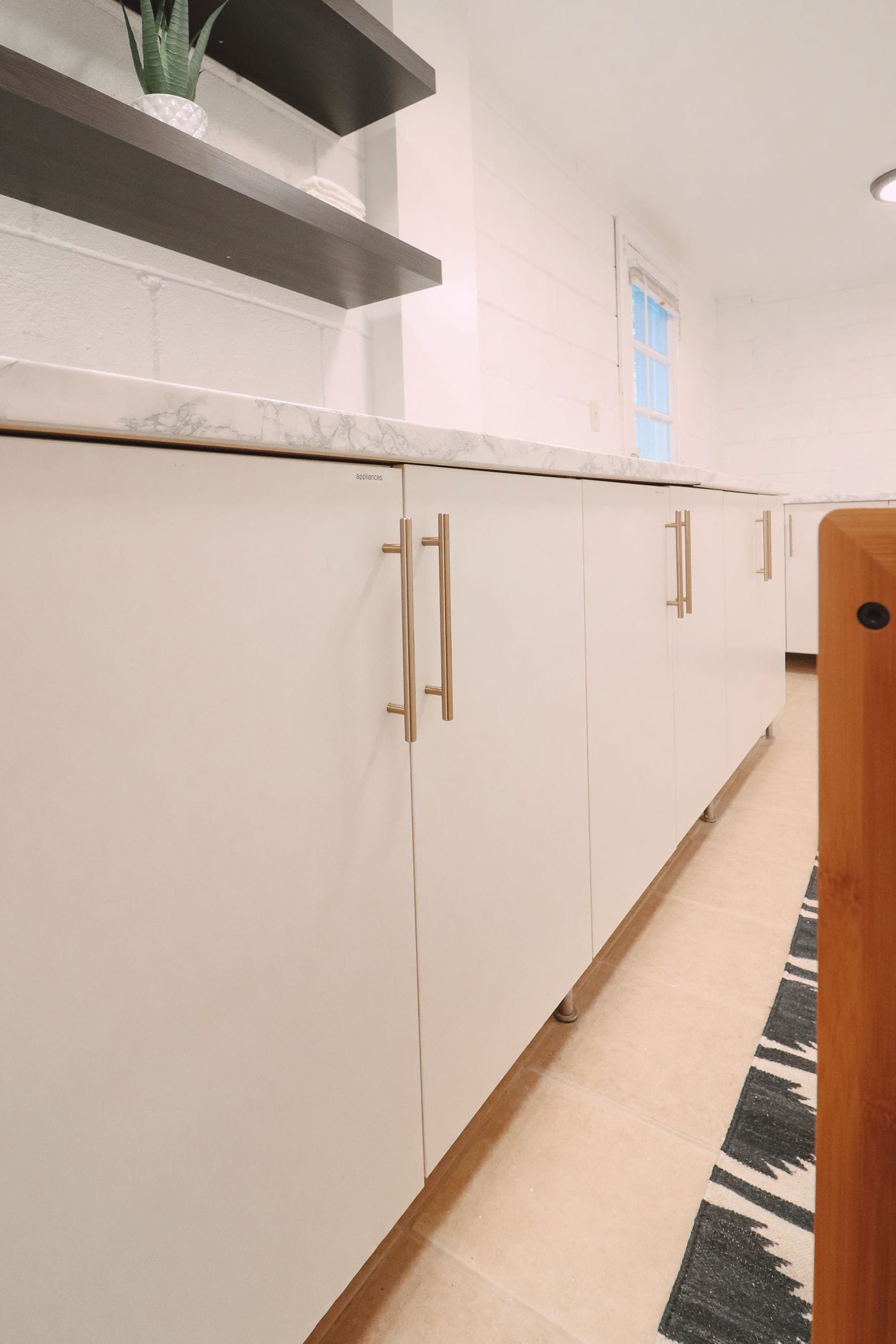 The sink might just be my favorite part of the entire room. Remember the hideous plastic tub that was there? Well, behold, my beautiful black fireclay sink which sits in this new shaker cabinet and champagne bronze Delta faucet. I am actually excited when I get a stain and have to presoak something. (Whoa, did I just become an adult?)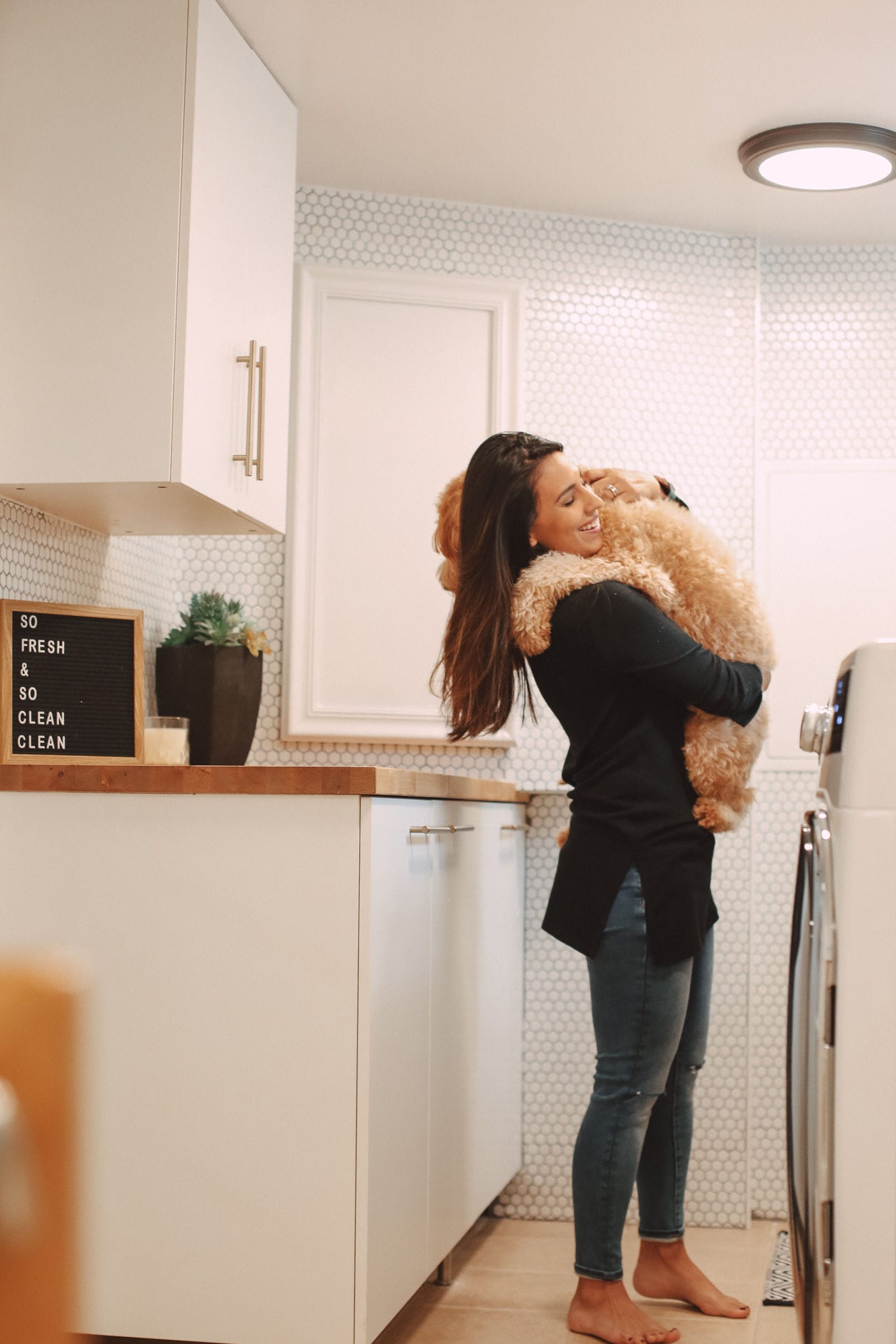 Wanna hear how we tackled the walls, ceiling, water heater, and utility box? These are the biggest challenges of a basement and they took a lot of research to find the best way to make the space functional. Head over to The Home Depot blog here for all of the details on the tough project and a FULL reveal of the entire space.