A big thank you to The Home Depot for partnering on this post. As always, thank you for supporting the brands that make Simply possible.
When we bought our home 6 years ago, we had absolutely no idea what to do with our basement. And due to that lack of vision, the space has lived many lives. The room has been a den, a spare living room, a makeshift theatre, a dining room, and in its newest life – Peloton home office / workout space.
When I tell you that this room is like the Defense Against The Dark Arts post at Hogwarts – I mean it. Nothing would stick.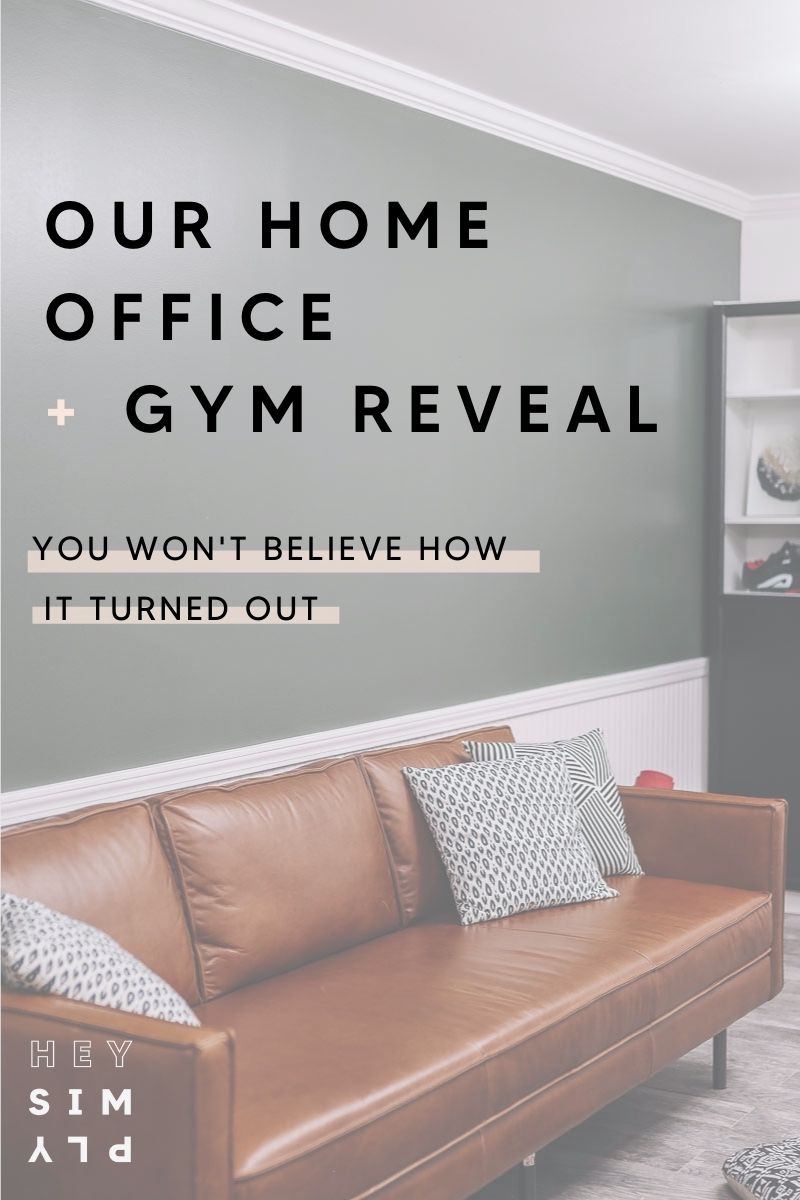 The Basement Before
Like I mentioned, our basement has served different purposes over the years. At one point we even had a designer come in and help us map out the space, but to no avail. Our basement was just an oddly shaped space and without a true purpose, it was always hanging by a thread until we came up with a better idea.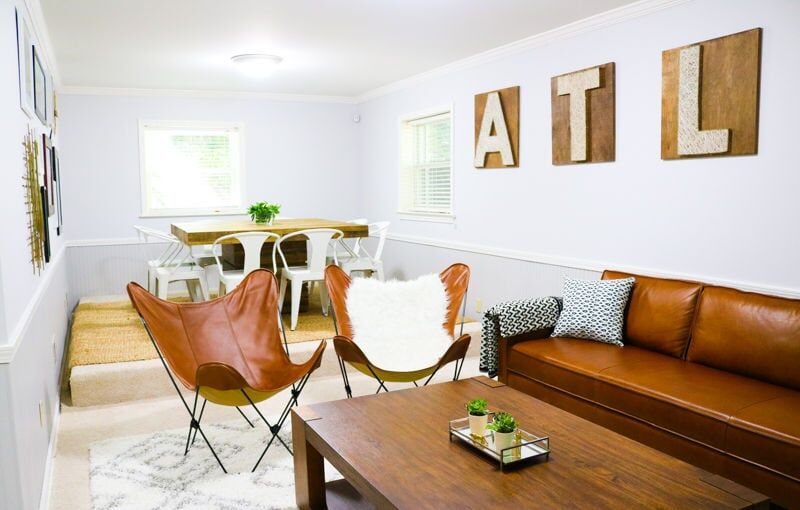 [Editor's note: by we, I mean me, because Sahir was over this room about 5 and a half years ago]
This time worked in reverse. We didn't look at the space and think – what can fit here? We looked at our needs and tried to design a space that could fit our needs. We wanted an area to host our peloton + home gym equipment and a space for Sahir and I to both work at home. That was the goal of Project Basement 5.0. – Peloton Home Office. First thing to tackle? The accent wall. 
Designing a Home Office / Gym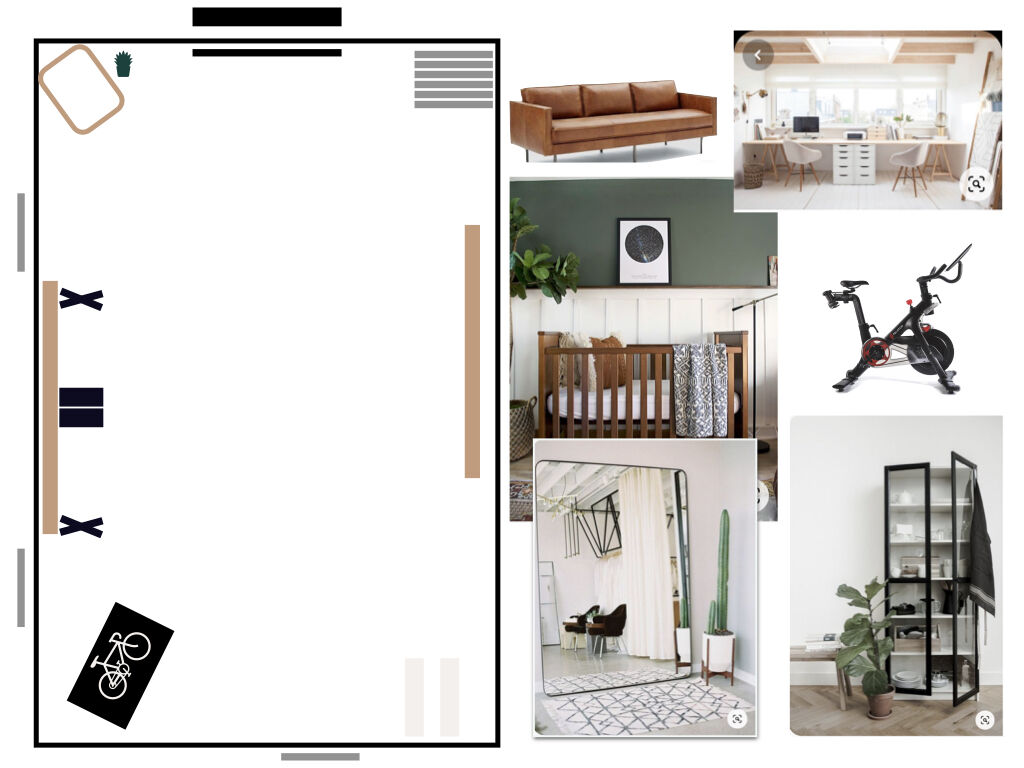 We started with a mood board to outline what we wanted the design to look like. This was the first room in our home where we wanted to test the boundaries with some bold paint and wanted to do an accent wall in a bold green. So we headed to the Home Depot.
Creating a Paint Accent Wall
The paint collection at Home Depot is unmatched and the staff there was so patient and kind with me when I was trying to decide which colors I needed. Choosing a bold color takes some guts – and as the self-proclaimed queen of neutrals, this one was tough.
I compared a lot of options in-store and online with the Home Depot Virtual Paint Experience to find the right shade of green. The difference in shade would be the impact of a trendy green and a frothy mildew color – I needed to tread lightly here!
I also tried out the Home Depot ProjectColor App™ to see all of the colors that I would find in-store and mark them down so I knew exactly what I was looking for in the store. It can get overwhelming when I'm choosing colors on the spot, so planning was the right more here.
Why green? Well somehow in the past few years, it seems like a dark green has become the staple of bold elegance. A calculated departure from the traditional white and grey of the house, we chose a paint that would be loud without being deafening.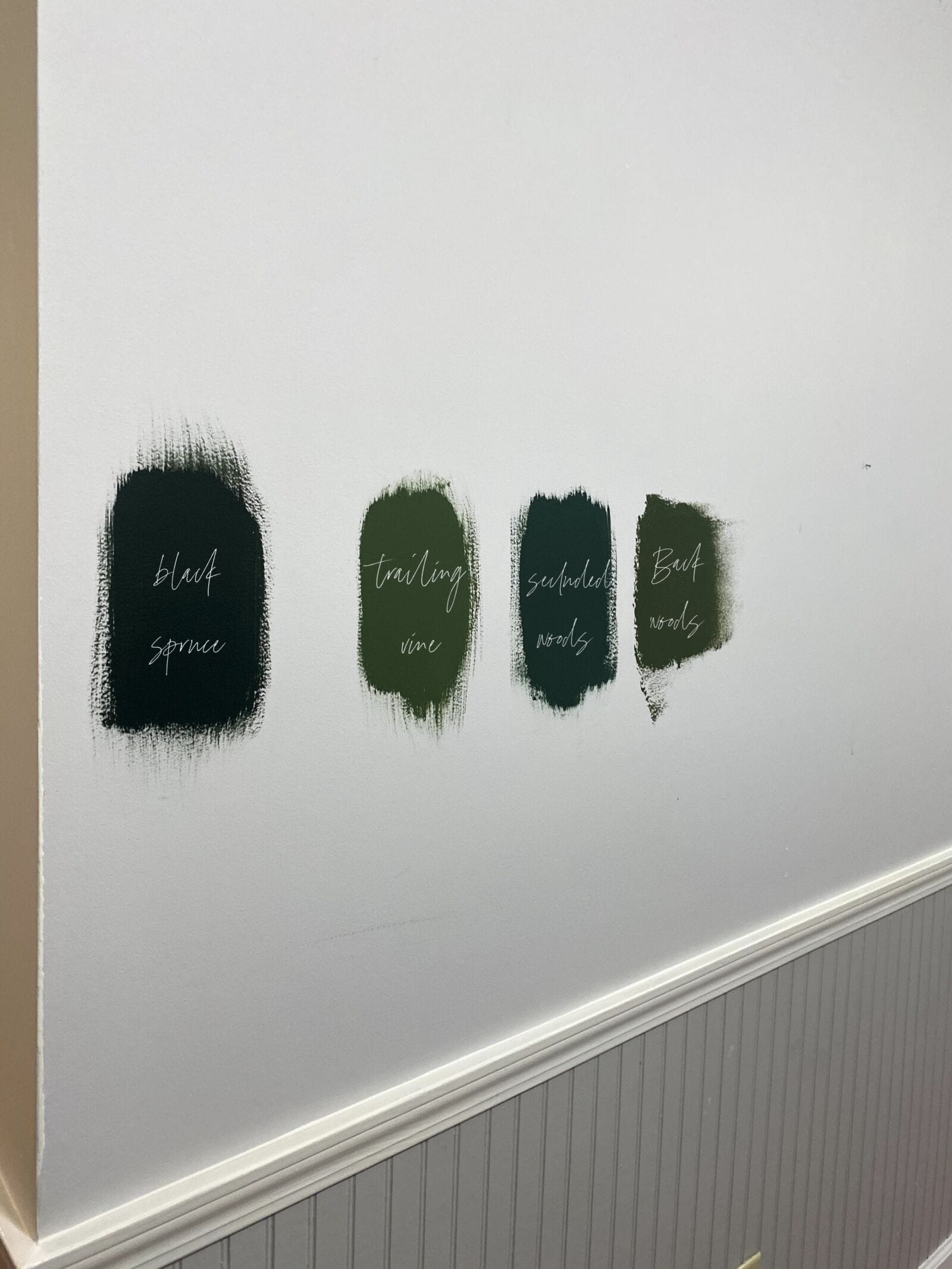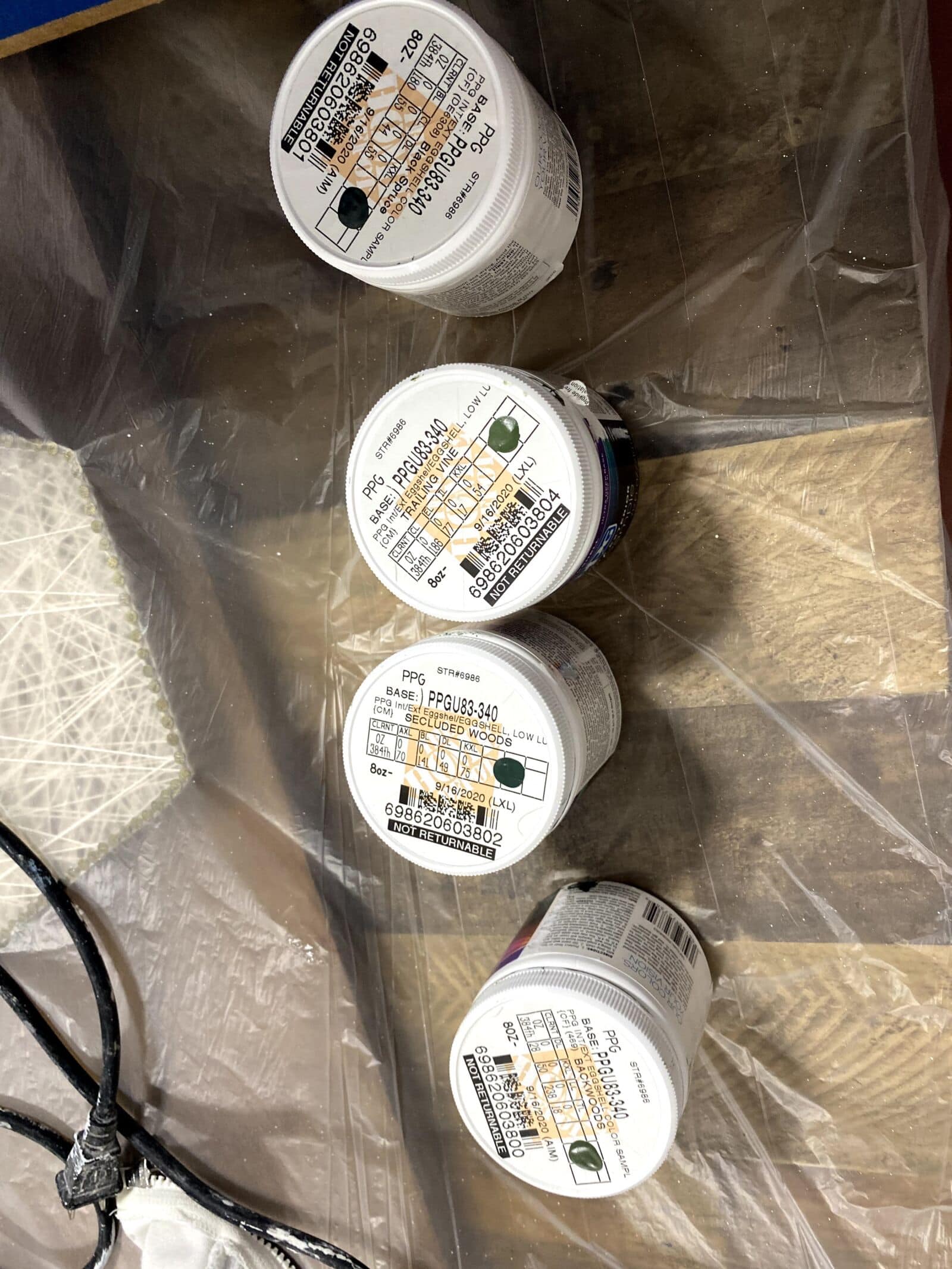 We sampled 4 different shades of hunter green: 1) Black Spruce, 2) Trailing Vine, 3) Secluded Woods, 4) Backwoods. Can you guess which one we chose?
For the paint itself, we used Behr Marquee paint from Home Depot. We wanted a paint + primer formula that was mildew resistant and had durability.
When it comes to picking paint finishes, walls are generally painted in a Satin or Eggshell finish. We went with Satin.
Wondering about what color we went with? Drumroll please… Ultimately, we went with Backwoods!
After we decided on the color, it was off to the races to design a room that would be multifunctional and not a junk drawer. We wanted everything to have a place and leave plenty of space for openness to avoid clutter.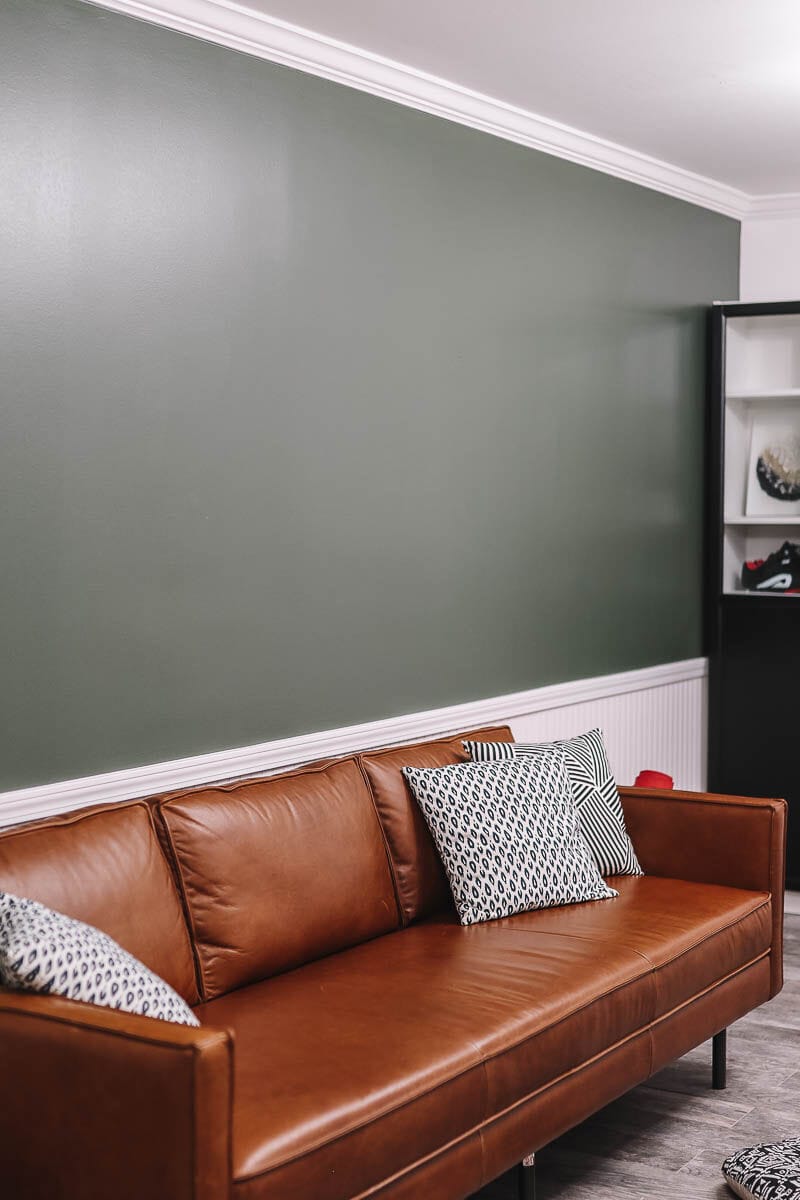 The Home Gym
We ultimately decided on getting the Peloton Bike+ over the regular Peloton. I think that the Apple Watch integration + larger swivel screen can be a big selling point, but it isn't necessary.
The bike took about 3 months to arrive, but came in exactly when our paint project was done.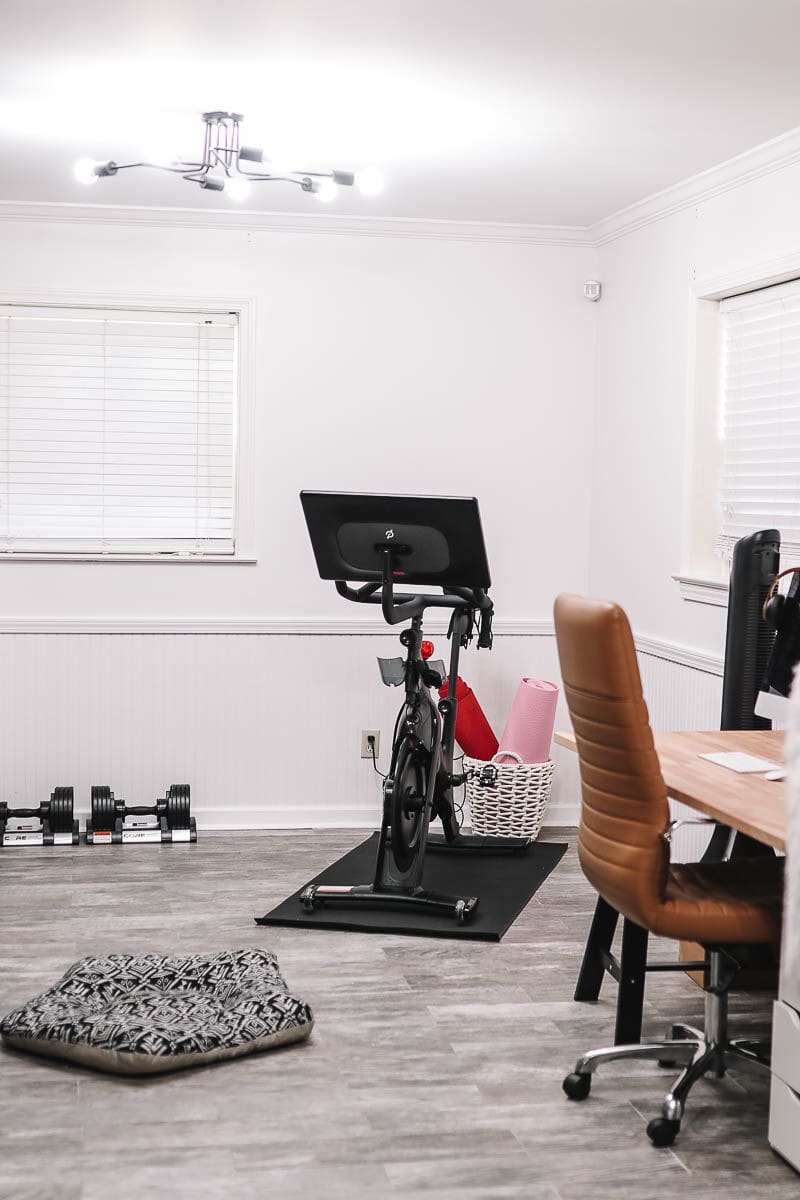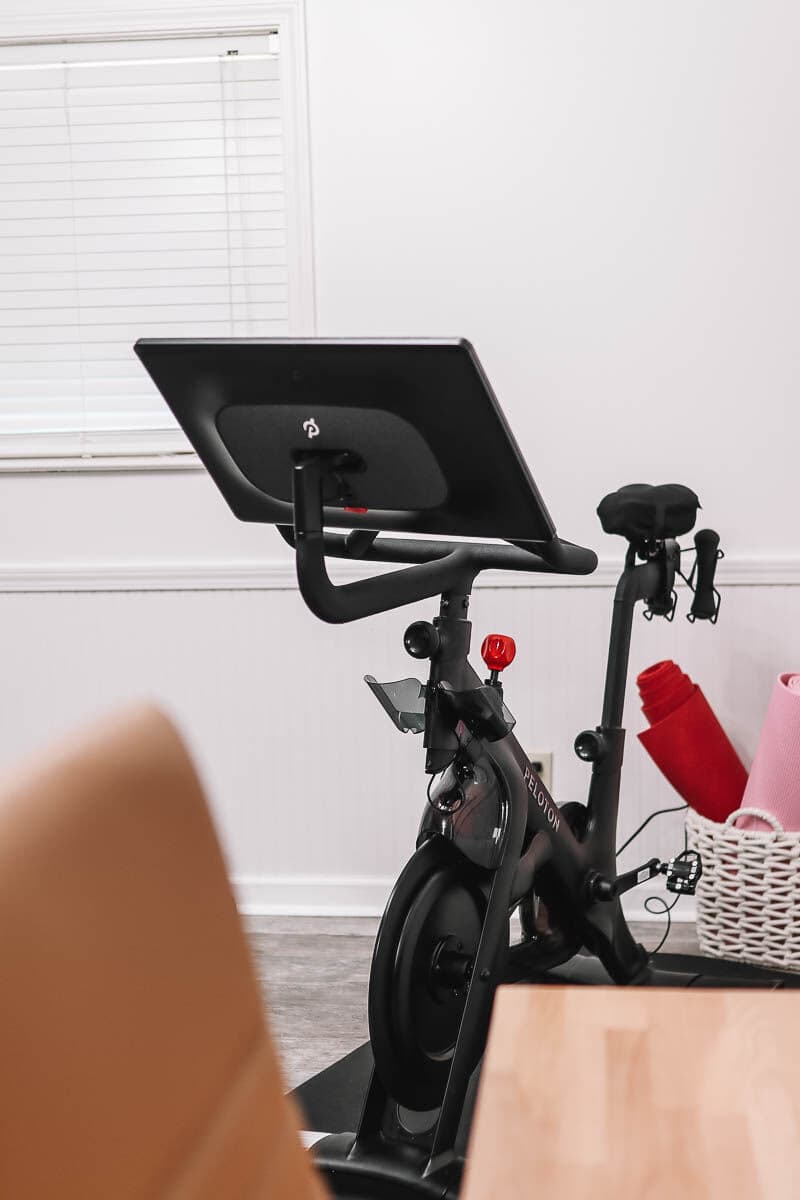 The bike rests in the back right corner of the room and is angled, other equipment includes a set of weights for me. This set is from Walmart and has 3s, 5s, and 8s – which is exactly what I need. I got it for around $40 and I think it's definitely worth it.
We also have a few yoga mats that we placed in a basket from Homegoods. When choosing a yoga mat, I prefer to pick ones with a greater thickness. Yoga Mats generally start at 3mm and can go up to 10+mm. The minimum that I will pick is usually a 6mm which is considered "extra thick." Our basement flooring is tile so it's important that you have a good padding in your mat.
The Wall Art
With a bold accent wall on one end, we wanted to balance the contrast of our home office space with something that would enhance the space, so we went with some custom wall art.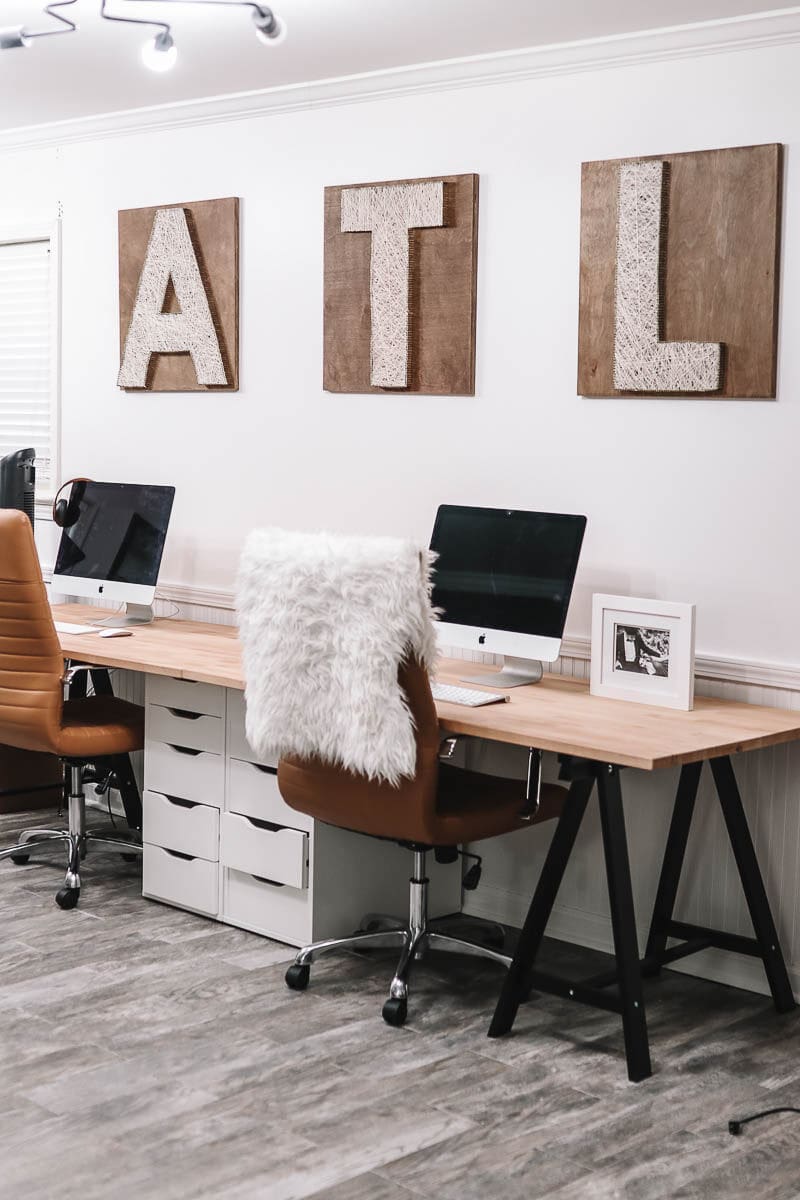 I know you guys want to know the details about the ATL sign, and I have a little good news, bad news. The bad news is that the creator that made my art, is no longer taking orders. We found this artist in 2016, and her shop is no longer open.
The good news is that you can look on Etsy to find a creator to do custom "nail and thread" art if that's something you are interested in.
The Leather Sofa
This turned out even better than I had anticipated. The rich caramel color of the leather against the dark green accent wall is certainly the focal point of the entire space. I love the way it turned out and the contrast is impeccable.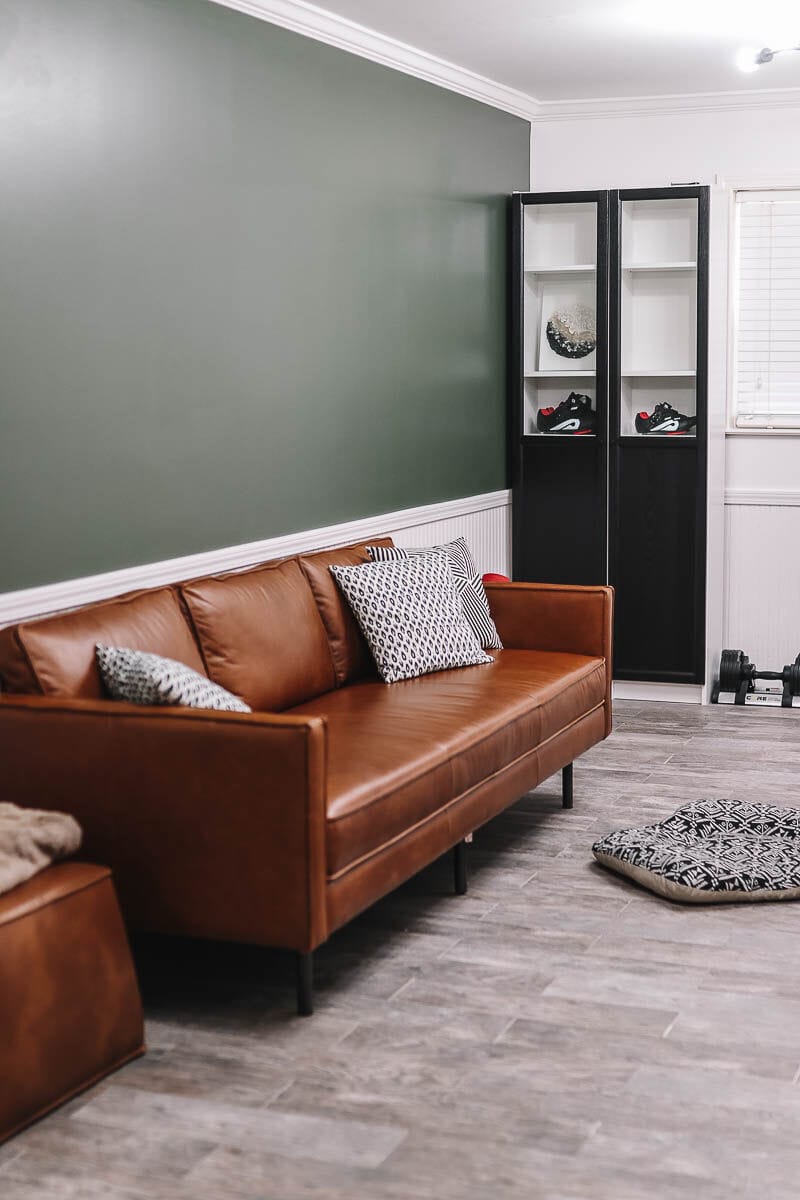 This light brown leather sofa is comfortable and functional. This is the West Elm Axel sofa in 89". With it's placement in this room, we can truly start to use the sofa. We've had it for years and it's been sitting in the basement, without a true purpose until now.
The Home Office
We hacked together our long desk by combining two of the IKEA Gerton tabletops and two of the Oddvald trestle legs with two of the middle storage cabinets called Alex.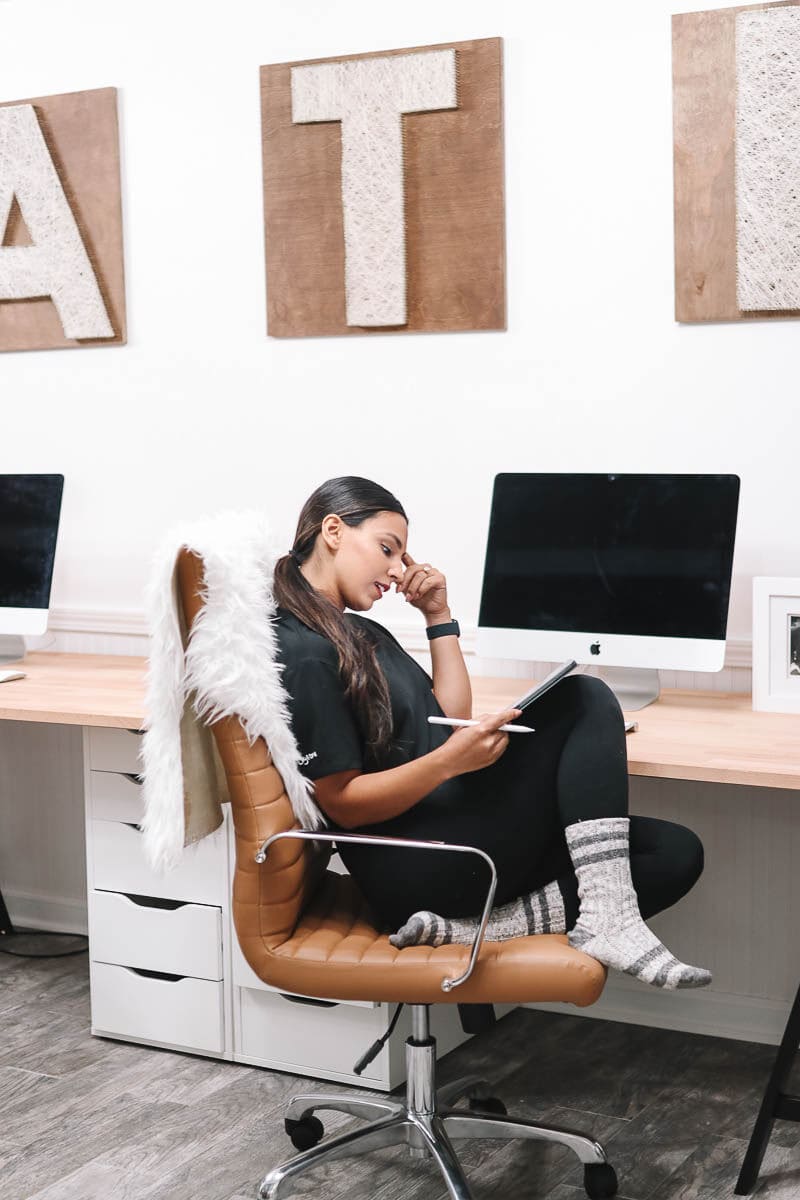 We chose to keep it really simple and have our Home Depot office chairs as the main attraction. These faux leather chairs are beautiful, comfortable, and surprisingly affordable.
Final Thoughts on Basement Gym / Peloton Home Office
Now that we are spending more time at home, it's essential to make your home not just pretty – but functional. Creating this flex space was something that Sahir really wanted and I wasn't quite on board until I mapped out a mood board and saw that we could get what we needed without it looking cluttered.
I think choosing a singular accent wall helped define the focal point of the room. It has a lot going on, but none of the pieces are competing with one another.
I hope this inspires you to make the most of your home and don't be afraid to take risks! Our bold paint color from Home Depot is my favorite part of this room. Always remember to get samples of paint finishes and test them in the room before you apply them. The shadows, light, and makeup of the room will always impact how color truly looks in your space so don't skimp on the samples!