There are so many things going through your mind when you're postpartum, and your comfort usually doesn't top the list… but that doesn't mean that it shouldn't!
When you're recovering from serious trauma to your body, sleep deprived, and have a tiny human to take care of, you deserve all of the TLC.
Here's one way to prepare for postpartum with grabbing a few pieces that will make you feel good.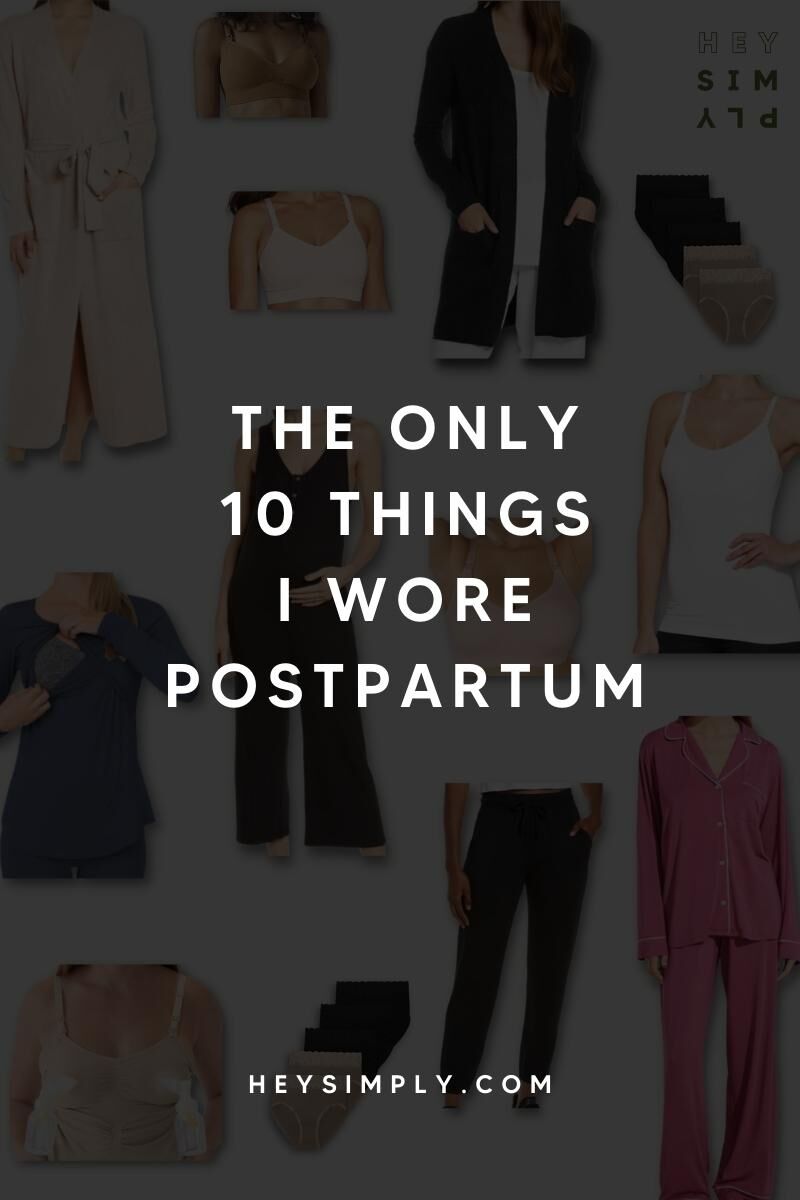 Clothing
I can't stress to you how important it is to focus on postpartum clothing. For starters, there will only be a few things that you will wear. Sizing will be a mess because you aren't pregnant anymore and likely no where near your pre-pregnancy weight. After you deliver, you'll likely look like your 6 months pregnant and over time will look you're 3 months pregnant.
Invest in pieces that make you look and feel good. Here are my top picks.
Leggings can feel limiting postpartum, but these are super comfortable. The waistband rolls down so you can wear them even after pregnancy and postpartum. (Not me still wearing mine 13 months after having Mila).
This tank isn't just for maternity, but it definitely works for it. I love the convenience of being able to nurse at any point without having to change. This outfit works for lounging in the house and being out on the go.
I actually bought this when I was pregnant and wore it a lot over bodycon dresses. I even took it with me to the hospital. I didn't plan on wearing it since I didn't want to get it "dirty" but that went out the window when I was tired and cold. This cardigan has gone with me everywhere and has definitely made it worth the price in "cost per wear."

Hatch is one of the best maternity brands, but that comes with a steep price tag. This one was a splurge purchase for sure, but now that it's warming up – I'm getting so much use out of it. I wore it when I left the house in those first few months, and loved that it was nursing friendly with the henley style buttons. I did size up for a looser fit.

This nursing jumpsuit is super cute and very comfortable. It's similar to the Hatch jumpsuit so you can pick one or the other. Because I'm petite, I had a preference – but if you're looking for a budget option, this is the one for you.

I shared about this on Instagram, it's seriously the most comfortable robe I've ever worn. I wear it daily and it's been almost three months since I delivered. Can't tell you the number of days when I was in a nursing bra, postpartum undies, and this robe. You won't regret it.

Kindred Bravely is one of my favorite brands for pregnancy and postpartum – as you can tell by this list. When you're home from the hospital, you want something comfortable that will make you feel great. I bought this one when I was pregnant in my second trimester and have gotten so much use out of it.

Someone once told me that the best thing I can invest in are comfortable PJs – and nothing is better for PJs then Eberjay. I had heard so many good things, but when I tried them – holy moly – they are ridiculously soft. I'm wearing them as I type this.


This was such a great find from a mom-to-be Facebook group that I'm in. (Yes, I still use Facebook briefly for groups). This nursing cami from Target is a great find. I bought it in black and white and wear it regularly under my other clothes.

Under Garments
Okay, fine. This is more than 10 items, but I felt like the undergarments needed their own category. Nursing bras, pumping bras, and postpartum panties are a world of their own. Now that I've tried a bunch, here is what I recommend.

This 5 pack is pretty much all you need (you'll be doing a lot of laundry). Once you are done using the hospital grade undies (yes, you need to use the mesh ones) it's great to transition into pairs like these.

I was telling a girlfriend who's expecting about these panties and how they are still my favorite even after pregnancy. The panties are one size so they literally grow with you as your body changes ++ no seams!

One of the parts of postpartum life is being flexible to different ways of feeding. The world of formula, pumping, and nursing can be taxing but this bra has you prepared for all of the options. It's a bit more on the bulky side, but it truly has you covered.

If you do end up nursing, this Kindred Bravely option is probably the softest nursing bra I own. I have it in two colors (black and pink) and highly recommend it. The only thing that annoys me is that when you wash it (I air dry delicates) the bra pads move around and they need to be put back into place. #sewthemin

This Target find is the same brand as the maternity tank above. I love the bra option and this is certainly the cheapest one on the list. I bought two of them, it's just so worth it for the price. Another find from my Facebook mom group!

Final Thoughts on What I Wore Postpartum
Dressing your body during this ever-changing time can be annoying as is, but theres a special pressure when your body and mind are weak. Take the pressure off and invest in a few good pieces for yourself. I hope this list helps you mama!