I was probably 15 when I first got my hair colored. I wanted highlights but wasn't sure what the right color for me was. My mom – unsupportive of my mission – left it up to me to pick my poison.
I chose a caramel brown (hello 2005!), but it wasn't long before the wrong brown turned into the wrong blonde. I realized that my color-treated hair got lighter with the sun and not in a good way. A few weeks went by and I was so traumatized by the color that I threw in the towel and dyed my hair black. That's Jet Black, for those of you playing along at home. Which was way too dark for me and not natural for my skin. #fail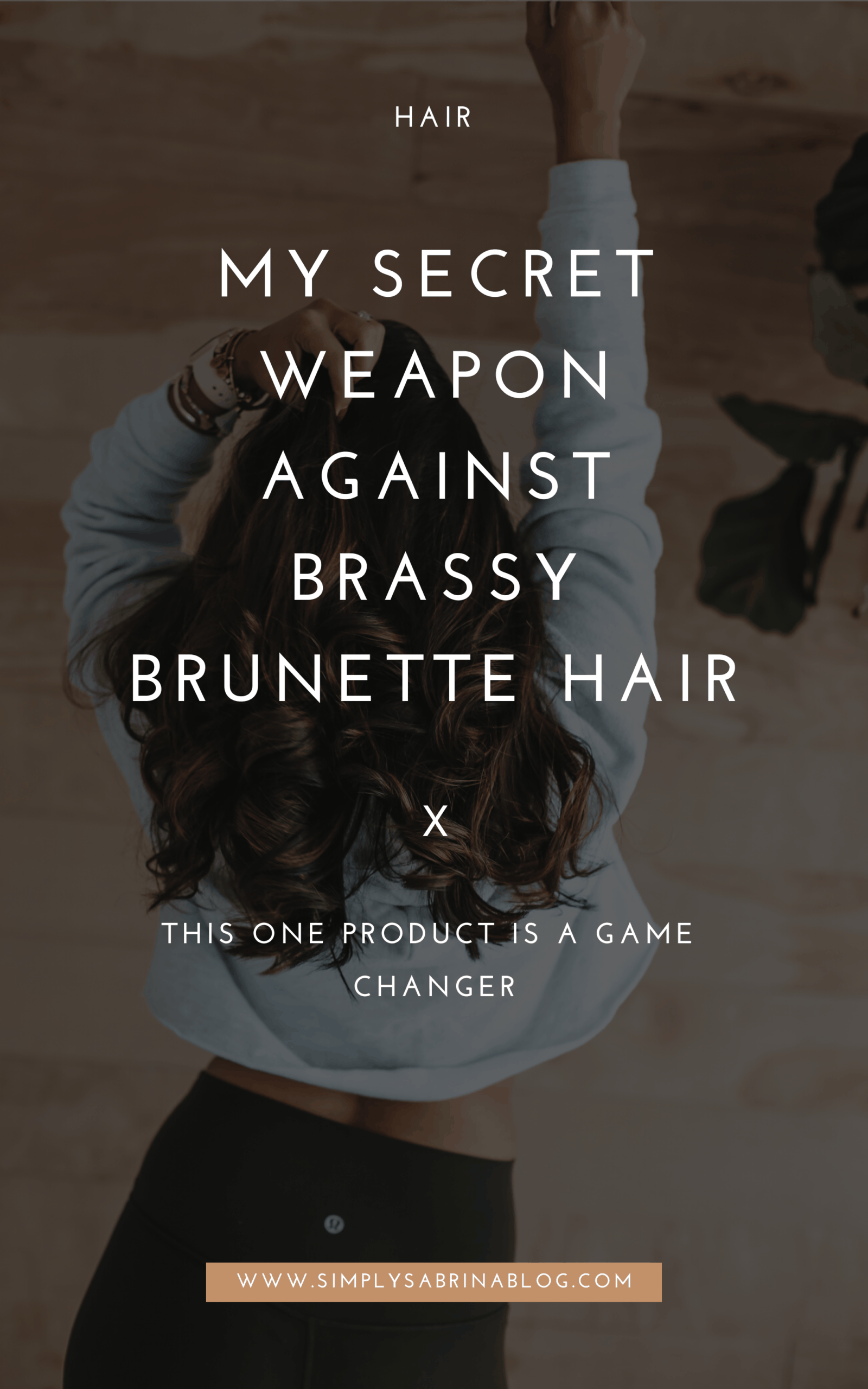 After a series of unfortunately box dyes, I quit the hair game. I realized that if I was ever going to color my hair again it would be with a professional team at a reputable salon.
A few years later, I tried again and I wish the story had a happy ending.
My trip to an expensive salon left me $200 poor-er and with an ombre balayage turned out too light and borderline blonde. My hair was a terrible shade of brassy brunette which didn't look cute on anyone.
With the upcoming summer sun, I was terrified of what was to come. My hair always gets lighter in the summer and since I wasn't particularly happy with the way it turned out to begin with I knew that I needed to do something.
The issue wasn't that my color was wrong – it was just the wrong tone. I didn't trust my stylist to go back (and pay more money) to have her tone my hair again.
I knew what I needed: I needed the color to be deeper and more vibrant, but I wasn't crazy. Trying to "at-home box tone" was probably going to be as bad as "at home box dying" and I was old enough to know that was a bad idea.
After spending more time than I care to admit on Google searches, YouTube videos, and Amazon reviews *All hail MakeupAlley.com* I finally came across a drugstore product that looked promising to fix brassy brunette hair.
There were a few good reviews about a new product by John Frieda in the Brilliant Brunette collection. I had tried John Frieda back in high school and swore by the glaze making your color stay super shiny and new, but the last thing I needed was a glossier blond. So what was the new product?
---
Hate Choosing a Nail Color?
---
How I Fix Brassy Tones from Brown Hair at Home
Could it really be possible to fix brassy tones from brown hair at home? Of course, there was a shampoo and conditioner that was part of this "deepening" system, but the real magic was in this "deepening color treatment" and guys, it worked to cure my brassy brunette hair.
It really worked. I've been using the product for over three years and it works.
The whole system honestly takes a while to complete. I shampoo & condition pretty quickly, and then put the color treatment in hair which has to stay about 5-10 mins. I usually only keep it for 5.
On days when I feel like taking a super long shower, I'll do the glaze too – because now I love my color & no more brassy brunette hair! That usually tacks on another 3-5 mins so it's a special occasion treatment.
How to Prevent Brassiness in Brown Hair
In the future, to protect your hair color from getting brassy, there are a few things that you can do.
Switch to products for color treated hair
Color treated hair products will generally be sulfate-free and more gentle on your hair. They are best to use when extending the shelf life of your hair.
Use Heat Protectant before Using Heat Tools
When your hair gets exposed to oxidation like sunlight or a heat tool, you will lose some of your new pigment and your "lifted" hair (orange/red) will now start to show through.
Limit Sun Exposure
Like your skin, your hair needs protection from the sun. UV rays can affect hair color by drying out and fading color treated hair. Like skincare, UV damage can cause loss of elasticity and distress to the bonds that keep your hair strong and healthy.
You can try a sunblock for hair that has UV protection if you are going to be in the sun for an extended period of time.
Why Does My Brown Hair Turn Brassy?
Oh! We can choke this up to basic color chemistry. When you lighten brown hair you are bleaching it and essentially stripping the color. That will exposure the red and orange undertones that you are seeing.
To get the color you want, you are depositing additional color on top of your natural stripped hair.
When your deposited hair color starts to fade, the red and orange tones become more exposed which makes your hair color appear brassy.
Blue or Purple Shampoo on Brown Hair
Traditionally, purple shampoo has been used to help blonde hair stay cool-toned and therefore away from brassy shades. Depending on how your hair is colored, purple may work for brown hair as well. I've tried the Unite and had great results. I usually do it about 3 weeks after my hair color appointment to keep my color fresh for another 3 weeks.
Another option is blue shampoos. These are specifically created for brown or brunette hair and can be less aggressive than their purple counterparts. The most popular blue shampoos are the Fanola No Orange Shampoo and the Aveda Blue Malva Color Shampoo.
Final Thoughts On How To Fix Brassy Tones from Brown Hair at Home
I want to mention that this isn't a permanent solution for brassy hair. At home toner can make it more difficult for proper processing at a salon. It's a great option if you're in a pinch, but as always – I recommend finding a salon that you trust for your hair.
I'm so glad to have found a drugstore solution to my issue. I'll likely keep using it even if my next hair process isn't a botch job. With sun, comes faded and less vibrant hair. My quest to be blonde is still pretty far away, so for now Amazon & John Frieda for the win.
SHOP THE POST