If your hair is sticking to your scalp like a clingy ex, it's time to figure out how to add some much-needed volume to your hair. I'm blessed that my hair is straight and sleek, but that means that volume is my natural enemy. Over the past few years, I've mastered how to "fake" voluminous hair and I'm spilling all of my secrets in this post.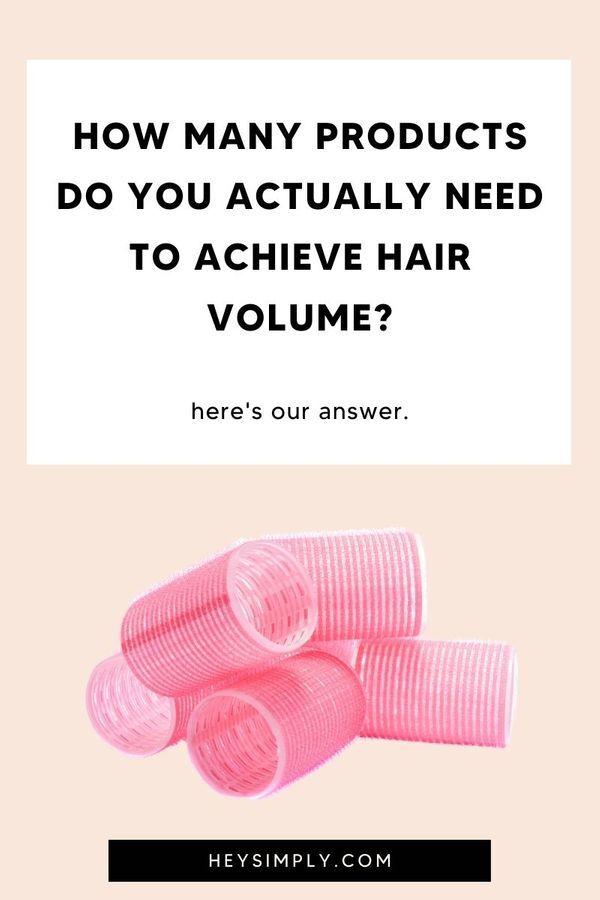 How to add volume to hair?
You can take a few different approaches to achieve more voluminous hair. Choosing products that are better suited for your hair type is a great start, but the real secret to full hair is how you style it.
Why is there no volume in my hair
Product build-up, grease, or fine hair texture are a few of the reasons why your hair might lack volume and fullness. Your leave-in products could be weighing down your hair or your roots could just be conditioned to lay flat. Whatever the issue is, you will find a solution here.
How to get volume in my hair naturally
There are simple and accessible ways to add volume to your hair. You don't necessarily need trips to the salon or expensive treatments to add volume in your hair. Here are a few methods that you can follow to easily add volume to your hair.
Change up your hair part
Your hair has grown accustomed to the way that it is parted, so whether you are rocking a side part, deep part, or straight up down the middle – feel free to switch it up. Your hair will respond well if you flip your hair to the opposite side or try a different part.
To keep your hair flexible, I recommend trying different parts regularly. If you have your hair tied back when you are working, do a different part to give your hair the agility that it needs.
Cut your hair shorter
Less weight equals less tension at the roots. Easing the pressure at your roots with a haircut will instantly add a bounce to your hair creating the look of fullness.
Will layers add volume to your hair?
Well, that is a tough question. It honestly depends on your hair type. Some hair textures can really benefit from adding layers to make the hair look more voluminous and more manageable, but for fine-haired people, layers can't make magic happen.
Want more hair volume? Wash less often
More volume with dirty hair? How can it be true? Well, it is. The dirtier your hair is, the more the natural oils will surface. You can use that added grit to add body and volume to your hair for days after you wash it.
I only wash my hair two or three times a week and that's with sweaty workouts in between. You'll need to train your hair to get used to being washed less often, but once you're on a routine – you're golden.
Never apply conditioner to your scalp
The hair closest to your scalp is also the healthiest and it does not need conditioner as your ends do. Adding conditioner means that you are adding weight to your hair through the emollients and oils that are there to add moisture.
So if you are looking to add volume – or even if you are – not don't apply conditioner to your roots is a waste of product.
Adding volume to hair with styling hacks
Simple styling updates to your routine can easily add volume and fullness to your hair. Adding a new tool or just using a new technique will make a world of difference, trust me.
Let's get right to it.
As an Amazon and Rewardstyle affiliate, we may earn a small commission for any purchases made through these links, but the price never changes for you. Click here for the disclosure statement. As always, we only recommend products we love. Pinky Promise.
Bounce it up with rollers
Does the word rollers remind you of the 50's housewife trope or the Marvelous Mrs. Maisel?
I can't say that I blame you but I promise it doesn't have to be that way.
Throwing in a few rollers (and leaving it in for a few hours or overnight) can lift your hair at the roots and add volume. If you want things to be done quickly you can invest in some heated rollers.
That is not the only solution though, if you are someone that straightens your hair with heat you can add velcro rollers for volume. The secret is to place the rollers near the crown of your head while your hair is hot. Make sure that it is tight at the roots to really lift your hair. Once your hair cools in place you let your hair down and voila, volume.
Gently tease for more volume
Gone are the days of the Texas bouffant hair and thank god for that, but who doesn't love a little volume? Every woman should own a good quality teasing comb and know how to use it properly.
Here's the kicker: it shouldn't hurt! Bad YouTube videos will show you how people create a rat's nest for volume on your head, but that creates more problems than it solves. Teasing should not damage your hair. Think of it more as gentle back-combing.
I remember when I got my hair done for my wedding my hair was thick and down to my back, but I purposely added extensions because I didn't want that damage to my natural hair. Wedding hair stylists have no mercy when it comes to volume. Yikes!
If your hair already has a bit of natural grit, you can gently backcomb using a teasing brush to add volume to your hair and spray with a light-hold hairspray. This tutorial on YouTube (starts at 45 seconds) is a great example of what to do.
Get over your fear of mousse
I know that you hear mousse, and you suddenly see crunchy weird phantom curls but trust me the formulas for mousse have changed a lot over the past years.
There are so many different formulas that can help your hair gain a little texture, fullness, and body. A personal favorite is the Redken Guts 10 Volume Spray Foam.
Add a golf ball size amount (for medium-length hair) while your hair is still damp and then go on and style your hair as you wish. It will make all the difference.
Create body with a salt spray
Sea salt sprays are great to add volume and texture to hair. Salt adds texture that creates a voluminous look no matter how you choose to style your hair, straight or curly. It's quite literally perfect for beachy waves.
It is simple to use and works on many different hair types. It even helps reduce the frizz in curly and wavy hair types. The Beach Babe Texturizing Sea Salt Spray by Not Your Mother's is a good budget option, but if you want to splurge a little the Apres Beach Wave and Shine Spray by Oribe is the gold standard.
Get acquainted with a good dry shampoo
Dry shampoo will be the secret weapon in your arsenal when it comes to volumized hair (especially when you aren't washing it often.) Here's how it works: the product soaks up the excess oil in your hair to give you a fresh and clean look. But wait, there's more!
If you swear by dry shampoo on dirty hair days, try it on clean hair! But Sabrina, how can that be?! I know – stick with me. A little bit of dry shampoo will add texture to otherwise slippery clean hair that can add lift, body, and grip to your hair.
If you're in the camp of people who say that dry shampoo simply doesn't work for them, take a look at these 6 popular dry shampoo mistakes that you might be making.
My personal favorites are the: Aveda Shampure in powder form and the Living Proof Dry Shampoo in aerosol form, but I'm always trying new formulas to see what works best for my hair.
It claims to actually clean hair and it is perfect to add volume to greasy/oily hair. Yes I know that sounds like a contradiction but it does work.
The best part about this product is that it is a powder that can be sprayed on. It is super convenient to use, you don't have to get your hands dirty.
This product comes in a powder form and yes, it is white but frets not – it dissolves. Check out my video here for more assurance that works on dark hair.
Okay, if you have dark hair and you are concerned about the white residue that many dry shampoos leave behind this one is for you. It is literally invisible!
Remove buildup in the shower for more volume
It's impossible to have volumized hair if it's being weighed down by outside forces. You want to eliminate any product buildup in your hair and scalp by using a detoxifying product suite. I like to use a scalp brush followed by a root build-up remover. Rooted Rituals is a personal favorite and it's so affordable!
After that, opt for a shampoo that is clean, stimulates hair follicles, and if it has biotin – which is an added bonus. In case you didn't know, biotin is a B vitamin that helps with hair health. It can thicken hair and stimulate growth. The Briogeo Blossom & Bloom Volumizing shampoo is one of my favorite formulas (& it has biotin!)
Blow-dry with a cold shot
Have you heard the theory that you should blow dry your hair upside down? Aside from making you look like the little girl from the Ring, there is actually a method to the madness. By blow-drying your roots upside down, you are letting gravity do the bulk of the work. When you flip your hair back over it will have more volume.
If your blow dryer has a "cold" feature it's a great idea to give it a try at the end of your blow-drying session. I know your arm is aching already and you're tired, but spending a minute blasting cool air through your hair will lock your style in place, prevent frizz, and secure the volume from your blow-dry. This blow dryer from Eva NYC is so cute and works really well if you're in the market for a new one.
Hair tools for that added bounce
Some tools work miracles on your hair and here are a few. The principles of adding volume are to lift at the root, to add some texture, and to create a bounce in the hair and these tools do just that.
This pricey tool can be a great addition to your kit to add volume and style your hair overall. It is easy to use and exceptional at creating styles that stay in place for hours at a time.
You can create different types of curls and change the way your hair looks very quickly with the help of the Airwrap. You often see hair tutorials for people using the Airwrap for its curling wand, but the round brush and flat brush attachments are actually magic!
With this price point, a blowout at home seems like a no-brainer. The Revlon one step is an affordable tool to get a voluminous blowout for all hair types. The blow dryer paired with the brush gives hair a pretty bounce and body. Oh, and it is much less tiring than the traditional blow-drying method because you don't need to use a second hand to brush the hair.
It's important to mention that some people have reported hair damage after long-term use. This could be because there are only two heat settings, or because of extended use. Just something worth mentioning.
Babyliss Nano Curling Iron
A bit of a bounce will make a huge difference in adding volume to hair. The larger the curling iron barrel size, the better. I like to spend five minutes curling my hair quickly – and I mean really quickly, holding the curl for only five seconds at a time. The goal isn't a perfect ringlet, it's a bounce for the body.
Even just curling the ends will make a big difference to your mane. You can see a video of it in action here.
Hair volumizing products worth trying
Funny enough, you don't want to add a ton of products when volume is the goal, but the right products can make all of the difference. A good product will use polymers to coat each fiber on the hair shaft to make it look thicker and create hold to lift the hair away from the head.
The wheat and corn – no I'm not kidding – in the product boost thickening and create a long-lasting full effect on the hair. I've been using adding this product to my blowout routine for a long time like, it is an absolute dream to work with.
The benchmark of hair products is this spray from Oribe. This is an oil-absorbing product essentially a dry shampoo but- hear me out the Zeolite Crystallines, Hydrolyzed Wheat Protein, and vitamin B5 thicken and add texture to the hair. It is a great two-in-one product.
With a slew of benefits, this product does volume and so much more. 24% increase volume when applied before blow drying the hair. This product did that in a clinical trial. Need I say more?
Use a lightweight volumizing shampoo and conditioner
When trying to add volume you do not want anything weighing down your hair. So, start with a lightweight shampoo and conditioner that is designed to add volume like the Philip B Peppermint and Avocado Volumizing and Clarifying shampoo or the Bumble & Bumble Thickening volume shampoo.
Splurge on an in-salon volumizing treatment
Sometimes you just gotta let the experts handle things. Adding an in-salon volumizing treatment regularly can make a world of difference in your look. Choose a trusted hairstylist and ask them for advice on which treatment will be best for your hair type.
More tips for adding volume to hair
There are some other things you can do to get the look you want: the full, bouncy lustrous locks. Depending on your needs and wants these may be a good addition to your routine.
Add extensions to make hair look more voluminous
Extensions are great way to add volume to your hair. You can choose clip-in extension that you can choose to use when you need them or hair extension that you can get professionally done for a longer-term solution.
Be careful though, make sure you do your research before choosing the hair stylist for your extensions. When attached incorrectly, hair extensions can damage your natural hair.
Massage your scalp for hair volume increase
Sometimes it is about changing things from the roots. Yes, your scalp will be stimulated when you massage it and that will encourage more hair growth. In the long run this will add volume your hair.
Essential oils for hair volume
Using certain types of oils like rosemary and peppermint can really add boost hair growth and add volume to hair over time. It is important to dilute essential oils before applying them topically to your scalp. Jojoba oil and almond oil are great carrier oils.
Maybe combine this with the last tip, give yourself a massage when you apply the oil.
---
Final thoughts on ways to create more volume in your hair
You don't need a hundred new products, or an expensive hair cut to fake volume in your hair. There are so many different ways you can achieve gorgeous voluminous hair. If you tried any of these tips, I'd love to hear from you!
SHOP THE POST