When I first heard about Cocokind, I thought it was an indie brand with a few landmark products that were trying to cut through the noise of the over-saturated skincare world. Well, I wasn't completely wrong.
What I learned was that Cocokind was a breadth of products for different skin types, skin concerns, and even haircare. I love the the brand is dedicated to making natural beauty products that are affordable and I wanted to share some of my favorite products. We've done the research, so you know what the top Cocokind products are.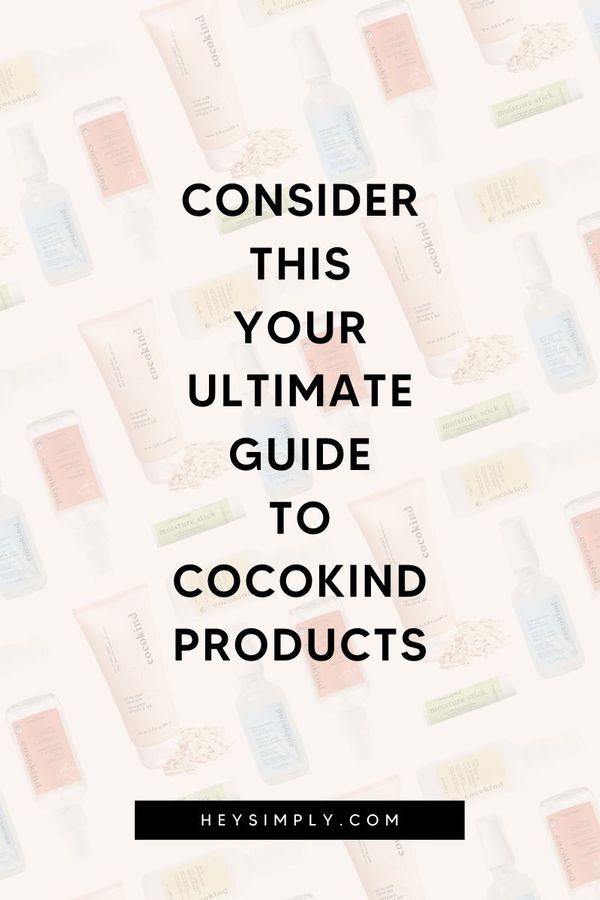 Who started Cocokind?
Priscilla Tsai started Cocokind with the primary mission to provide clean, conscious and accessible skincare for women everywhere. Priscilla really turned her struggles into a success.
When her long-term battle with acne wasn't won with prescription drugs, she pivoted her career from investment banking to becoming a skincare brand founder.
Do Cocokind products contain coconut oil?
Origin story time. When Tsai created Cocokind, 6 out of the 7 items she created had coconut oil in them, hence the name. While many of the formulations have changed in the suite of products, coconut oil is still found in some of the ingredients.
You should use your best judgement on whether or not it's right for your skin. Coconut oil is known to be highly comedogenic which means that it can potentially clog pores.
Which Cocokind products should you try first?
You've definitely seen this brand floating around especially if you associate yourself with using organic and clean products. Our favorites are the Chlorophyll Mask, The Oat to Milk Cleanser, and the Mai Light Rose Highlighter.
Top Cocokind Products
Some products shine brighter than others in every brand. Here is a list of the most-popular and well-loved products from Cocokind.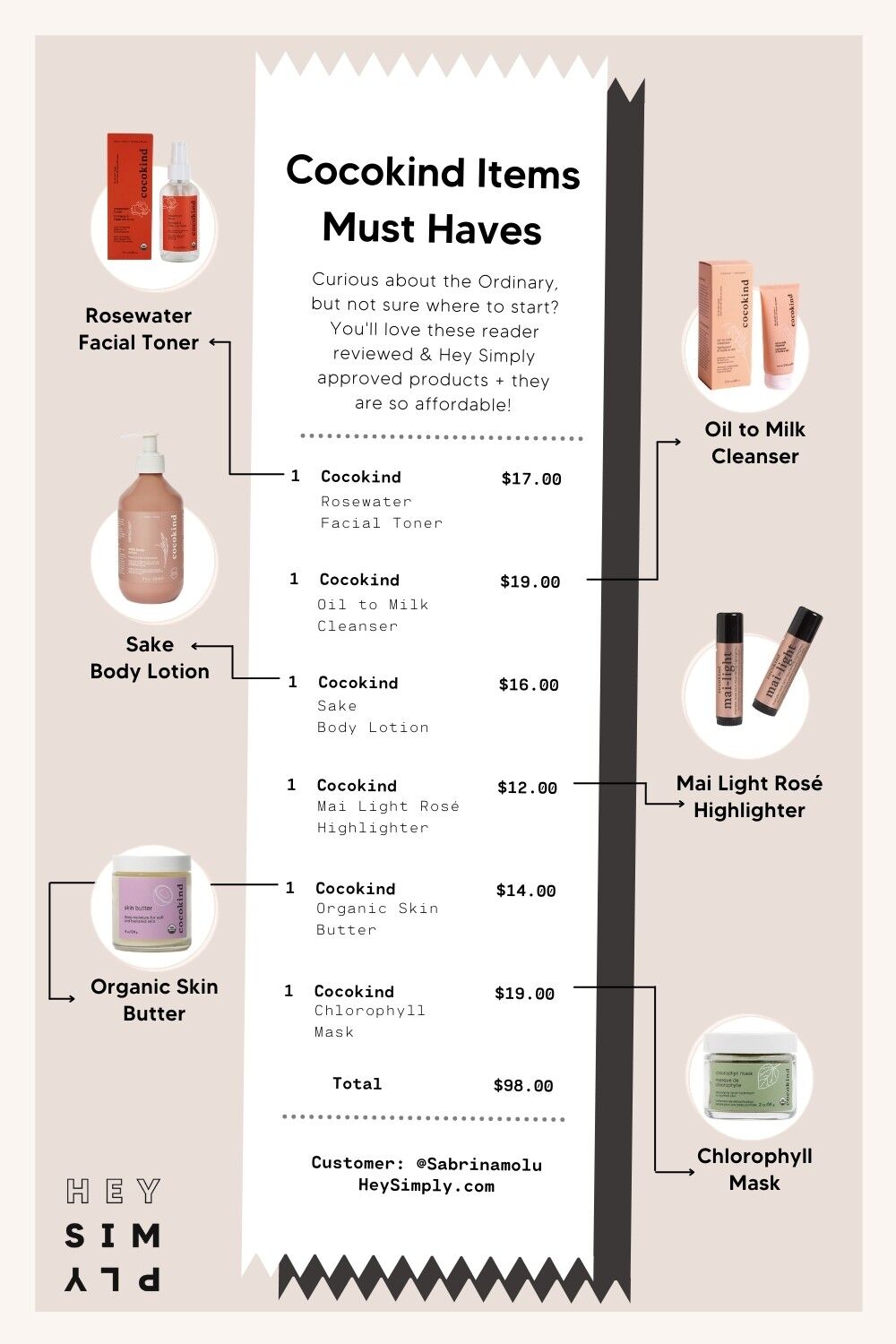 The Cocokind Organic Skin Butter is made with coconut oil, shea butter, beeswax and lavender. It sounds cozy doesn't it? Aside from the texture and scent, it deeply hydrates your skin, which is fabulous.
It may seem greasy at first due to the oil content in the product, but don't worry once you apply it onto the skin it sinks in quickly and moisturizes your skin.
This product is an oil based cleanser that is great as a makeup remover. Cocokind does recommend it as a standalone cleanser, but we do think that it is a great first cleanser in your double cleanse routine.
Massage a pump or 2 onto your face to melt your makeup and dissolve any other dirt or grime on your skin and then wipe away with a damp towel.
It's important to note that the first ingredient listed for this product is coconut oil. We do see that coconut oil is commonly recommended to treat acne prone skin because of its anti-bacterial properties, however again – you should keep in mind that it is highly comedogenic and can clog your pores.
The Cocokind Rosewater toner is pure rosewater and contains no additional fragrance like some rosewater toners do. It is very soothing and hydrating!
Rosewater has been popular in the skincare world for a long time. Many claim that it provides anti-inflammation benefits and reduces redness in the skin. It is a calming ingredient that can even help conditions like rosacea.
The Mymatcha Stick contains coconut oil, beeswax and matcha powder (duh). All you have to do is remove the cap, twist the bottom of the stick and apply it to dry spots.
Having the product in a stick form allows for easy travel and you can use both on your lips and the rest of your face.
This is one of the most common Cocokind products, and we get why. It's an affordable, gentle cleanser that is suitable for daily use. You should always remove your makeup before using a cleanser like this one, but it will keep your skin feeling fresh without stripping it of essential moisture.
This product has an oat base. The fermented oat and oat lipid complex soothes the skin and provides a great environment for healthy bacteria to grow.
The raspberry vinegar works well to remove excess oil and calm the skin. Spritz onto a cotton pad and apply it onto cleansed skin.
It is packed with acetic acid that will balance the oil production on your skin. We should warn you that this products is not designed for dry or mature skin and is more acidic than your average toner.
This sake based lotion slightly exfoliates the skin while healing the skin barrier. It is very soothing and nourishing.
You might wonder why the wine you see at the Japanese restaurant is listed here as an ingredient. Well, Sake contains kojic acid which can aid in lightening sun spots and have an anti-aging effect on the skin. Sake can also help improve skin texture.
Is Cocokind a good brand?
Cocokind is dedicated to remaining organic and providing natural skincare solutions. It is great for those that prefer this lifestyle however, it is important to note that not all synthetic ingredients are villainous.
But there are some synthetic ingredients that are the Regina George to your Cady Heron. So always be careful.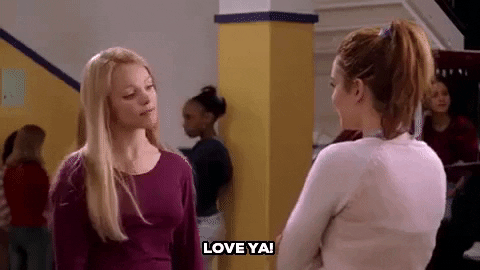 The same rule applies to natural ingredients. Each substance should be evaluated by its own merit and not based on whether it is natural or synthetic.
Is Cocokind a small business?
Cocokind is definitely a small business especially considering the mammoths that dominate the skincare world, like LÓreal, Esteé Lauder and Clinique. Many other companies that seem to be small and new are also often owned by these larger mega companies.
So, Cocokind is definitely a small business with under 50 employees.
Where can I buy Cocokind?
You can find Cocokind products at Target, Whole Foods, Bed, Bath & Beyond and even on Thrive Market besides the brand website itself.
Cocokind masks you have to try
Cocokind packages comforting and luxurious ingredients into affordable products. These are a great addition to your skincare routine. Here are some of our favorite Cocokind Masks:
Cocokind's Resurfacing Sleep Mask contains 1% Bakuchiol and 1% wild indigo extract which reduces signs of fatigue and pollution damage. These concentrations make the product suitable to be used up to 4x a week.
Have you used Bakuchiol? Well, if retinol scares you, meet Bakuchiol.
Bakuchiol is a plant-based retinol alternative. It works well to reduce dark spots and prevent premature wrinkling.
Apply the mask as you would a moisturizer and then just go to bed. You can totally put a towel on your pillow JIC.
This clay-based mask is great to keep oil at bay. It has a creamy texture and does not dry down to feel tight and uncomfortable.
Start with using it once a week and gradually increase use to 3x a week to see results.
If you buy one Cocokind product, let it be this one. A great mask if you are looking for a deep cleanse. The spirulina and the chlorella both work to reset the skin.
Mix the powder with any liquid ingredient that your skin likes. I've been satisfied with just water but you can use rosewater, honey or even avocado. It is a decision that you can make for your skin.
If you want to glow Cocokind has exactly what you need. This highlighter is definitely more skincare than makeup so it's great for everyday use. It contains maitake mushroom powder that helps lock in moisture into the skin.
Apply it as you would any highlighter to the high points of your face for a dewy look.
Turmeric and Cocokind
The golden drink you love? Imagine it in your skincare. Turmeric has been used in traditional skincare across various cultures. Sources claim that turmeric has anti-inflammatory, anti-microbial and antioxidant properties.
So, we are not surprised to find the golden spice in Cocokind's list of ingredients.
The Turmeric Stick Spot Treament is turmeric mask in a stick format. It looks almost like lip balm and can be used to treat and heal blemishes.
Any South Asian person knows the pain of using turmeric for anything. The stained nails are a genuine struggle. With this product you wouldn't have to worry about stained hands, although your pillowcase is still up for grabs.
How do you use Cocokind Turmeric Stick?
Simply apply the Tumeric Stick onto cleansed skin to treat the spot. It is great to focus treatment onto the necessary areas only, and then wash off after 20 minutes. You can even use it under other face masks.
If you choose to keep it on overnight be sure to lay a towel on your pillowcase. Turmeric stains will be the death of you.
This tonic works like any normal spot treatment. It goes on right after toner and it is great under makeup. Plus, it has a rollerball. I swear Cocokind has the best packaging for turmeric based products.
Cocokind for hair
Many of the Cocokind products can be doubled as haircare, here are some of our favorites.
Is Cocokind good for acne?
Cocokind has a guide for you to fight acne, I mean it is a battle that they are very familiar with given the start of the brand. However, there isn't one solution that works for all when it comes to overcoming acne, so you should take a look at the ingredients before you choose to buy a product.
They definitely have some products that are designed to help with acne. The Matcha Face Moisturizer and the Celery Duo work great to improve acne prone skin. Of course this is in addition to the Turmeric Stick and the Turmeric Tonic that are great for treating spots and breakouts.
Are Cocokind products vegan and cruelty-free?
All Cocokind products that do not contain beeswax are certified to be Vegan Action through the Vegan Awareness Foundation.
Cocokind is also 100% cruelty and ensures that their vendors follow the same ethical principles as themselves.
Is Cocokind clean, ethical and natural?
Since Cocokind is USDA Certified Organic you can be assured that the products are natural. They also claim to be sustainable and are constantly working towards being more ethical.
Recycling is a part of using Cocokind products. I am not kidding they have listed the best way to recycle packaging of each product under the how to use section. Which is really cool. Just be sure to check because certain caps and rollerballs are not recyclable.
Cocokind is always working on improving the packaging of their products to be more earth-friendly. So, you should do you part and recycle and always remember to rinse the packaging first.
Is Cocokind fragrance-free?
None of the Cocokind products contain synthetic fragrance, however essential oils are occasionally used to add a scent profile to the skincare. This is not only to make the products smell good, but to add an aromatherapy aspect to the products.
In my opinion, essential oils aren't terrible in skincare, but if you have particularly sensitive skin or acne prone skin – you might want to take a second glance. Most formulas include percentages less 0.6%, which is a nice to know. Transparency is key.
What's in Cocokind's future
In her interview with Allure CEO, founder Priscilla Tsai said the customers are looking forward to new product launches. Finding natural skincare at an accessible price point isn't all that common and they want more.
Final thoughts about Top Cocokind Products
Cocokind's growing popularity is also making the products easier to find. It is definitely great brand to try if you want to dip your toes into natural beauty.
I love that Cocokind is very driven by its mission and goal to create natural skincare that is accessible and the fact that the company was founded by a woman of color makes it a big plus for me!
However, if you have acne-prone skin you may want to be extra selective of the products you try due to some formulations and the inclusion of essential oils.
Shop the post