If you're looking for a little inspiration at this pivotal time in your life, then look no further. These TED Talks are ones that I turned to when I'm feeling a loss of inspiration, creativity or just simply need a kick-ass pep-talk. These TED Talks come from some of the most successful and enlightened women in their fields, all offering a different perspective about how you can live a more creative, ambitious, and passionate life. Keep scrolling to watch a few of my favorite TED Talks given by successful women like Sheryl Sandberg, Shonda Rhimes, and Cameron Russell.
Related: Save $180 & Get Audiobooks For Free (Legally!)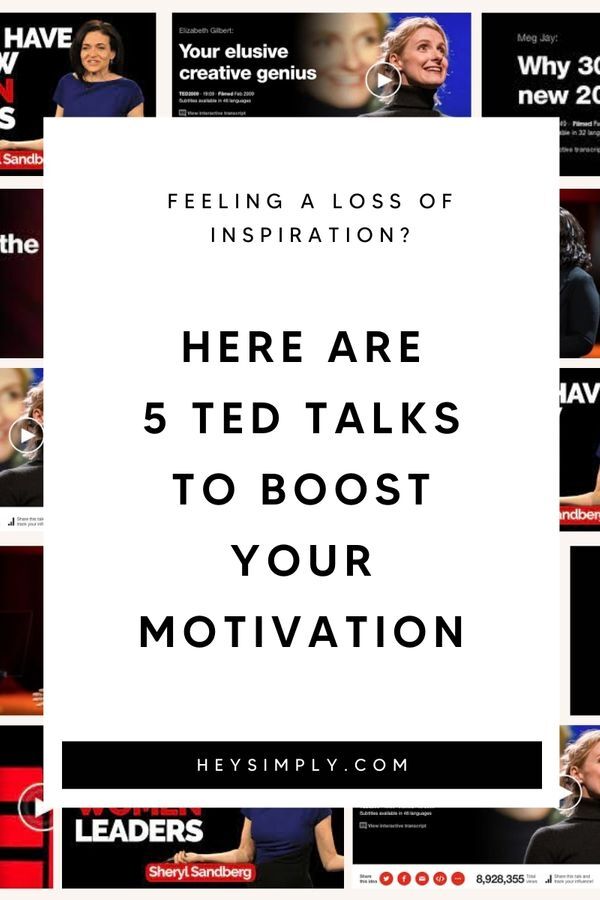 This collection of videos is great to put on in while you're in the car, when you are eating a meal at home or even on the background of when you are working. They will serve as an inspirational resource and provide you with thoughts and ideas on how you can be your most intentional self.
I've watched hundreds of Ted Talks and listened to even more podcasts of talks, but my favorite one always comes back to this one. Hearing Meg Jay, a professional psychologist, explain what the problem with "3o Is The New 20" and how it impacts young people is so close to home. In fact, a little too close. It's true, careers happen later, marriage happens later, and even families happen later – but that doesn't mean that your twenties are not important. In fact, your 20s are when your brain experiences it's last and major growth spurt which means you need to be more intentional in these years then you may think. Watch this, you won't regret it.

Whether or not you've read Lean In, you should watch this Ted Talk. I want to say that this was the predecessor to the book because of the three pillars that she touches on here are essentially the three main themes of her famous book. If you want to be a boss in the workspace, you'll need to hear Sheryl's advice about partnership, advocacy, and of course, leaning in. I was so impressed the first time I listened to this, that I keep it on hand to remind myself of how I need to create a seat at the table for me.

While you may not know her name, you will know her face. Cameron Russell is one of the most successful models in the industry and she shares the intimate details of her life. She admits that she's won the "genetic lottery" and what the modeling industry has done to the human psyche – particularly to women. 78% of 17-year-old girls are unhappy with their looks, yet Russell says that models are the most insecure people. Watch her insight from the inside.

Elizabeth Gilbert is best known as the famous author of "Eat, Pray, Love" and she talks about what it means when you have had success – and what comes after. She recounts how it is a scary thought that your most successful work is behind you and how that can impact your future work as a creative. Your role is to keep showing up and at some point leave it up to the divine creative genius. She also comes across the origin of "Ole" which is much more interesting than you would expect.
Related: Books By Women, For Women That You Need to Read

I never read Shonda's book but after listening to this Ted Talk, I want to. She is a superhuman who happens to be a mom, mogul, and in her own words – a titan. I'm living in Shondaland so I'm already a fan, but as someone who wants to have a family one day and lives in a creative profession, this spoke volumes to me. If you are a woman who is wondering how others do it all – start by listening to Shonda and her very raw and telling explanation of how her work is her life and what she's found brings back the "hum" or joy into that life.