One of the most challenging parts of starting a new workout is knowing what the heck to do. It's nerve-wracking to be the new person in a room full of people who know exactly what they are doing. One of the first studios I ever tried on Classpass was a Barre class. I didn't know exactly what it was, but I knew that it was the hot, new trend – like Yoga in the early 2000s.
But I remember being mortified not knowing what I was doing. What are sticky socks? What the F is tucking? Why don't I feel like an elegant ballerina? & Why the hell does these two-pound weights hurt?!
I chatted with some of the best in the business when it comes to barre about their advice for first-timers and guys, this is gold. These are instructors and owners of the best barre studios and I'm so happy to have them share their knowledge with you.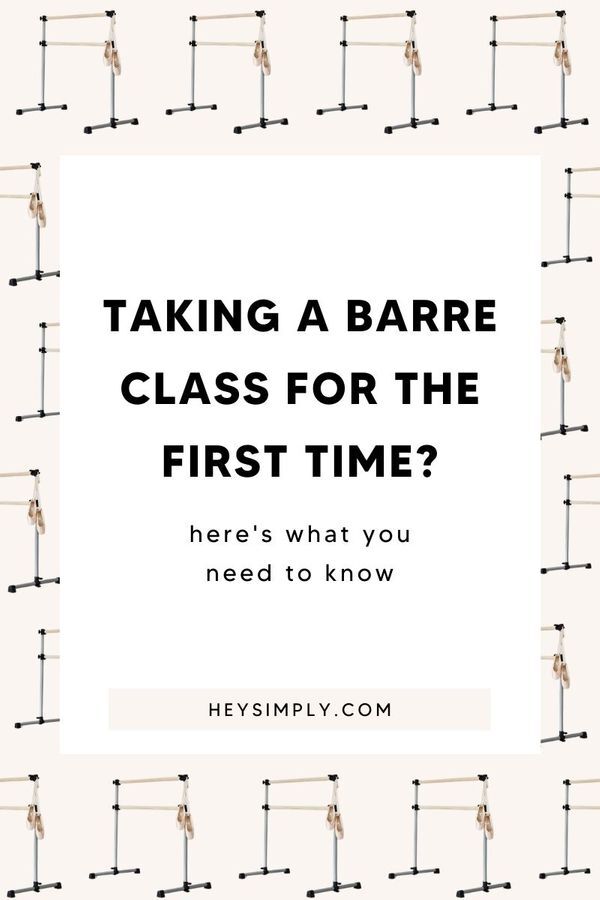 WHAT IS THE BIGGEST MISTAKE FIRST TIMERS MAKE?
"Arriving late! Give yourself time to come in and familiarize yourself with space and the instructor, so they can help you get comfortable and give you any necessary information. This way you have time to get your equipment, find your bearings – especially if you are brand new to barre."
–Kamila Matiz-Gihwala, Owner of Pink Barre
"Barre is just as much mental as it is physical. A lot of the muscles we're targeting are very small and require some concentration to target. We talk a lot about mind-body connections in class. I constantly tell clients to close their eyes to not only hone in on the muscles we're working, but to re-center themselves mentally to get their physical results."
–Alyssa Weagley, Pure Barre Instructor
WHAT DO YOU WISH NEW STUDENTS KNEW?
"That barre is a practice. We usually only hear that in terms of yoga but like yoga, you have to practice the moves to find your sweet spot. It may take you a month to connect where the instructor says you should be feeling it and it could only take a week! It's about progress not perfection."
–Jasmine Jakes, barre3 Instructor
"I wish people knew how important the stretching elements of class are. We live in such a fast-paced, busy world where I think it's easy to feel like the minutes spent stretching are "wasted," or "killing time," and although we do stretch all the way throughout class, students who leave during final stretches – just because -are taking a piece of the benefits away. Barre is designed to fatigue each muscle group, but the lengthening and elongating of the muscles directly afterwards is what gives you that long, lean dancer's body. I also want to emphasize that barre is a full-body workout."
-Kamila Matiz-Gihwala, Owner of Pink Barre Atlanta
ARE THERE ANY ERRORS YOU SEE OFTEN IN THE STUDIO?
[Editor's note: Every single person we talked to said form!]
"Thinking that bigger is better! The barre concept is based on tiny, isolated movements that dig deep into your muscle frame. Smaller movements create micro-tears in your muscles that build strength in a different way. When we say "tiny pulses", we really mean tiny!"
"Barre technique is based on tiny isolated movements. These are movements that the teacher may barely be able to see, but you should definitely be able to feel! A common error is when clients make big ranges of motion and lose control of their movements. Barre is unlike other workouts in this way."
-Alyssa Weagley, Pure Barre Instructor
HOW CAN SOMEONE GET THE MOST OUT OF THEIR BARRE EXPERIENCE?
"Come in with an open mind! Walk in proud knowing that you're trying something new, smile when things get hard or confusing, and stay with it! It never gets easier, but the movements and flow of class will become second nature once you continue to take."
-Alyssa Weagley, Pure Barre Instructor
"Have fun, but push past that first moment of the shake zone! Shaking muscles in barre is the goal, so when it happens, breath through it and keep pushing until you *need* to take a break!"
-Donne Burke, Owner of FORME
WHAT'S ONE PIECE OF ADVICE FIRST-TIMERS SHOULD KEEP IN MIND?
"Just take this time to yourself and focus on your workout. No one else is watching you. We're all there for the workout and a moment in the day to ourselves. The teachers are there for guidance and to help you get your results!"
-Alyssa Weagley, Pure Barre Instructor
"Have fun with it! We aren't moving to punish our bodies, we are moving to celebrate the freedom we have to move however we please. It's never that serious, so if you don't know what postures we call out or aren't on the right count, totally fine! Just have fun with it, that's what you'll remember the most."
-Jasmine Jakes, barre3 Instructor
OK, LAST THING. WHAT IS A 'TUCK?'
"A tuck is one of those movements that seems easy, but has a lot of moving parts. It's actually more of a pelvic "tilt" and is a great exercise! To get into the perfect tucked position, you want to pull your belly button into your spine while engaging your bum muscles at the same time. This opposition will tilt your hips under while engaging your transverse abs and pelvic floor. The engaging of both of those sets of muscles will pull your spine from an s-curve to a neutral spine taking the pressure from your lower back while engaging your abdominals. You also want to be sure your shoulder blades are pulling down and together to the center of your back to engage the rest of the core."
-Donne Burke, Owner of FORME
---
It's so exciting to be able to hear from these talented ladies who spend their days educating women on the best way to strengthen their bodies. I hope this inspired you to feel empowered and to try out a local barre class soon!