The second most common question that I get asked (we will get to the first another day) is how do I pack for week-long trips in just a carry-on. Our last trips to Paris and Thailand which were about 10 days each were both carry-on only and I've gotten to the point where I'm kinda a pro at the carry-on game. I think everyone becomes a pro after your first trip to Paris with your husband ends up with both of you with ZERO luggage for 8 days during Christmas because the airline lost your bags (more on that here). Since I hope you never have to go through that, here are a few of the things that I've learned along the way.
Related: What To Know Before Traveling With Your Beau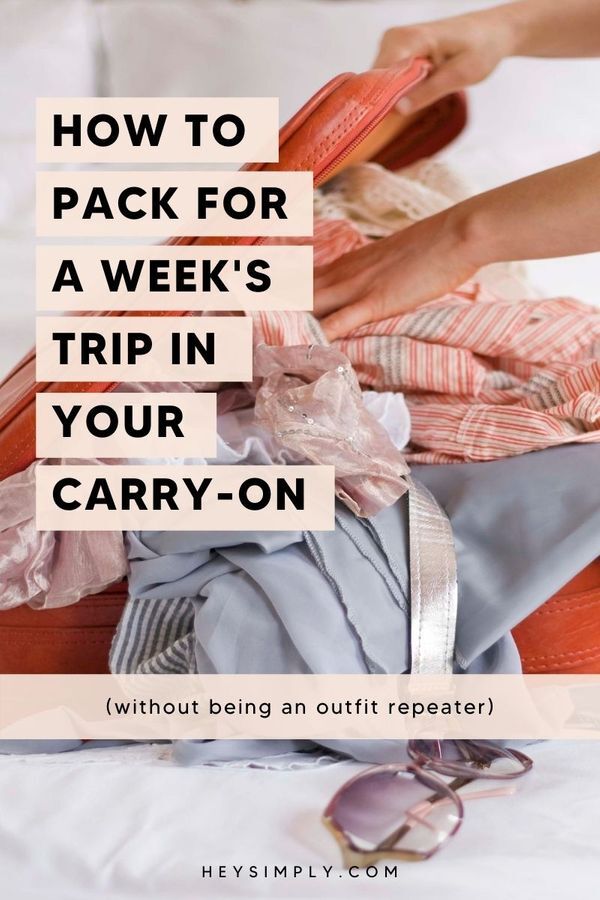 PLAN YOUR OUTFITS
As annoying as it is when it's already 1 AM the night before your flight, bite the bullet and try on every single outfit that you plan to wear. That means reviewing your itinerary and planning which days you can be in the same outfit and which days you need to switch it up. The rule of thumb is usually two outfits per day: daytime & nighttime and then 2 spares, just in case. So for a 7-day trip, I should be able to make 16 outfits with my clothes. But remember, you must reuse pieces to make this work. Mix and Match is the key!
Related: 13 Things You Have To Do In Paris
STICK TO A COLOR SCHEME
It's so much easier when you plan your clothing around what color scheme you intend on wearing. Are you headed to a beach and can't wait to wear bright & bold colors or are you headed somewhere cold and want to layer as much as possible? Color schemes not only make it easier to pack clothes but also shoes and accessories too.
USE PACKING CUBES
I've talked about these in my 5 Travel Tips post, but packing cubes are kinda genius. I love sorting my cubes by item type, so I usually use a small one for shirts, a medium one for jeans & dresses and a larger one for sweaters. I've found that the key is to only pack half of your suitcase with cubes, to leave room for shoes, accessories, and tools on the other side.
CHOOSE THE RIGHT LUGGAGE
Not all carry-ons are created equal. While you should always check with your airline to see if what dimensions they deem appropriate for their cabin, my favorite way to travel is with a hardshell suitcase that has an extender. Sahir has been using this Samsonite one from Amazon lately and it's phenomenal. (Mine is from Delsey, but discontinued- boo). I always travel with my personal item as my Vera Bradley weekender. Nothing is better than the original and sometimes I think that the amount of items I can fit in my weekender is the same as my suitcase, oops.
LIMIT YOUR SHOES
This is probably the hardest part of packing, shoes! I'm so guilty of packing like 5 pairs of shoes for 5 days and, of course, I only wear like 3 of the pairs. Play to your color scheme and choose something neutral like a white sneaker for daytime and a wedge heel for nighttime. You can wear your workout shoes on the plane or during travel.
Related: The Best Travel Shoes That Are Cute & Comfy
INVEST IN TRAVEL MAKEUP
If you travel more than 4x a year, it's worth it to invest in minis for travel that are easy to pack. That means just about everything. You can get minis for blush, bronzer, highlighter and even setting powder. Buy some small containers for your foundation, since that's not readily available in a small size. I love this makeup bag that I recently bought from Amazon for under $20 for travel.
SHOP THE POST

</p