Visiting Paris is a must-do for everyone, no literally – everyone. I'm lucky enough to have been three times and every experience was a little different then the last. My first time was as a student studying abroad in college and I was literally in Paris for 48 hours. I vowed to come back with my husband since Paris is, of course, the city of love. Sahir and I made that happen when we spent Christmas in Paris in December of 2016 which is so romantic – right? I thought so too, except between 2 days of flight delays and 7 days of lost luggage in freezing cold weather – it was a little less glamourous. We still had a great time but promised ourselves that we would never travel during the holidays again with a) connecting flights and b) checked luggage.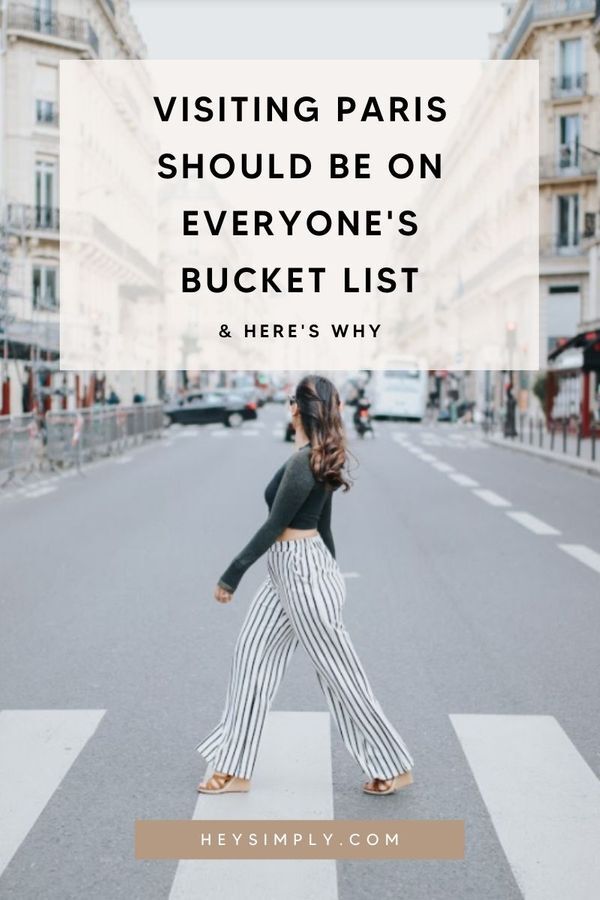 Our most recent trip was a do-over and Sahir made me promise to travel carry-on only. Hardest thing I've ever had to do. It was however, super refreshing to just hop off the plane and head straight into the city. Now that I'm a seasoned Parisian traveler, I have made a list of the top things you have to do when you visit Paris.
13. TRY THE WORLD'S BEST MACAROONS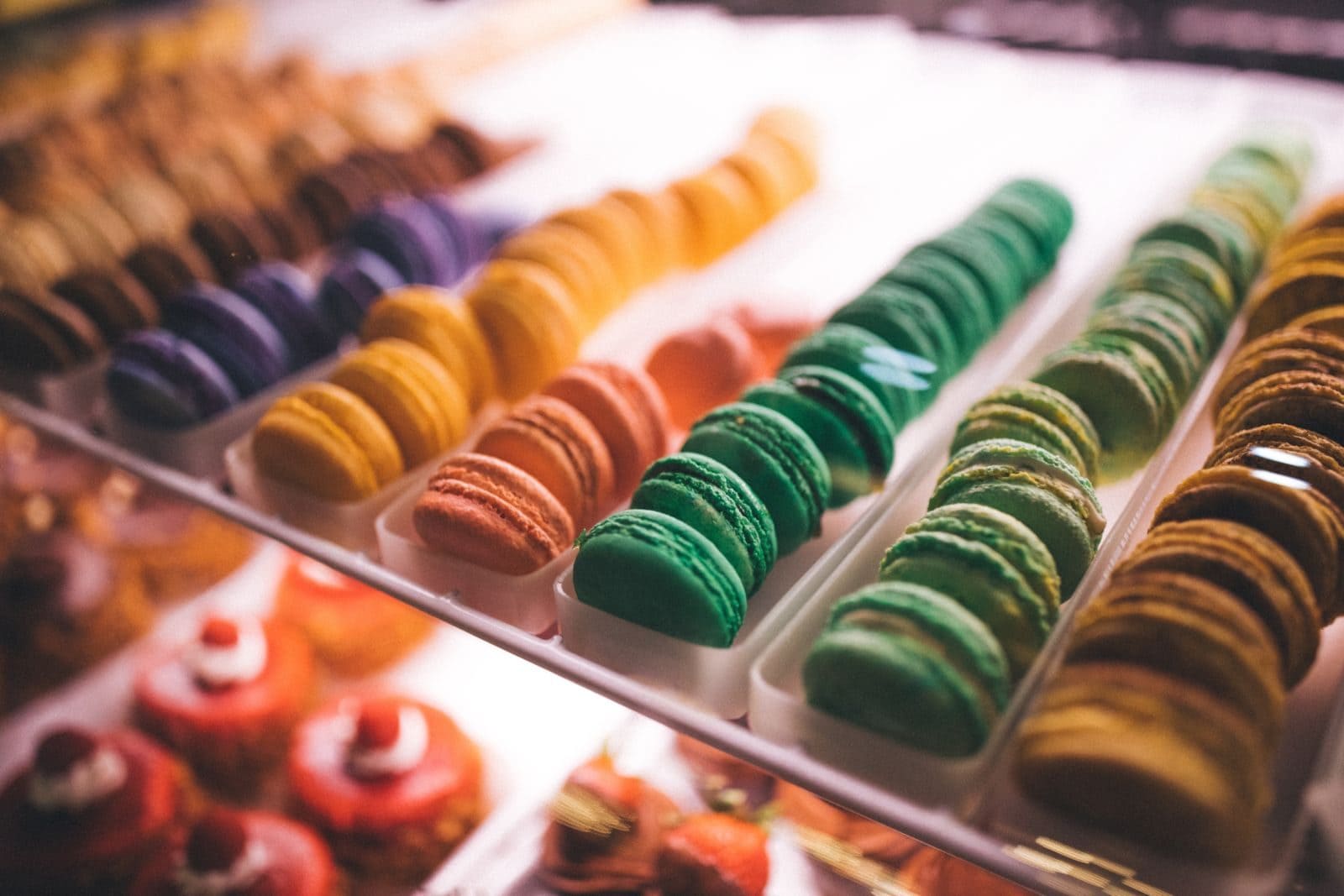 Everyone will tell you that you have to go to Ladurée, which you do. Ladurée is one of the world's best-known macaron baker and there's nothing like a true French macaroon. The original location is at Champs Elysees, but you can find these macaroons inside the airport, the Louve, or multiple locations around town. Once you try Ladurée, you need to then head to the real best macaroons in Paris: Pierre Herme and put it to the test. You can decide who holds the reigning macaroon crown in Paris.
There are multiple locations of both bakeries, but here are my favorites:
Ladurée Address: 75, Avenue des Champs Elysees, 75008, Paris.
Pierre Herme Address: 35 Boulevard Haussmann, Rez-de-chaussée de Maison & Gourmet, 75009 Paris, France
12. TAKE IN THE VIEWS AT THE ROOFTOP OF THE GALERIES LAFAYETTE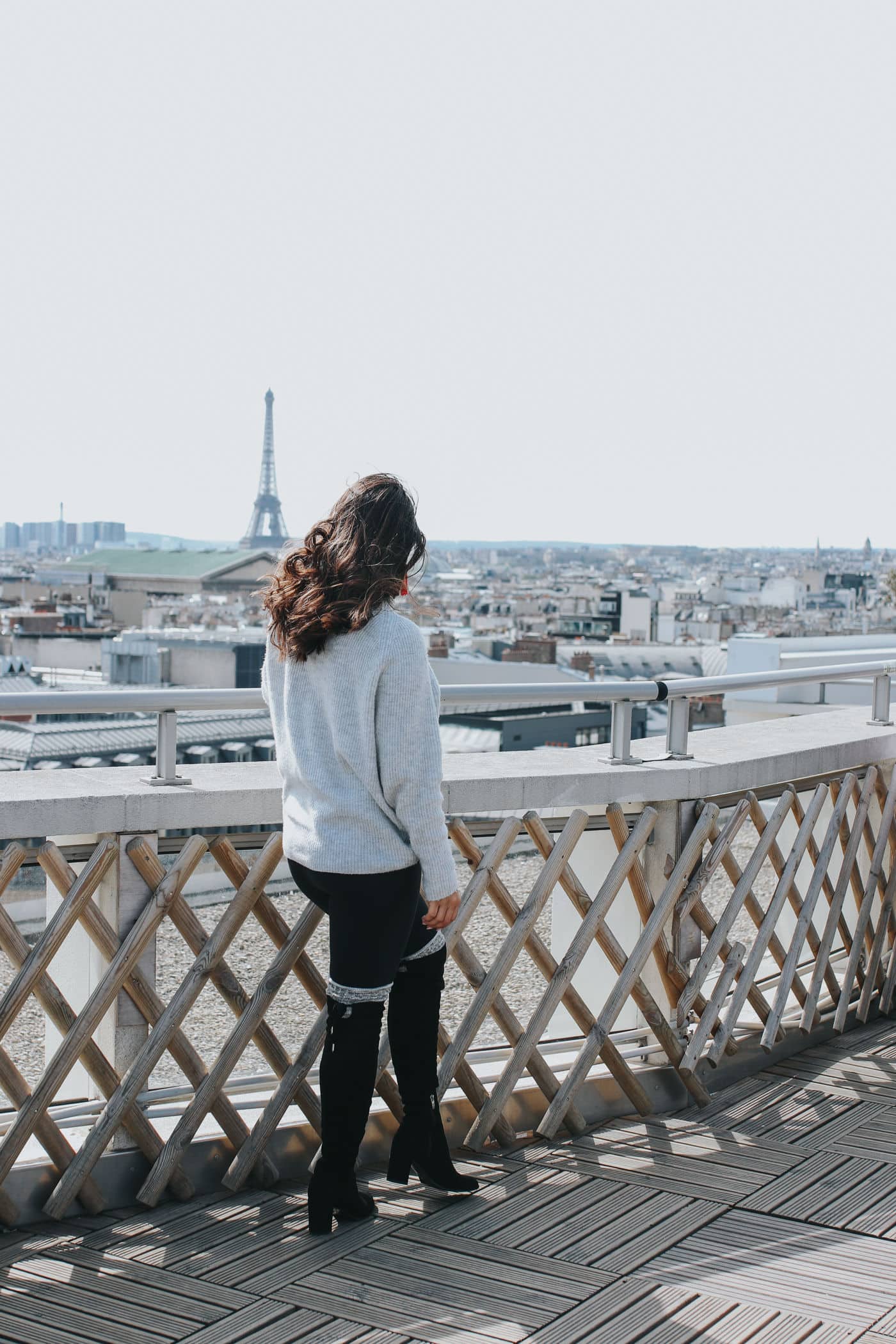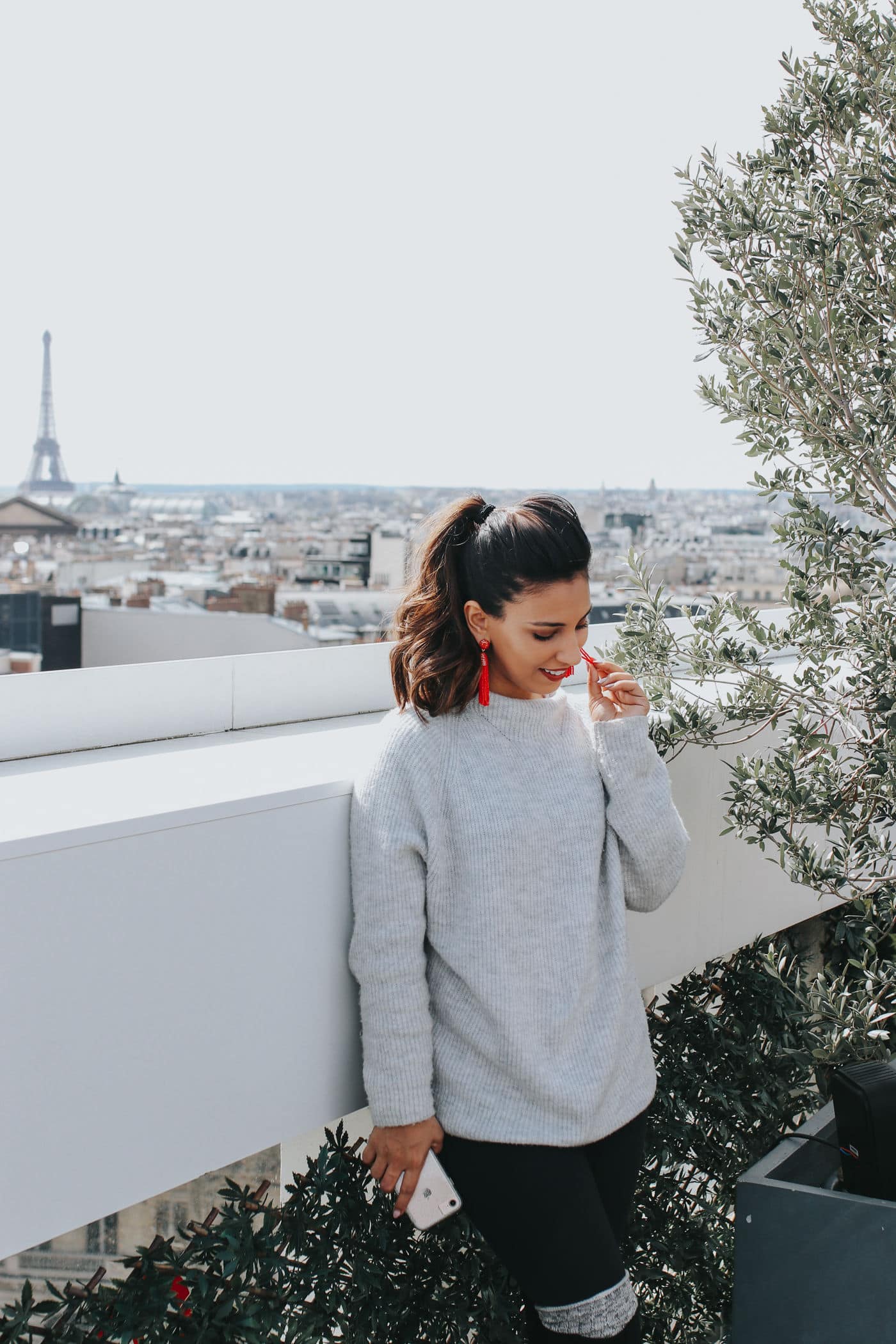 One of the few free luxuries in Paris is the view on top of the Galeries Lafayette. It is a shopping mall in the Opera district and visitors will come by and take in the scene or enjoy a meal at one of the rooftop restaurants. We always stay near the Galeries so the rooftop is one of our first stops when we visit Paris.
RELATED: Where To Stay In Paris
11. GET A FRESH PASTRY EVERY MORNING
Nothing is as wonderful as a fresh Pain Au Chocolat from a Parisian bakery in the morning. The good news is that you don't have to travel far – they are literally on every corner. We complimented our morning croissant with an afternoon Fresh baguette. Pro-Tip: Steal a couple of Nutella packs to go from your hotel (if they offer it!) and as you are walking the city, buy a fresh loaf of bread for 1 Euro and do a "dip & walk".
10. BIKE THROUGH PARIS ON THE CITY BIKES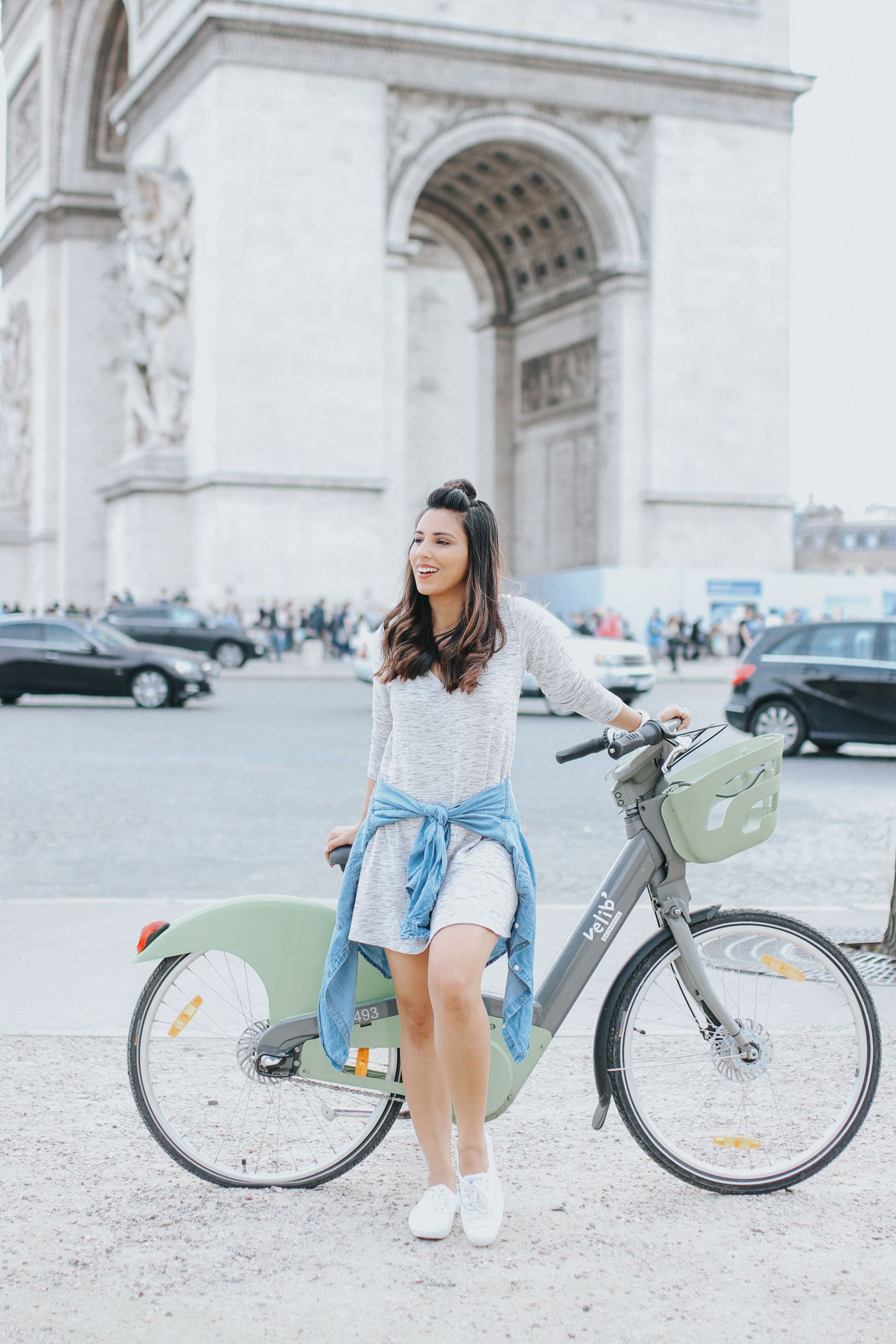 I'm a big fan of exploring cities via bikes, so if you can ride a bike take full advantage of the Paris bike share program and check a bike out for yourself. I will say that we had to visit about 6 locations (each about 2 blocks apart) to get two working bikes together for Sahir and I to check out bikes, so be patient. Sahir decided that we should jump right in and ride down Champs-Elysees which I do not recommend if you are not comfortable biking – that is the busiest street in Paris! But there is a wonderful bike path near the Pont Alexandre III Bridge and then you can check seeing the bridge off of your list too!
9. WALK FROM THE ROUE DE PARIS TO THE ARC DE TRIOMPHE ON AVENUE DES CHAMPS-ELYSEES
The Avenue des Champs–Élysées is a a 1.2 mile long street in the 8th arrondissement that's known for it's restaurants, luxury shopping and cafes. It's a lively street even at night so I recommend taking a stroll from edge to edge starting at the Roue de Paris which is the Ferris Wheel in the city (similar to the Eye of London) to the other edge which ends at the Arc De Triomphe. Now you can cross two more things off your list!
8. WATCH THE SUNSET AT THE SACRE IN MONTMARTRE
The Basilica of the Sacred Heart of Paris, is at the peak of Montmartre, which is the highest point in the 18th arrondissement. It's commonly known as Sacré-Cœur Basilica and often simply Sacré-Cœur it's a Roman Cathlic church that is absolutely stunning and can only be topped by the views of the city. The hike up to Montmartre will keep you busy and don't wear heels – cobblestone is deathly.
RELATED: The Best Travel Shoes That Are Cute & Comfy
7. VISIT THE LOURVE AND SEE MORE THAN THE MONA LISA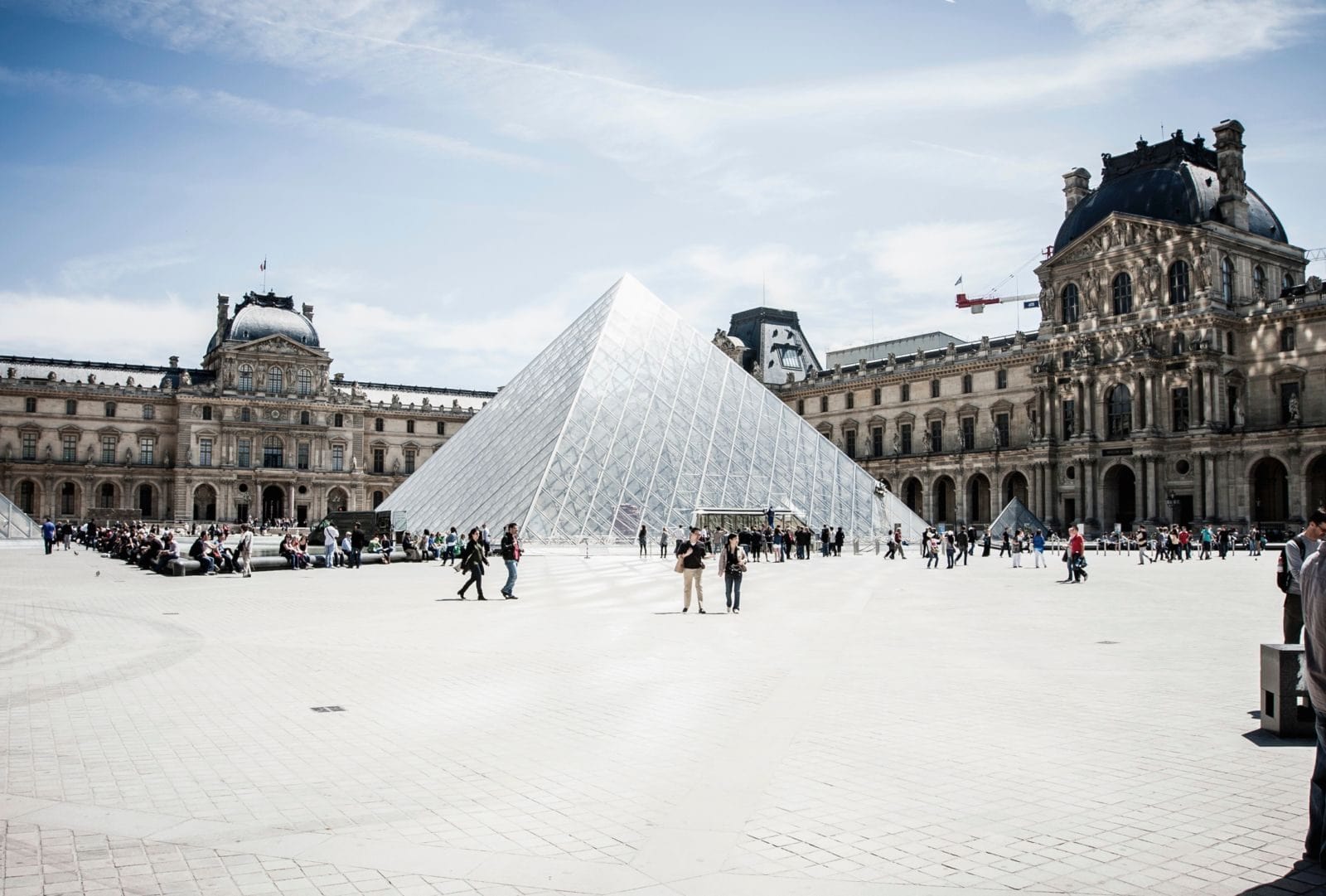 The Louvre, or the Louvre Museum, is the world's largest art museum and a historic monument in Paris, France. It's absolutely breathtaking inside and out, but one of the most common mistakes is rushing through the museum. In all honestly, if you tried to do it all – it would take you days or probably even weeks. But the first I came as a student, we ran in – saw the Mona Lisa (which, spoiler alert: is kind of underwhelming) and left. Skipping all of the beautiful exhibits along the way. When Sahir and I went the first time, we visited at night when the museum was less crowded and go to walk through it for a few hours. It's honestly breathtaking and a luxury to be able to see the world's largest museum.
6. STAND IN LINE TO SEE NOTRE-DAME
Notre-Dame de Paris is a Roman Catholic Cathedral that is one of the world's best examples of French Gothic Architecture. It is a beautiful building and it towers over the Seine River in Paris. The line to get in is always super long, so make sure that you reserve time to see it and cover your shoulders and knees as it is a Catholic Church.
5. HAVE A PHOTOSHOOT AT AN ICONIC PARISIAN LANDMARK

Both times that I visited Paris with Sahir I got him to reluctantly participate in a quick photoshoot. Parisian destination photographers are aplenty, but we used Pierre the first time that we did our photos and Alina Sepp the second time. I highly recommend a few different locations depending on the time of your shoot. If you want to shoot at the Trocadero then you need to get up at sunrise – scratch that – you need to be there at Sunrise. It is super busy all day long and you'll want uninterrupted photos if you are making the effort to get them professionally taken in Paris. If timing doesn't work out for Sunrise or you are not an early-riser, then areas of the Lourve can be really beautiful in pictures. Lastly, one of my favorite spots is the Pont de Bir-Hakeim which is a bridge with an incredible view of the Effiel tower and the city. You can see photos from there below. The photoshoot will run you about $250-$500 for the hour.
RELATED: How To Have A Parisian Photoshoot
4. TAKE A RIVER CRUISE ON THE SEINE
One of the best ways to see Paris on a timeline is to do it via boat. Many of the best attractions are quickly accessible off of the Seine river so the river cruises are a great way to explore. I did this during my first visit to Paris and got to see all of the highlights. The tour allows you to hop on and hop off at different locations and stay as long as you want – just catch the next boat! It's affordable and they do 1 and 2 day passes.
3. ENJOY A SHOW
While we say the outside of the Moulin Rouge, we never made our way to a show – but that's certainly on my list if I ever make it back to Paris (got a lot of other places on my list, before I repeat!) I've heard amazing things about the dinner + show if you decide to do it. We did however have time to see a comedy show called "How To Be Parisian" by Oliver Giuald it's a super funny show that's in English and Sahir even got picked to participate, which I thoroughly enjoyed!
2. STUMBLE ACROSS THE JARDIN DU PALAIS ROYAL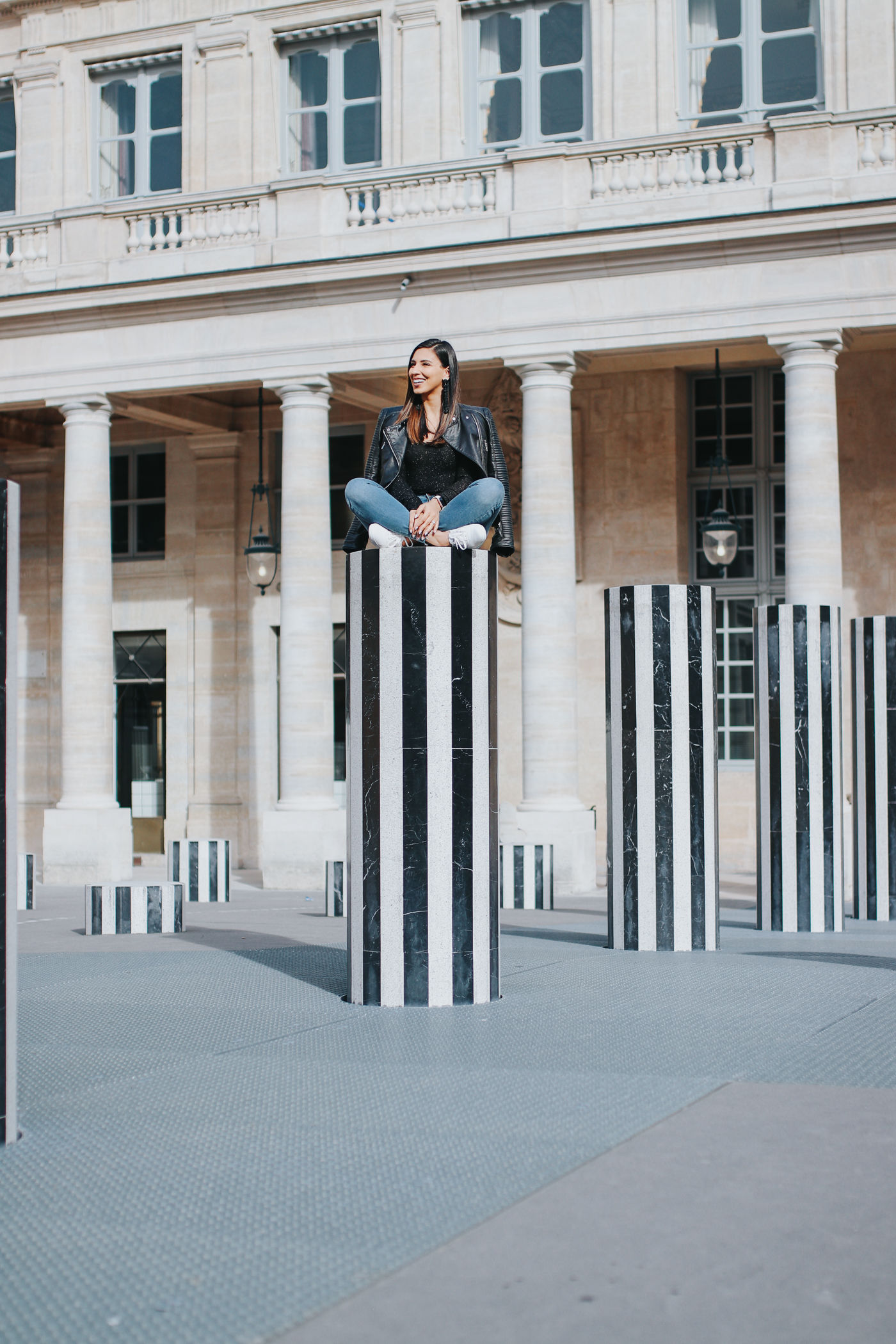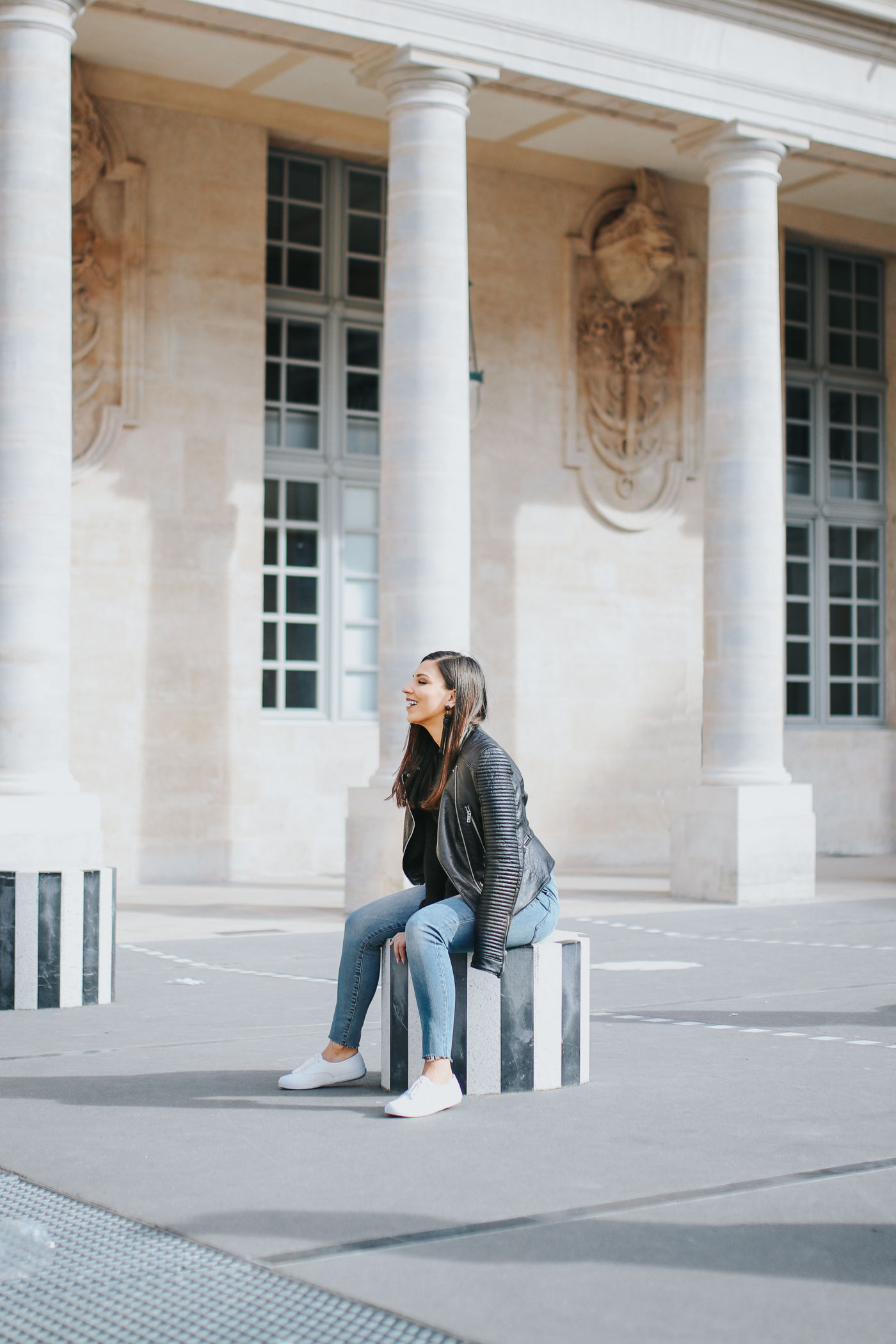 You've seen those iconic Paris striped columns, ever wonder where you can find them? Funny enough the Jardin Du Palais Royal is off of a side street in Paris, literally off of a busy intersection. There you will find children playing, many – many street photographers, and a great spot to people watch. If you dare, climb to the top of a column and take an epic Instagram picture.
RELATED: 5 Travel Tips That Jet-Setters Swear By
1. WATCH THE SUNRISE FROM THE TROCADERO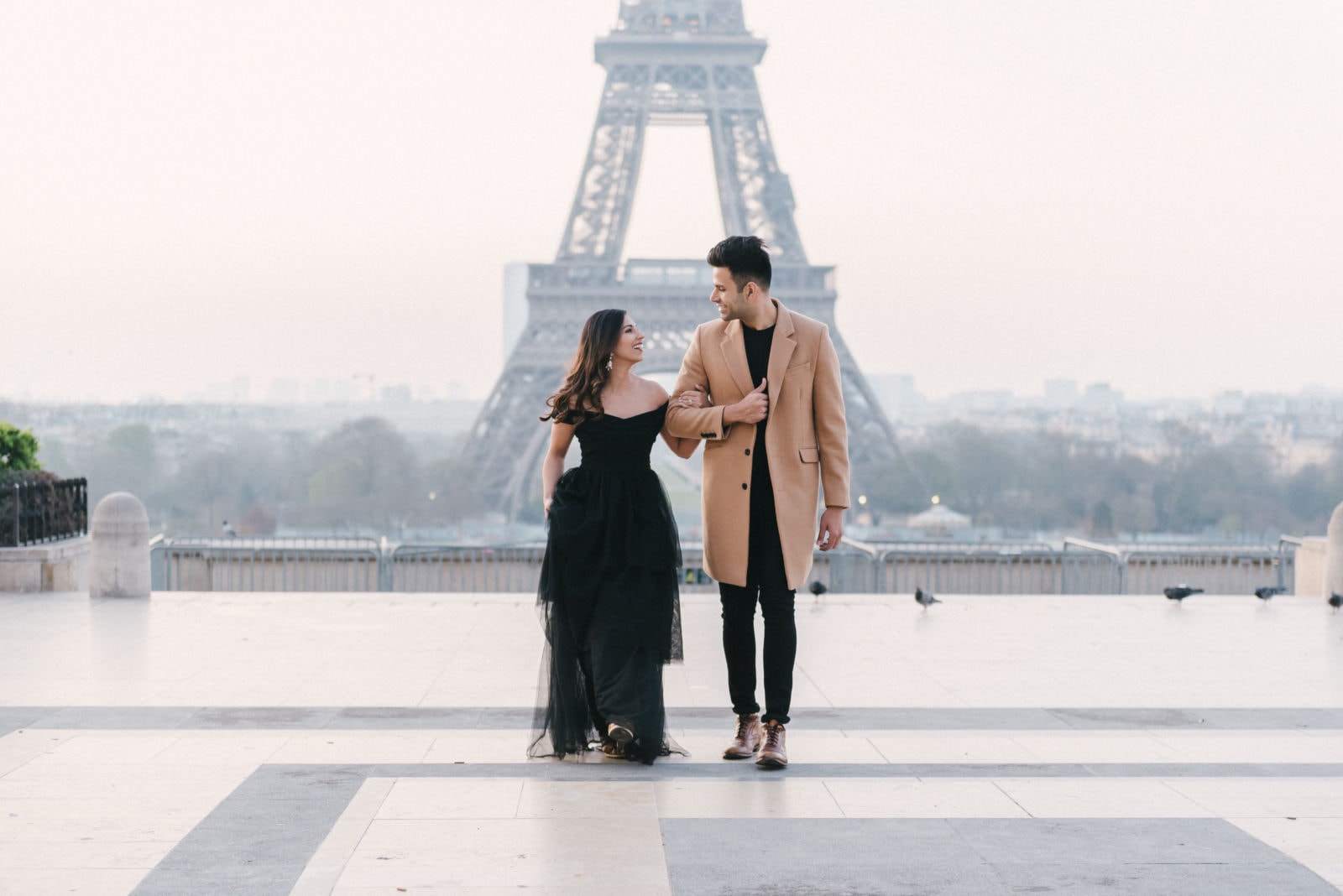 Watch the sunrise from the Trocadéro to take in the best view of the Eiffel Tower. The tower is a beauty and honestly it's so much bigger than you anticipate it to be. My first time seeing it I was in awe of the color. For some reason, I didn't expect it to be this steel dark grey that it was – but, well, I won't ruin it for you. Walk to the tower, around the tower, under the tower, and then head to the Trocadero and watch the sunset over the tower. At night it lights up and you won't want to miss that.