When I heard people describe Hawaii as paradise, I wasn't sure what to expect. I've laid on the beaches in Thailand, seen the mountaintops in Switzerland, and the architecture in France – how great could this really be.
It really was that great. While I can't speak for all of the islands, Maui is a tropical paradise that's (relatively) free of bugs and mosquito bites and where you feel like you could reach up and touch a star.
Seriously, I've never seen a such clear stars in the sky.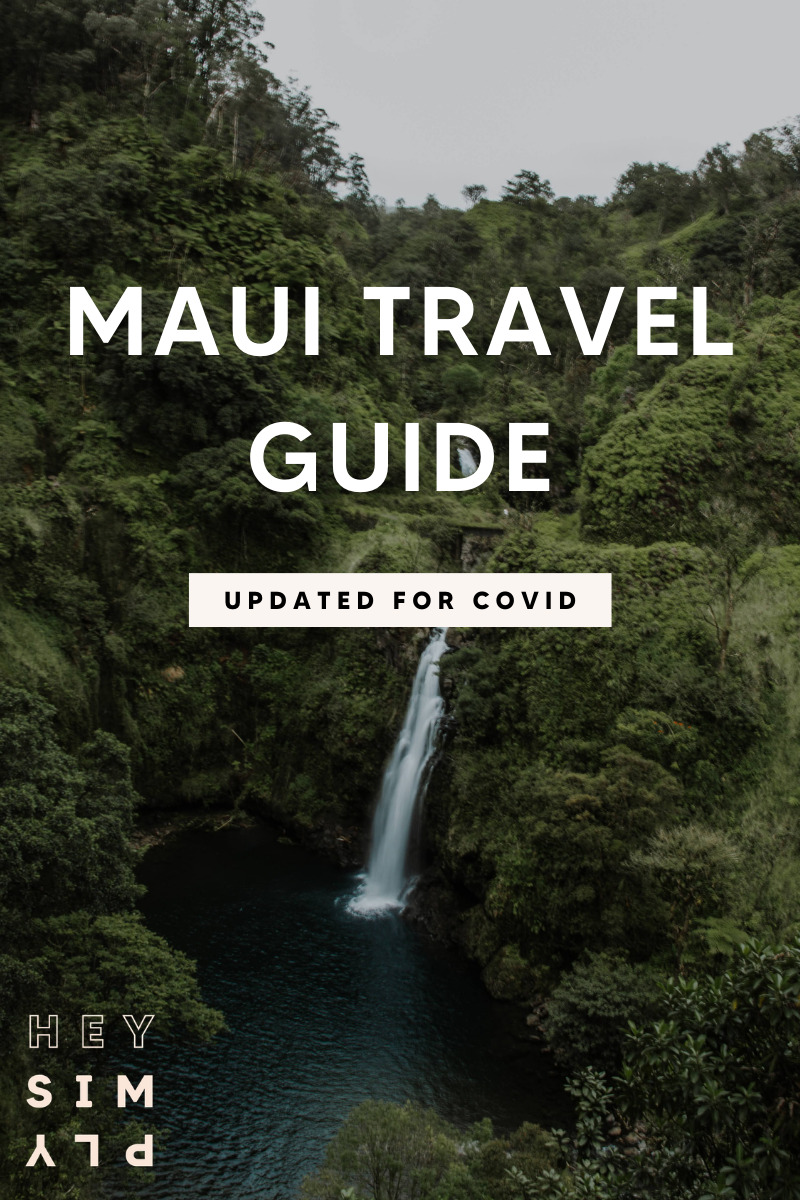 I know there are a lot of questions about my trip to Maui so here's everything. I hope it helps you plan a fun and safe trip of your own. The pictures in. this post are a mix of iPhone + my brother in law's DSLR images. Enjoy!
First Thing To Do When You Book a Trip To Maui
There are 4 things that I recommend that you get advanced reservations for. It's best that you do this as soon as you book your trip to Maui because things sell out and have limited capacity, especially during COVID times.
Haleakala National Park
If you want to see the famous sunrise at the Haleakala Summit you need to make a reservation here. One reservation per car. More details on Haleakala in the activities section below.
Mama's Fish House
This is rumored to be the best restaurant on the island. We really enjoyed it and the ambiance and vibe are awesome. Reservations book up so make them as soon as possible. You can reserve a table here.
Luau
We weren't able to make this happen on this trip because the Luaus are booked up. This is an expensive evening activity, but we heard it's really cool if you're a first time Hawaii traveler. They usually have a fire show, singers, Hula, and of course, food.
Wai'anapanapa State Park
If you plan to do Road to Hana, this is one of the most exciting stops along the way. We ended up missing our reservation for state park entry, so weren't able to see it. I recommend booking this as soon as possible. You can make a reservation here — one per car.
Traveling To Hawaii
Depending on where you are traveling from, the flight to Hawaii can get long. Here in Atlanta we had two option: 1) book directly to Honolulu in Oahu in a 9 hour flight or have a layover in LAX / SLC to Maui for a total of 11.5 hours. We went to Maui, the flight was brutal. Since I work from home, I am not used to wearing a mask for so long on a flight. It was difficult, but not impossible. I packed my CBD drops and used them.
How Many Days Do You Need in Hawaii?
We stayed there 7 days with travel. Left on a Saturday afternoon and returned on a Sunday afternoon with the time change. We didn't get to do everything on the list so I think that we could have stayed longer. Here's to hoping we can go back one day.
Where To Stay in Hawaii
We decided to stay solely in Maui with the Covid travel restrictions; we didn't want to worry about getting tested again to travel inter-island. From what I've heard, we made the right choice in going to Maui.
Traveling To Maui During Covid
Here's where the bulk of the questions were about my trip and I want to answer them for you in as much detail as possible so here goes.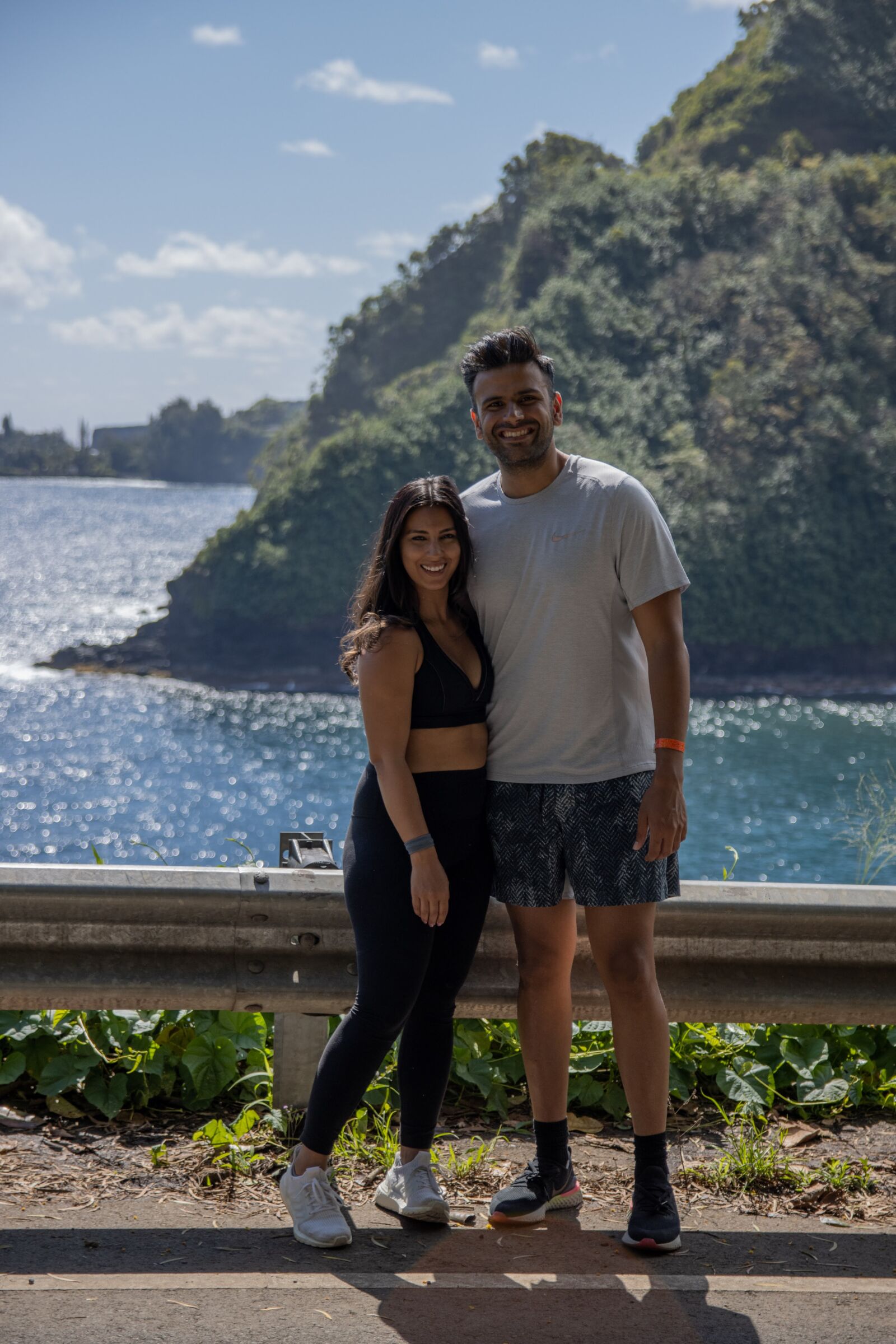 What are the COVID-Travel Requirements for Maui?
We had to get a negative PCR test within 3 days of travel in order to enter at the Hawaii airport. This is a little tricky because you can't get it any earlier, but you need to make sure you get your results in time and upload them onto the portal.
Yes, there's a portal. A lot of the Hawaii travel documentation is done via promo code and online web forms. You'll have to make an account and remember your password.
Please note that travel criteria changes often so check out this official website for the latest news: https://www.gohawaii.com/travel-requirements
Where can you get a COVID PCR test?
Anywhere right? Wrong. Hawaii has certain approved vendors that they will accept tests from so you need to make sure it's one of those. CVS and Walgreens are on the list, but again – you need to be sure.
What are the Covid policies in Maui?
Like here, most places require to wear a mask while outdoors if you aren't eating or drinking. They are pretty strict in Maui, so we needed to keep masks on while on boats, even when in our seats. Notably, the city pretty much shuts down after 9 PM. Nothing is open, not even restaurants.
We awkwardly adjusted to the time change, so we woke up at 6 AM everyday and were asleep by 9:30 PM. I guess that was the right thing to do in this situation since we got to maximize daylight hours.
What's the most surprising thing about your trip to Maui?
Honestly, it wasn't that warm. I only packed 3 sweaters: 1 for the plane, 1 sweatshirt for lounging at night, and 1 activewear jacket. I wish I had more.
Maui has beautiful weather, but its about low 70s around the clock, so nighttime can get chilly and with most days being partly cloudy it wasn't warm enough to jump in the pool.
Just something I didn't know before, so hope it helps you plan accordingly.
Traveling in Maui
I highly recommend renting a car in Maui and do it as soon as you book your flight. I can't imagine what it would be like to try to get around without a rental car. Things are spread out and you'll want to get around the island.
Where To Stay in Maui
You pretty much have two options for staying in Maui. You can stay in the top left of the island in Lahaina or Kaanapali. The other option is to stay in the bottom left of the island, where we stayed, in Wailea.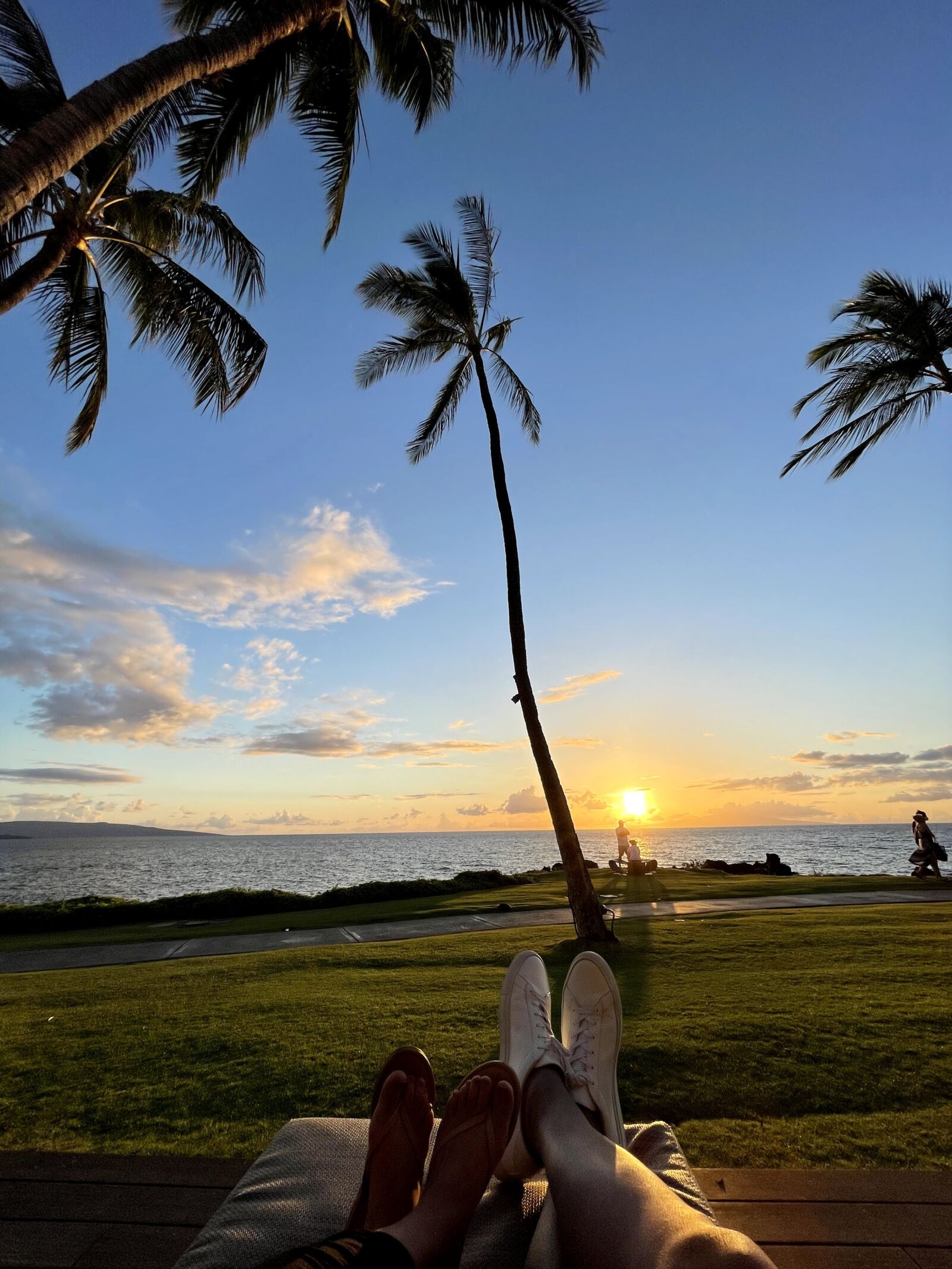 For the most part, Lahaina has more condos and longer term rental properties. Wailea has more high end resorts. We chose to stay at the Marriott Wailea Beach Resort and I highly recommend it.
Restaurants in Maui
There is a lot of good food in Maui, but you will often have to drive there, which is why the car is so important. We had fantastic Thai food, lamb, fish, and steak. Here are some of the restaurants we visited and recommend. (P.S. highly recommend making reservations at any restaurant you want to visit. They often book out)
Mama's Fish House (I had outstanding short ribs, but the Mama's fish curry was the star if you like seafood)
Pita Paradise (great lunch specials)
Maui Thai Bistro (so good, my family went twice)
Nick's (fancy dinner, but worth it. Best lamb chops I've ever had)
Longhi's (ceviche and pecan pie were incredible)
Monkeypod (this came highly recommended, thought it was just okay)
Activities in Maui
There are quite a few things that came highly recommended to do in Maui. Here are the big ones.
Road To Hana
This is probably the most popular thing to do in Maui. It's a car ride that takes about 2.5 hours if you do it straight, but the beauty isn't in the destination – it's in the journey. The road has over 600 turns so you want to drive carefully and plan to take breaks if you're prone to motion sickness.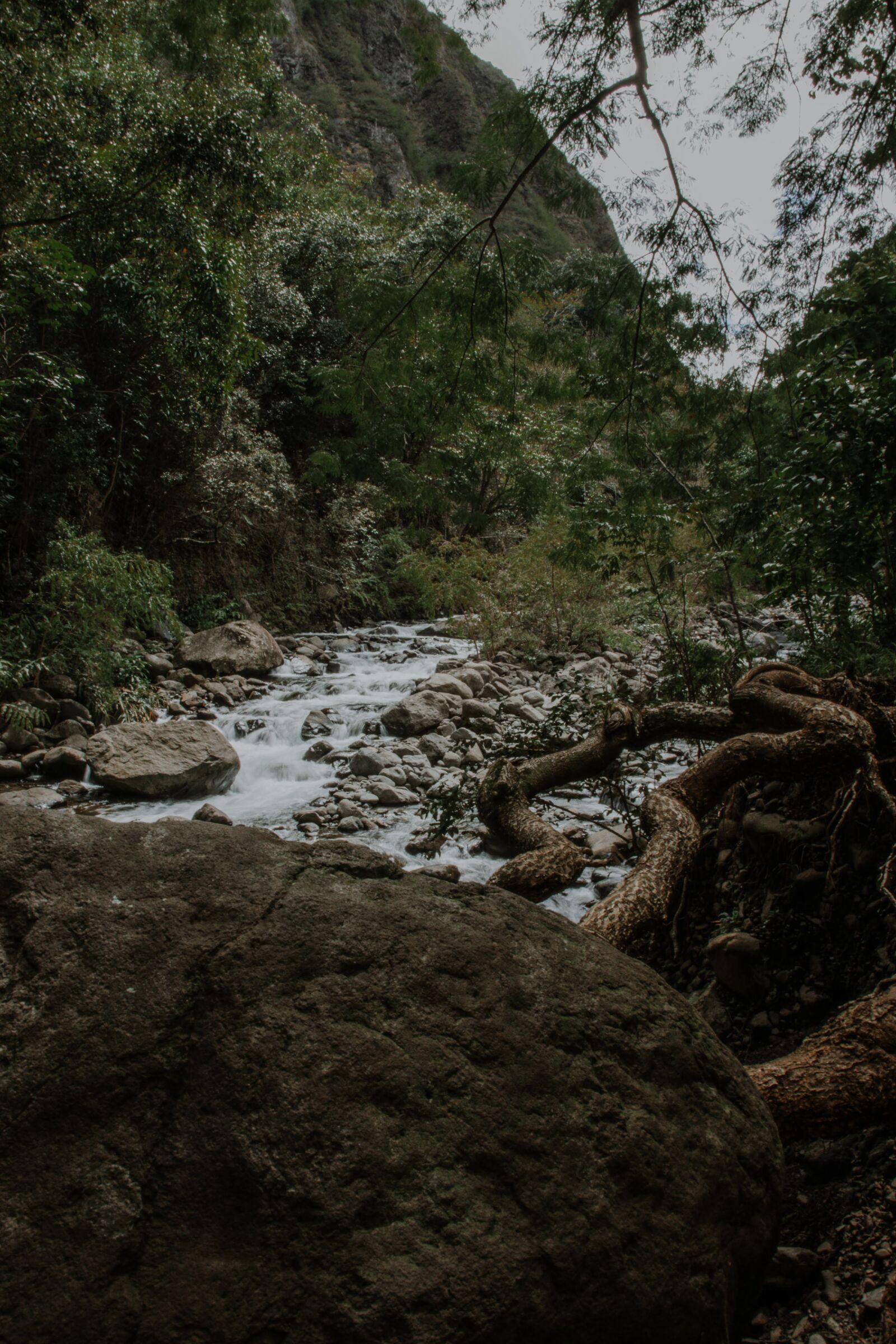 You can take as many or as few stops as you'd like along the way. I *highly* recommend downloading and paying for the Shaka Guide. It a $15 app that gives you a guided tour as you're driving. It's super accurate and helps with driving directions, history, and recommendations on where to stop. You can download the app here.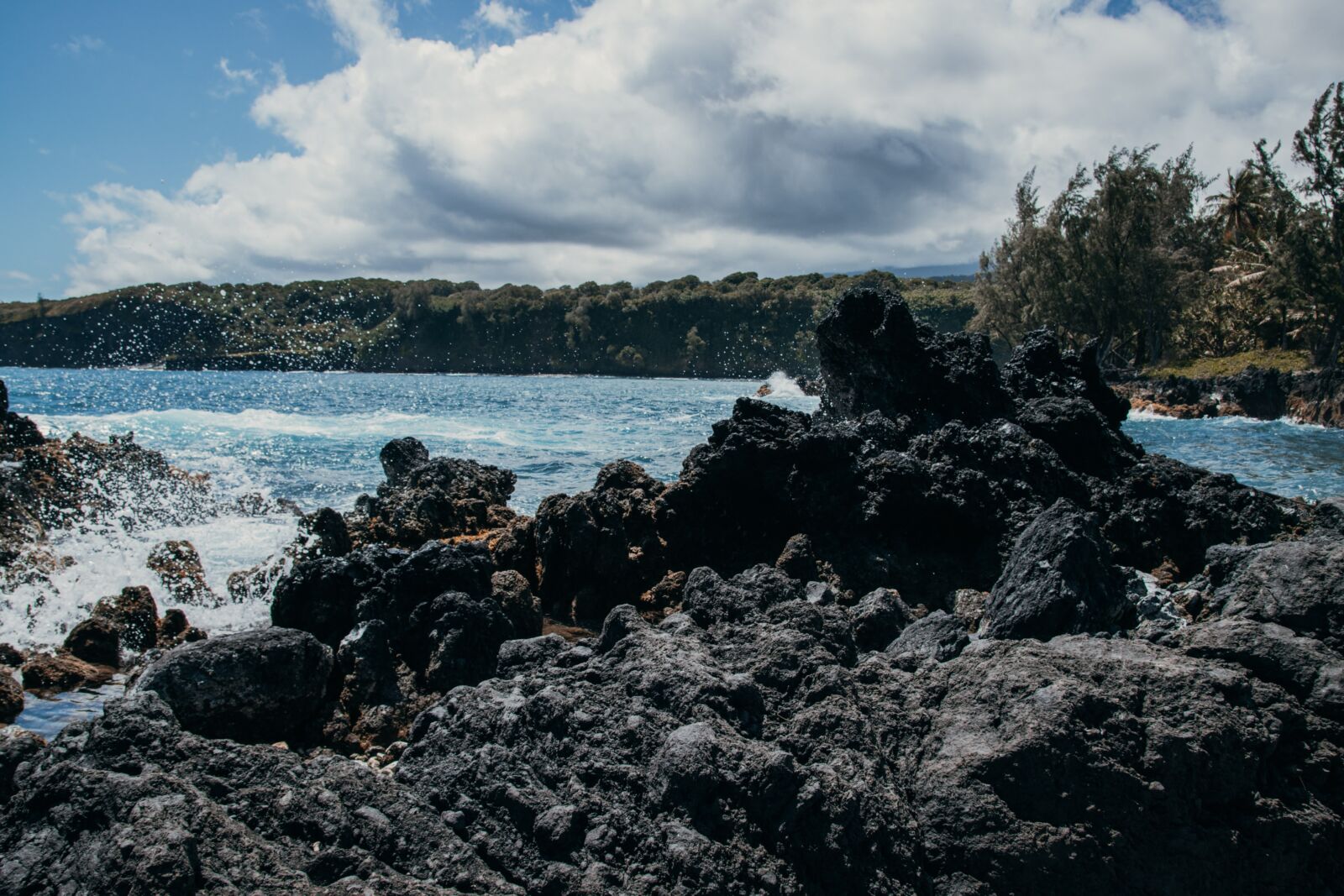 Some of our favorite stops:
Chings Pond
Three Rivers Waterfall
Aunty Sandy's Banana Bread
Coconut Glen's
Ke'anae Arboretum
Waianapanapa State Park
Lava Tubes
Hana Town – food trucks!
Note: Remember a car charger! This app is powerful and therefore drains your battery.
Regrettably, we never made it here. Aside from not being able to get a sunrise reservation (make them ahead of time people!) we had planned to go for sunset and stargazing. I've heard it's amazing up here. Between the 1.5 hour drive each way + the 30 minutes to drive up the summit, we just could carve out half of our day for it. If you need the link to make a sunrise reservation, you can make it here.
Alternatively, if you can't make it for sunrise or prefer not to wake up at 3 AM and drive – you can go for sunset. No reservations are required and the sunset + stargazing is apparently epic.
But we have something on our list for our next trip to Maui!
Snorkling at Molokini
Molokini Crater is only about 4 miles from the shores of Wailea. We did a full day, 5 hour tour where we snorkeled in two places including the Molokini crater. I was certainly doing things I wasn't comfortable with, but proud of myself for not letting my fear take over. The water was so clear and we got to see some really cool fish and even a sea turtle! Sahir booked an expansive tour with lunch through the Marriott Wailea Beach Resort.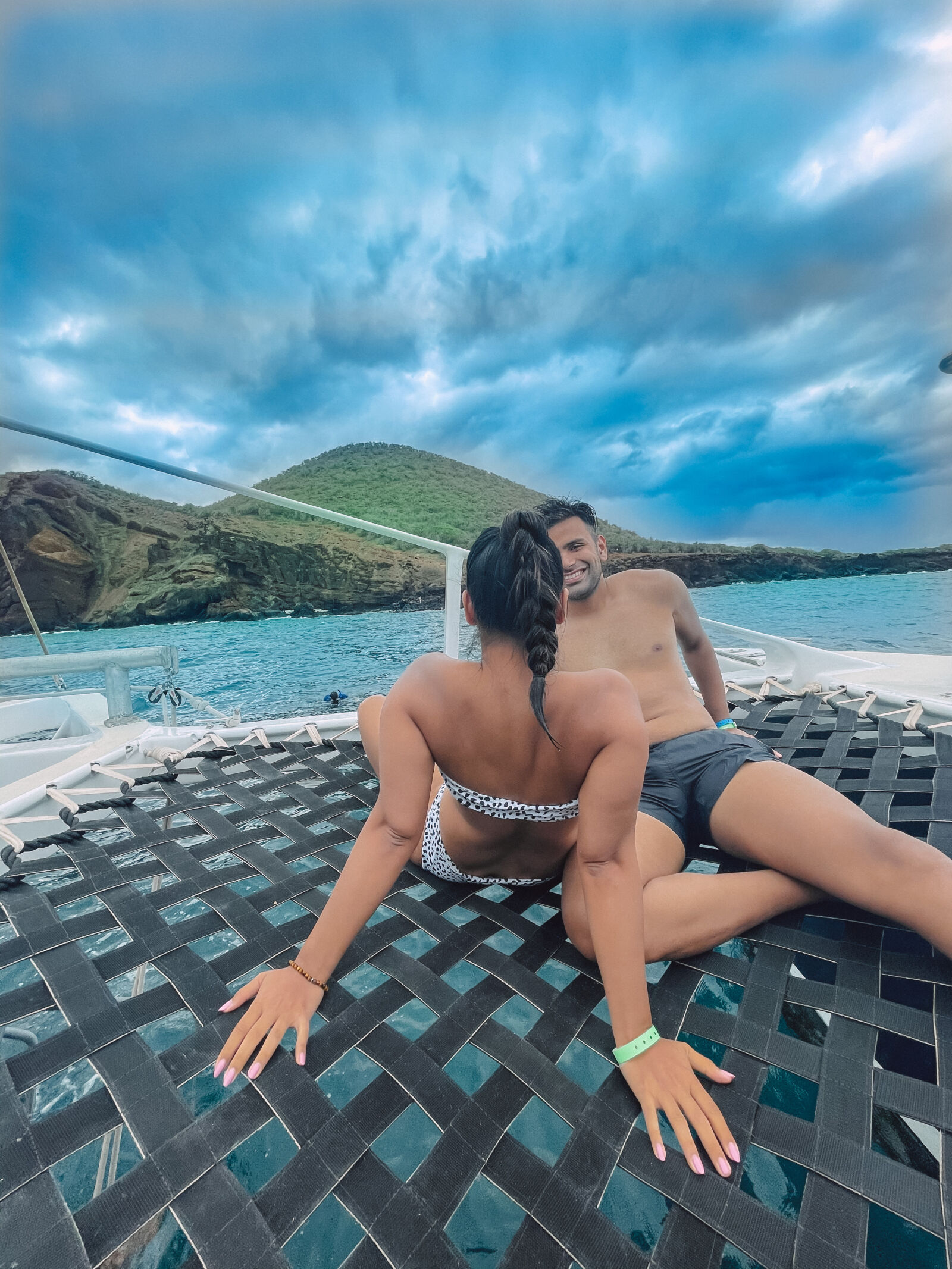 Because of COVID, the boat operated on 50% capacity, so it wasn't overrun with people. Loved it.
Whale Watching
Sahir booked a two-hour whale watching boat trip one day and honestly, it was super cool. We weren't really sure what to expect, but this was a no frills experience that was really about protecting, conserving, and viewing the whales from an acceptable distance. We got to learn about the whales and what they are doing in these waters. I think the entire family enjoyed the experience. You can book a trip through the Pacific Whale Foundation here.
Resort Activities
We took advantage of the resort activities like bike rentals, paddle boarding, kayaks, etc. One of my favorite things to do is the complimentary yoga and pilates classes on the beach. If you stay at a resort, try to take advantage of these amenities. They are baked into the price, so you should enjoy them!
Coffee in Maui
Macadamia Nut is huge in Maui and so most of the coffee specials include either Macadamia nut, coconut, or both. We went to the Honolulu Coffee Shop every morning and got an Acai bowl and a Hawaiian latte special. Highly recommend.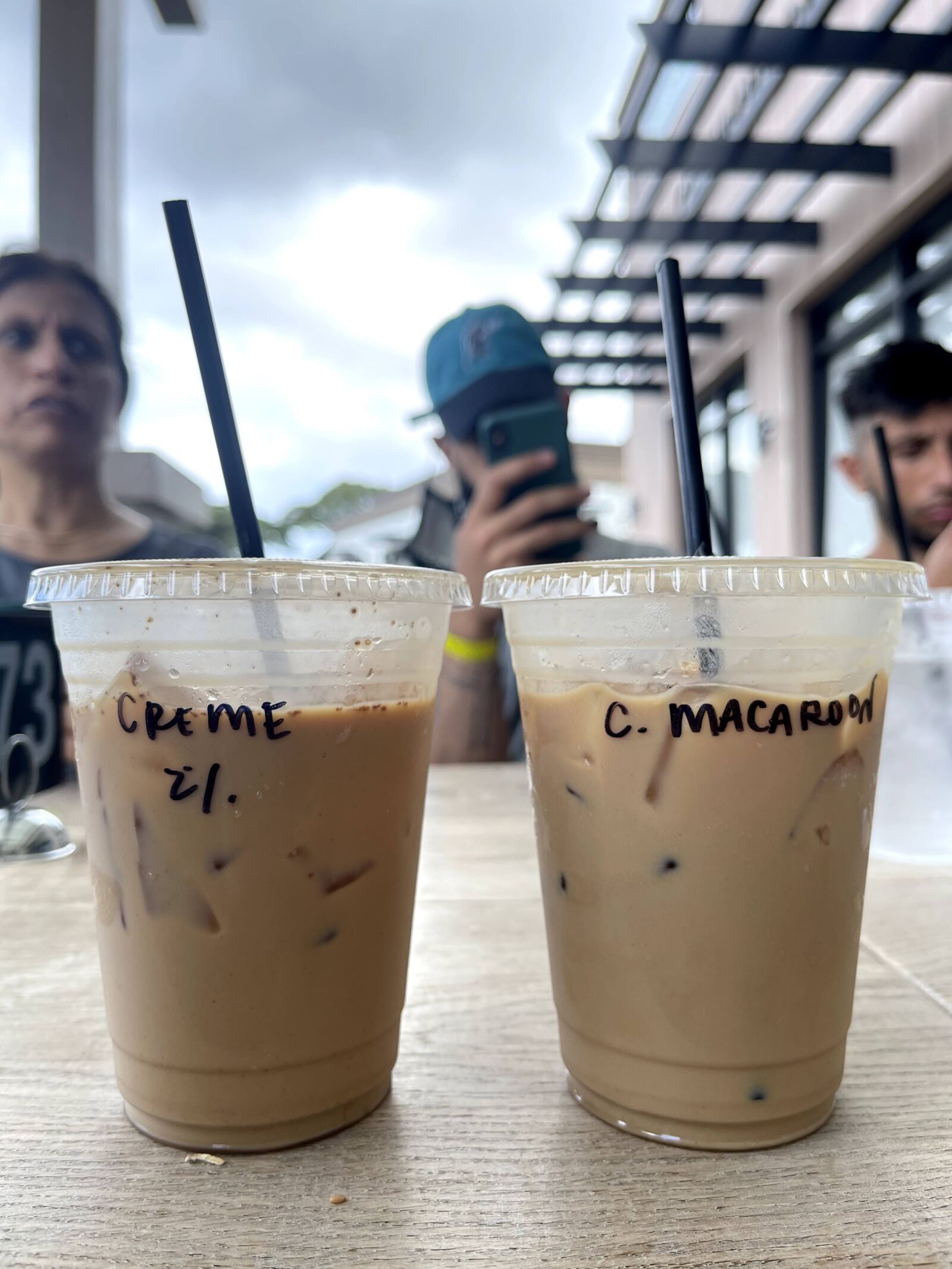 Final Thought on Traveling To Maui
Because Maui is so far away from the east coast, this is likely a once in a lifetime trip for us – or maybe twice. I feel so lucky that we got to go and enjoy the beauty of Maui in a safe way and I hope that you and your family get the opportunity one day too.