A few weeks before our trip to Europe, my sister spent a few weeks in Paris and confirmed what was circulating around the news. European summers were being spoiled because bags weren't making it from the plane to the person.
With her bags lost for two weeks at CDG in Paris, Sahir and I knew that we were going to attempt carry-on only – which we've done before, but never with a baby.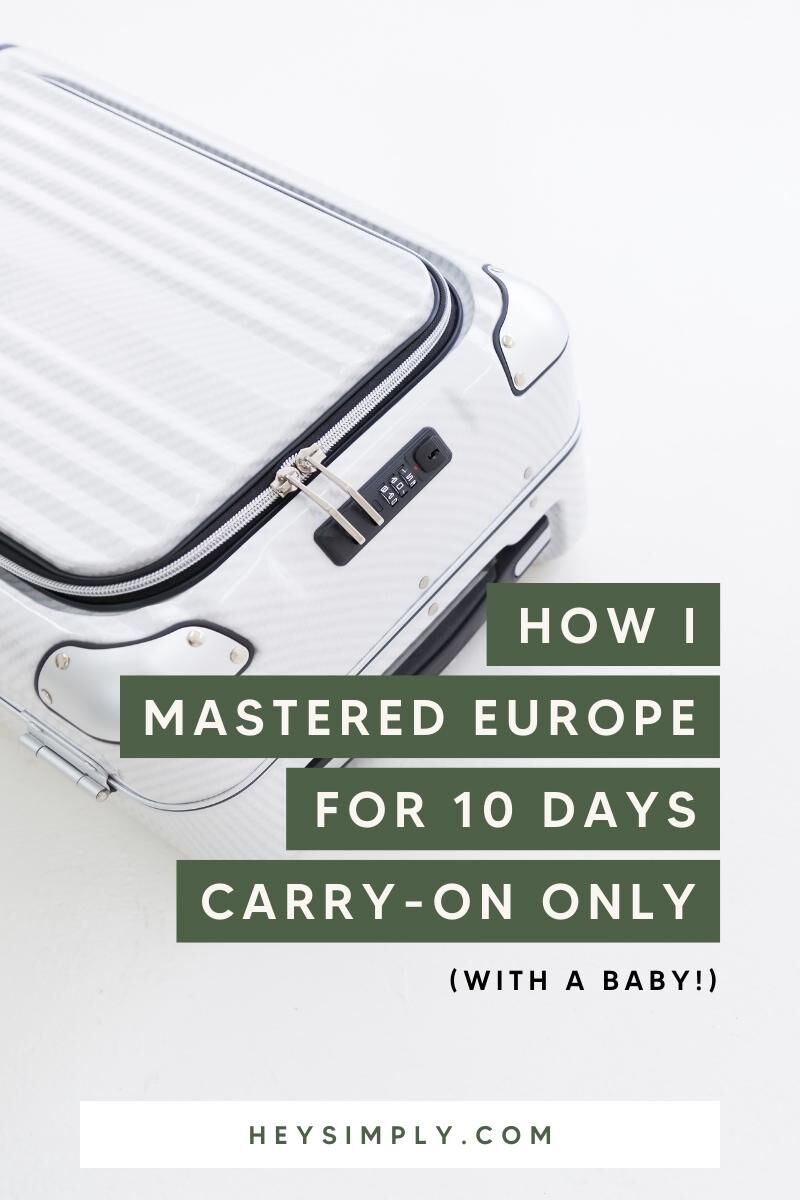 When I polled my audience on Instagram to see if they thought I could do it, they had no faith (smh) — but in order to make this happen, we needed the right equipment.
First of all, we needed larger suitcases. We upgraded to two new carry-on suitcases from Away – we went the one called "the bigger one" and chose one with the flex option and one without. (In hindsight, I should have chosen both with the flex option.)
After the suitcases, we needed packing cubes. These I got from Amazon, but two of them broke before I even got to use them – the other set held up, here are the ones that I recommend.
Now it was time to make a list and check it twice. I broke down exactly what we packed and what we planned to buy abroad.
Packing Pro Tips
Ask for as many baby accessories as the hotel is able to provide. Things I didn't realize that you can ask for include, but are not limited to: a crib, a high chair, changing table, and/or a bottle warmer. They may not be able to provide it, but it's worth asking.
If you need a little more room, you can toss in a few spare items into your stroller gate check bag. Ours was huge so we kept a spare empty Vera Bradley duffle at the bottom of the stroller and when we gate-checked it, we threw the empty bag in with the stroller.
This was crucial to have more space when we returned home. We used the two empty duffles (one in our suitcase, one in the stroller bag) to check dirty clothes on the way home. This left room for shopping, etc.
What we didn't pack
Baby crib – we requested one at every hotel we went to and they were able to give us a pack and play
Car seat – in Europe we decided we would take public transportation around so we opted to go without the car seat. In America, our families took us to and from the airport with our car seat and we arranged for a private transfer to and from the airport in Paris via a company called Babycabs that I highly recommend
High chair – Paris isn't super kid-friendly and high chairs were hard to come by. I did know this in advance but requested one at some restaurants and they actually had accommodations.
I found that international restaurants (Thai, Chinese, Indian, Pakistani, etc) were usually more accommodating. Otherwise, our hotel in Paris – the Hilton Paris Opera – was amazing and able to give us a high chair in our room which made feeding SO much easier!
What was in our suitcases & duffles
Note: We used the Away "bigger one" carry-on bags and a Vera Bradley weekender bag and a Dagne Dover duffle for our respective "personal items" – Additionally, we had a stroller and a diaper bag which did not count against our luggage allowance.
For Sabrina & Sabrina
Clothes
Shoes (Heels and flats for Sabrina, White Nice Sneakers for Sahir) we both wore sneakers on the plane.
Toiletries
Skincare
Mini Makeup pouch for Sabrina
3 converters
Flat Iron
2 empty duffle bags to check on the way home
Fanny Pack / Satchel
Hairbrush
Medicines
Ipad / Kindle
Converted Euros from the bank
Global Entry cards
For Our 7 Month Old Baby Mila
For Feeding
10 pouches – My favorites are My Serenity Kids & Cerebelly
3 bottles
For Sleeping
For bathing
For Daily Use
2 Outfits per day – one footie for bedtime and one daytime outfit
1 cardigan
1 sweater
6 pairs of baby socks
7 Bows
3 Swim Diapers (didn't use)
10 Diapers
1 small pack of wipes
1 pack of disinfecting wipes
Bag of medicine (gripe water, infant Tylenol, sunscreen, Tubby Todd cream, saline spray, diaper cream)
Swimsuit (didn't use)
In our diaper bag:
Brought enough for travel days & bought more at the destination
Diapers

We were able to find the same brand we use here in Europe (Pampers Swaddlers) but they were significantly more expensive abroad! Just be prepared so you didn't have the same sticker shock I did.

Wipes
Baby Food Pouches / Purees

The brand Ella's Kitchen in Amsterdam was a big favorite for Mila & so much more affordable

Puffs
So how did it go?
I think it went really well. We had just about everything we needed minus two medicines for Mila. I wish I would have brought a thermometer and the snot sucker. Our little one got sick abroad and not being prepared was a little tough. That aside, I think we packed really well.