My favorite cuisine has always been Persian or Mediterranean food. While a rack of lamb or a skewer of koobideh is always delicious, I often opt for falafel when it's available. I can't tell you how devastated I was the first time I found out that falafel wasn't healthy. What?! I was certain that I could live on a diet of hummus and falafel for eternity, so imagine my disdain when I realized this wasn't a health-conscience idea. Insert: Homemade Air Fried Falafel.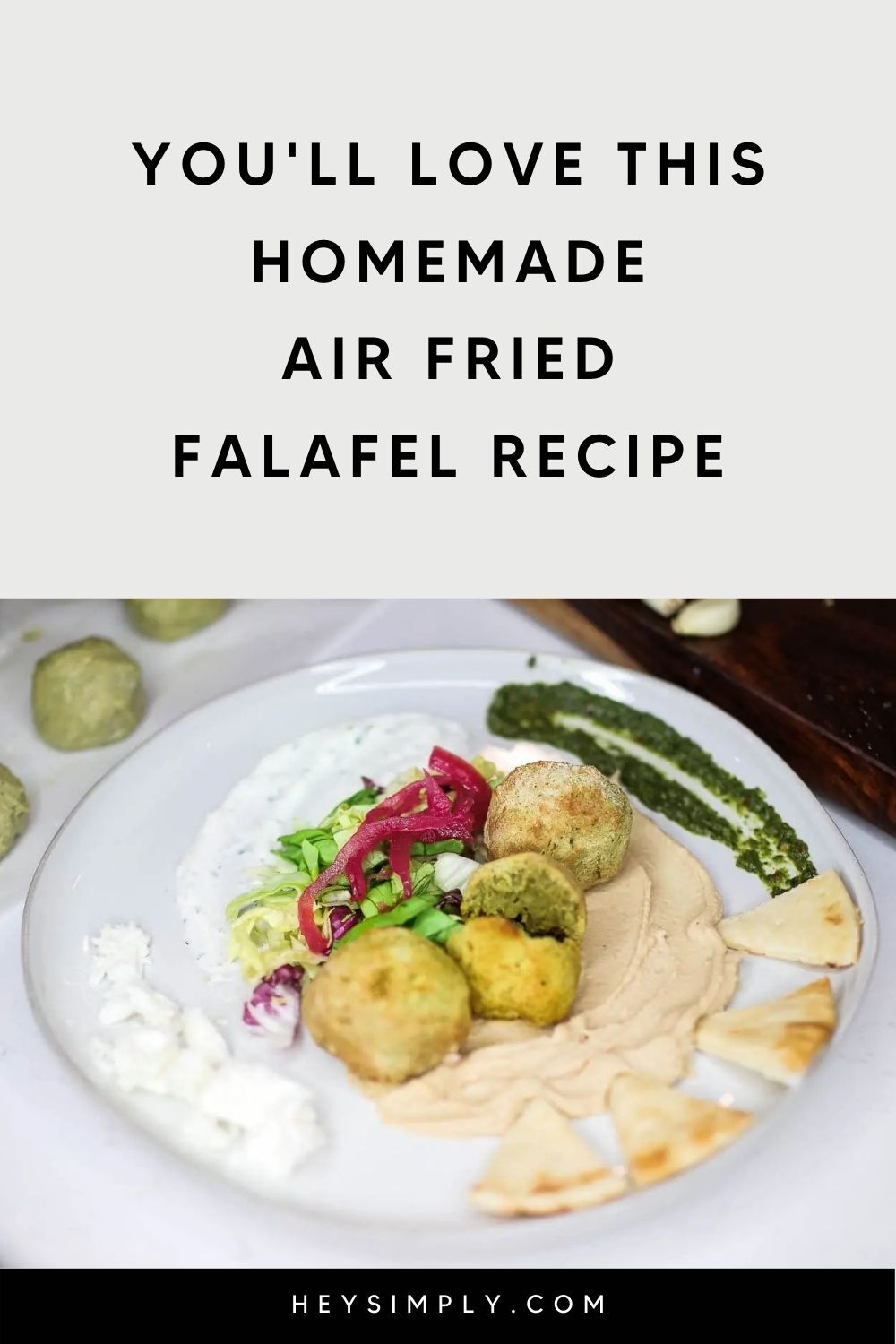 There was an entire period where my husband decided that he was going to be a vegetarian. While I admired his ambition, I worried about what this would do for my lifestyle. I didn't mind eating a non-meat diet but hadn't quite figured out how to be a healthy vegetarian. Bread & cheese have always been my jam, but a diet of what is generally just sides seemed cruel. Broccoli on the side of…. Asparagus?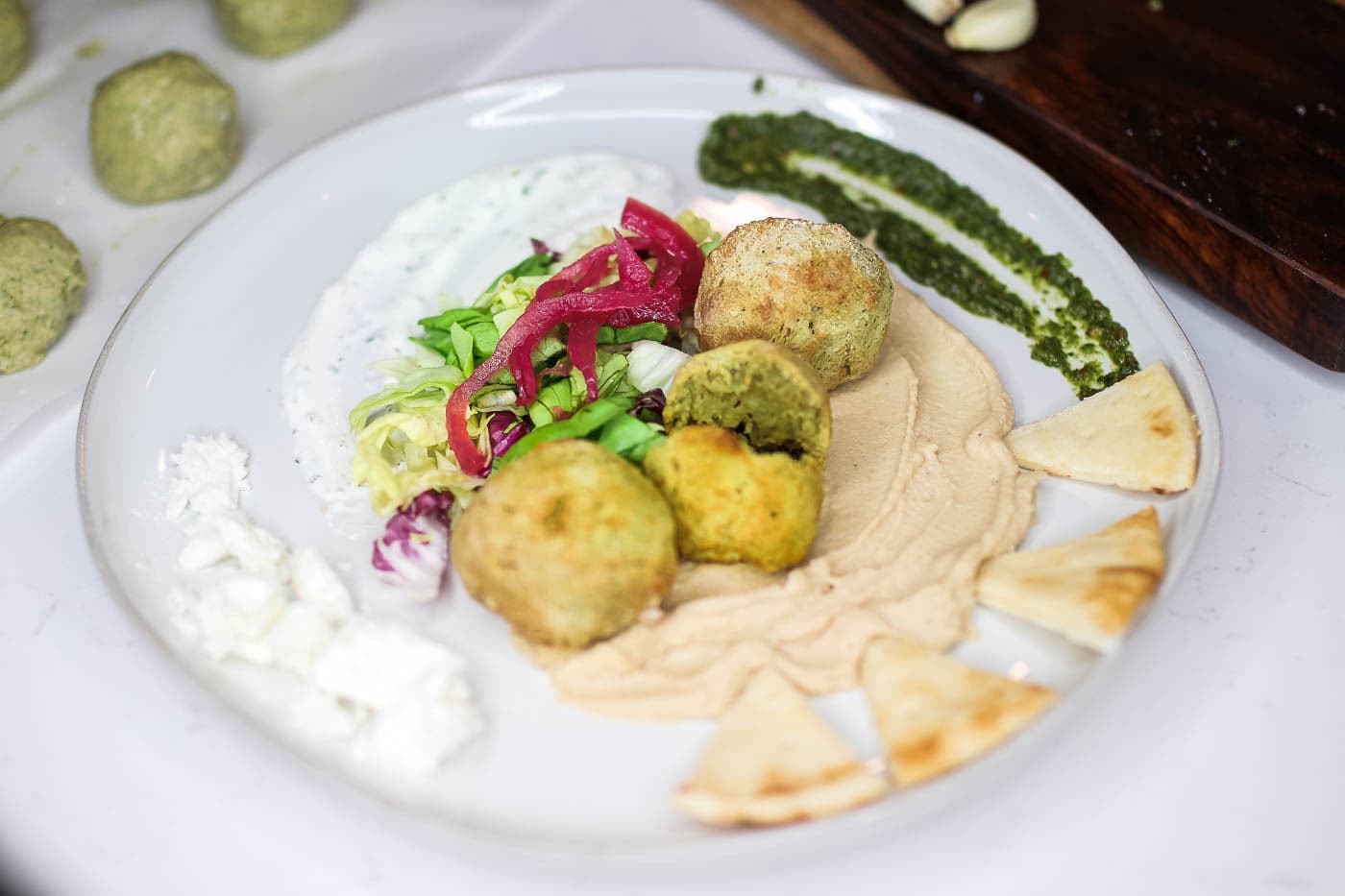 Anyways, I bought an air fryer and it really changed the game. Homemade potato chips, sweet potato fries, and even samosas were back on the table. Is it healthy for you? Probably not. Is it better than the alternative? Yes. Anything homemade is always better.
What You Need To Make Air Fried Falafel
I attempted this recipe for homemade air-fried falafel recipe three times and have made small tweaks to get it perfect. As always, substitutions are likely so do whatever works for you. I made this in an air fryer but you can always deep fry them or bake them if you wish. For this recipe, I used a food processor & air fryer. I'll link the two air fryers that I've tried myself and liked. We started with the Dash Airfryer that is smaller and liked it. We ultimately moved to the larger Cuisinart one because it was built into our toaster oven.

What fir attracted me to this recipe was that I didn't need to use dried chickpeas that were soaked for 12+ hours. All three times that I made this recipe I used canned chickpeas and it was great. The mixture also stayed in the fridge for two days for me to create and air fry falafel balls on the go for fresh leftovers.
How This Air Fried Falafel Is Different
Let's address the elephant in the room, these falafel balls are not the beautifully brown baked balls with a bright green center. Alternatively, they are generally a light tan color with a pale green center. This color difference is because of the air fryer technique and will not affect the flavor of your falafel balls. Ugly delicious right?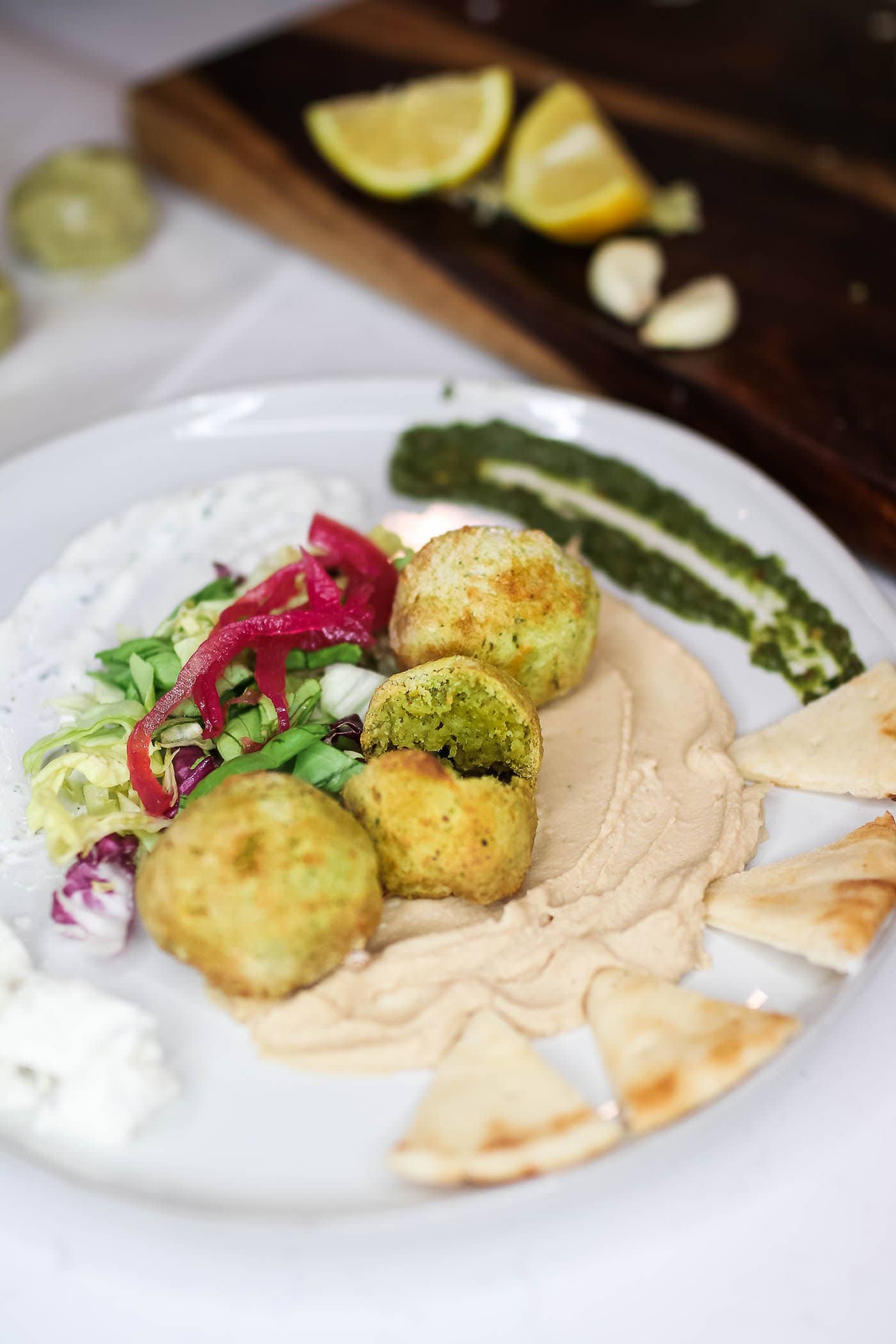 Ingredients for Air Fried Falafel
For Falafel:
2 Cans of Chickpeas
2 Small Onions
1/2 cup of Scallions (options)
a 1/2 cup of Parsley
1/2 cup of Cilantro
10 tablespoons of All-Purpose Flour (add for consistency)
Salt To Taste
2 teaspoons of Cumin
1 teaspoon of Aleppo Pepper Powder*
2 teaspoons of Sumac
2 teaspoons of Za'atar
Olive Oil
1 teaspoon baking powder
4 cloves of Garlic
For Serving:
Brown Rice
Red Onions
English or Persian Cucumbers
Tomatoes
Hummus
Feta
Cilantro
Pita
Directions for Air Fried Falafel
Rinse and dry chickpeas before placing them into the food processor

Begin to process onions & garlic and then add in scallions, parsley, Aleppo peppers, cumin, salt, and cilantro

Process and then add chickpeas until blended. If needed, sprinkle in water but you will have to add additional flour for consistency for any added water.

Add in baking powder and flour and pulse until a mixture is formed

Cover & refrigerate for at least 2 hours (mix will stay up to 4 days in the fridge)

Dust your hands with flour and form the falafel mixture into 16-18 balls. If the mixture is sticky then add flour accordingly.

Preheat your air fryer at 350

Spray falafel with Olive Oil and cook for 12 minutes, turning the falafel balls at the 6-minute mark.

Sprinkle with Za'atar and Sumac for true Persian flavor

Serve with pita, hummus, and vegetables.