When I found out that my sister and brother-in-law were expecting and literally cried. This is probably, in part, due to the fact that they are elaborate schemers and told us that they were moving to France for a few years in a long-tail decoy – and it was like 1 AM. But when the sonogram (which was not a picture of their new apartment) came out I was in tears. I cannot wait to be an aunt! Sahir has two younger brothers so my sister is the eldest in our family. What a blessing it will be to be an aunt & uncle and get to love this child like our own (before we actually have our own!) Needless to say, when it was time to throw a baby shower I was all in.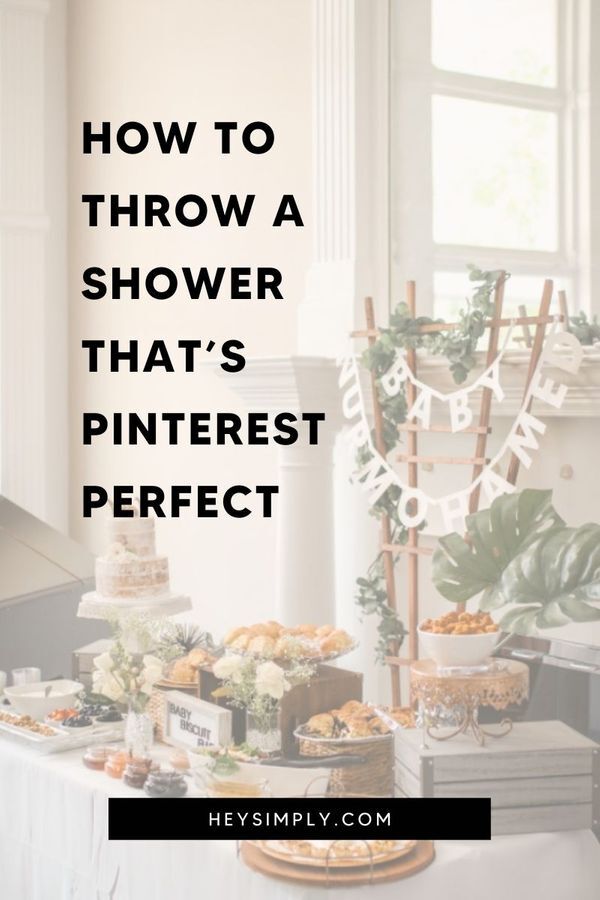 Let me preface this by saying I spend way too much time on Pinterest and Sahir repeatedly told me that I'm doing "too much" and need to "reel it in" – whoops. In case you feel like throwing an epic bash for your loved one, I wanted to share all of my research, planning, and execution for how to throw a Pinterest Perfect Baby Shower (with transferrable lessons that can be applied to a Bridal Shower, Baby Sprinkle, Birthday Party, etc.)
THE THEME
While I thrive in knowing all of the details, my sister and brother in law are much more relaxed and are opting not to know the gender of the baby. This made the baby shower even more fun to plan. I wanted her to have an elegant affair with elements of white, wood, and greenery. I sourced wood baskets and boxes from friends and family. Wood file holders like this one from Target and these countertop baskets from Amazon make great options to add height on a focal table. We used a standard 6ft foldable table and covered it with a white tablecloth from Amazon. Easy enough!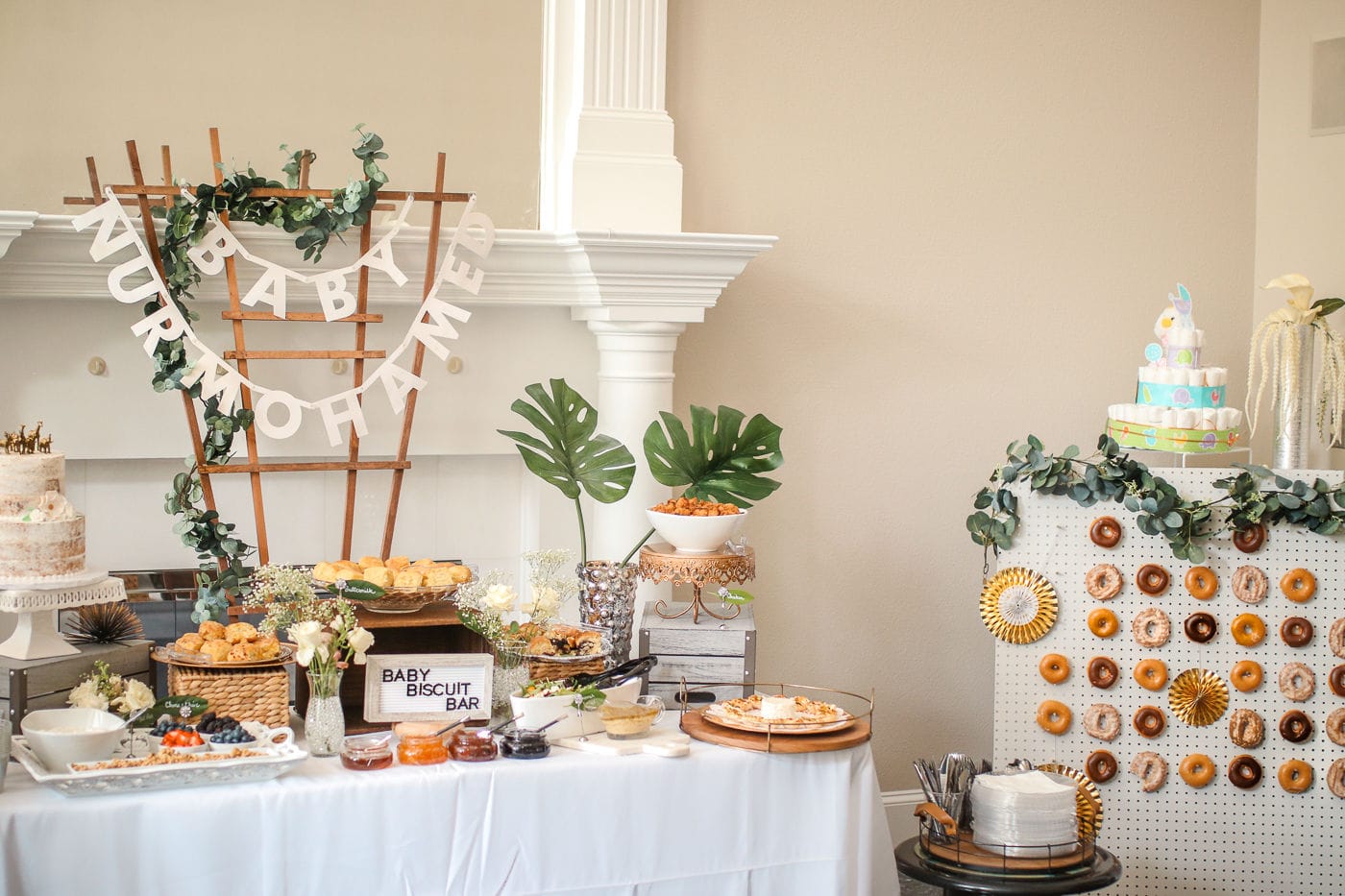 THE INVITATIONS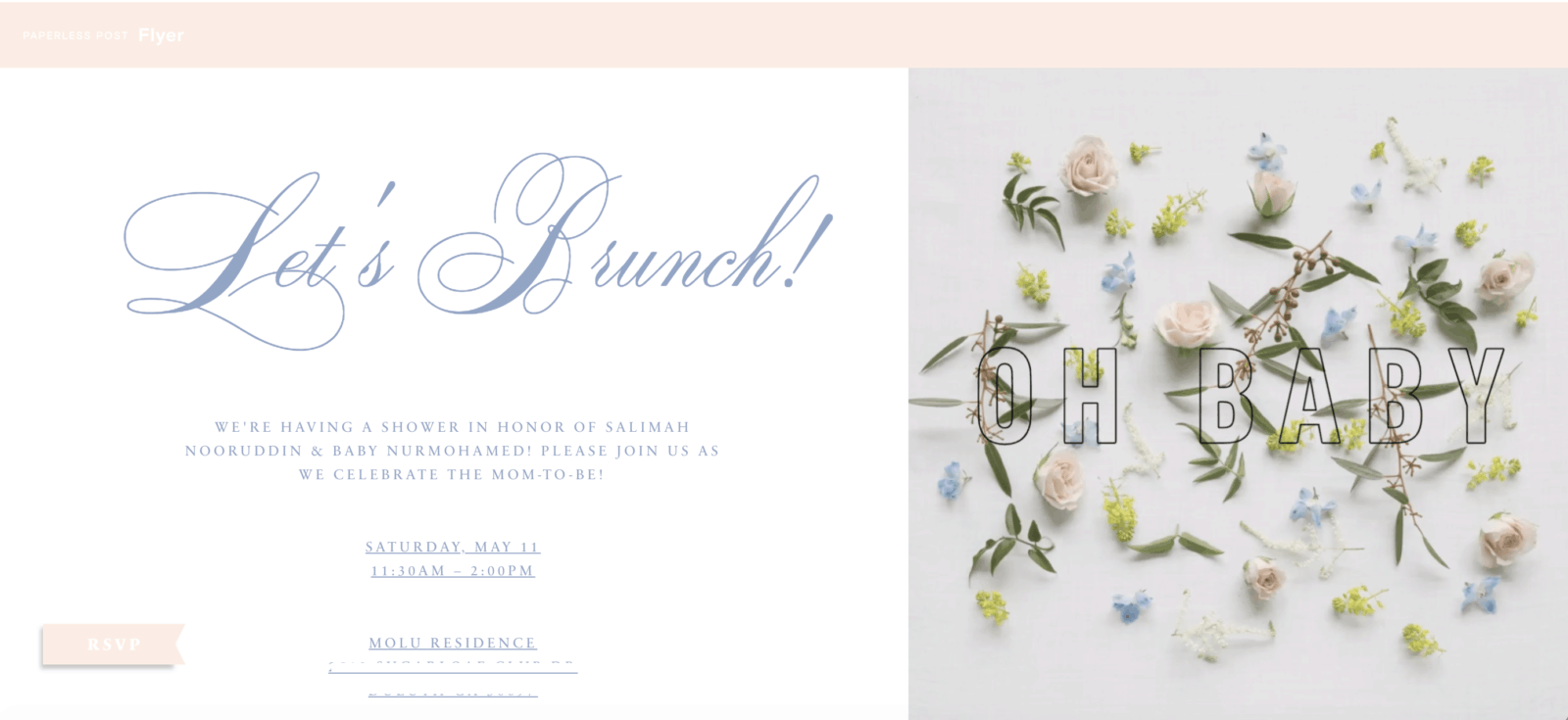 Paper invitations are beautiful, but frankly a little impractical – especially since many of my sister's guests live in Canada or around the nation. Paperless Post allowed me to make a super cute invitation that was easy to manage. I opted to try their new "flyer" option that let's you email the invitation to your guests, and also text the invitation or send it in a group chat! So much yes!
Related Post: We're Making A Big Decision At Home
THE FOOD
Some people say that food is the most important part of the party – agree or disagree, it's pretty darn important. I knew from the start that I wanted a biscuit bar at the baby shower. Growing up in a single parent household, my sister and I didn't have my mom home. Mom owned stores in the malls so she had Thanksgiving Day, Christmas Day and New Years Day off – and that was about it. To celebrate the holidays, my sister and I would bust open one of those blue cans of the Pillsbury biscuits and bake them to commemorate the occasion. Because the time of the event was 11:30 AM – 1:30 PM we needed multiple types of brunch foods. We had the following:
A biscuit bar with fresh homemade biscuits from Callie's Hot Little Biscuits in Atlanta in the flavors: Buttermilk, Blackberry, and Cheese & Chive
Various local honey and jams from Georgia farms like peach, fig, and blueberry
Chicken nuggets from Chick Fil A so that people could make their own "chicken biscuits" if they desired
Phyllo cup hor d'urges with Boursin
Summer salad with got cheese, strawberries and clementines
Parfait bar with berries and granola
Almond pastries and chocolate croissants
A donut wall
A fruit-filled 'naked' two tier cake
Chocolate and Vanilla macaroons
Samosas, dhokra, and other South Asian finger foods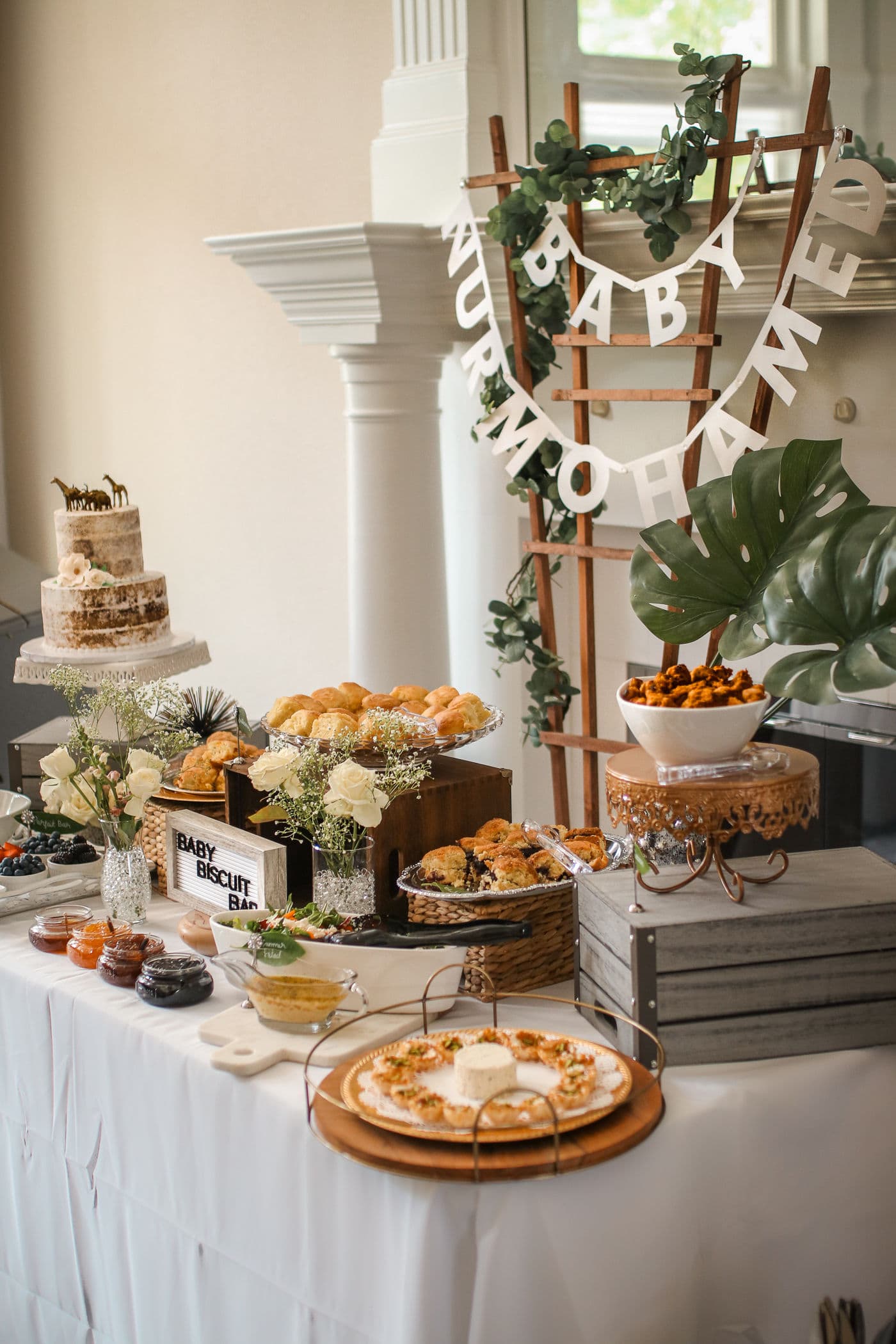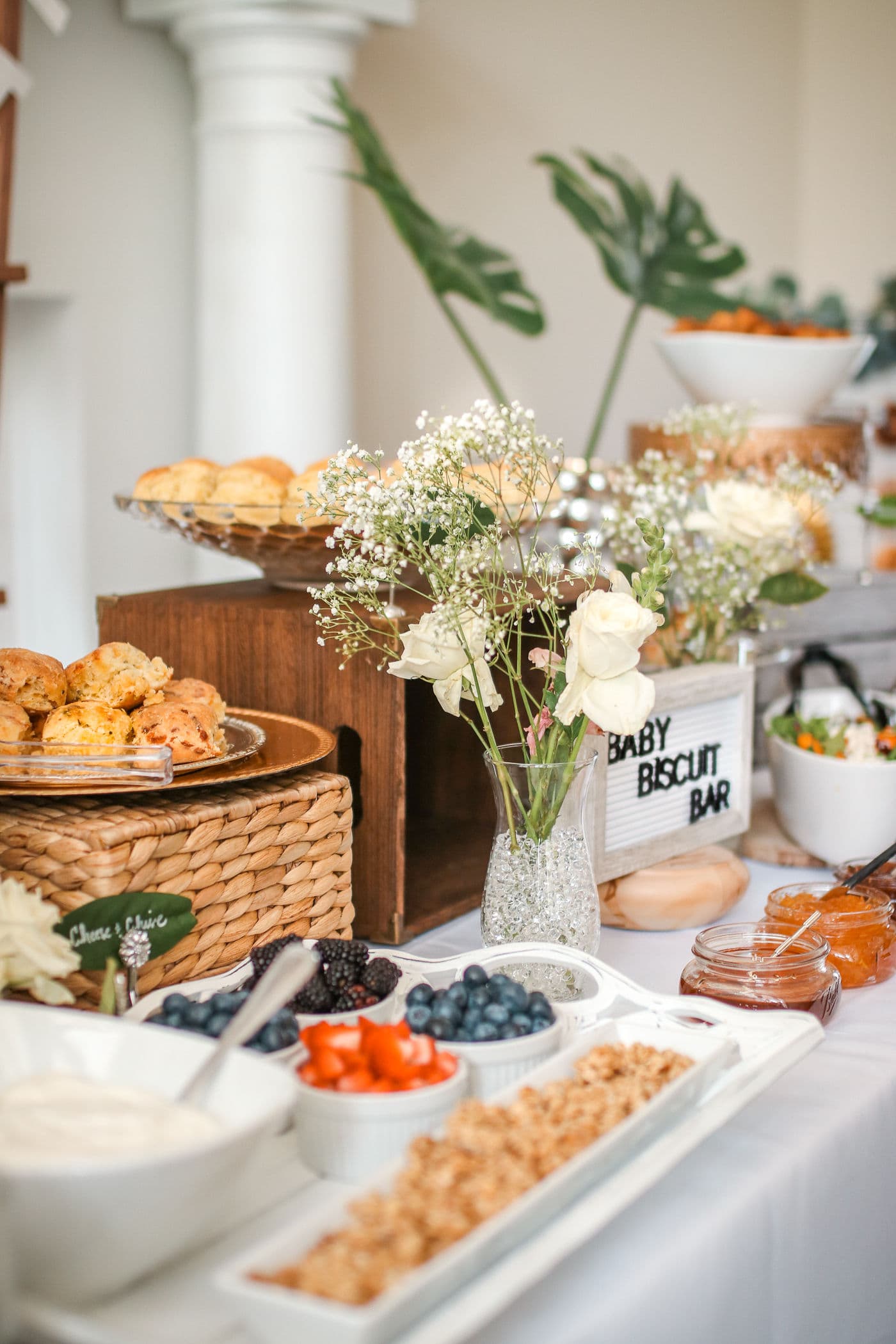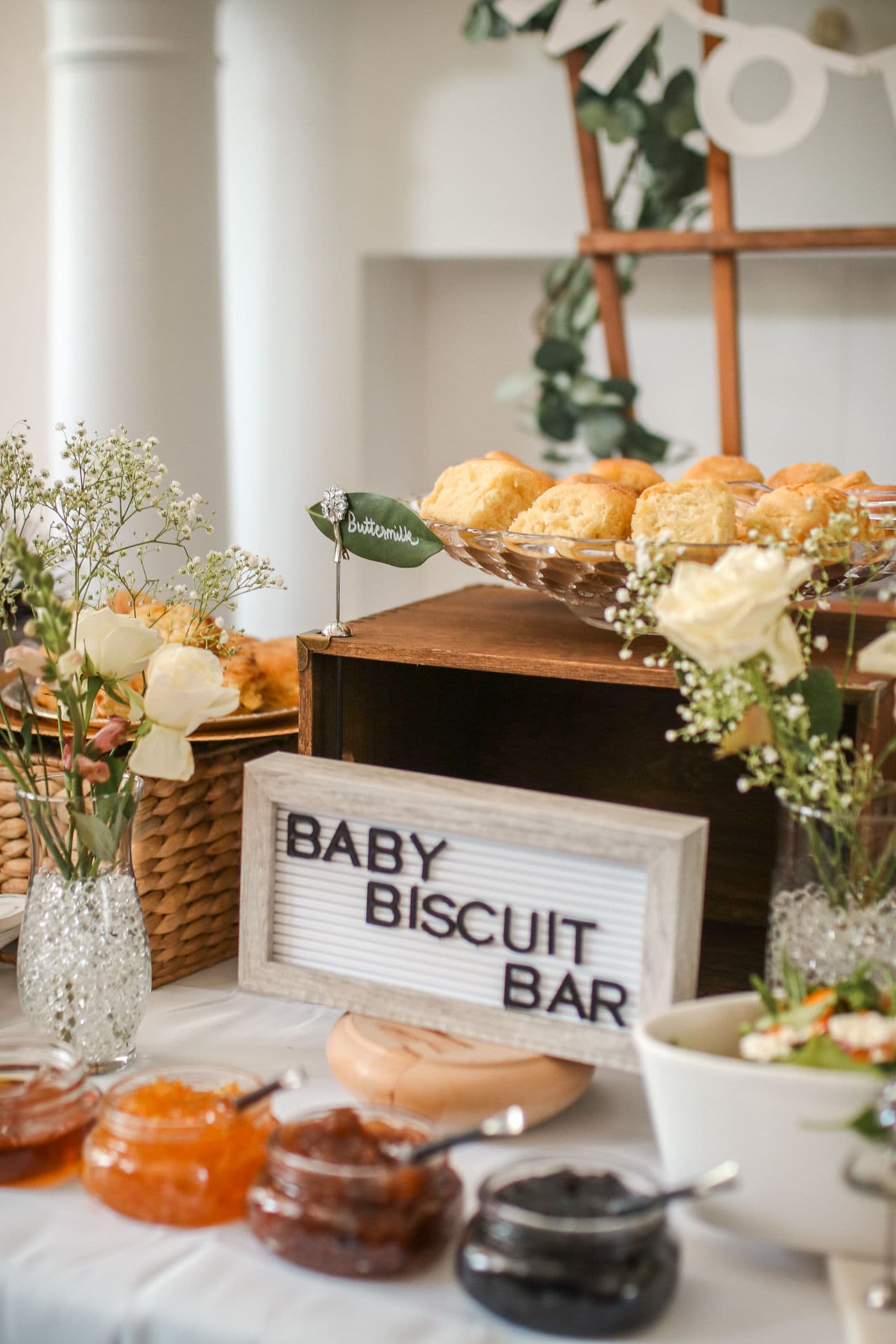 THE DECOR
I love the concept of personalization so in keeping with the theme, I went outside and plucked some leaves from the trees (literally) and used a white pen market to write the names of the guests on them. Each other leaves also held a clothespin which was essential for the games. They each started with one and the goal was to collect as many as possible throughout the afternoon with the 3 people with the most clothespins at the end would win prizes!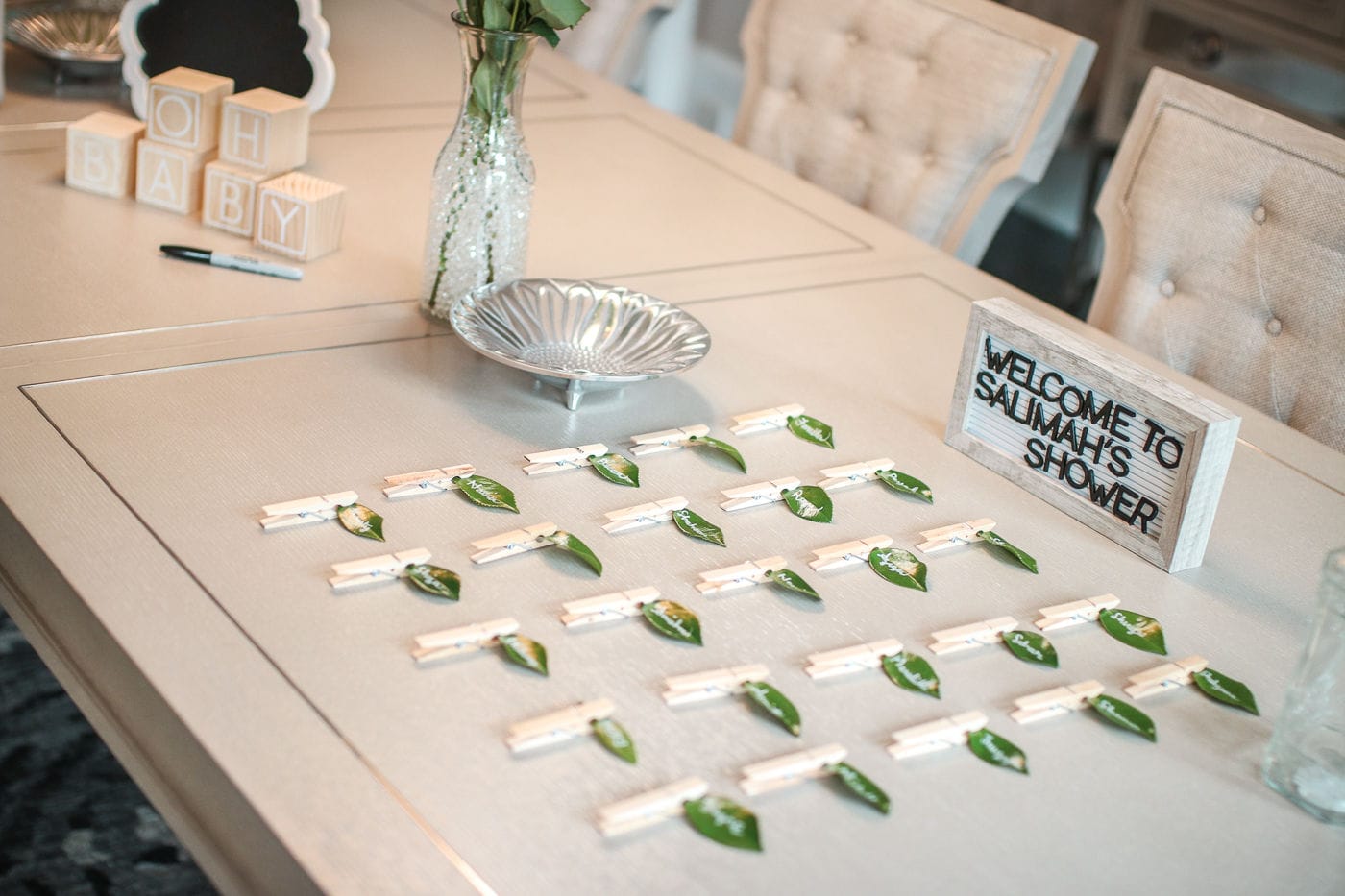 For florals, I made a trip to my local Trader Joes and bought mixed greens ($2.99 ea), baby's breath ($2.99 ea), and 2 dozen white roses ($6.99 ea). I spent a total of $45 on flowers. We used clear vases from my mom's house, my house, and my mother in law's house -mix and match for the win- and had plenty for all of the arrangements. Pro Tip: Use water bubbles as vase fillers to help the flowers stay in place and add decorative appeal.
We initially bought the easel for the donut wall, but it proved to be much too heavy for the easel, so we found another purpose by placing this clever letterboard on it to welcome (and confuse) guests. Do you get it? The animals are the hint!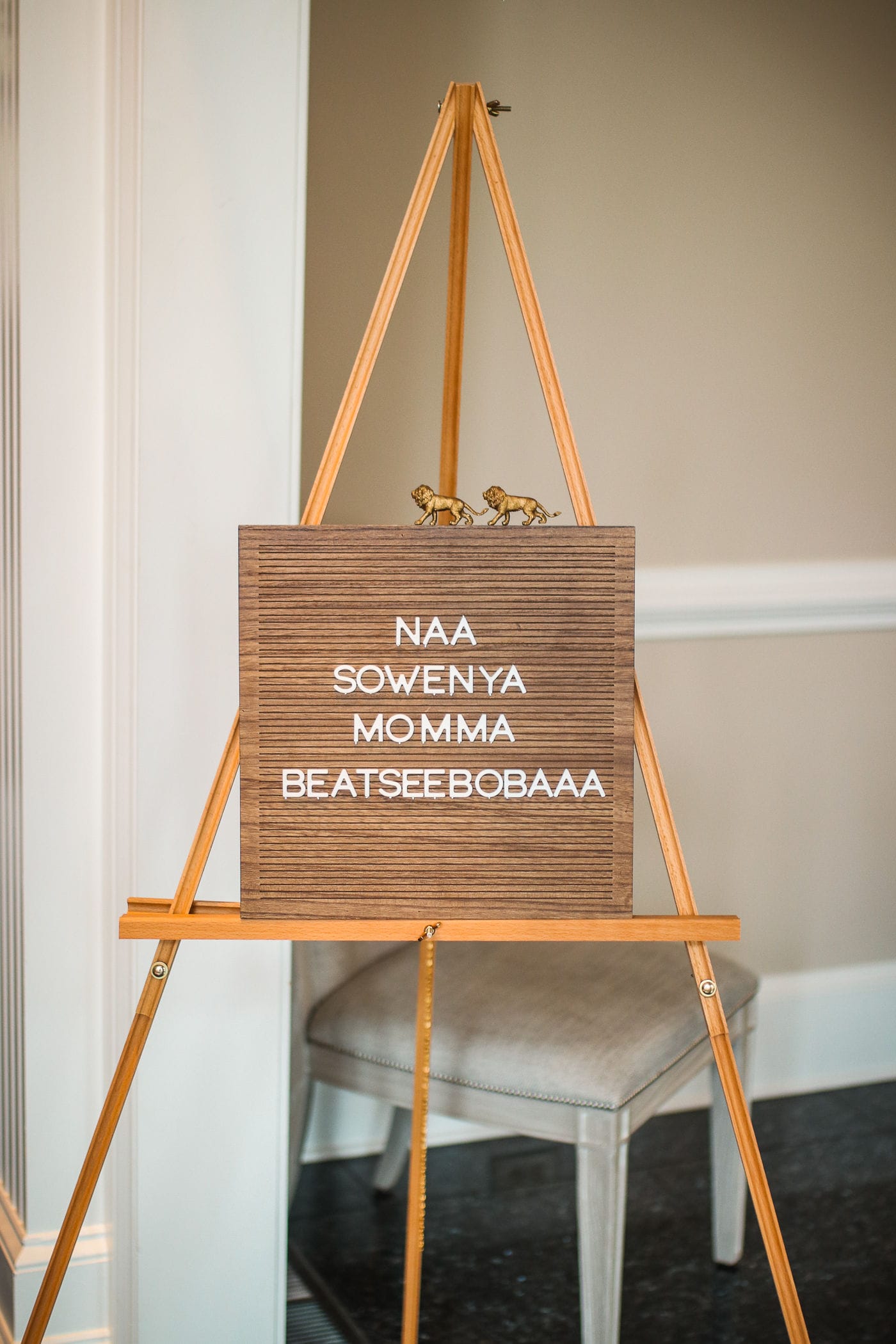 One of my favorite things was the focal point of the room, the Baby Nurmohamed garland and set up. This was the best DIY project because I had to get creative! I ended up using a $15 garden trellis from Home Depot and draping a $10 eucalyptus garland from Hobby Lobby around it and adding these $8 hanging letters (from Target) This backdrop was my proudest achievement and cost me less than $30!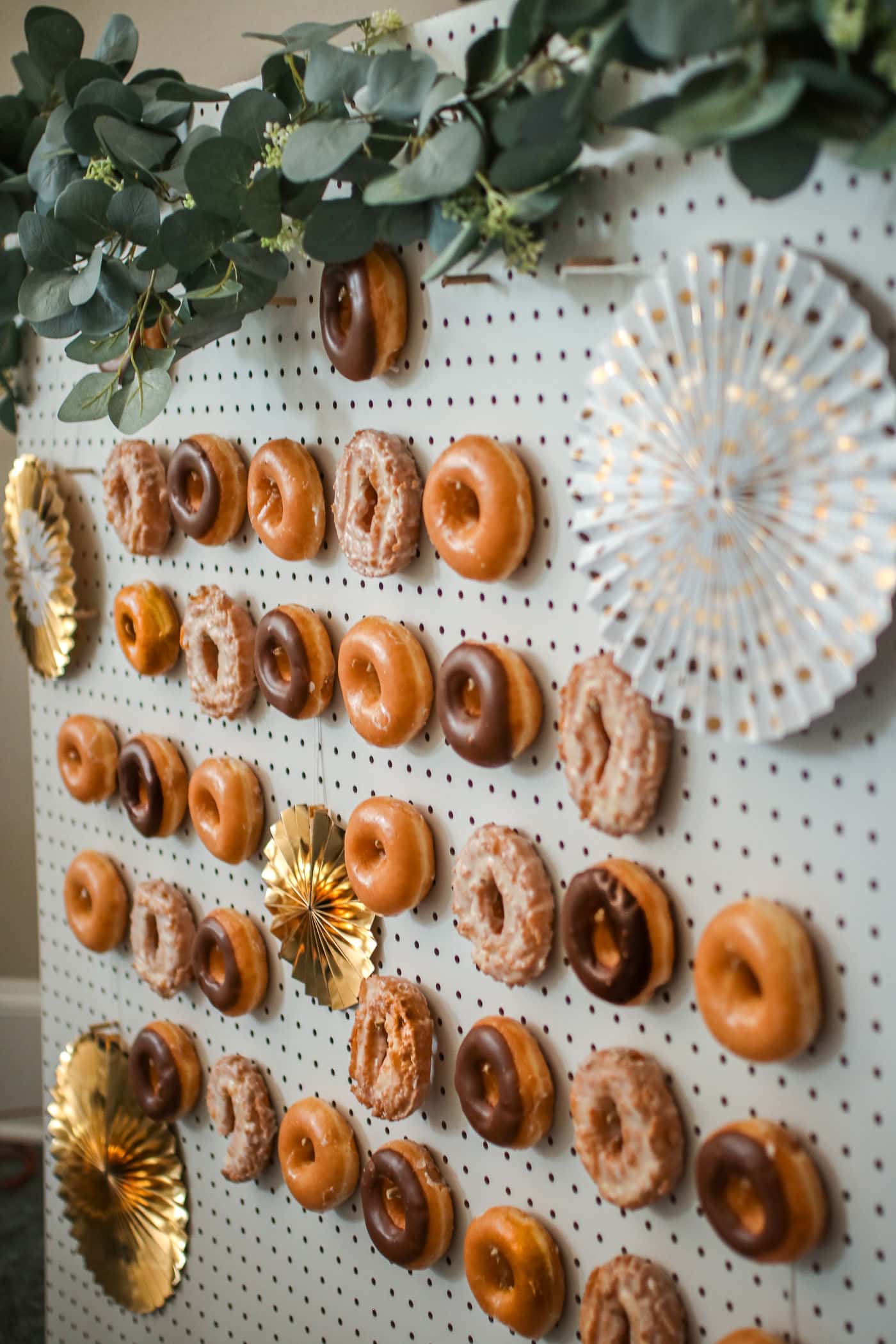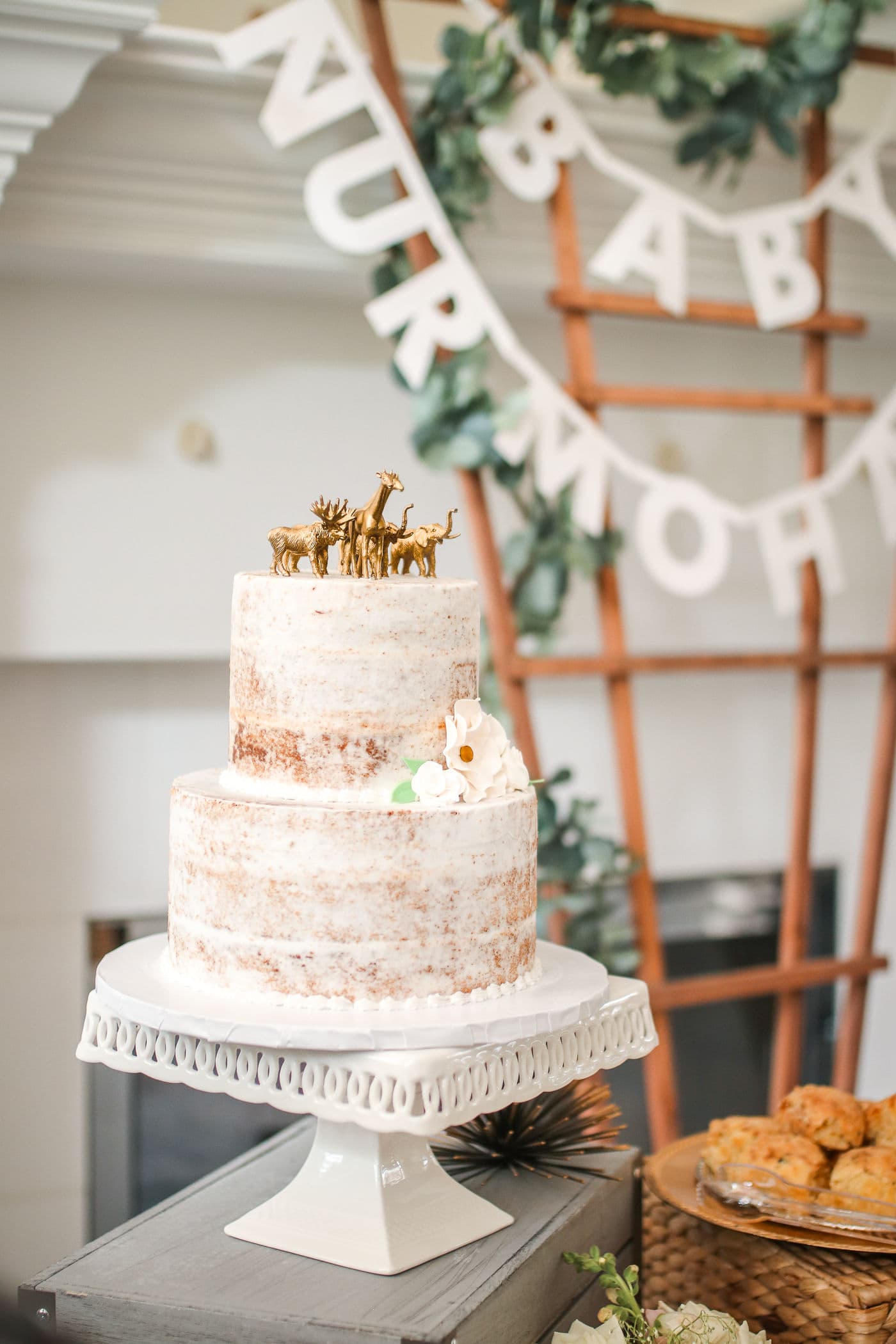 Related Post: These Pinterest Worthy Plants Are All Look, And No Work
THE GAMES
Oh boy! A baby shower game without cheesy games is quite the challenge. I wanted to keep things light and easy so we did three official "games". The first one was called "Pass The Present" where I brought a single wrapped present and had all of the guests of the party stand around in a circle. I read aloud this clever poem and the guests literally passed the present from one person to the other. The funniest part was when it came to "who has the cutest curls" and everyone said THEO! He was so happy!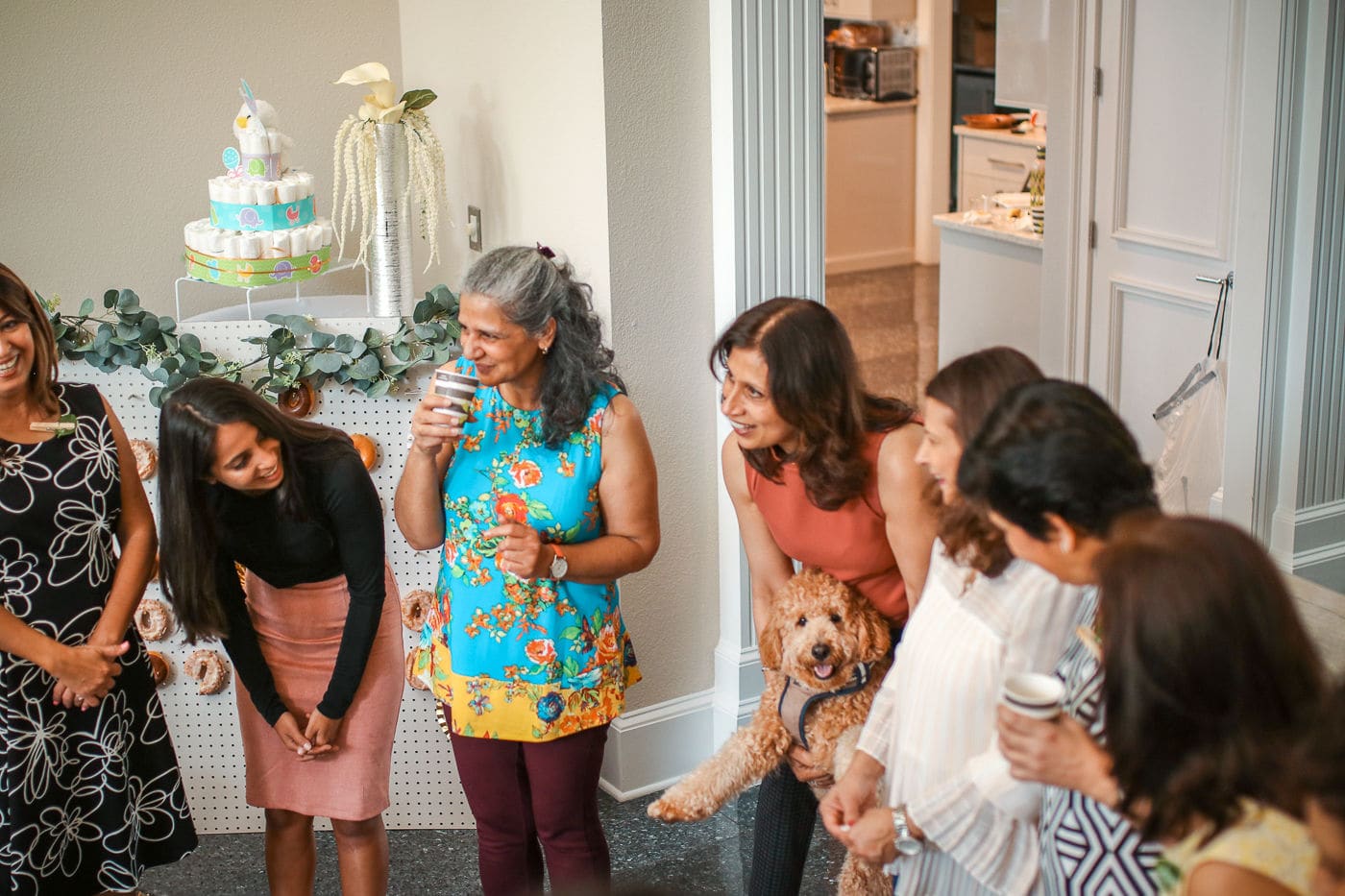 The second game was baby shower charades and the guests had to act out simple baby activities like "burping the baby" and "changing a diaper" based on this list from Pinterest. I put wrote down about 20 actions and split the teams into "team boy" and "team girl" and each person acted out the item on the paper. It was a fun game and very easy to coordinate! Each person on the winning team got a clothespin.
The last game was called "Name That Tune" and I put together a quick playlist on Apple Music (there are a bunch on Spotify too) with songs that are "baby" theme from "Ice Ice Baby' to "Born This Way" and the first person who guessed the track got a clothespin. Some girls won 5-6 pins in just this one game!
As far as prizes go, the three guests with the most clothespins at the end of the party took home gifts! I wanted to keep these elegant so I did Vera Bradley candles, Sephora Giftcards and other goodies.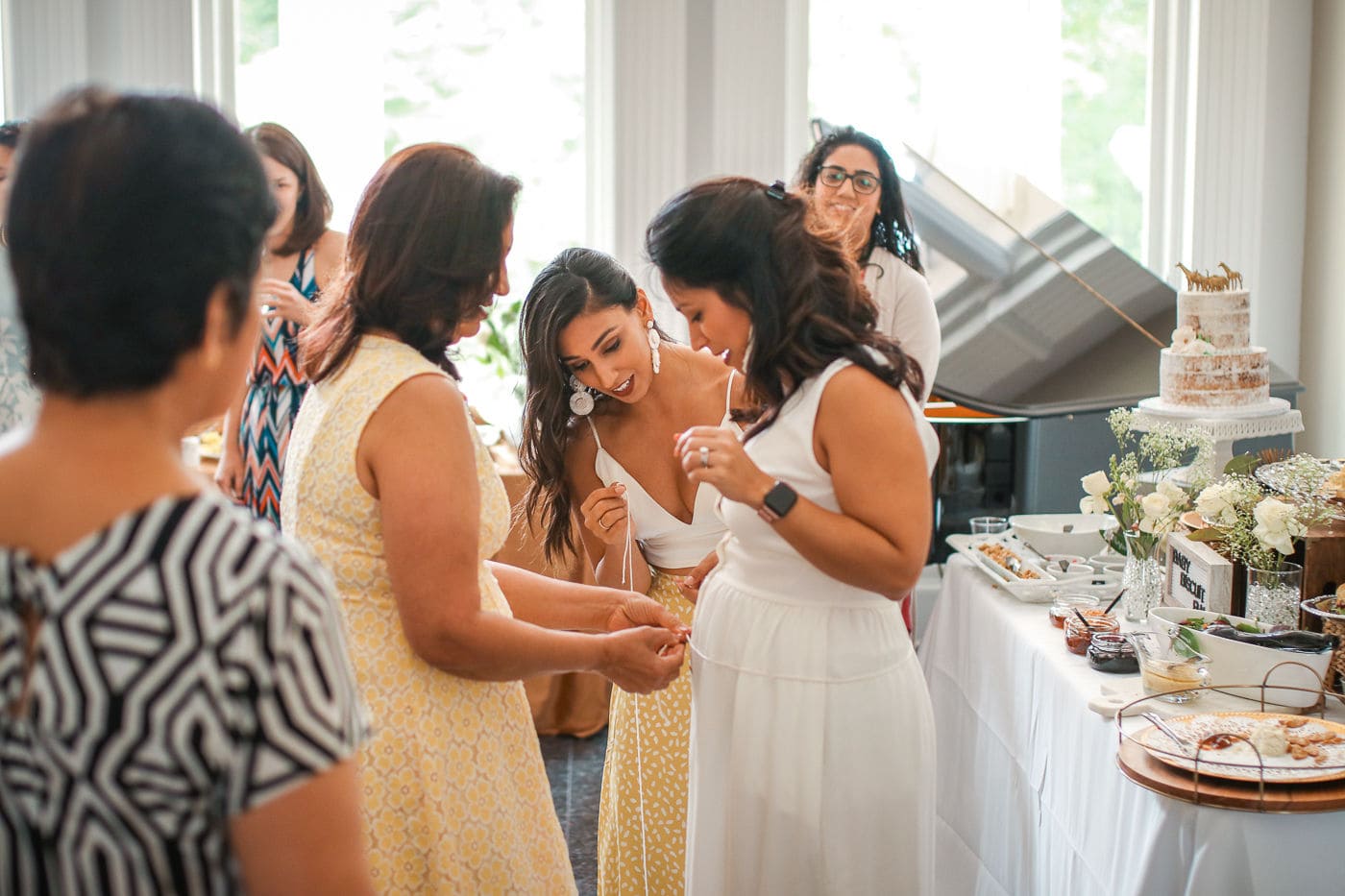 I had so much fun designing and planning this baby shower to make it the perfect day for my sister! I hope you have fun throwing your loved ones a party too!