Basic, party of one? I'm not embarrassed that I'm slightly basic when it comes to my wardrobe. Of course, I love trendy pieces and statement elements, but for the most part, my clothes aren't expensive. I love shopping at places like H&M, ASOS, Abercrombie, and even Forever21 and Shein on occasion. What I've learned is that style isn't about the clothes themselves, but rather how you wear the pieces. Here are 6 tricks to making your clothes look more expensive.
Before we get into the good-good, there is something to be said about investment pieces, shopping sustainably, and thrifting finds. I hope the tips below will inspire you to do a clothing swap with your friends, raid your parent's vintage closet, and invest in pieces that might be a bit more expensive, but are sustainably created.
6 Tips For Making Cheap Clothes Look More Expensive
Wear Neutral Colors
I'll admit that the majority of my closet is made up of denim, gray, beige, white, and black clothes. I find that these are the easiest to pair together and always look a bit more elevated. Some people may tell you never to wear prints, but I don't think that's a good idea either. As a standard rule of thumb, 80% of your wardrobe should be basics and 20% should be trendy pieces.
Make Sure Your Clothes Fit You
Whenever you see lists like this I find it so ironic that they say that you should take pieces to the tailor. The whole point is you're on a budget right? However, while slightly inconvenient, a $10 hem can be the difference between jeans that actually look good when you wear them and jeans that wear you. Tailoring gets a bad reputation for being expensive, but things don't always cost as much as you would think. When tailoring isn't an option, opt for a belt that can cinch your waist or give you a more shapely look. Also, don't knock fashion tape for a quick fix.
Don't Be Afraid To Accessorize
You can easily jazz up an inexpensive outfit with some accessories. Pull your hair back to show off cute earrings or invest in a statement bag that will stay with you season after season. Don't discount what an iconic black bag can do for your look (and no, it doesn't have to be Chanel.)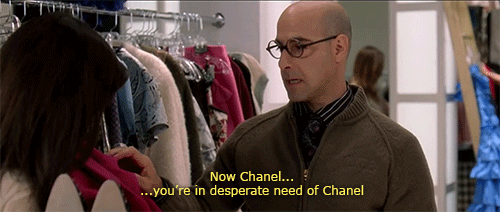 Ensure Balance In Your Outfit
This isn't a matter of price, but rather a balance in dimension. If you are wearing an oversized sweater, pair it with some skinny jeans. Doing an A-line skirt as a bottom? Feel free to keep it sleek with a form-fitting blouse. Wearing a chunky turtleneck with mom jeans? Make sure that you add a belt to cinch your waist and add balance to your outfit.
Buy A Steamer
It's 2020 and no one the under the age of 35 knows how to or wants to know how to iron. There is too much risk involved and between the addition of water (which always ends in water stains – seriously, how is my mom such a pro at this?) Ironing seems like more hassle than it's worth. Solution? This $20 steamer is from Amazon. It's super easy to use and you don't have to worry about leaving burn marks on your clothes.
Add a Classic Pump
Remember I mentioned investment pieces earlier on? A classic pump is a good idea to have in your closet and it doesn't have to cost a fortune. Skip the Christian Louboutin for now and choose a cute Steve Madden shoe or a similar brand. Of course, comfort is key here and you should never feel intense pain in your heels. After years of wearing shoes from Charlotte Russe as a teenager, I realized that I have a wider toe area and I need a wide shoe to feel more comfortable, and voila – heels sucked less. I'd also caution you to look for a good "nude" color and "nude" doesn't mean light beige for everyone. Depending on your skin tone, try on a few different options to find the one that looks best on you. My favorite is this one which has a slightly pointed toe, is over the 4-inch heel, and warm nude color.
I hope these tips will help you feel more inspired to jazz up outfits, make your inexpensive clothes look more expensive, and build your own personal style. Remember, everyone can buy a piece of fashion, but not everyone will wear it the same. Style isn't about the clothes, it's about how the person wears the clothes.