If the last half-decade has taught us anything, it's that trends will always find themselves back in style. Even the ones that we didn't even miss. Tie-dye? Check. Wide leg jeans? Check. Minimalist Gold Jewelry? Double Check. Everyone saying sayonara to statement jewelry and opting for more delicate pieces that they can layer. Today I'm breaking down a few of my favorite minimalist gold jewelry trends that you can try with my friends at Alkimmi.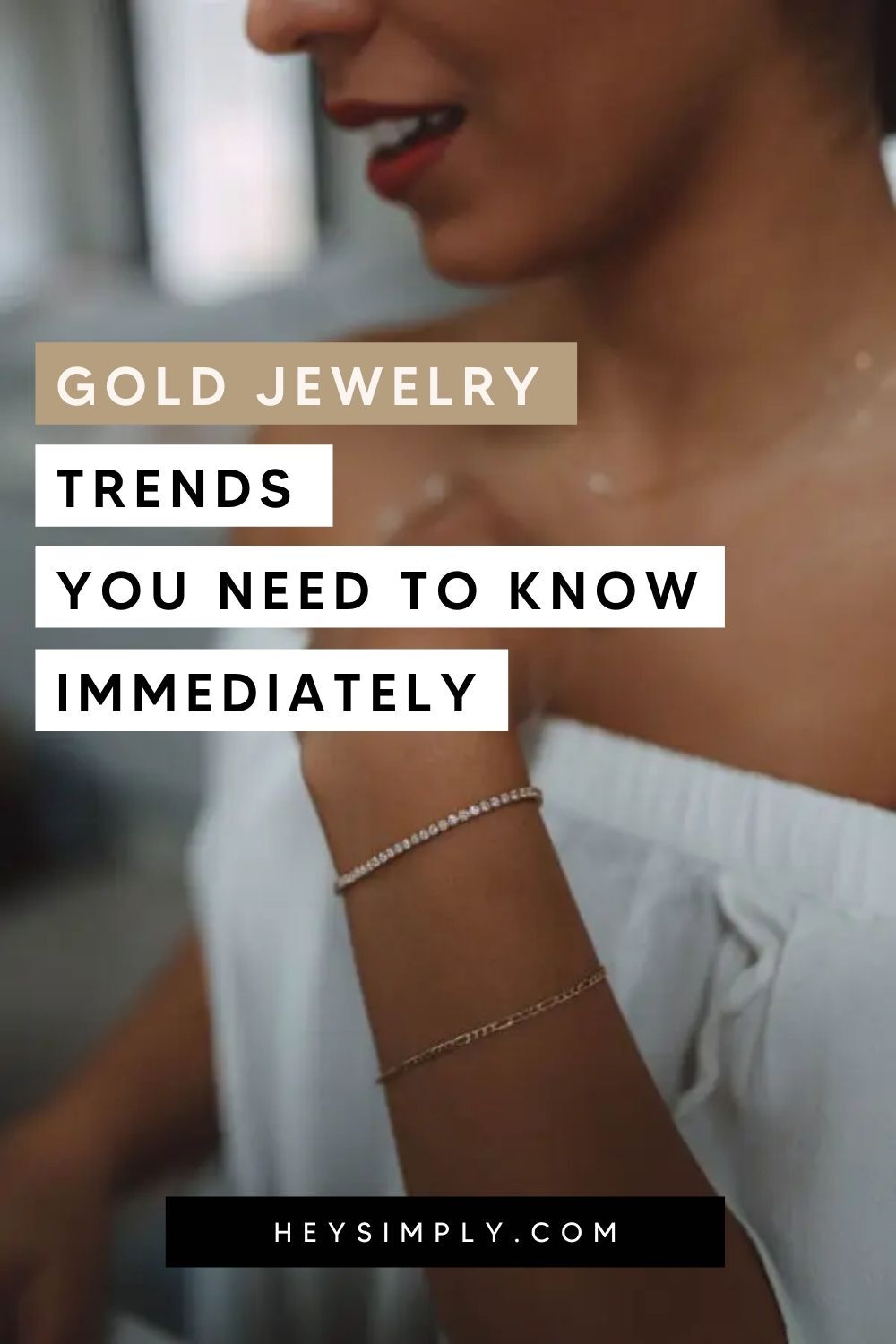 Alkimmi is an Atlanta based small business start-up by two first-generation immigrant women. Their mission is to bring affordable fine jewelry into the homes of women to be celebrated. These women believe that it's their responsibility to give back to the communities where they work + live and donate 10% of their proceeds from purchases from Alkimmi.
Gold Chain Link Necklaces
Your summer wardrobe may be dwindling down, but you'll happily carry this piece into every season. The chunky gold necklace can be worn on its own or layered with different textures. For higher necklines, I like the single-chain link necklace, and for lower necklines like scoop neck, off the shoulder, or square neck styles I like pairing thicker chain-link necklaces with a thinner necklace or a braided option.
Multilayered Gold Bracelets
Every time I post an Instagram story showing something, I always get asked about my arm stack. I've recently replaced most of my jewelry with stones and colors to minimalist gold jewelry only – and my bracelets are no exception.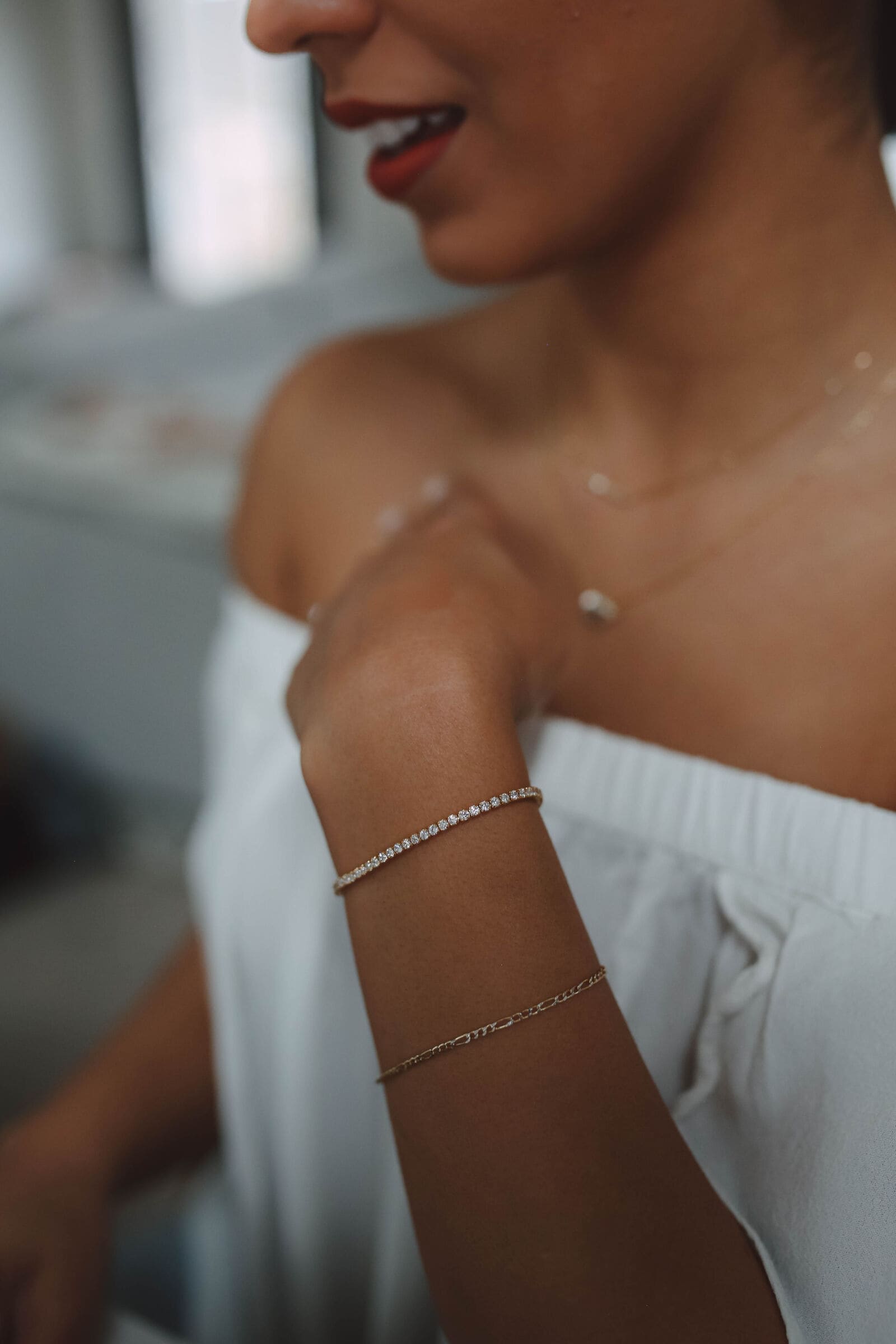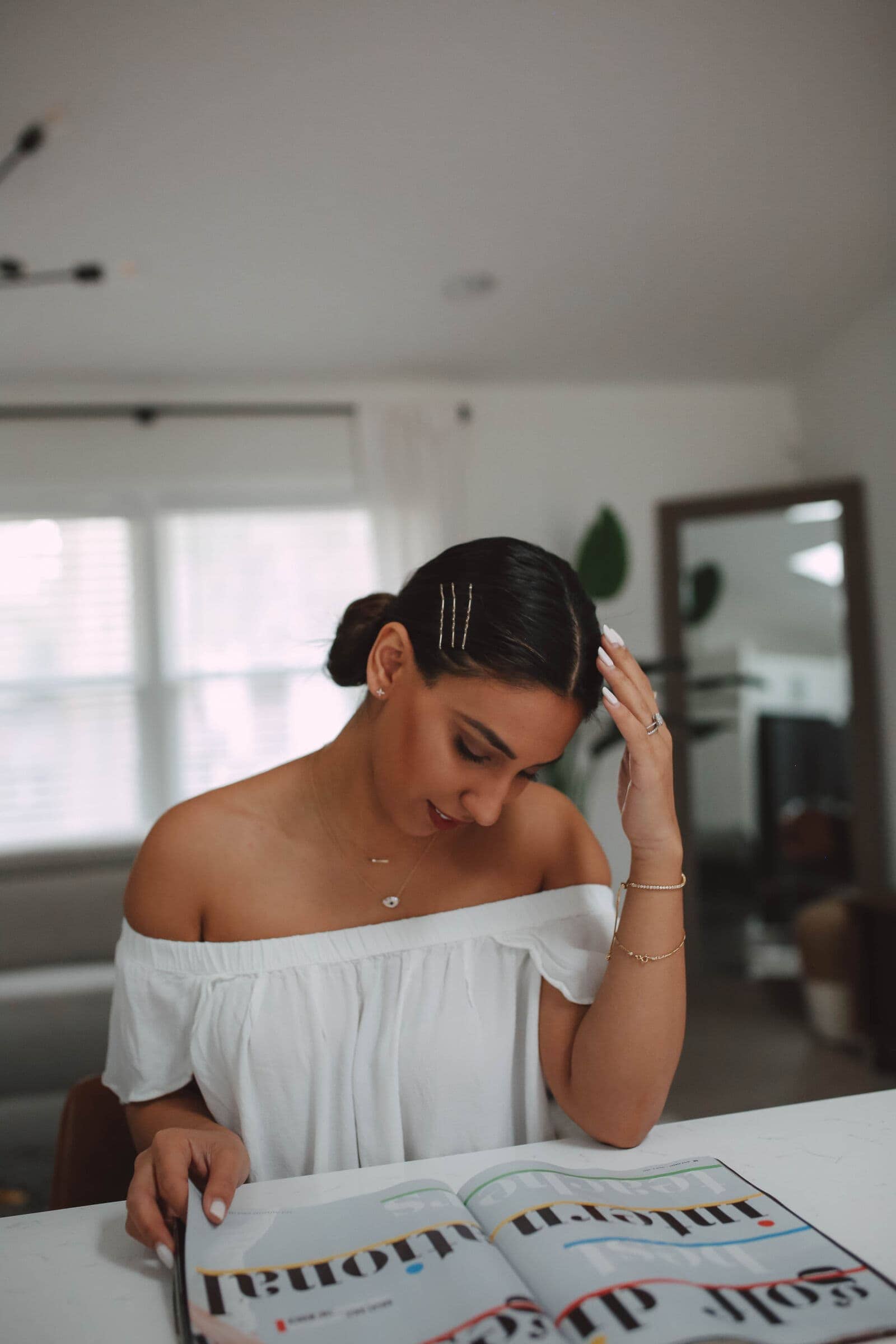 My rule of thumb is to have no more than 1 thick, 1 medium, and 2 small bracelets – so four at a time. Anything more in generally overwhelming on my smaller wrists. I also try to choose pieces that have adjustable sizing since I have tiny wrists. Nothing is more annoying than having your large bracelets sliding up and down your arm all day long. My favorites are the Cleo Beaded Bracelet
Delicate Gold Pendant Necklaces
If you've been a longtime reader, you know that I'm a big believer in the evil eye. When I saw that Alkimmi had the Evil Eye pendant I knew that this was a quick favorite for me. The evil eye is prevalent in so many different cultures and they all do the design a bit differently. I loved the Alkimmi version because it wasn't too blue and was subtle enough to go with just about everything.
The crescent style is also super cute and delicate enough to be worn a few different ways. I also love the bar necklaces.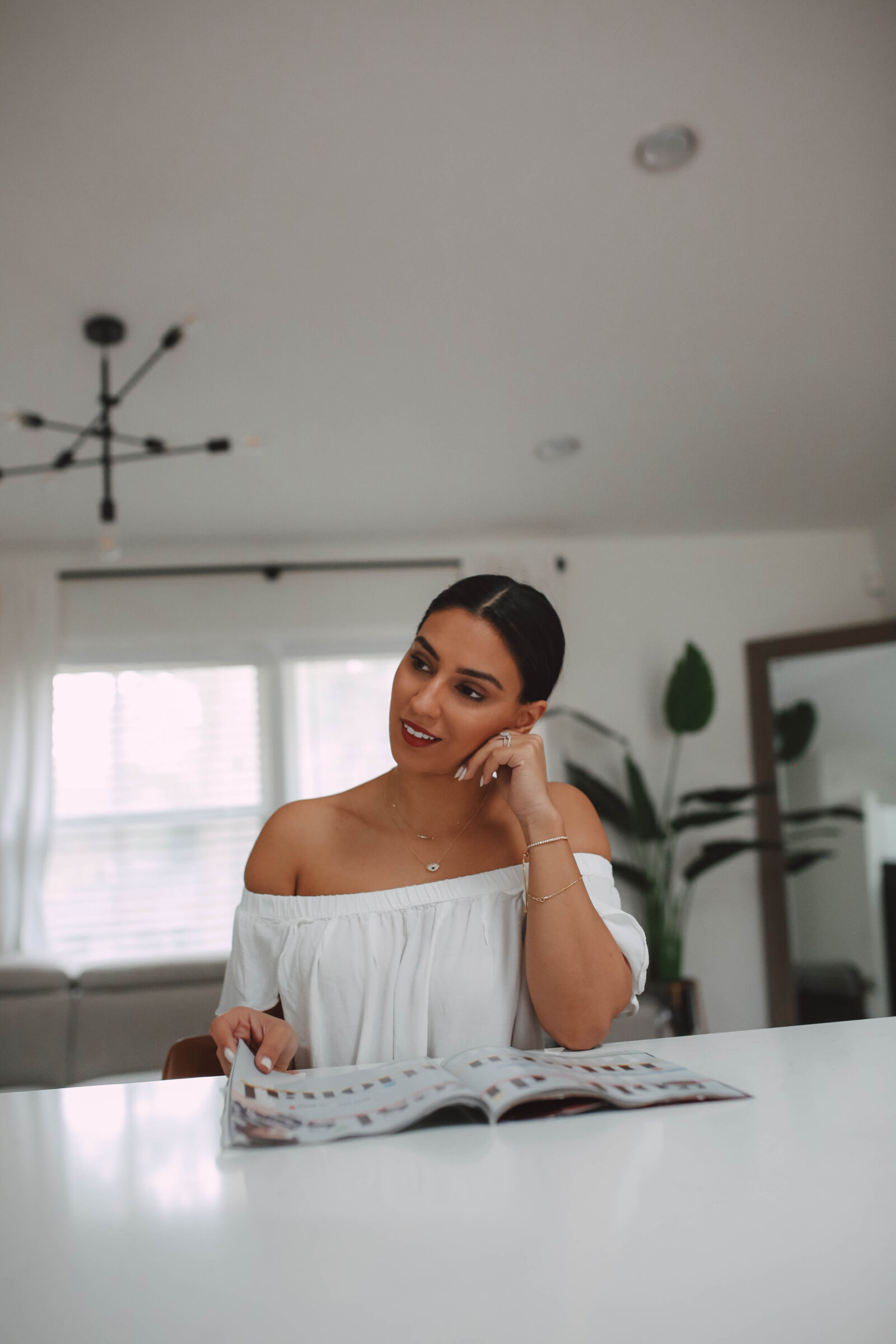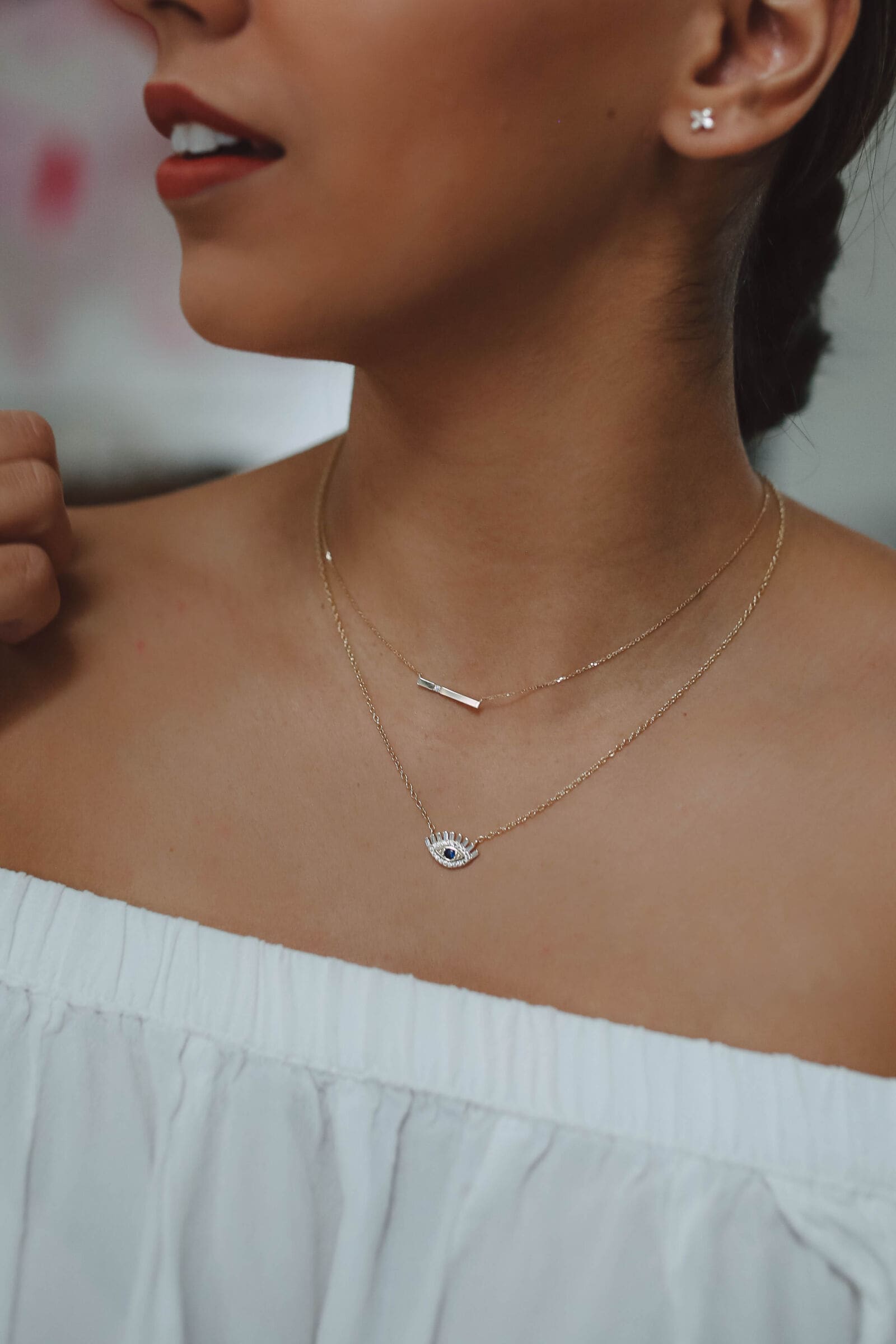 Bangle Style Gold Bracelets
If you aren't a fan of layering bracelets and don't like the feeling of your wrists crackling against your keyboard while you type away all day, consider opting for a bangle instead. Minimalistic gold jewelry bangles can be worn with other wrist accessories or on their own and are generally more flexible and can be adjusted to the width of your wrist.
Related: I Tried The Famous Spanx Faux Leather Leggings – Here's My Honest Opinion
---
Final Thoughts on Minimalistic Gold Jewelry
I truly believe that investment pieces are just that. Pieces that you can keep for years, so I want them to be timeless and minimalistic. If you love a piece and want to purchase it for yourself, that's great! But you can always ask your family members for gold pieces of jewelry that they may have in order to layer and play with different styles. In case anyone you know and love has a birthday, graduation, or reason to celebrate coming up – gold jewelry makes great gifts,