This Samsung AirDresser post was created in partnership with Samsung Home Appliances. As always, all thoughts and opinions are my own. Thank you for supporting the brands that keep Simply running.
Remember the first time you had to drop off your own dry-cleaning, iron your own clothes, and/or be forced to wear a wrinkled dress to an event. All three experiences were equally scarring for me, and that's why I'm so happy to share the newest gadget in our smart home with you, the Samsung Home Appliance AirDresser.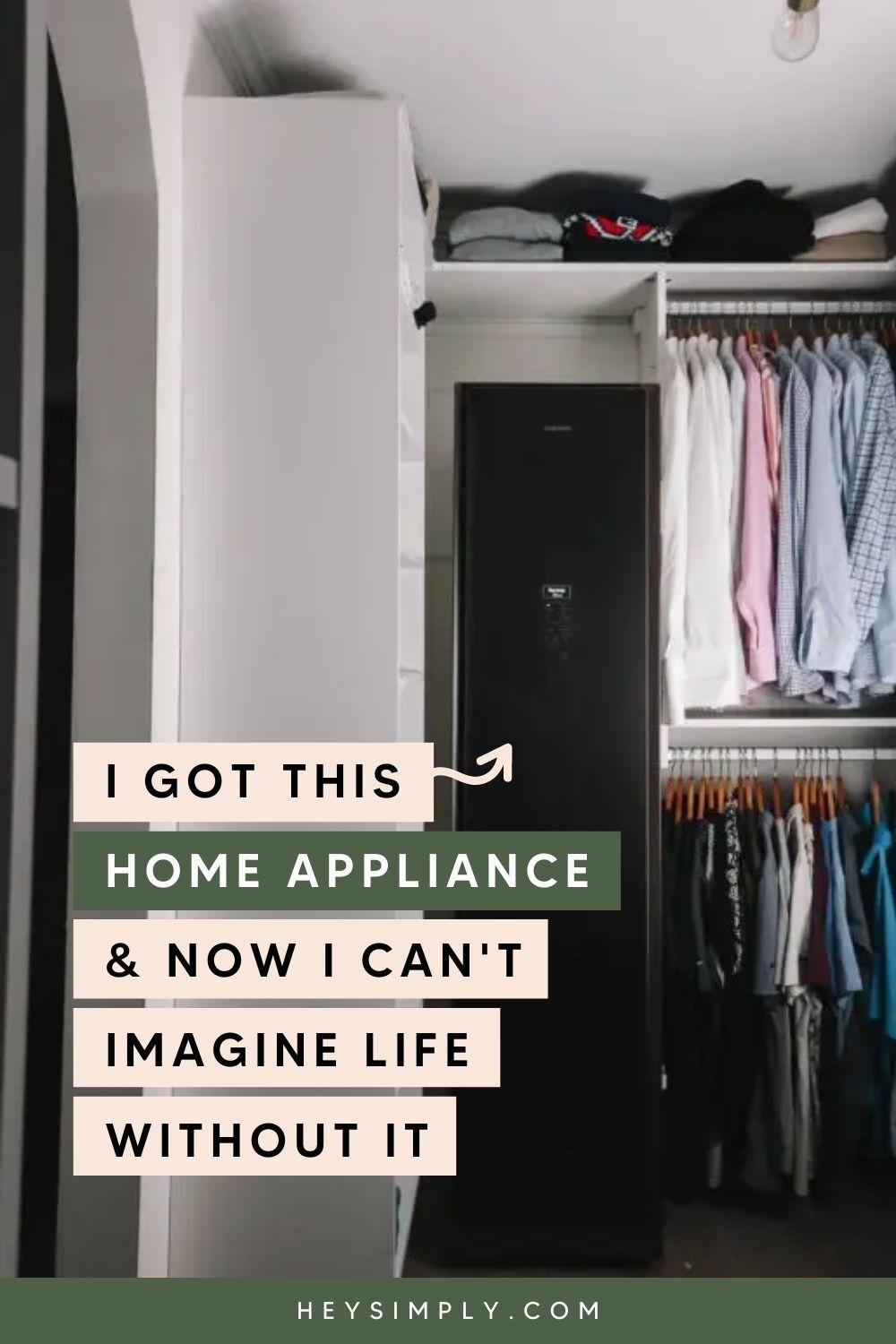 What is the Samsung AirDresser?
This freestanding wardrobe cleans and steams your clothes without any manual labor. The Samsung Home AirDresser is essentially a steam closet that reduces wrinkles, sanitizers, and gently dries while removing odors and practically all bacteria from your clothes and home fabrics. So it's like a magical wardrobe that does all of the work for you.
With the world as it is, I was excited about the disinfecting and sanitizing features. You can place clothes in the AirDresser, but you can also toss in things that are hard to clean traditionally like curtains and throw pillows.
The Set-Up
The best part? You don't need a ton of space or a separate water line to use it. Just a standard 120V outlet nearby. The wardrobe steams by using the water that you can easily fill up with the refill tank. The AirDresser uses steam and heat to treat your garments for odor, sanitation, and, of course, wrinkles.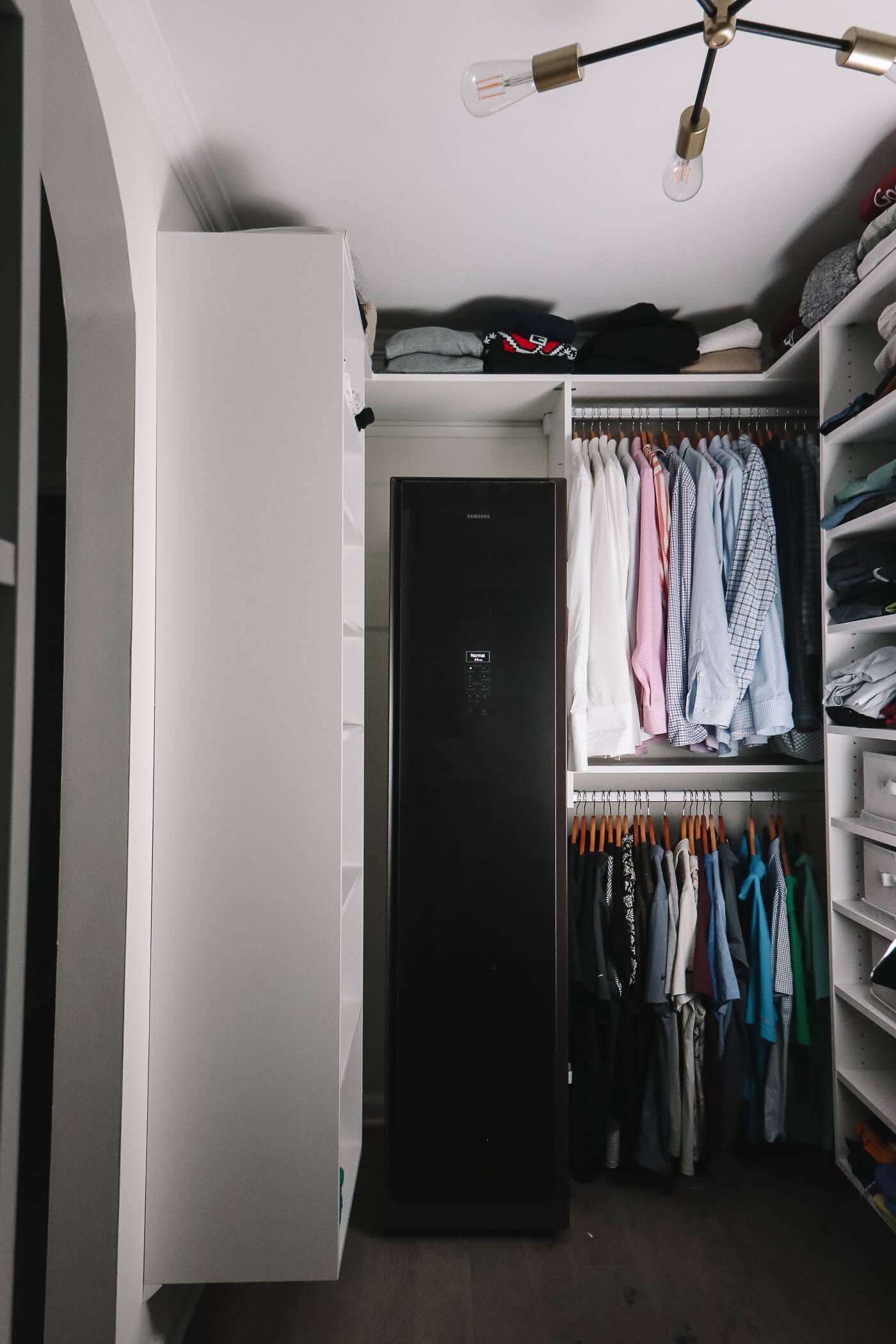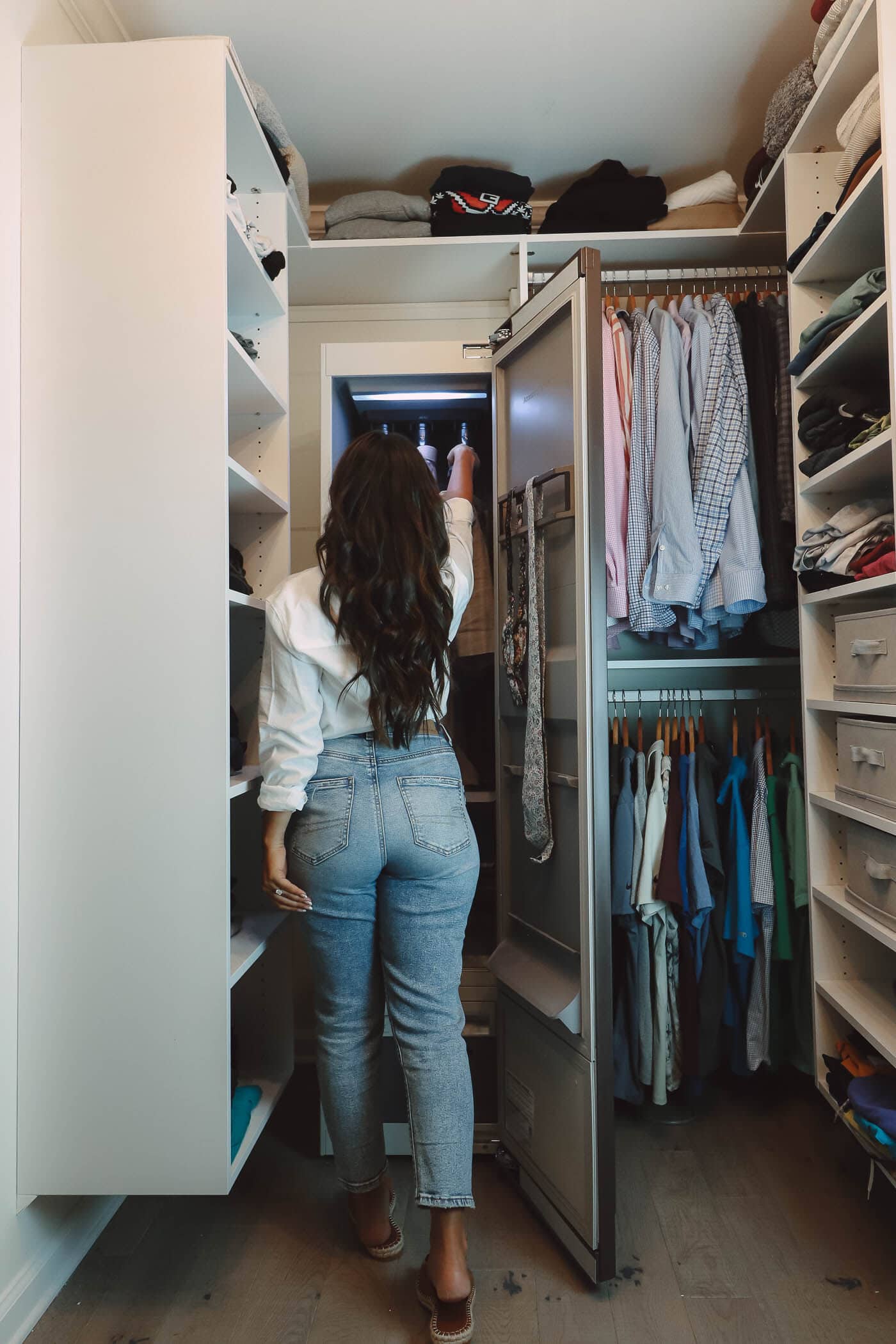 There is an area for you to insert your favorite dryer sheet. I currently don't have a favorite, so I'm open to suggestions. This is great if you want your clothes will have that particular laundry scent.
Controlling The Samsung AirDresser
The appliance's smart LED Tech junkies like me will love that the AirDresser connects to Samsung's SmartThings app and allows you to control the appliance from a distance. You can select your cycle, turn the clothes steamer on or off, and let the app know what type of clothes you're putting in the wardrobe, for it to customize the right formula for each garment.
Users can choose among four general cycles, three dry cycles, nine special cycles, and six additional cycles for denim, bedding, and other things. Oh, the options!
Related: Amazon Items I Bought & Loved For My Home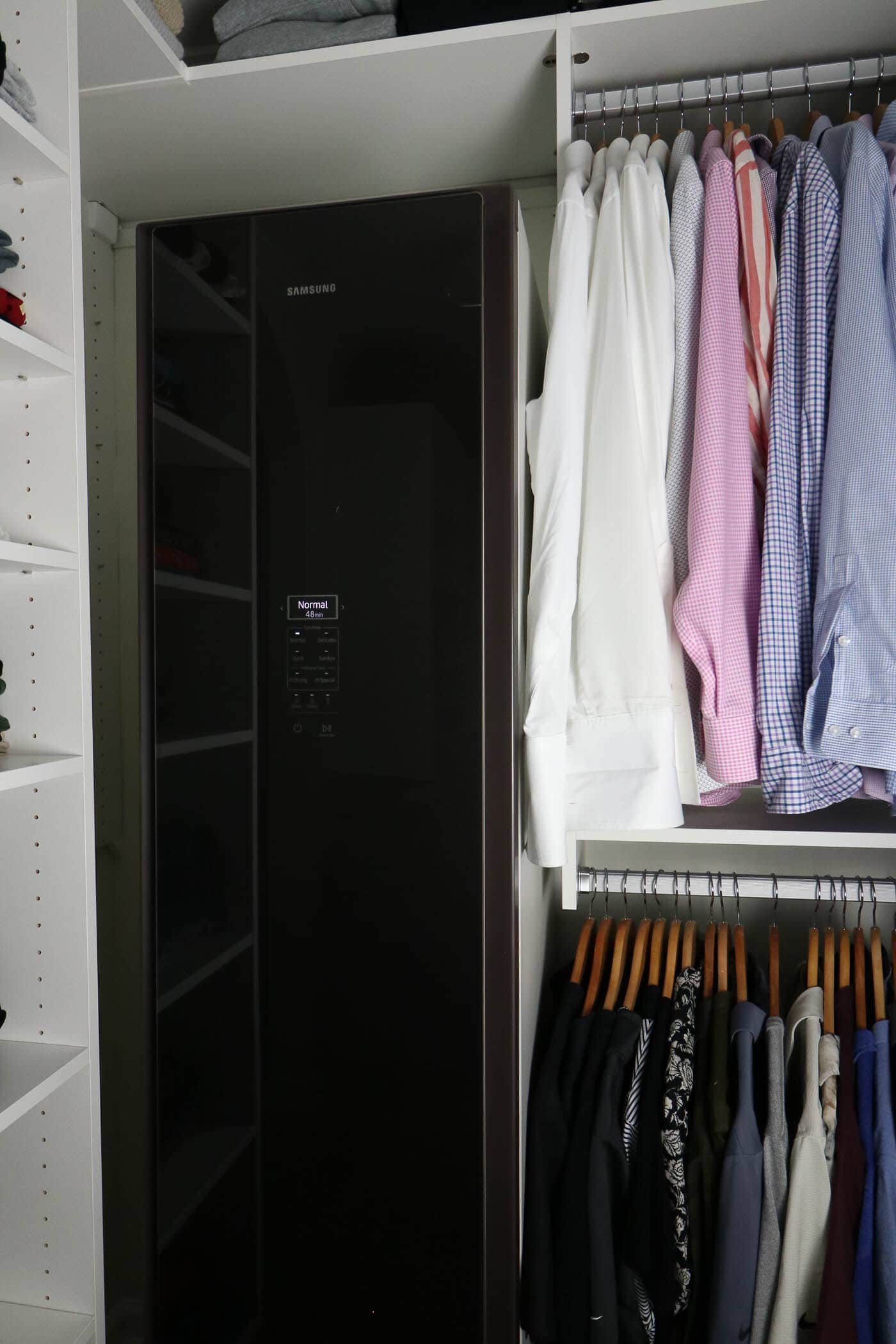 What To Put In the AirDresser
Aside from business formal clothes like suits and slacks, you can also put a variety of items in the AirDresser. It comes with three hangers that are removable and they can hold up to 6 items total.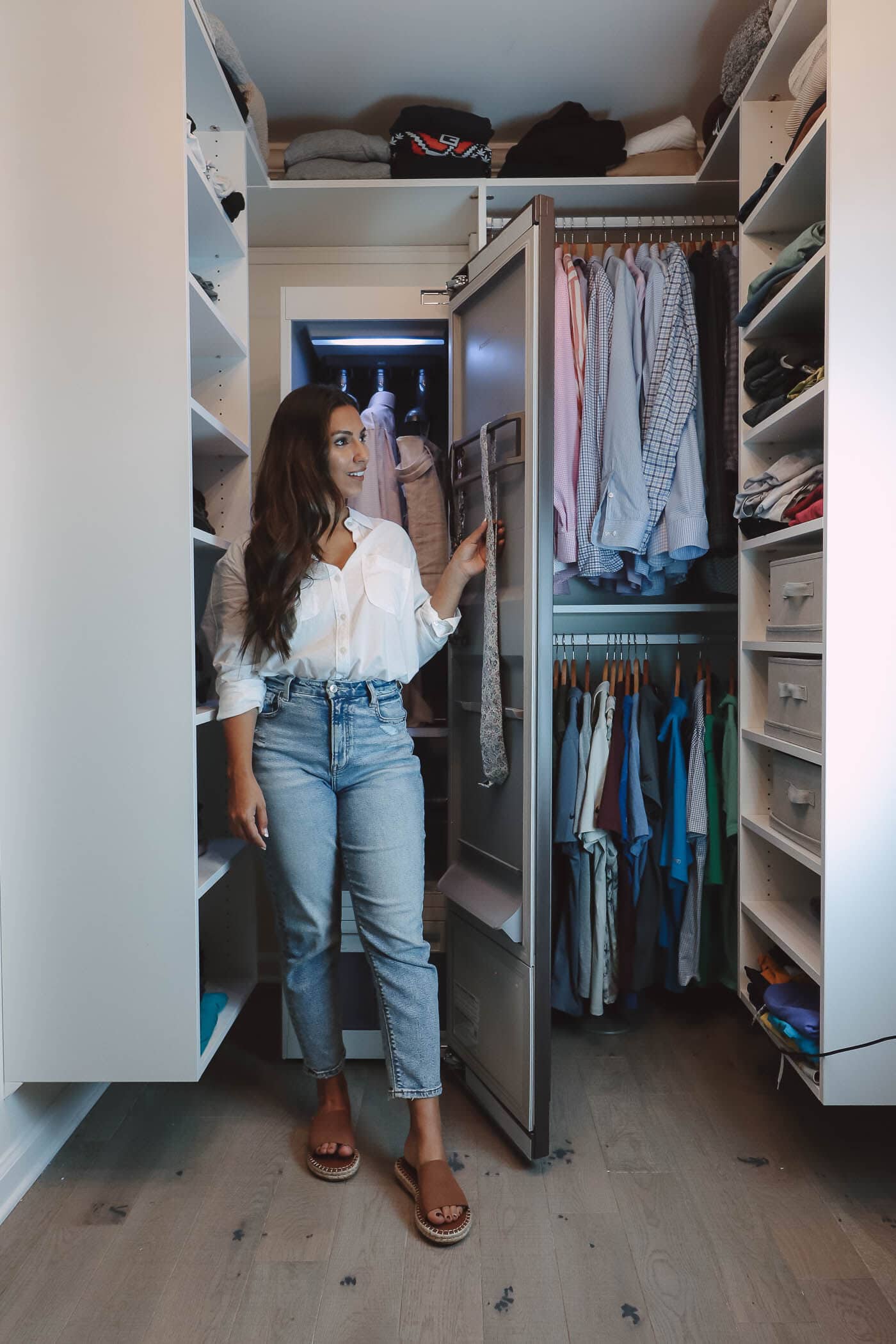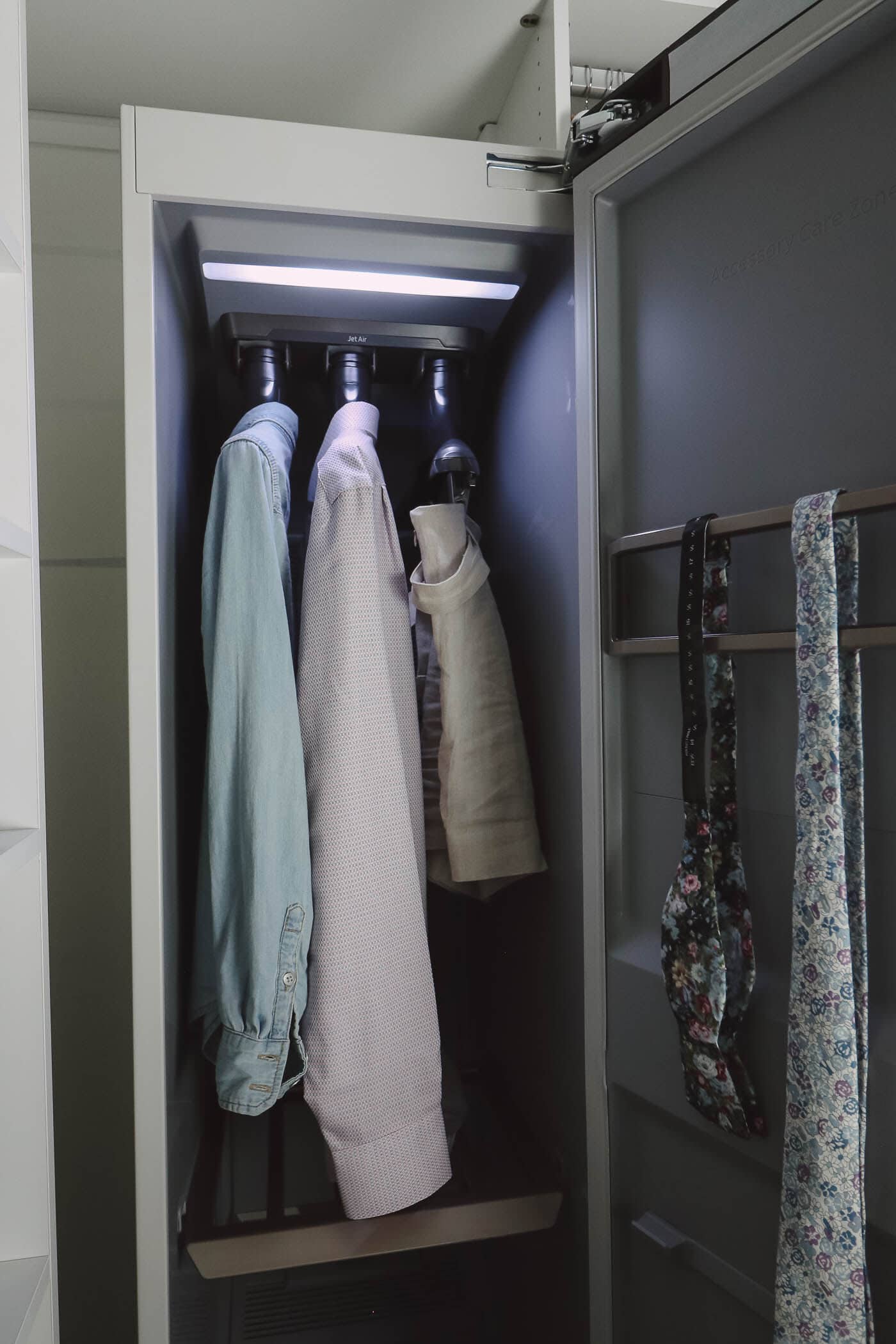 I mentioned before household fabrics like curtains, bedding, and even blankets but that is just scratching the surface. Think bigger! Theres an accessories area for ties, scarves, and you can even place soft toys inside. I'm really excited about placing my satin midi dresses, linen pants, outerwear, and Indian sarees into the hairdresser for the quick freshen up and wrinkle remover. If you've ever ironed a sari, you know how tedious 6 yards can be.
---
Final Thoughts on The AirDresser
Sahir first saw this at CES a few years ago and was so excited when I told him that we would get the chance to use it. The AirDresser is what people who hate ironing and love pressed clothes dream of. The Samsung AirDresser is what I never knew that I needed, but don't want to live without.