I'm a chronic primer. Raise your hand if you are too. But really, at what point is it considered an addiction? I'll admit to late-night binging and opening my door to packages two days later with no idea what's in them. Whoops. In a time where we realize that our home is essential to our wellbeing and sanity, it's not a bad idea to make some smart decisions for your home. This Amazon roundup includes some of my favorite things from around my home that we bought on Amazon. These are the best Amazon home products available on Prime.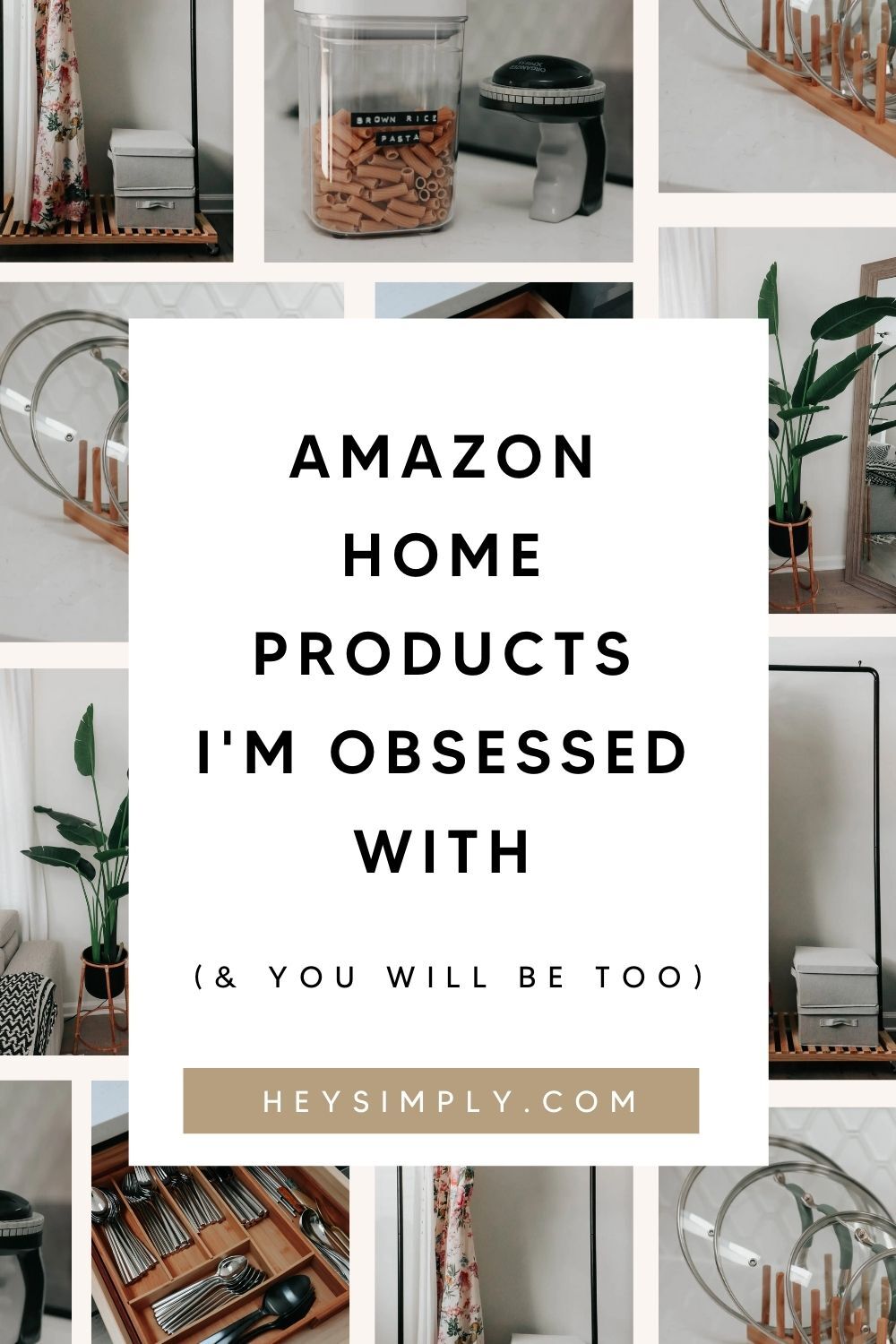 Best Amazon Home Products To Buy
This plant is faux but has almost everyone who comes into my living room fooled. Let's be real, I'm keeping a puppy and a husband alive I can't manage a plant too. I did an excessive amount of research and read close to 100 reviews when I finally chose this plant from Amazon and I have zero regrets. Remember when I explored the different types of faux plants? I chose to pair the Bird of Paradise plant with an elevated plant stand from World Market to make sure that Theo doesn't have access to it, in case he's craving a snack.
Related: Our MidCentury Modern Living Room Reveal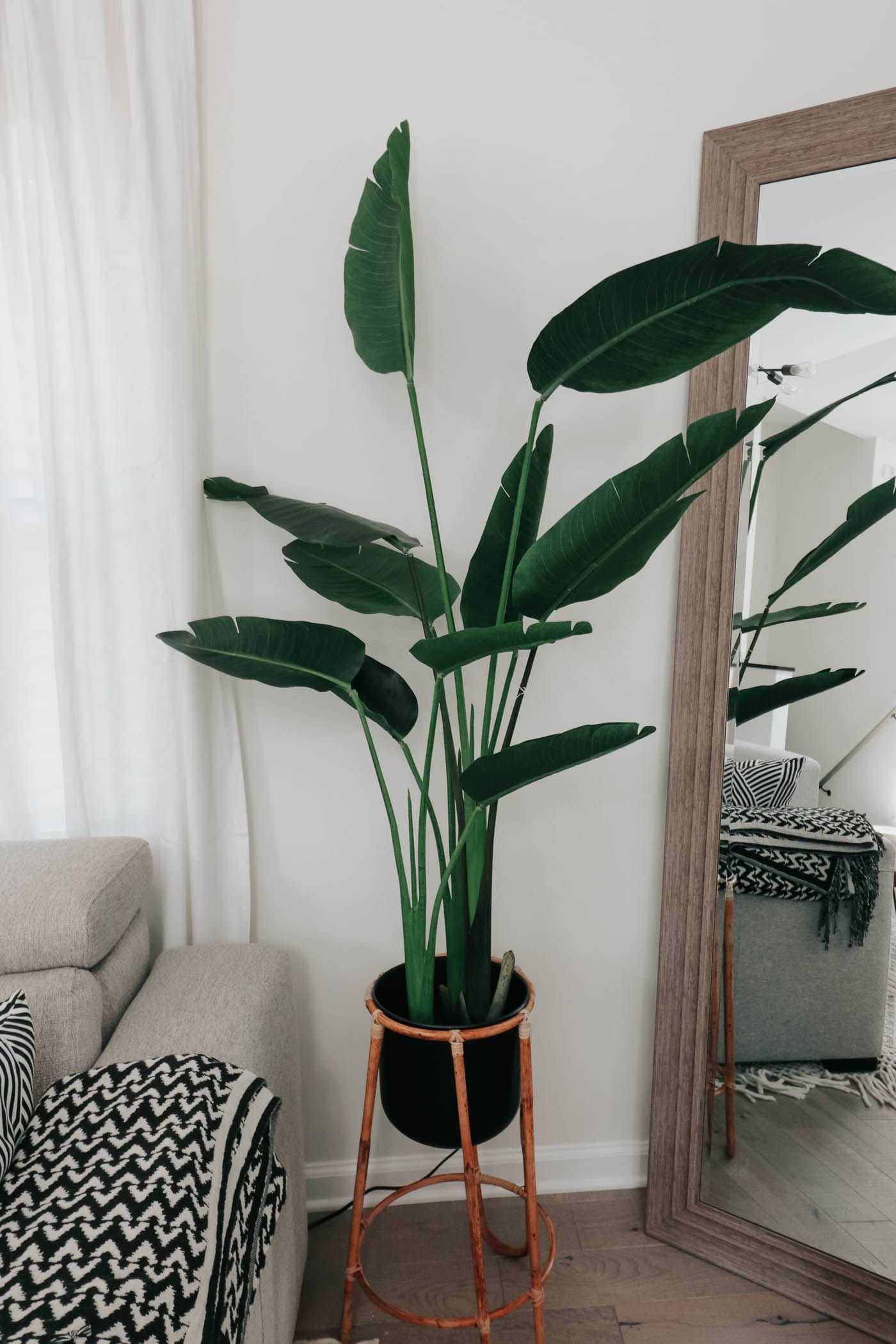 Nothing is more annoying than a drawer full of wobbly pot lids. Okay, there are a lot of things worse, but hang with me on this one for a sec. Enter: Pot Lit Holders! These ingenious inventions are worth their weight in gold (or at least wood). It's easy to find which size I need and no more messy drawers. You can also use this to hold plates, charger plates, or anything else you need in the kitchen, but for us, the bamboo plate holder is used for holding pot lids.

One of the things that I really wanted in our new kitchen was a ton of drawers, but you know what they say: mo' drawers, mo' problems. I am obsessed with keeping things organized (more on my obsession with The Container Store later) so finding these expandable drawer organizers was everything. I even bought some for my closet to Marie Kondo my clothes. Best Decision Ever.
Related: Instagram is OBSESSED With This $20 Amazon Find

Are you sensing a trend here with all of the bamboo elements? Our design plan for the new home was very classic: black and white with elements of greenery and light wood (like bamboo). With the varying size of our drawers, I'm finding that an expandable organization is always best. Custom kitchens are full of custom sizes so this expandable drawer organizer lets me get as much space as possible to keep all of my extras organized. Sure we have a table set for 8, but I have soup spoons, chopsticks from China, and of course, my metal straws (#captainplanet) that I have to keep organized and this drawer organizer has sizes that expand to fit your space.
Related: Home Organizers Swear By These 9 Amazon Finds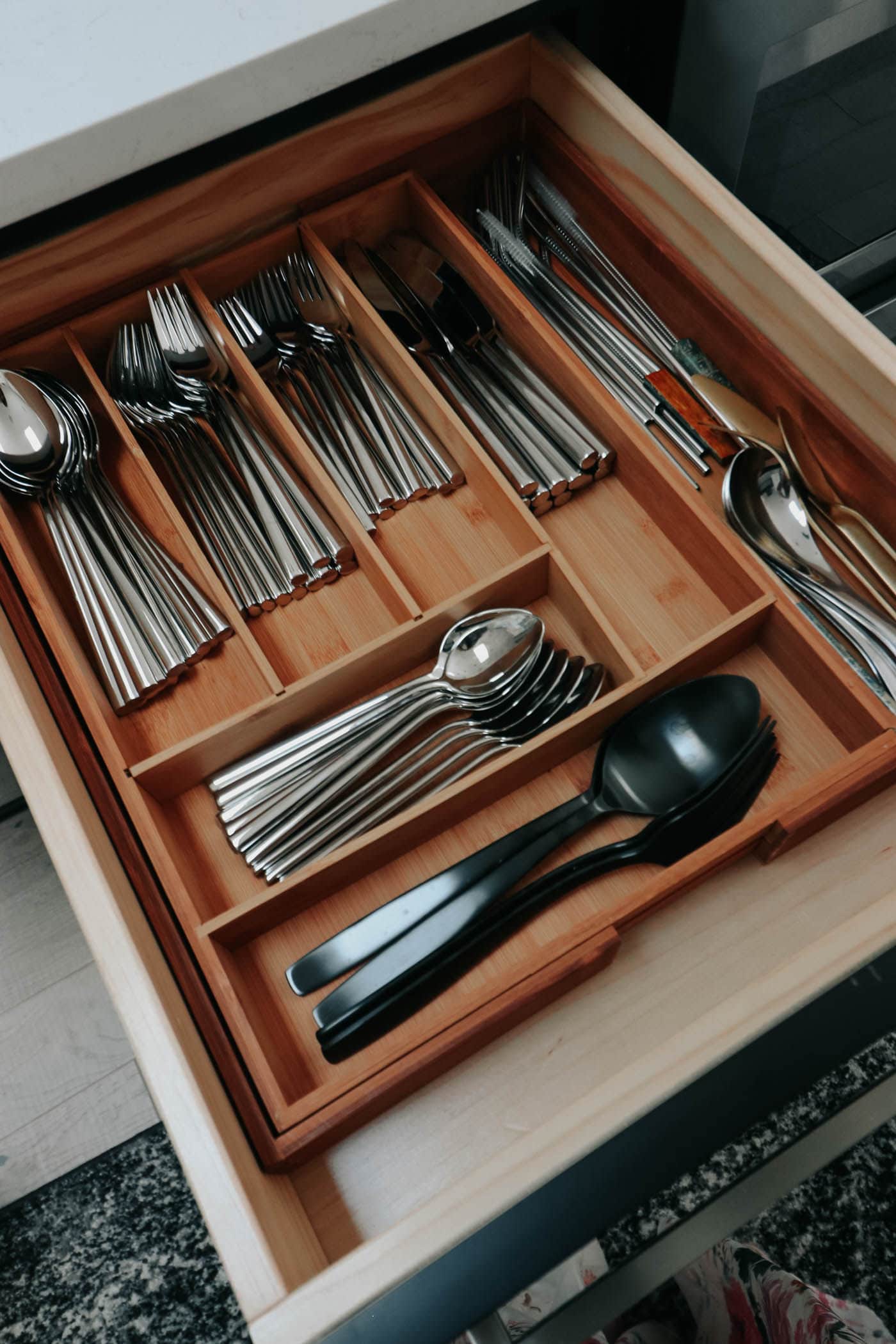 Ever since I posted that I was obsessed with my label maker on my Instagram stories, you guys have been demanding the deets and I am here for it. This embossing label maker is awesome and I love everything about it. Also, it is TEN dollars! Not gonna lie, I want to label everything. The white on black is so elegant and actually elevates your organizational game. At one point Sahir put it on a high shelf so I couldn't reach it for a mandated label-hiatus. (Don't worry, I got it down.)

Related Post: 6 Can't Miss Amazon Beauty Finds
In my old closet, we had a full wall of bookshelves for shoes and bags and while I loved the display, it was taking up too much space in my closet room. This time around we replaced the wall with a garment rack for more space and in hopes that I will stay on my decluttering spree. This rack allows me to pull out what I need for the week without messing up my entire closet. It was extremely easy to assemble – I actually did it myself! – and well worth the money and one of the best Amazon home products.

I hope you found a few things on here that you liked and I'll be sure to share more of my favorite Amazon finds soon. You can see previous Amazon round-ups here.
---
SHOP THE POST