Renovations can be a nightmare, but after the madness, I can say I'm still happy that we did it. Our home turned out exactly how we planned and the interior design and concept were perfection. One of the first rooms we wanted to tackle in terms of decor was the living room which set the tone for the entire home. Say it with me (in your best Power Rangers Voice) Neutrals Colors Unite!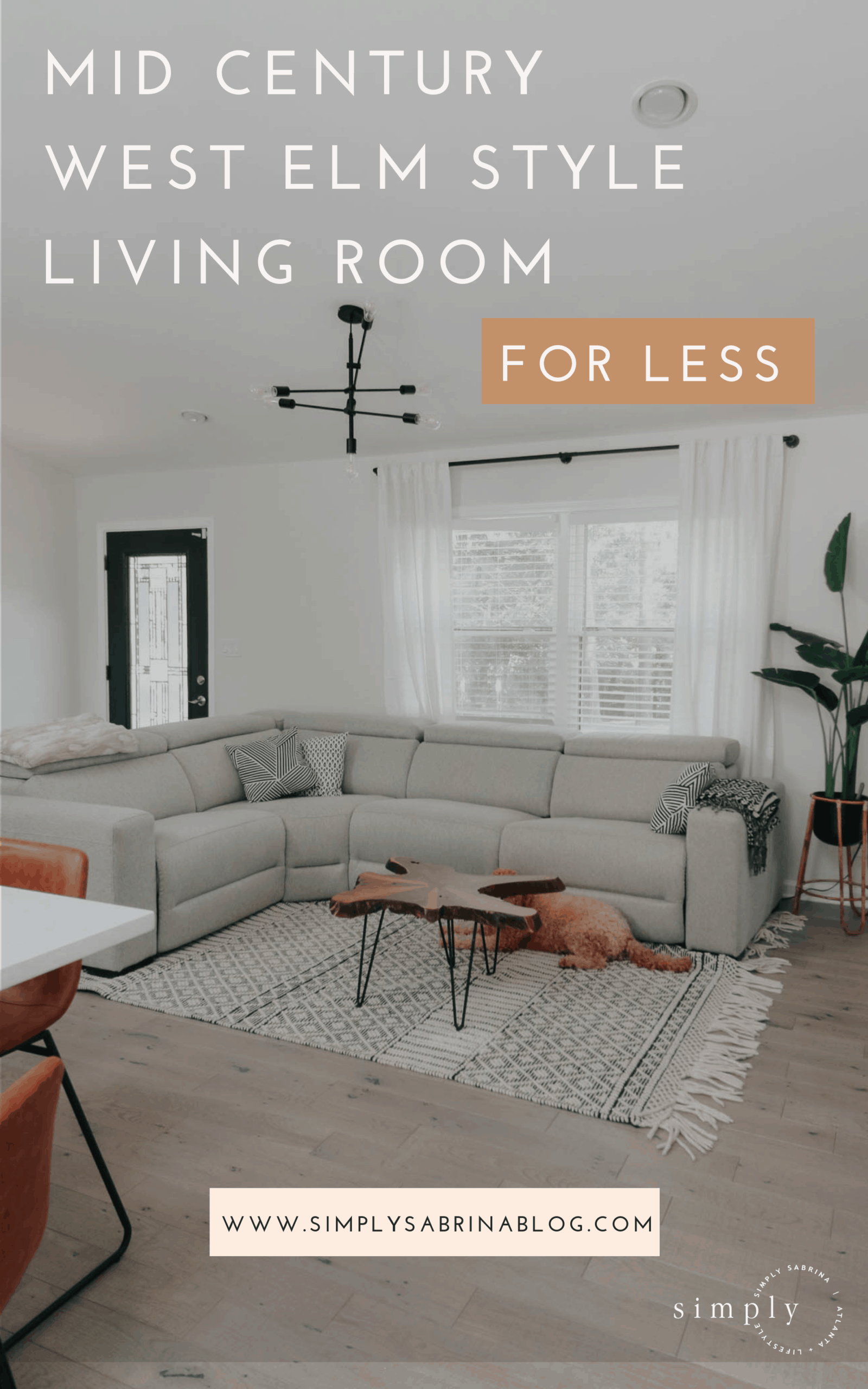 The pieces that we curated for each independently selected which is exciting and terrifying at the same time. Most of the pieces were picked online and assembled in our home which makes returns a complete nightmare. We had to love everything we got, even if it didn't look right once it arrived.
SHOP THE POST

I think we should spend a few more minutes on what a feat that truly is. I don't know about you but when my parents shopped for furniture, they went to one store and bought a whole "set" from there. That means sofa(s), coffee table, side tables and tv console. We would hit up a neighborhood "Rooms To Go" or if we were feeling extra prolific, Haverty's and purchase a ready to go space. Then 2 strong gentlemen would come and deliver it to our home 3-5 business days later and viola: Furnishing A Home 101.
But times have changed or maybe the internet has just made us less complacent with limited options. Maybe our parents had the right idea? Blindly picking expensive pieces that are relatively nonrefundable to somehow flow together seems pretty dumb if you ask me. This was the plan.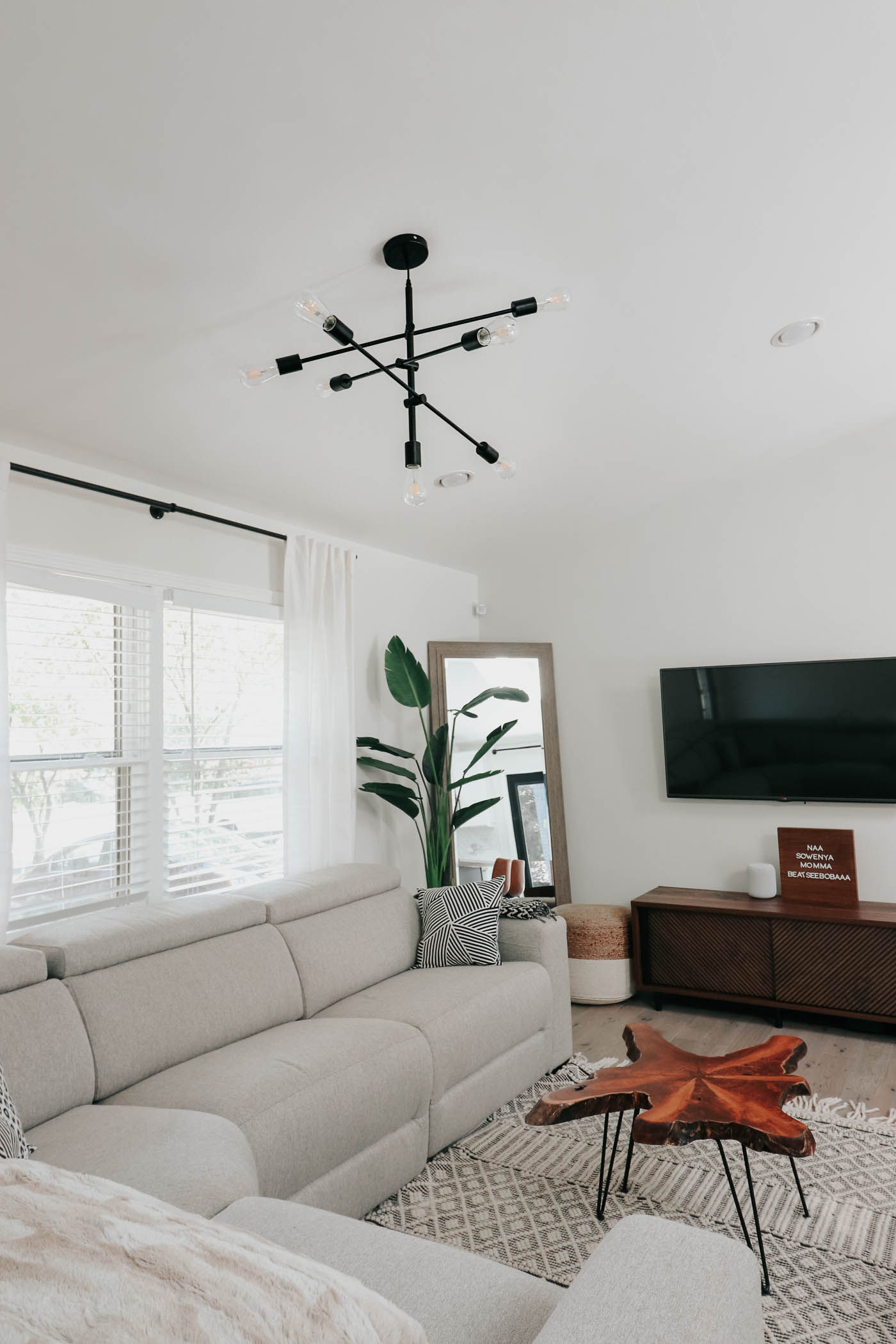 We softened the blow by picking a very consistent theme that we carried throughout our home. Some rooms weigh more heavily on certain colors and others aren't shown at all in particular rooms but overall neutrals reign high in our house. There is a strong black and white design aesthetic that is complemented by natural woods, dark greens and heathered grays.
I drew a vision board of what I wanted and found a way to find each piece within budget and with a reputable company. My max budget for this space was $5000 and we came in under $3900. Although, I do have to say that we opted for minimal decor in this room and chose not to have any side tables which could have contributed to the deficit.
The Coffee Table
The coffee table was something that Sahir and I imagined by weren't sure if we would actually find it, especially in our price range: i.e. not obscenely expensive. I mentioned that I liked the idea of a "tree stump" or something raw and he agreed.
One thing that we knew we needed was something without sharp edges. Theo is cute but a little clumsy and we didn't want him to hurt himself on any edges. Sigh, pawrent life. We were walking around World Market and stumbled upon this piece and it was perfect. It's heavy though, be warned!
The Couch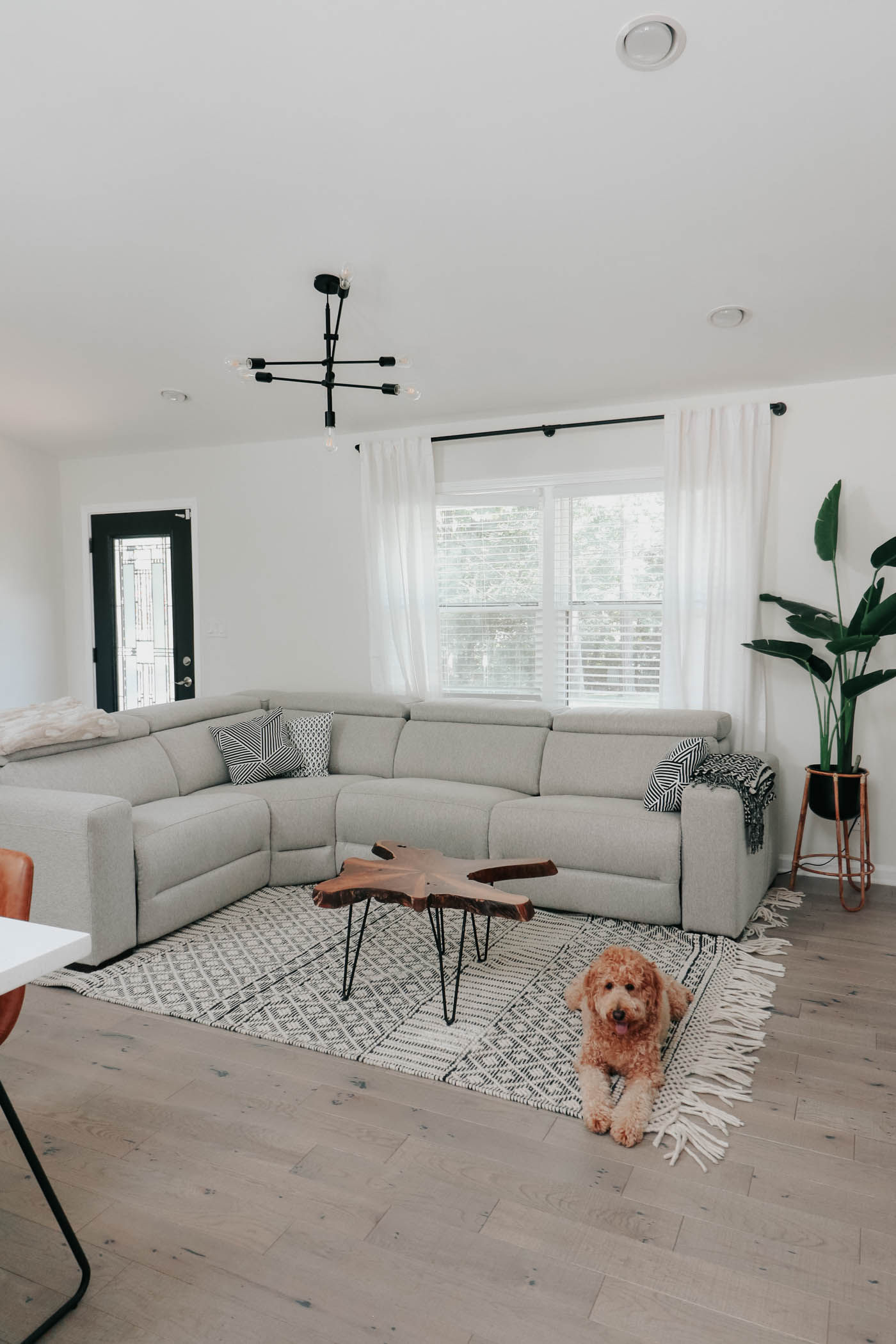 This couch was easy because we knew what we wanted, but we scoured the web for ages to make sure this was the best find. We went with a one-piece "L" shaped sectional with no chase and two power recliners. We initially ordered the 5 pieces but when it was in the space we found it to be overwhelming and (paid a restocking fee) to have one piece removed and it fit perfectly.
Why this one? Sahir had actually helped his parents pick out a larger version of the same sofa for their home and we really liked it when we were living with them — plus, it was Theo friendly. The two edges have power recliners and the headrests are adjustable so that someone tall like Sahir can have support without it looking tacky. I searched everywhere but this couch was perfect for us.
The Curtains & Curtain Rod
Replacing all of our curtain rods from a "rubbed oil bronze" – fancy home decor word for not quite black – to industrial style matte black curtain rods was probably a splurge. Curtain rods are expensive and replacing them for all of the windows in our house was painful. In the spirit of being extra, we also got West Elm white canvas curtains that are beautiful and help frame the windows on the main floor.
The Light Fixture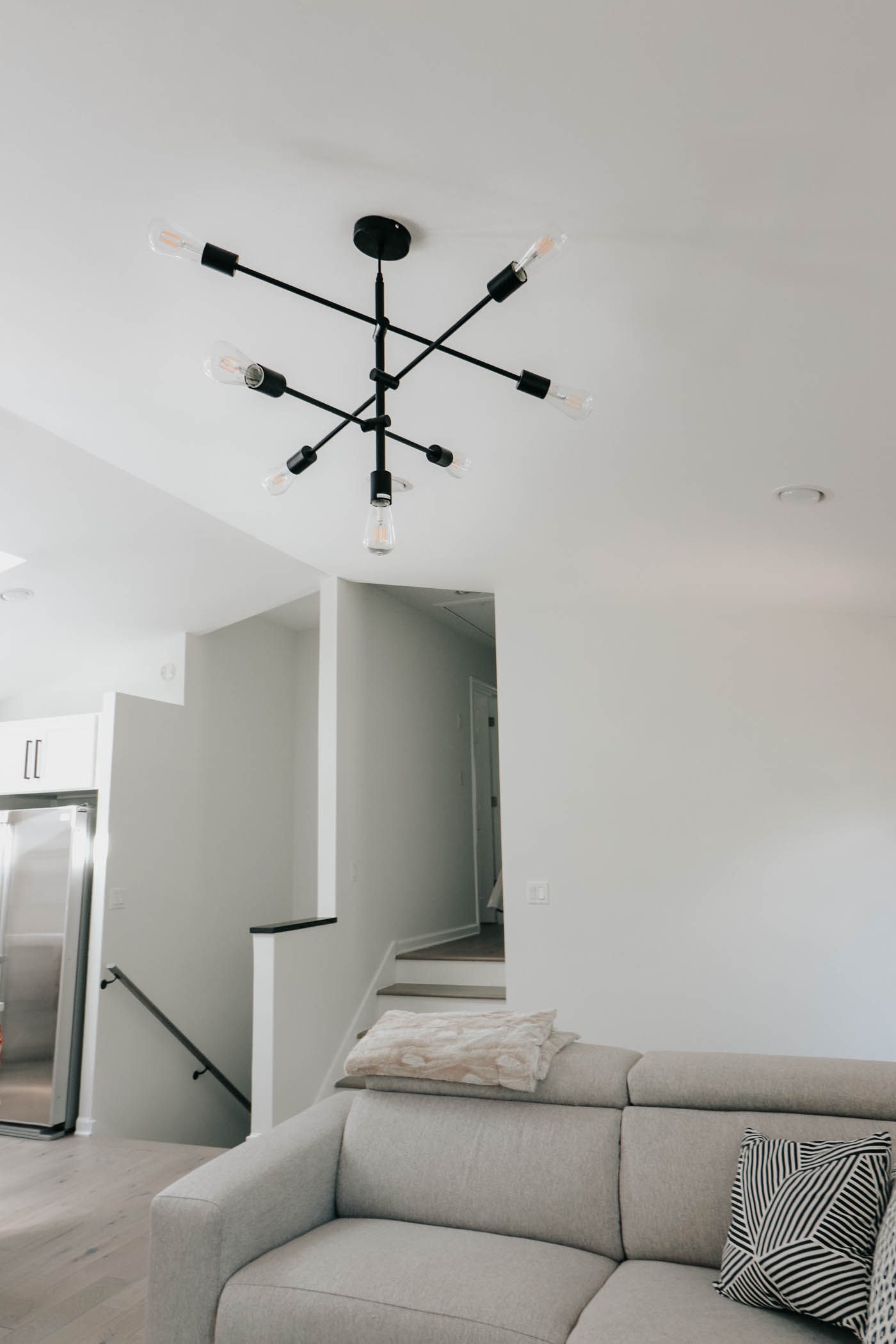 Previously we had one big room that served as a living, dining and kitchen. Four walls that contained our entire main floor with a single standard light fixture in between. I'm talking basic beige with a fan. Yikes.
After eliminating our dining room (replacing it with the expansion of the kitchen), we decided to clearly define the two rooms in the space: the living room & the kitchen by their own light fixtures.
More on the kitchen later, but the living room light was a beautiful piece by Maymar Lighting – a super cute boutique lighting brand. Right now they are giving Simply readers $30 dollars off of their purchase (making this light $70!) just use the code "Simply30"
The Perfect Faux Plant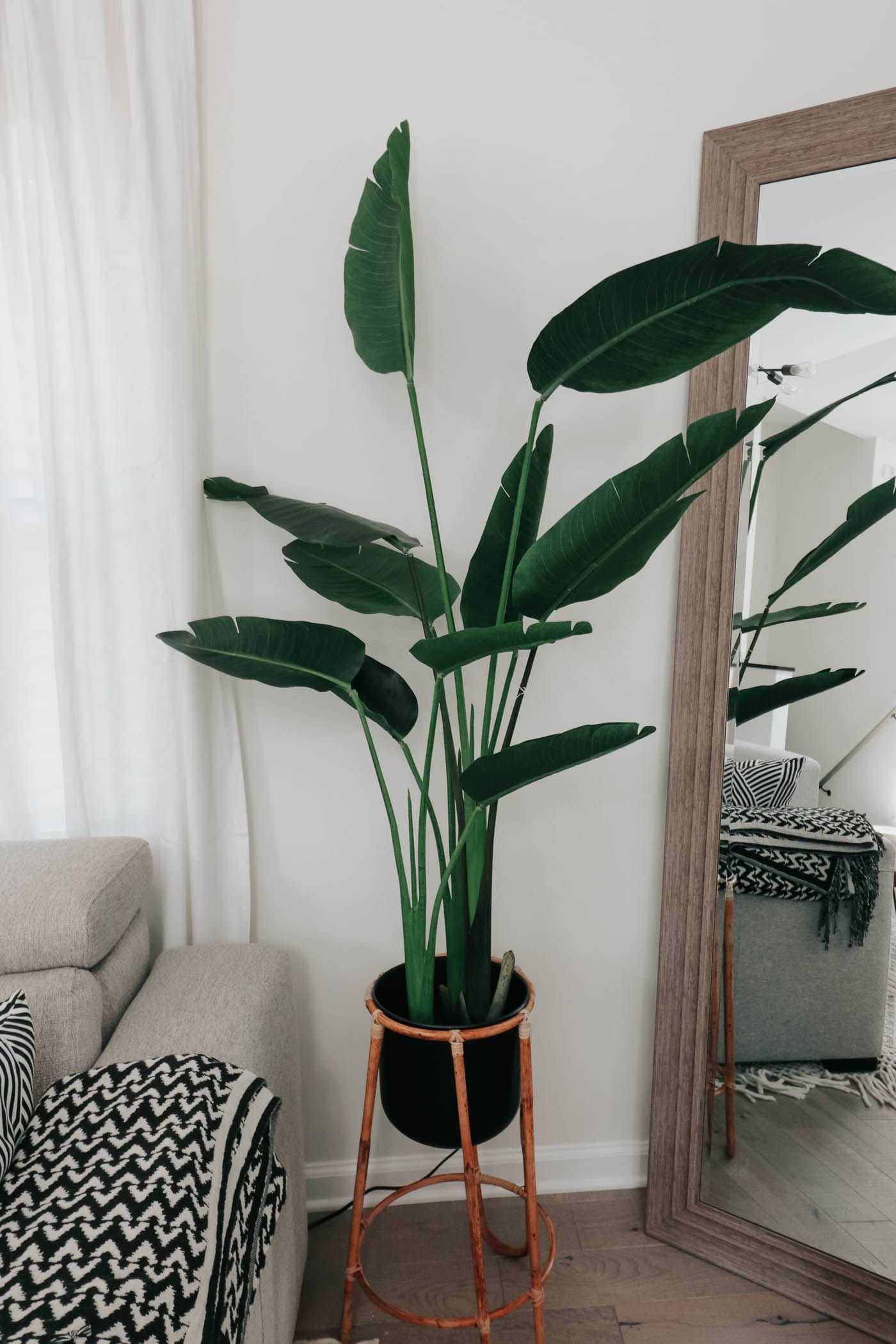 I mentioned this in my Amazon Finds post because I got so many requests on where it's from! I did my research and found a faux (yes fake) plant that looked less plastic than the other options, was tall enough to be compelling and priced appropriately. We also picked up this plant stand from World Market that fit the plant perfectly.
The Rug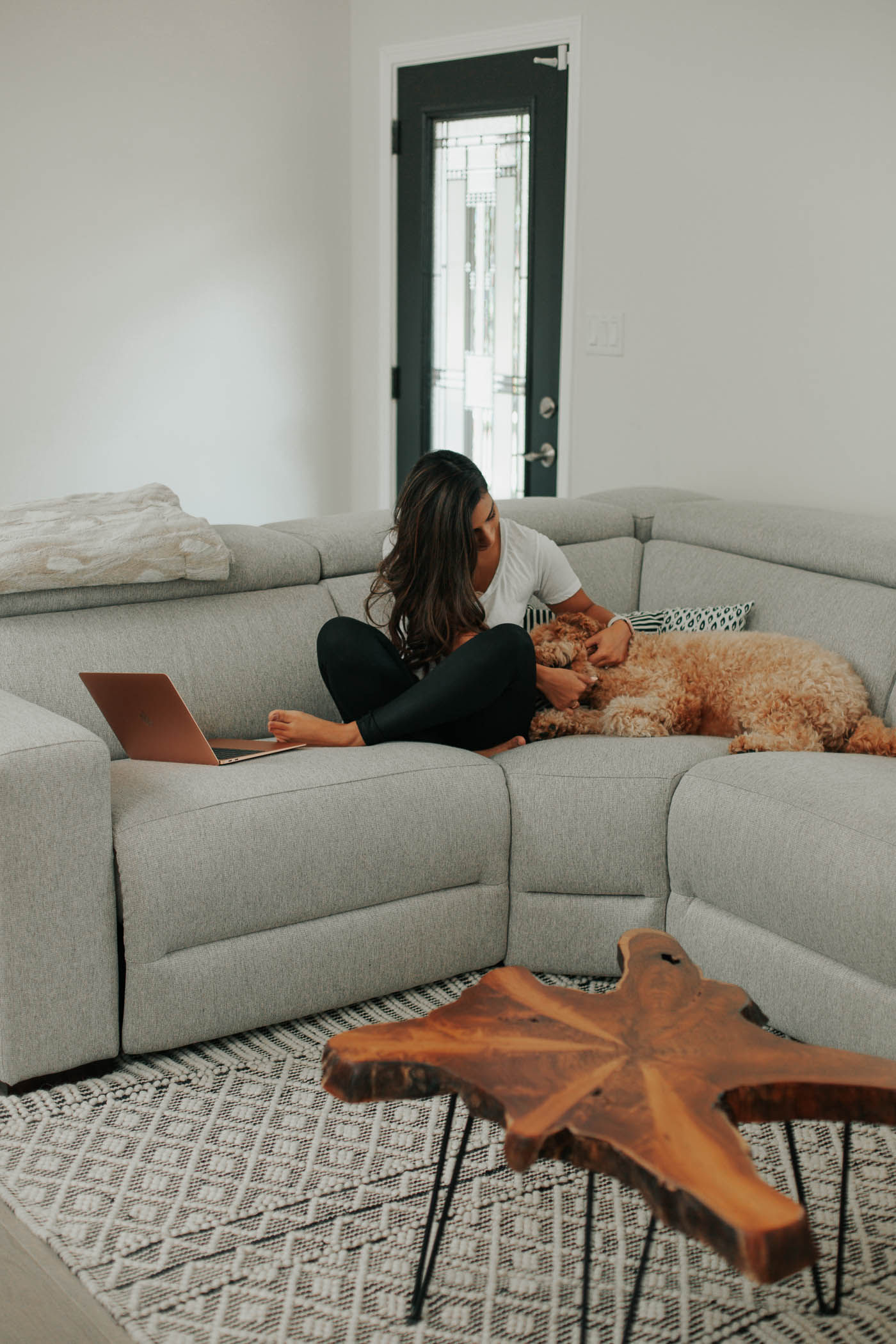 While many people search for their rugs first (which makes total sense) this was the last piece that I found because I was so picky about what I wanted. I wanted something "busy" without being overpowering i.e. no big prints, that was a true black & white – no ivory or cream. Not many people want "white" rugs so this proved to be a challenge.
When I found this rug I was sure Sahir would veto it for two reasons 1) because it had tassels and Theo might start chewing on them and 2) because it had tassels. Well, I was wrong. He was on board and I'm so happy because I love the way this final piece brought the whole living room together.
The TV Console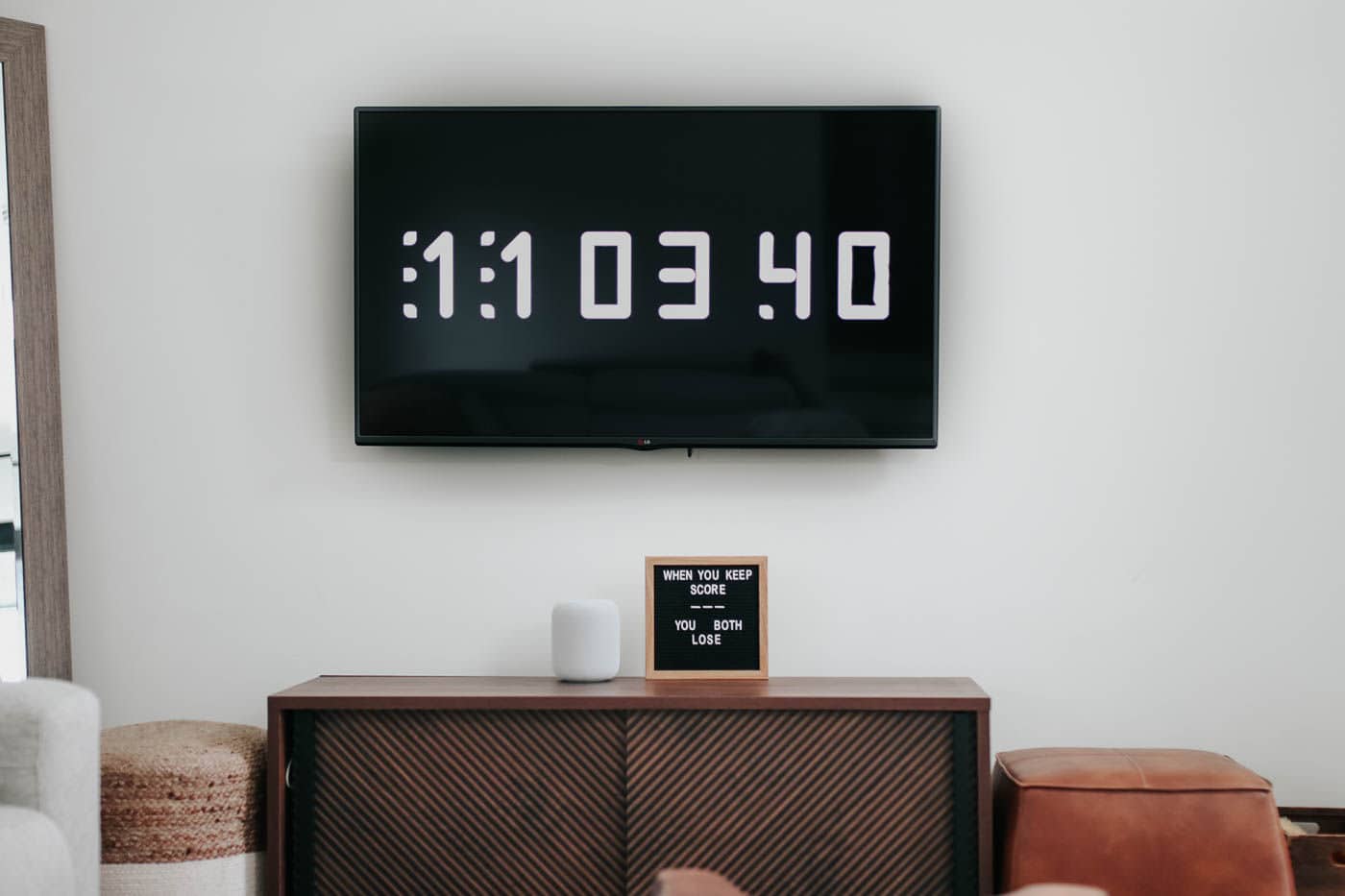 One of my biggest fears in this space was the various shades of browns and woods and whether or not they would complement each other. We chose this TV console early on and I did it with intention. I liked the dimension that the diagonal lines gave and the black handle placement added depth to the piece to go with the rest of the living room.
The Ottomans
One of our fears in the space was not having enough seating. I mentioned before our home is a hot spot for entertaining and we previously had 3 big three-seater sofas in a U shape around the TV. With the expansion of the kitchen, our living room shrunka bit, and we wanted to keep as much open space as possible and we chose a "L" shape with only 4 "official" seats. Putting us as a 5 seat deficit.
We figured the weakest links could just be demoted to the ground, Raj in Big Bang Theory style. Kidding – kind of. A compromised solution was to add optional seating via functional ottomans and we chose two that we kind of love: a color block woven ottoman and a leather one. We pull them out when needed and tuck them away otherwise: win, win.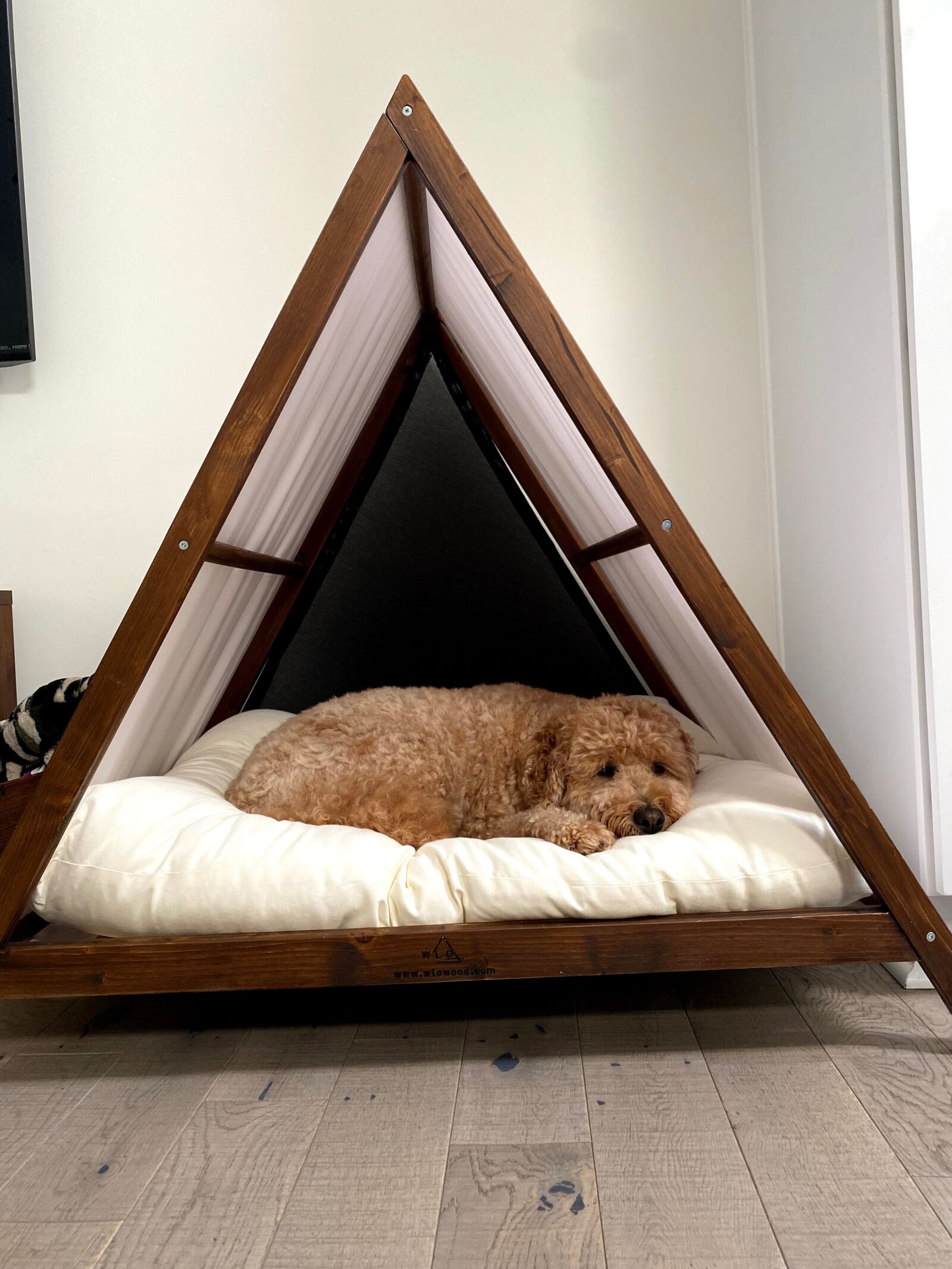 Anytime I post a photo of Theo, I always get questions about Theo's dog bed. It was an Etsy find that I have zero requests about. We ended up buying the "outdoor" one which basically means that there are legs on the bottom of the dog bed. We liked the look of having it off the floor and went with the large size for Theo who's about 50 pounds. 
The Dog Toy Bin
This one wasn't planned but equally as necessary. I hate having toys and things scattered around the living room and when I planned my sister's baby shower (you remember that post here) I purchased a lot of large pretty boxes for stacking, one of those was this file holder from Target. Turns out, it also doubles as a great storage bin for Theo's toys.
SHOP THE POST