Let's admit it. Things have gotten a little crazy. I interviewed some of the most interesting people that I follow about what their quarantine routines look like and how they are finding sanity with their physical, mental, and emotional health.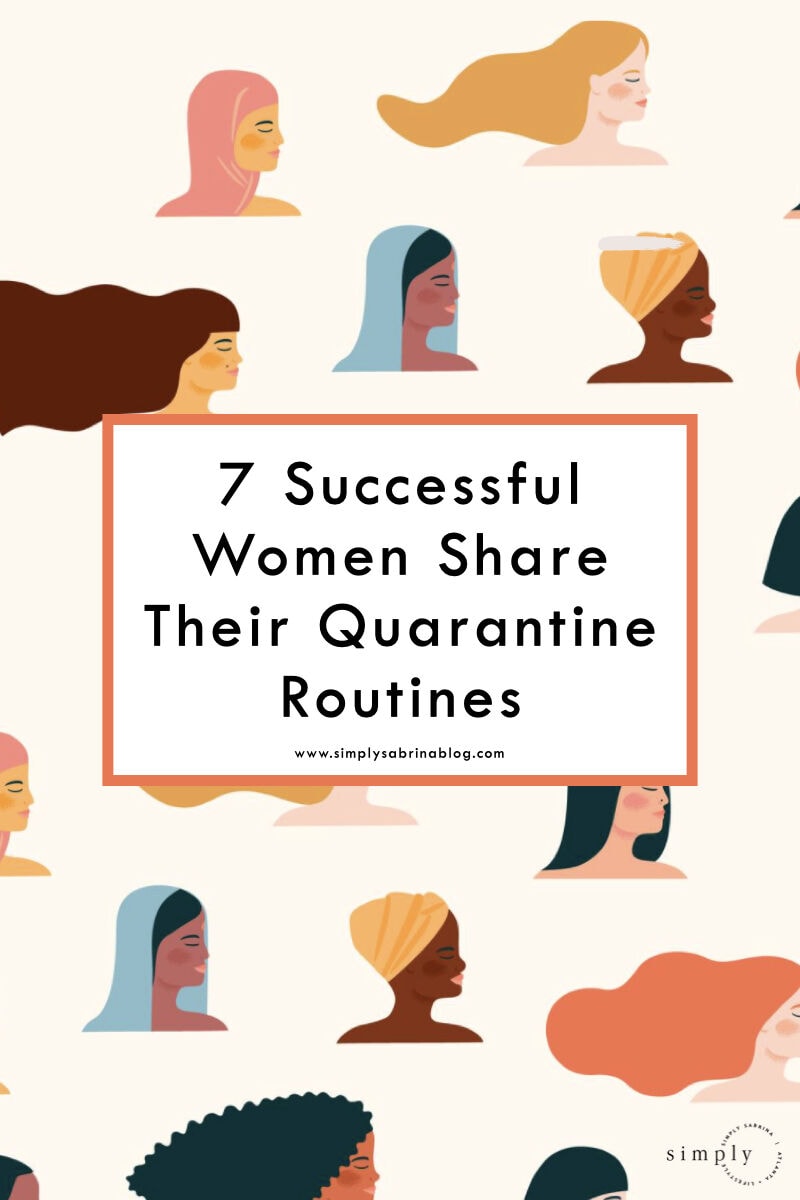 My Quarantine Routine
For me, surprisingly, our quarantine routine hasn't changed too much from real life. My husband is considered an essential worker and I work from home, so it's just me and the pup during the day. My husband does go in a bit later so by the time I finish breakfast with him and walk the dog, it's 10 AM.
I usually work till about 12:30 PM going through my inbox and prioritizing messages that I need to respond to. I'll then upload my promo Instagram stories for my blog and hit publish on a prerecorded TikTok video.
Before lunch, I'll try to do a quick 30-minute ClassPass live class. Right now I'm loving the express Solidcore class. Lunch usually looks like warming up leftovers from last night or quickly pan-frying some veggie dumplings (thank God for Trader Joe's). I give myself about 30 minutes to watch a quick episode of something lighthearted. Right now I'm watching Beauty & The Baker on Hulu and it's so good.
Depending on the day I usually am taking meetings in the afternoon or creating content. I'm knee-deep in an SEO course right now so I usually block off about 2 hours a day to really focus on my class. I try to wrap up the first part of my day by 5:30 so I can get in a quick walk with the pup and get dinner started before my husband gets home.
My husband and I e are attempting to walk, run, or jog 100 miles in the month so we try to knock out 2-3 miles a day in the evening when it's cool out. After 9 PM, I usually open my laptop back up to get some pinning done in the evening while my husband binges the entire Star Wars franchise. I think we're like 7 movies in and I'm not sure when we will be done. At some point, there is chai and biscotti during the movie.
We always do the dishes, clean the counters, and tidy up the living room before we head to bed. My husband and I are both trying to read at least 10% of whatever book we are reading before bed and then it's lights-out and repeat.
I wanted to share some other incredible women and how they are managing life at home during this time.
CEO & Content Creator
Quarantining with her 4 kids, a puppy, and her husband
I would love to say that our routine here is nothing new, or the same every day, but with four kids, it is chaos about 99% of the time. Both my hubby and I work, so trying to adjust two working parents in a house full of kids, it not an easy task.
Typically though, since my husband is in oil, his work hours are during the day, and I squeeze in work when I can. I am also a night owl, so I am always up late working. Thankfully, he will let me sleep in a bit, and I usually wake up around 8 AM.
By that time, the kids are awake, and our baby girl is waking up, so I get breakfast going, and try to keep the kids busy. Generally, in the mornings, we put away the dishes, make beds, and do any leftover laundry. In the mornings, I try to walk around the neighborhood or get a morning workout in with the older kids while baby girl goes down for her morning nap.
We have lunch, and then it's quiet time, that is when I will typically get a shower, and try to get ready for the day, and somedays I will make myself wear jeans and go full-on glam to feel 'normal.' But other days, I'm in cozy sweats.
Typically after 3 PM is when I will work for a few hours before dinner. Then I will make dinner, and we always sit down together for dinner, and we will hang out and watch a movie as a family, and the kids are in bed by 8:30 PM.
After the kids are down, I will pick up around the house and burn the midnight oil on my brand. I feel like I'm also alive at night, so it's usually my PRIME time. I try to go to bed by 11 PM, but recently its been past 1 AM.
And the next day, we repeat the day!
CEO/Founder, Range Beauty
Quarantining With: Herself
Since quarantine, I haven't seen much change in my schedule since I already work from home on Range Beauty. My mornings consist of starting off with prayer and meditation to ease me into the day. I check my phone for any urgent emails or alerts and then head into the shower. I have been taking more time with my morning skincare routine than usual which has been a surprisingly nice me-time moment before kicking off the day.
After I get dressed, usually in sweat pants paired with a cute top because it makes me feel like I have on a real outfit vs just sweats, I make breakfast. I skip makeup unless I'm shooting content for my personal page or the Range page or in the mood that day. I typically spend 9 am-11 am checking emails, Range Beauty social media pages, and Facebook Ads manager to see how our ads are performing.
Next, I check in on orders and if there are any delays or drastic inventory changes. Once noon rolls around, I either warm up leftovers or cook something quick like shrimp tacos, put on a show, and do some personal scrolling on IG and Twitter. Currently, I've been watching How to Get Away with Murder, Good Girls, or For Life. After lunch, I return to order management and update the content ideas for our Instagram. Lately, I am definitely more tired than usual so I might slide in a nap if I feel one coming on.
I am moving our website to a new hosting platform so I spend the evenings working on the site and getting it ready for the launch. I also use this time to update my dry erase planner board with what I need to accomplish for the next day. I'll make dinner and put on another show to watch like Insecure, finish whatever series I'm into at the moment, or tune in DJ DNice on his IG Live. Evenings are my free time for Facetiming with friends or family too. I'll end the night with some dairy-free ice cream or tea and then my nighttime skincare routine. Lights out, rinse and repeat.
Head of E-Commerce
Quarantined with her husband & her dog Marbel
Both my husband and I love cooking, so we've both been chefs and tasters during the quarantine. Although I have to say since I've been expecting, I have definitely been staying off my feet more in the kitchen these days, and hubby has been holding the fort down.
I have been staying without makeup 90% of the time. I'll do a quick look every now and then when I am trying to shoot content for It's Actually Spicy or my Youtube.
Social time is really limited for us. With all this COVID madness, I've been staying in as much as I can with little to no interaction with people. We say hello to our neighbors every now or I'll accompany Nabeel on his grocery runs some days. Otherwise, zoom calls are the only thing keeping me social right now.
Works been super hectic for me, I took on this roll in October of 2019 and we found out we were expecting in November. I've literally been ramping up on all the things I need to do before I take my maternity leave. Plus we've taken a lot of new projects at work to help with the COVID crisis, so it has been all hands on deck.
My anxiety levels have definitely been super crazy during this time. Being pregnant, not having an interaction with my family + friends, and not knowing what the future holds has been emotionally taxing. I try not to think about it too much, but there are days where I feel lonely and wish they were here with us.
Nabeel and I watch some light shows on Netflix or we will scroll down Tik Tok after dinner while we have our bedtime tea, it makes us laugh a lot and I love seeing him laugh. It makes me smile!
I have been showering and taking lots of baths. It's been super hot down in Texas lately. So I try to take some cool showers for that or I'll bathe when my body is aching from being preggo lol – in terms of hair…I've been washing it twice a week.
CEO of Modern Fertility
Quarantined with her partner

My schedule at work is similar to my pre-quarantine schedule. I start my mornings around 7am by checking emails and Slacks then usually go for a quick workout or bike ride. We have our company daily stand-up at 9am with the business ops team, followed by more one-on-one and team meetings throughout the day. If I need to get to solo work anytime between 9a-6p, I usually put a block on my calendar to reserve some uninterrupted time or else I find the day will fill up with back-to-back meetings. I'm guilty of eating lunch hovering over my desk while I work.
By the time the evening rolls around, I take a break to enjoy whatever Zach has whipped up in the kitchen, then maybe practice playing the trumpet or check in with friends. I usually do some work more around 9pm-12am to wrap things up.
A lot of founders have amazing morning productivity hacks, but when I wake up at 6:30am, the only thing that motivates me is doing something I love, like biking. Another very effective motivator is having a pre-scheduled commitment with someone else! Right now, I'm taking training classes with Jenna Newgard (she's fantastic and hosting donation-based Zooms!) and yoga classes with Peter.
During the day, Zoom calls don't give me as much energy as IRL conversations. I typically come out of meetings super energized and excited to dive into work, but with this level of screen time and not being in the office, I have to be more intentional about creating spaces for productive conversations and exercise to keep my level of energy up.
I am generally a no make-up person (quarantine or not) during the work week. However I've had the pleasure of doing really fun Instagram Lives over the past few weeks with Sophia Amoruso of Girlboss and Rumer Willis, where I went big and put on tinted moisturizer and mascara 🙂

Believe it or not, a salty treat like chips make me super happy. Also, though I don't shop often, I've been perusing some sites to find deals and am obsessed with a new Isabel Marant sweater I bought from TheRealReal app as well as some fun purchases for my mom and aunt (who is currently working in a COVID-19 care unit) as a way to show I'm thinking about them.

Another small thing that makes me happy is my peacock print wallpaper from the 70s. It covers our whole dining room, and the jewel-toned print tones make the whole space feel really special and fun. I feel like I'm having dinner somewhere exotic and glamourous, even if I'm in sweatpants or biking gear—which I usually am.
SAHM, Former OBGYN
Quarantined with her husband and two kids
When quarantine first happened, I felt like I was drowning. I have a history of bipolar II, PTSD, and ADHD. I had recently come off all my medications and was doing very well, ready to take on the world until quarantine happened. It was a bad time to be off meds. All my plans were on hold and I didn't feel like creating. I just didn't feel like doing anything at all.
Every day, I would immerse myself in the COVID-19 news and feel even worse. My healthy diet took a nosedive. I lost weight. Homeschooling the kids and having my family all the time home was another challenge and I found that there was no structure to my day. My husband would come to me every day and say, so what are we building today? Encouraging me to design something so he could build it. That was my therapy.
Designing and watching it transform into reality. We renovated our mudroom, laundry room, and pantry. We built a barn door and organized pretty much all of the lower level. We got so much done, our relationship thrived and we came out stronger than ever.
Now, I wake up early, pray, dress up, and take on the day like nobody's business. I give the kids breakfast, help them with school, answer my emails, meet my deadlines, and create content. Zaki and I have watched a few shows together and usually watch one episode every night. Tiger King, Outlander, Outer Banks have been fast favorites. I am back to eating healthy and working out. The kids have a great daily schedule full of healthy activities and less screen time.
Senior Manager, Digital Content & Social Media at Maybelline
Quarantined with her roommate
My routine has changed dramatically during this time. I used to wake up for work around 7am to do my makeup, hair, and commute to my office. Now, I wake up around 8:45 with enough time to brush my teeth and wash my face before starting work at 9am. I don't do my hair or makeup anymore unless I'm presenting at a virtual meeting or creating content for Maybelline platforms or my own. Depending on if I have a 9am meeting I have breakfast and a cup of coffee before or after that. I used to get all of my meals out of the house – including breakfast and my morning coffee, so this is a little different for me!
I have some virtual meetings throughout the day. If I'm not in a meeting, I'm editing or shooting content for our social channels in my bedroom, working on briefs, or working on analytics and reports. A large part of my role at Maybelline is producing content for various channels and the way I do that now has obviously changed. We aren't doing any big shoots and our content is not being produced in studios anymore. I'm used to briefing content, but not this much and not this detailed. It's been interesting to see the outcome of that :).
I go live on Maybelline's Instagram once a week with my coworker. I've done a little bit of that in my career, but never this often – it's been a little nerve-racking but mostly fun! I've also gotten the opportunity to go live on our youtube channel and our website. I've become a quarantine talent! haha
When I'm not working, I've found that being creative on my own has helped me feel good at this time. So I've been playing with makeup a lot, taking my looks further than I have before. I bought new lights and have produced stronger content than I have before and I'm proud of that. After work, I like to exercise. I've loved doing that with Madfit's videos. Then I cook dinner. Again, never really cooked before quarantine but now I AM OBSESSED with trying new recipes out and creating my own!
As far as mental health goes, I stopped going to therapy at the end of 2019 as my therapist moved to a new office too far from where I live. A few weeks ago I reached out to him to see if he was offering virtual sessions and he is! So I've been able to talk to him weekly again and it's really helped me through this. Facetiming with friends and family and going on hangouts has also helped ease the pain of being isolated from everyone.