Five years ago, I took one spin class at a local gym and I promised myself I would never go back. I was in so much pain throughout (and after) the class and was so incredibly bored in the duration of the class. If I could have figured out how to get out of my bike, I would have left 15 minutes into it.
Two years ago, I realized I needed more cardio in my workout and since I am chronically bored, running is tough to do for over 20 minutes at a time. I signed up for a 30-minute lunchtime spin class and crossed my fingers, toes, and all adjoining limbs for the best. I went to something called a "Rhythm Ride" where you ride to the beat of the music -and more importantly- you stand 90% of the class, causing little to no soreness the day after.
Slowly but surely, I've started developing an affinity for a spin and it helps that my husband loves to go with me. I try to go at least once or twice a week, and it has become a staple in the cardio portion of my workout regimen. I've tried many studios in Atlanta, and these are my favorite spin studios in the city.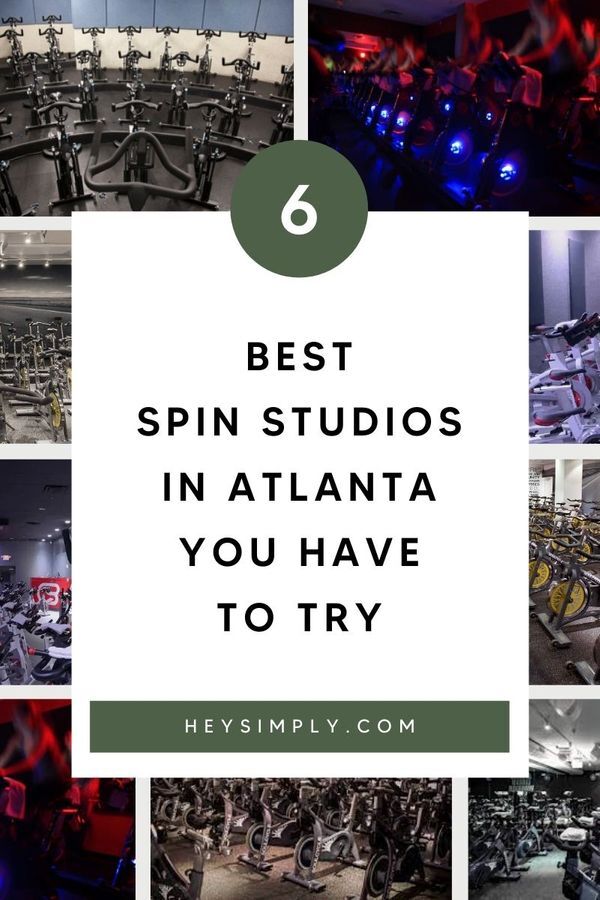 FLYWHEEL
The bar is set here for a reason. Flywheel makes you feel like you have walked into an oasis of energy in a high-quality facility. Between their Fly45, Fly60, and FlyBeats you'll be able to find exactly what you are looking for in a great workout. I like to compete against myself and keep track of my points per song (my goal is 20!) to continue to push myself each minute of class vs just at the end. If it's your first time, I recommend starting with the FlyBeats class – if you can get in!
DEFINE REVOLUTION
This is one of my favorite rides and a great intro to the rhythm ride. Class always flies by and the arm section is unlike any other. You'll need to push yourself as the bikes don't keep score for you and shoe rental has a ($) fee which is a bummer. But Define studios have other cool classes too like their trampoline class (so fun!) and they even do half and half with barre & spin or trampoline & spin.
VIBE RIDE
Nowhere else in Atlanta will you find a spin class with a Live DJ. Vibe Ride is in the heart of Midtown and has distinguished itself with an emphasis on great workout music. Aside from the DJ class, their traditional classes have music video rides like their Beyonce v. Rihanna ride or Battle of the Exs, think Brittney then Justin, Ciara then Future. Other cities need this for sure.
TORQ
Torq is a tough studio with instructors that will work for you! I've been to a few different classes and that board is no joke. The team cares and will learn your name in order to he;p motivate you throughout your ride. The studio has great products to help freshen up including hairdryers, hair ties, dry shampoo, etc. Music is pretty loud though, be warned!
CYLCEBAR
It took me a minute, but I'm actually a big fan of Cyclebar. There are studios popping up everywhere around the country and their focus on a balanced lifestyle is kinda epic. I went to a "brunch" ride and they actually served yogurt parfaits and fruit after class – what?? It was amazing. I'm on board!
CYC
CYC is a nationwide chain and this is the studio that got me over my fear and addiction to spin. The studio lives for the 1-2-1-2 rhythmic ride style and a pretty intense arms sector with boxing included! Unfortunately, the Atlanta studio closed down a few months ago but the trainers still teach at the same location in the Forum in Lenox. Other cities look to be on the rise!
SOULCYCLE
I have only heard good things about this and I cannot wait to try it for myself. Soulcycle will open in Atlanta in 2018, and I need to get into a class when it opens. While I haven't tried this myself, I felt like a proper list wouldn't be complete without Soul!
---
If you haven't tried spin yet – don't be scared! Start with a rhythm ride and ease your way into it. I convinced Sahir (my husband) to do that and he will never know the pain of your first spin class – y'all know what I'm talking about. You can try all of these studios by signing up for Classpass in your city. If you use this link you will get $40 off your first month (and I'll get a referral credit too!) Do you spin? What are your favorite studios/chains?