Another month, another set of Amazon favorites! Last month was all about the house and this month is back to our regularly scheduled programming – a hodgepodge of everything. This list features some of my favorite beauty products, accessories and tech gadgets that you didn't know you needed until literally right now (because I'm telling you you do) Here are nine things that I loved on Amazon this month that deserve a spot in your cart. Number three is literally a miracle product and I'm so mad at myself for not discovering it earlier.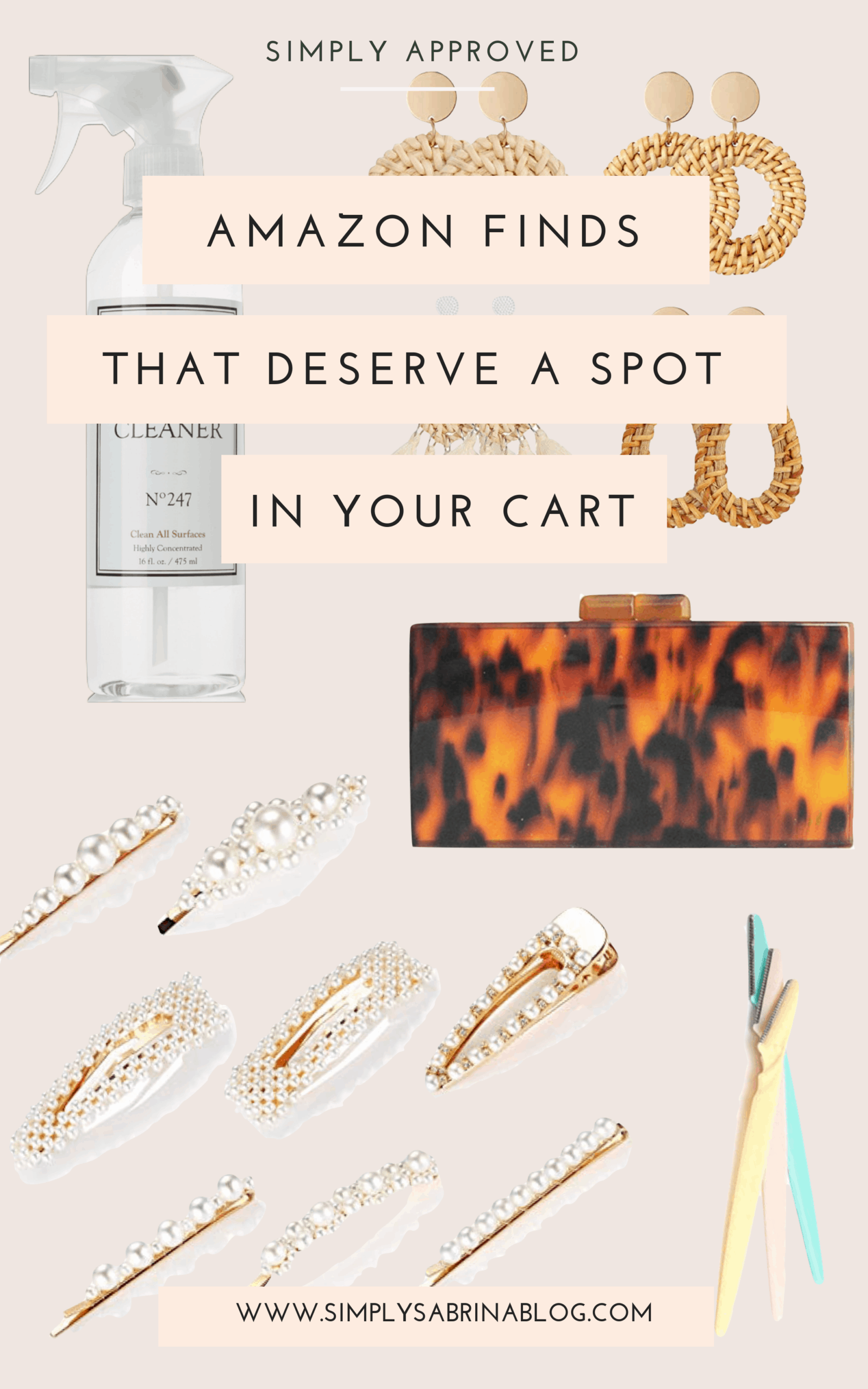 Amazon Items That You'll Love This Month
This cutie is perfect for a night out and has an adjustable chain that can take your clutch to a shoulder bag in no time. I will say that there's a strong scent when you first open the box (factory problems) but after a few days it's just fine.
I'm not gonna lie, I've seen this in action on Instagram and when I did it myself IRL it blew my freaking mind. Why did I let myself chop onions for all of these years? Why did I mess up very expensive makeup with tears? Literally no more. This onion chopper will change your life and if you buy one thing from this list – make it this one. Best $15 I ever spent.
Related: 20 Trader Joe's Items That Deserve A Spot In Your Cart
You know that pesky pilling that inevitably happens to your favorite tights? Well you have a savior in the form of a shaver – a fabric shaver that is. Bring your clothes back to life and get rid of the extra fuzz or lint on your favorite clothes. Wool sweaters beware.
Sahir tells me I look like I'm 12 when I wear these and it fuels the fire. I'm obsessed with the pearl clips and this pack of 8 for $7 is actually the best thing in the world. I'll clip in pearl barrette in my hair any day #asIFwhatever
Not gonna lie, I first bought one of those cute magnetic phone holders in order to keep my phone out of my hands and be more safe while I'm driving. But after multiple drops, I decided to kick it like the Uber drivers (no disrespect, they make bank #bloggingmakesmebroke) and get a sturdy phone mount. It was in the back of one of my Instagram stories and I had so many people ask about it so I had to share. This order is 2 to a pack and you'll get it in 2 days.
I mentioned this in my "The Worst Thing I've Ever Done For For Beauty Post" and it's true – this one is a doozy. Microblading is a real thing and I highly recommend doing it in combination with laser hair removal but if you jump on the train then Tinkle will be your best friend. They are 3 to a pack and run about $4.
Related: Everything You've Ever Wanted To Know About Laser Hair Removal
I heard about this company from a girlfriend and it was created by two women based in the US. They designed one product that will work on all surfaces (kitchen + bath included) and is allergen free, nontoxic, safe for pets, kids, & fabrics. I use this everyday in my kitchen and love that I only need one product – plus it smells great.
Ever since I updated to the new MacBook I've been extra annoyed with the lack of input ports. I bought this adaptor to easily plug into my computer and now I can have my SD card, usb drive, HDMI, and other tech necessities working with my computer.
Rattan has been in for a while – in fact, ever since Cult Galia made their iconic Ark bag everyone wants a bite of the Rattan trend. These earrings are super cute and would instantly elevate any basic outfit. Can you imagine these with a white midi dress OOH, and the clutch from above? Yes!
---
Amazon roundups have been such a hit on the blog (remember the last one here?) I'd love to know what you can't wait to get on your doorstep and what products you've been telling your friends about!