Documentaries are like Easter egg gems when it comes to Netflix. While you may not be looking for it, once you find a good one, you get sucked into the vortex. If you take a break from that 'Stranger Things' or 'Bridgerton' binge and watch something eye-opening, you can learn something new -or at the very least- you will question what you thought you knew.
Sahir and I have been trying to make our way through our Netflix documentary bucket list and I wanted to share the highly-researched and reviewed movies that are on our list to help you on your next documentary night. We all know that finding what to watch is the hardest part.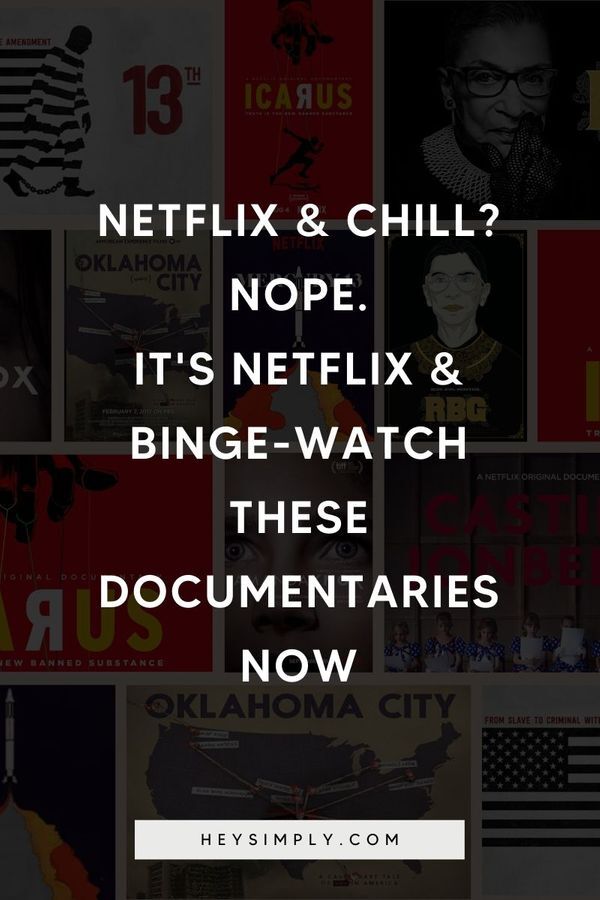 13th
This is one of those documentaries that after you watch it, you become obsessed with telling everyone else about it and insisting that they drop everything and watch it immediately #Guilty. The 13th is about institutionalized bias in our society from before emancipation to the present day. It explains how laws in the US have been put into effect and their impact on our prison system. I'm talking, in recent times.
I was honestly flabbergasted by the sheer number of facts in this documentary and made me realize just how prevalent racial bias is when it comes to incarceration. Everyone needs to see this one, and then you will force all of your friends to watch it too. After all, it was Oscar-nominated for a reason.
Mercury 13
Obsessed with Hidden Figures? Me too. The Mercury space program put Americans into space for the first time and behind the curtain were 13 female pilots who tested as candidates. This documentary finally gives these unsung heroes credit for their contributions to the history of space flight and highlights the struggles that remain for women in the sciences.
Casting JonBenet
I've recently gotten into learning about the big events that happened in my lifetime that I was either too young or too uninterested in truly learning about. Amongst the OJ Simpson trial and Bill Clinton scandal is JonBenet Ramsey. The question of who murdered her still plagues the world, but there are some details that got lost in the media frenzy.
The documentary takes a different angle where various Colorado-area actors are interviewed and tested for the roles of real people involved in the case, including John and Patsy Ramsey, Burke Ramsey, John Mark Karr, and Boulder police officials. During the process, the would-be actors reveal their emotions about the case and offer their own speculations.
The Social Dilemma
This documentary was so eye-opening to me, especially as someone who's job heavily based on social media. I found myself deep in thought and wanting to have so many conversations with friends. It definitely made me rethink how I use social media and the dangers of such an additive part of our lives.
The documentary team interviews former employees of Facebook, Instagram, and other well-known social media platforms about how they were able to create a full generation that feeds off of instant-gratification. It was so mind-blowing to hear their techniques that we are oblivious to as consumers.
Out of Many, One
Did you know that one out of five of the world's immigrants have chosen the United States as their new home? This short documentary filled me in on all the facts I didn't know about when it comes to citizenship in this country. On top of being educational, it also made me question this process while ALSO make me so proud of all of the immigrants that have built this country and continue to do so.
You will laugh, smile, feel empowered, angry, and even sad throughout this film. That's the sign of a good one though. It gives a whole new meaning to our nation's motto "E Pluribus unum."
Icarus
I first learned about this documentary on NYT's podcast, The Daily, that I listen to every morning; so I knew I had to watch it. This documentary was groundbreaking when it came to Russia and the Sochi Olympics. It was by accident that the director discovered the makings of the Russian doping scandal. The intense cover-up behind it is crazy. You'll be shocked that you didn't know this was happening just a few years ago and the unbelievable story of mad scientists and scary politicians.
Amanda Knox
This case will forever have my heart and genuine interest. Amanda Knox and her boyfriend were twice convicted and later acquitted of the murder of her roommate while studying abroad. The documentary actually features Knox and her trials while explaining what it's like to serve a prison sentence for being wrongfully convicted in another country. After you watch it, it's up to you to decide if you believe her.
---
Final Thoughts On Netflix Documentaries You Need To Watch Netflix
That's my list of the best documentaries on Netflix. I'd love to know if there are any that I left off. I'm always looking for new things to watch and have developed a strong taste for documentaries with dinner.