I'm heading to NY this fall and nothing says New York like shawarma carts and falafel stands. One of my favorite street carts is a Kathi roll stand that makes Indian wraps, kinda like a gyro or a burrito – but full of spicy goodness and flavorful veggies. While NY is a plane ride away, a kathi roll is only about 20 minutes in the kitchen.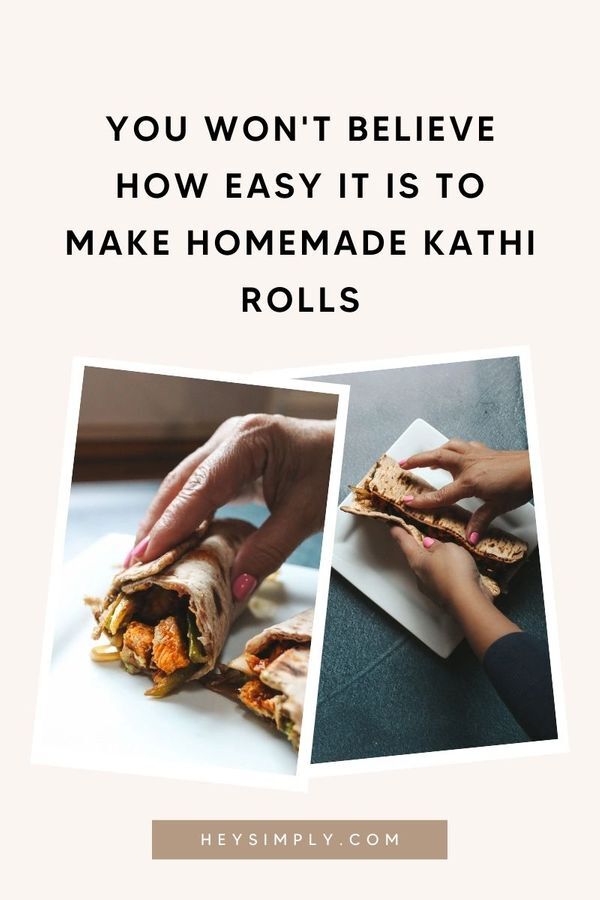 The dish combines so many of great pieces. The flavorful peppers and onions, the crack sauce, and my moms famous Karahi chicken. This chicken is honestly super easy to make and if you make extra, then you can just stand over the stove and eat it with a fork (I may or may not do this.)
Related Post: 6 Ingredient Recipe To Make Foolproof Chai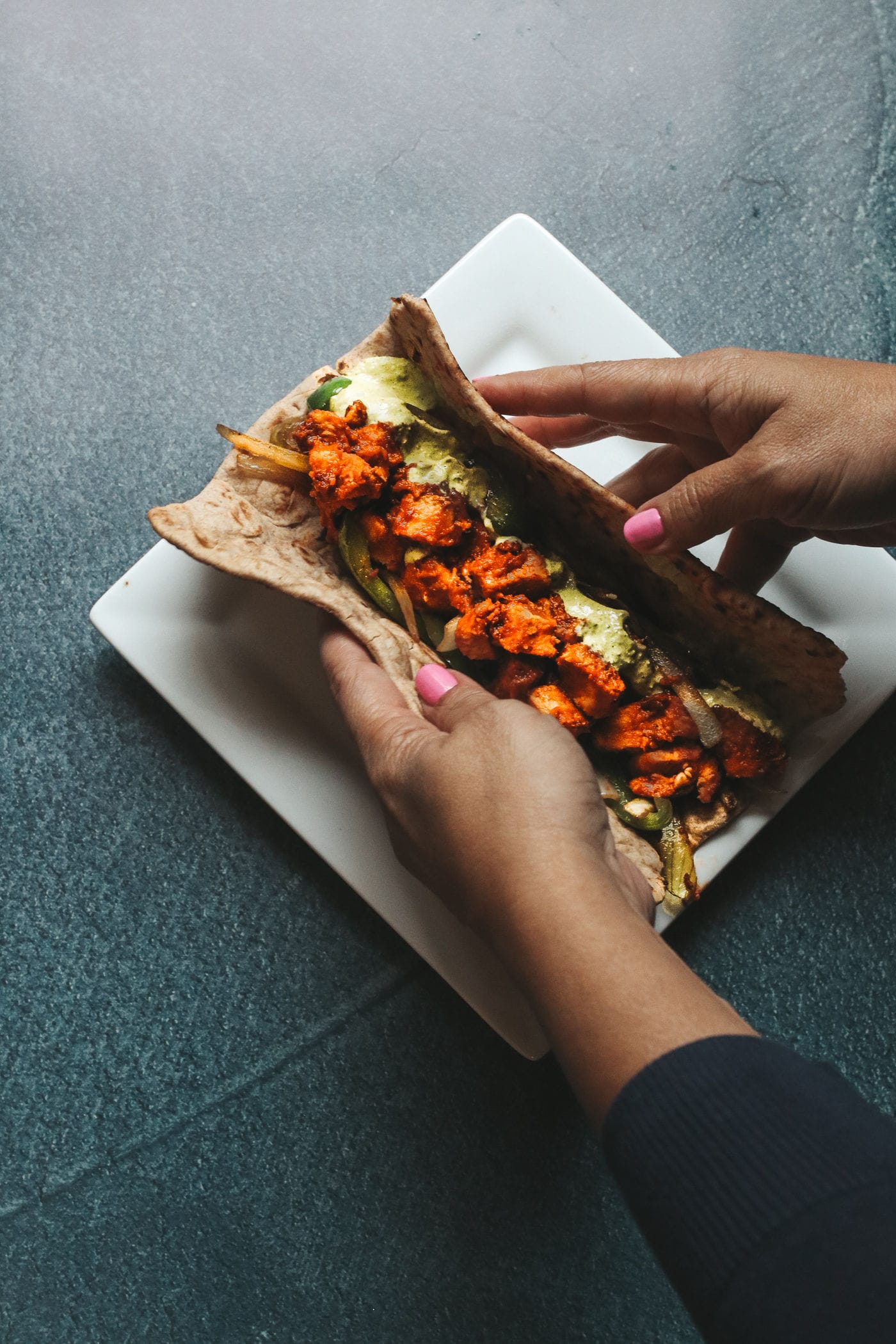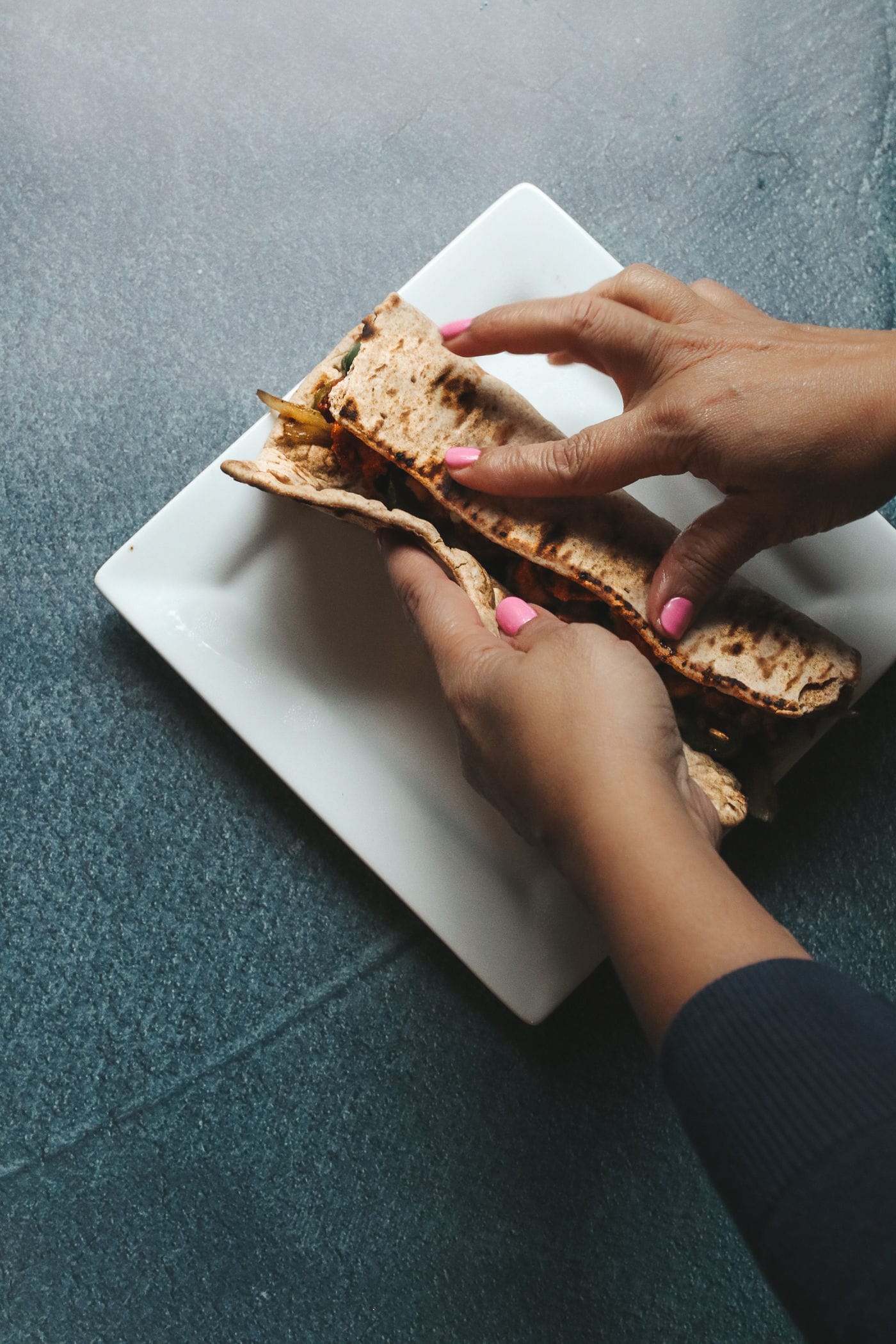 Related Post: Super Simple Indian Recipe For Lal Aloo
I found this crack sauce recipe from one of my favorite food bloggers, The Chutney Life. It's a jalapeno & cilantro based sauce that goes great with turkey, chicken, and even vegetarian meals. I've seen so many different ways to use the crack sauce and it stays well in the fridge for a few days.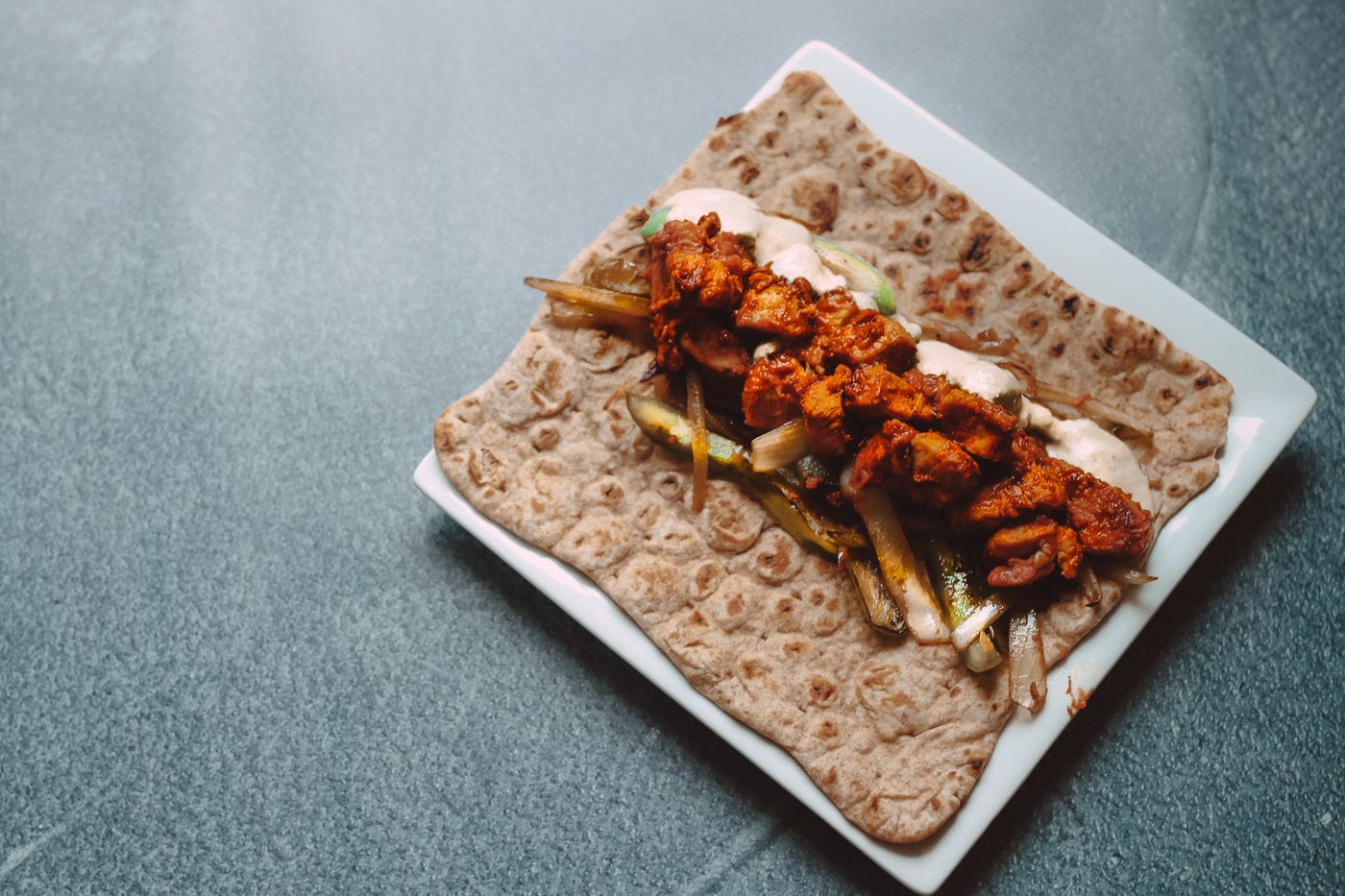 INGREDIENTS:
For The Wrap:
Laffa Wrap
medium size slices of a green bell pepper
Medium size slices of onions
For The Chicken:
1 chicken breast – cut into 1 In cubes
8 oz tomato sauce
1 tbsp of cooking oil
1 tbsp fried onions
1/8 tsp of tumeric
1/2 tsp of cumin
salt to taste
1/2 tsp of red chili (adjust to taste)
1/2 tsp of Shan Karhai masala (available at Indian grocery stores)
For The Sauce:
Crack Sauce

– From The Chutney Life
DIRECTIONS:
Heat a wok or deep frying pan on medium with 1 tbsp of oil
Add 8 oz of tomato sauce
Add 1 tbsp of fried onions
Add spices: turmeric, cumin, salt, Karhai masala, & red chili
Saute for 5 mins on low-medium heat
Add chicken & sauce for 5 minutes
When you are sautéing the chicken, on a separate fry pan start preparing the peppers and onions. Heat a small fry pan with some oil and sauté the slices of onions & bell peppers with some salt and pepper for 5 minutes.
Heat laffa wrap, add peppers/onions and chicken. Drizzle with crack sauce and serve warm.