When we thought about our baby shower, we knew that there would be two. I have a relatively small family, but my husband has blessed us with a large family on his side so we planned on having two showers: one big bash with family and a smaller more intimate event with friends.
For our family baby shower, we would do all of the traditional elements. I would wear green, take care of my handy dandy coconut (it brings good luck), get showered with blessings from all of our aunts, uncles, and cousins. My mother in law is a pro at throwing big events, so we knew that event would be all up to her.
When it came to our intimate event, things were a little different. I envisioned an outdoor event with lots of florals, beautiful scenery, delicious food, and the company of our close friends. I didn't want too many traditional baby shower games (honestly, some of them make me cringe) but something that would allow us to celebrate this exciting chapter of our lives with the people closest to us. Thus, the garden party idea was born.
Non-cheesy games, elegant setting, a custom menu? It all came to life. Here's how it went down.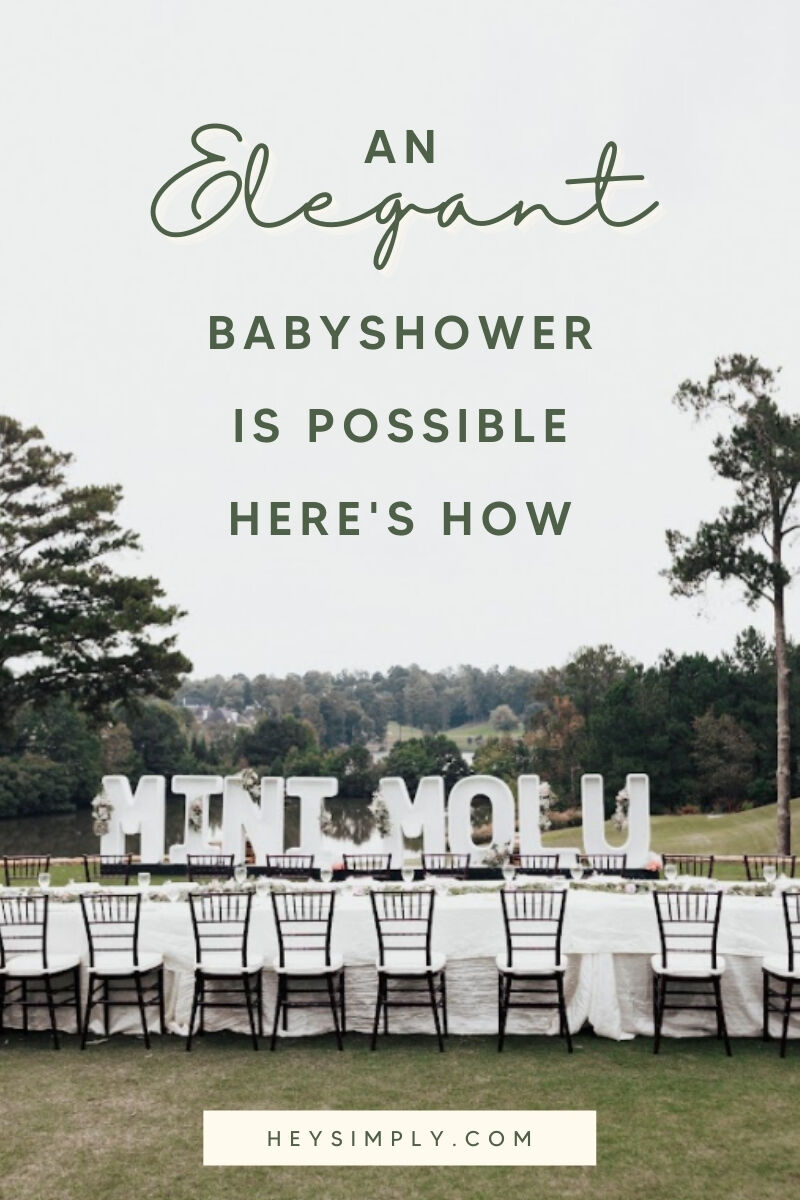 Related: How To Throw a Pinterest Perfect Gender Neutral Baby Shower
The Venue
Because we see it so often, we had become numb to how beautiful the venue at TPC Sugarloaf is. The rolling golf course, lake views, and manicured lawn were the perfect place to host our baby shower. I went though tons of options with outdoor venues, tented restaurants, and even tea rooms – but ultimately found the perfect place right near where we grew up at TPC Sugarloaf.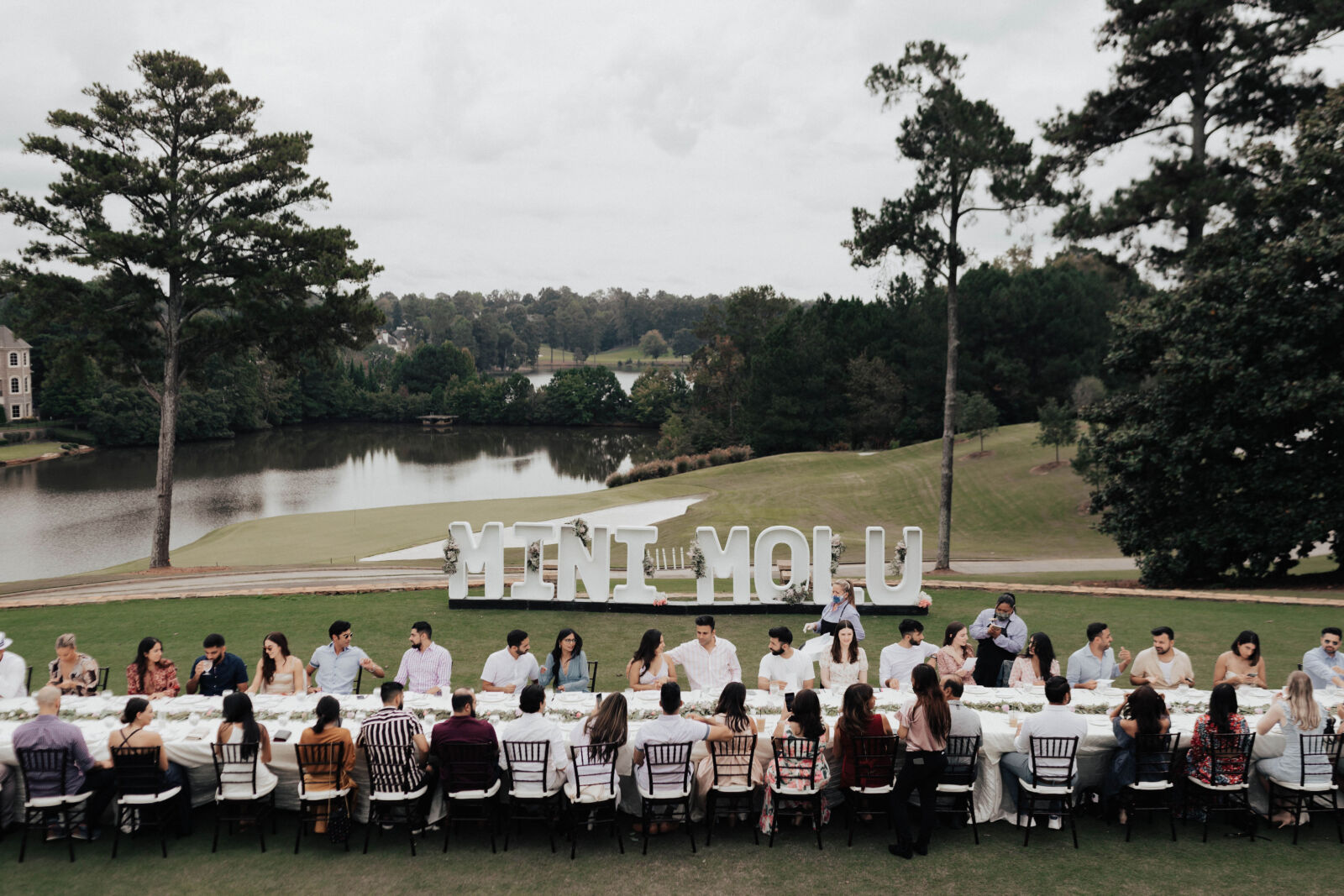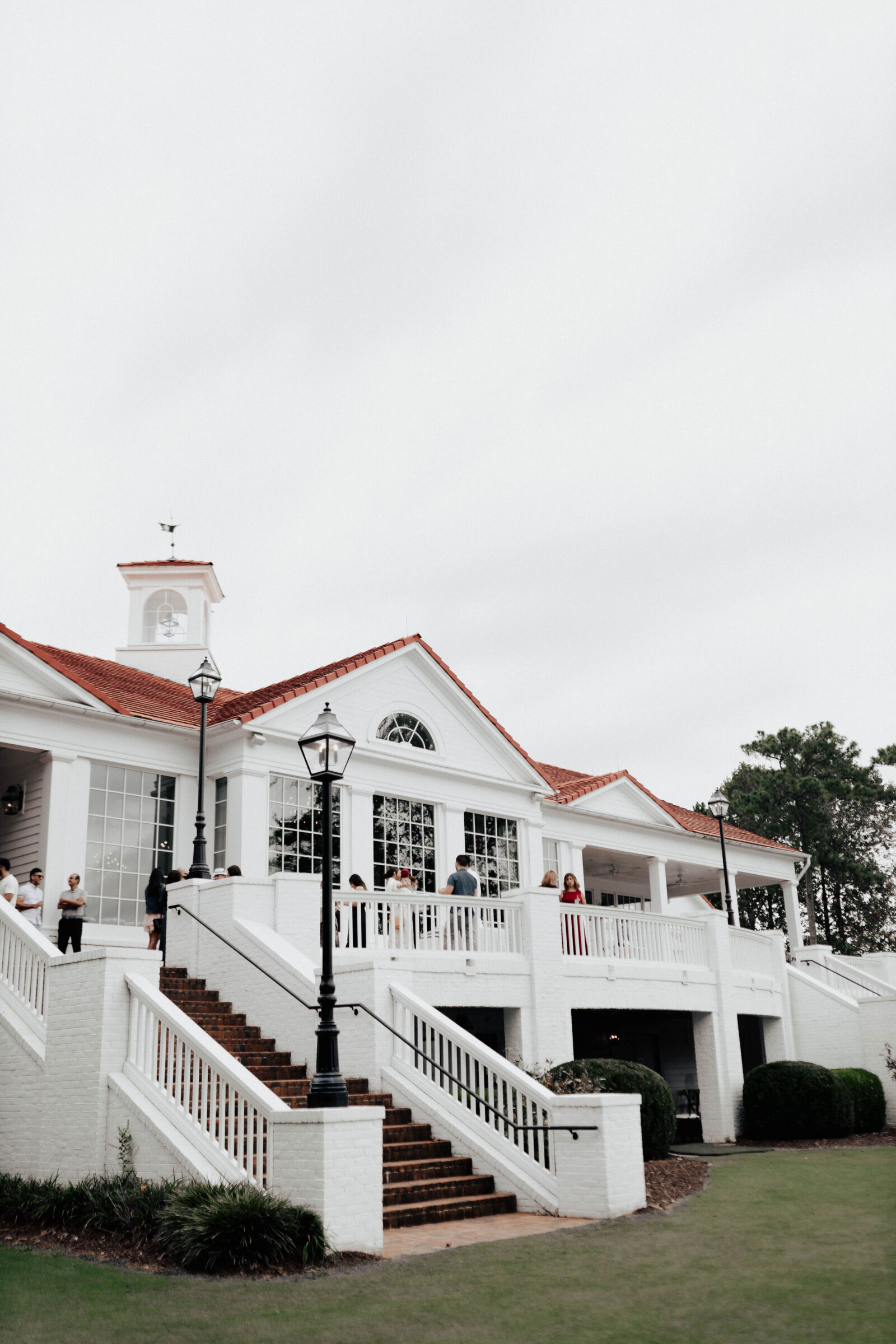 The Food
TPC Sugarloaf is also a restaurant with their own culinary team and we designed a custom menu for the event with them. We went with a four course meal that started with biscuits and fruit, a salad course, an entree made up of four "mini" dishes, and finished with a floral mini cake for each of our guests.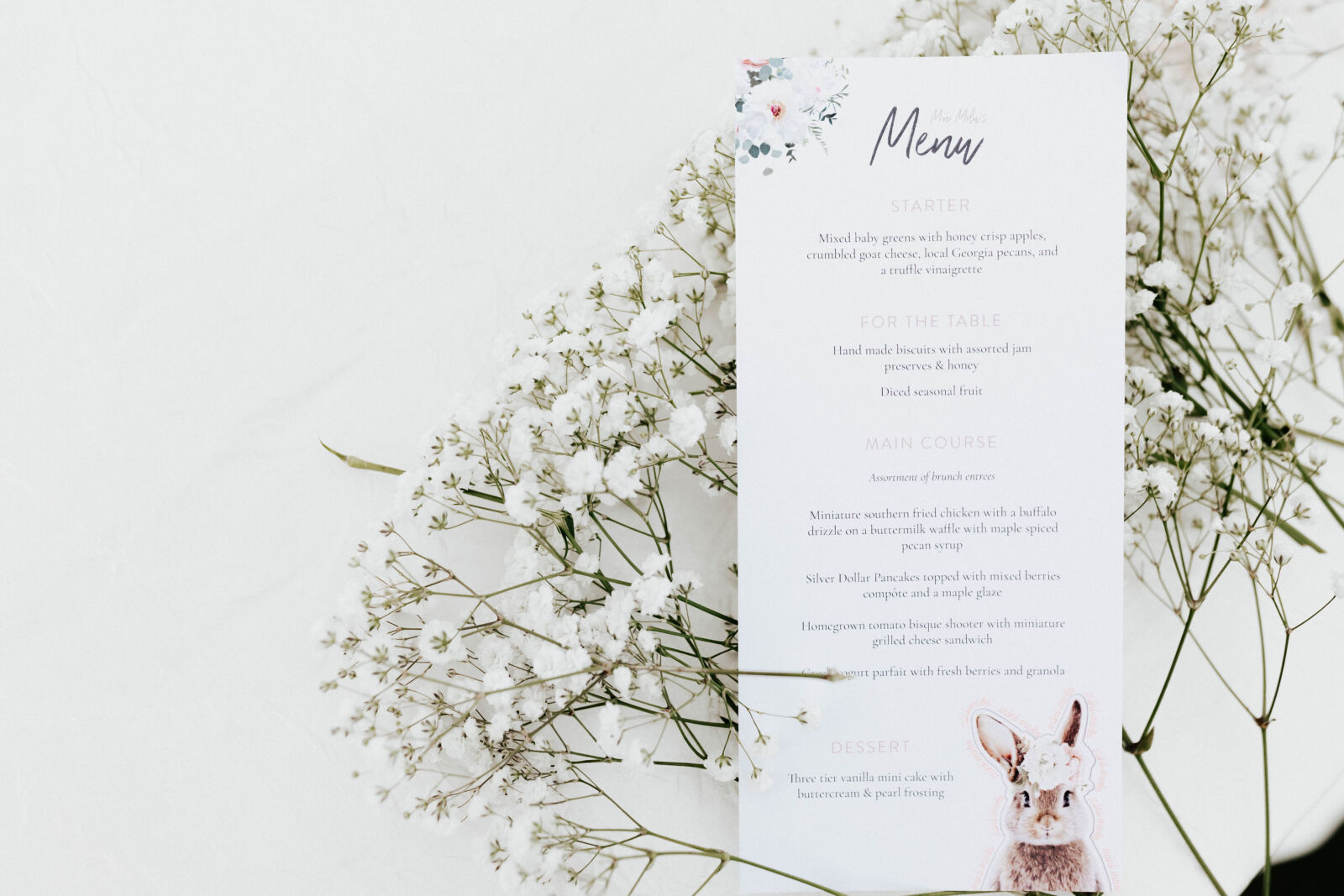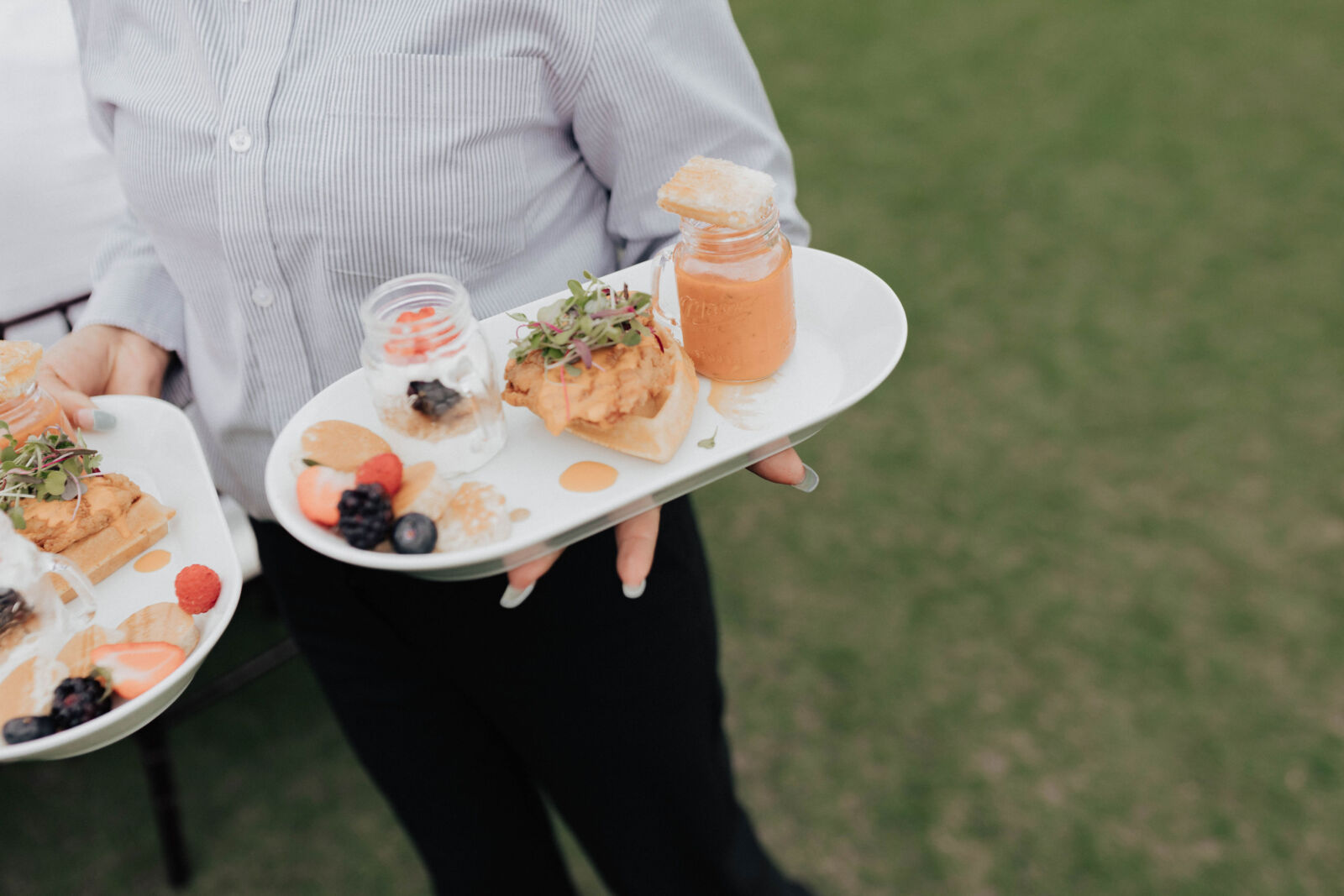 The Mini Cakes
The venue did all of the food with the exception of the cakes which were created by Dipped By Rani – a local Atlanta baker who's super talented. I had seen these mini three tier cakes online and I asked if this was something she would be comfortable making. She added fresh flowers, pearls, and so many adorable elements to the cakes. I was so impressed!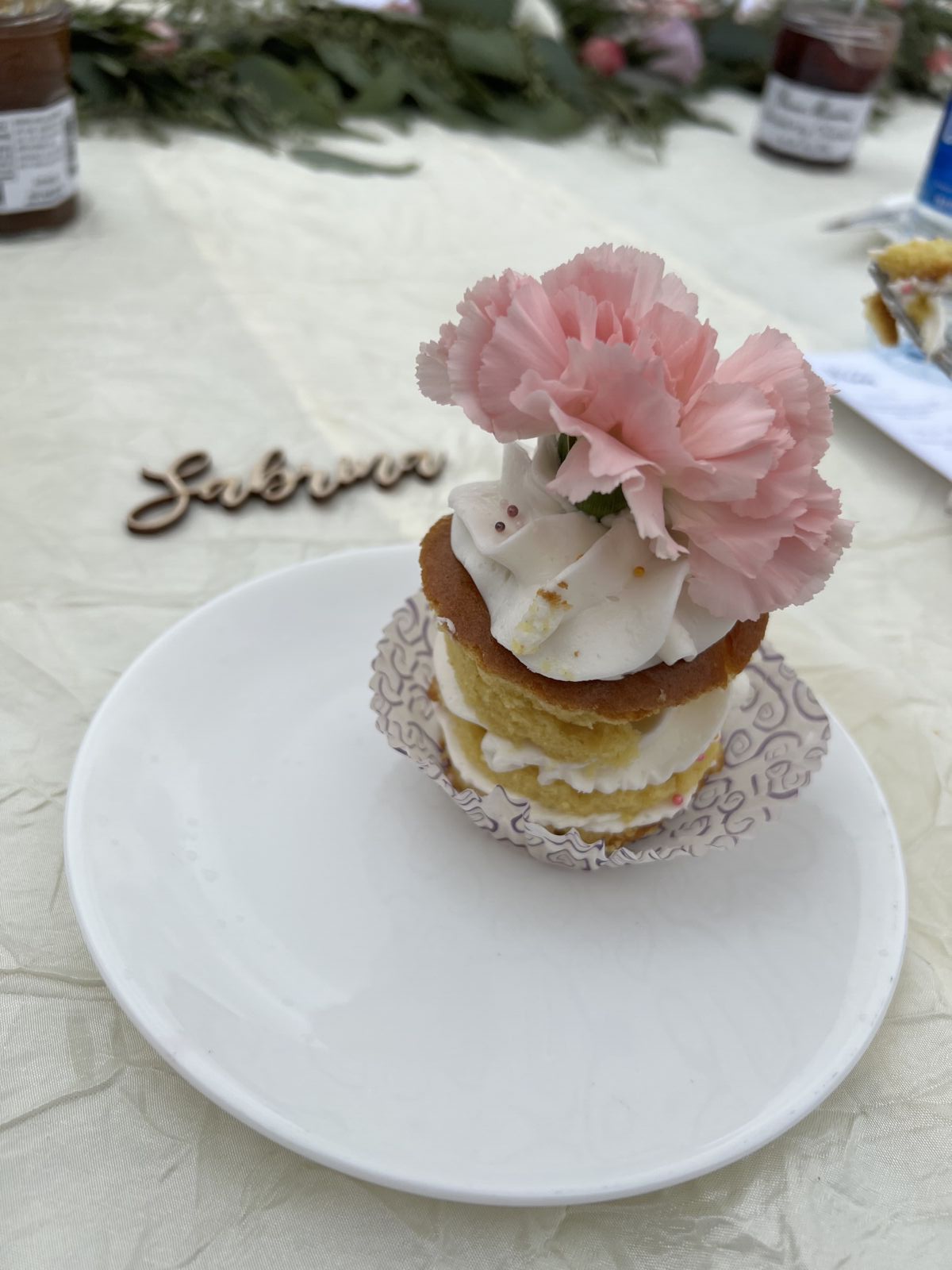 The Decor
Because the vision was to do one long table, I knew I needed to amp up the decor, specifically around florals. Because the table was 50 ft long, we needed to have some type of decor that took up a good amount of space. That's why I chose to work with letters instead of a backdrop. I didn't want to hide the beautiful scenery behind us. There is a delicate balance between being too much and just enough. I'm obviously bias, but I think we nailed it. The tablescape was elegant and allowed people the space to eat comfortable while still remaining elegant and beautiful.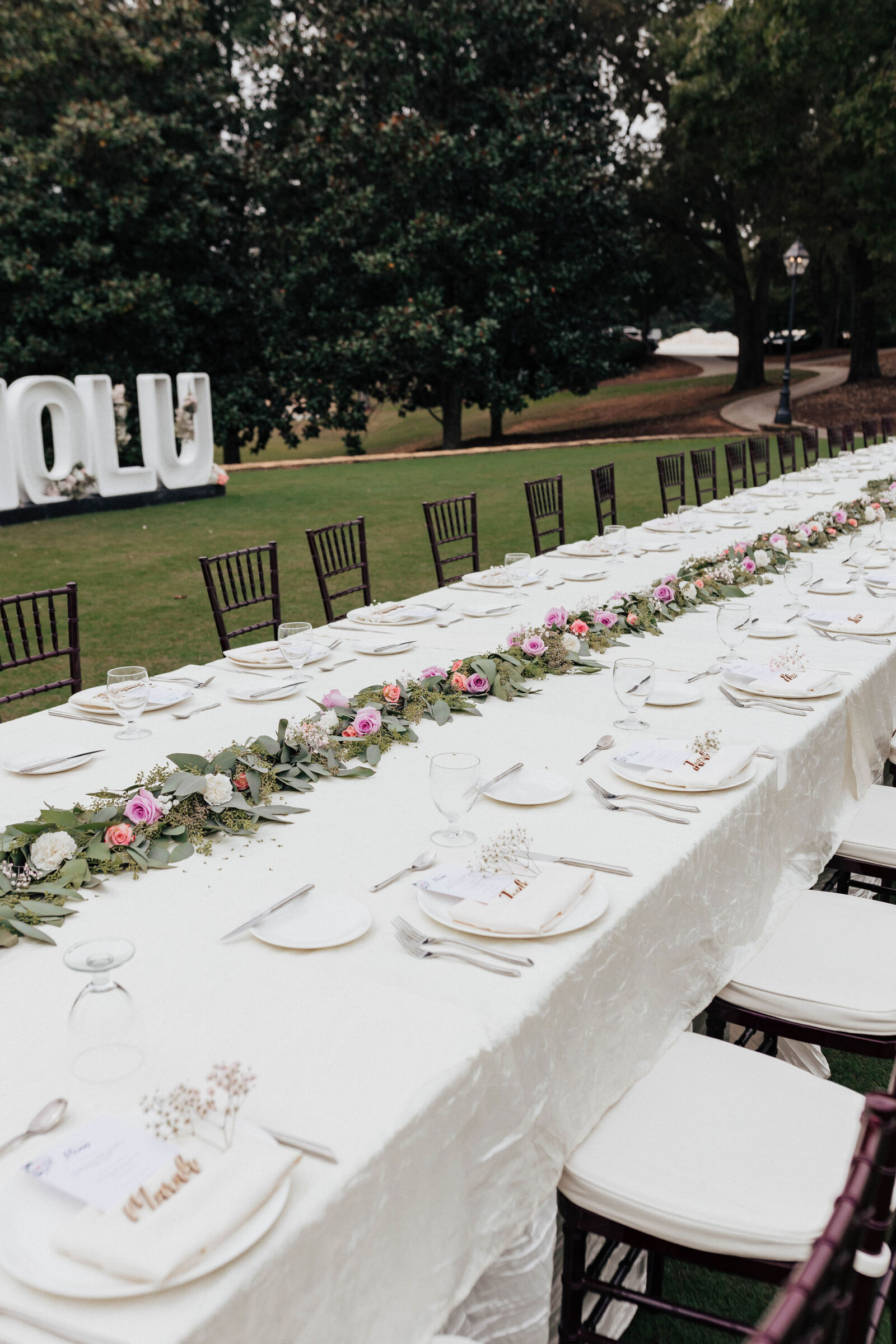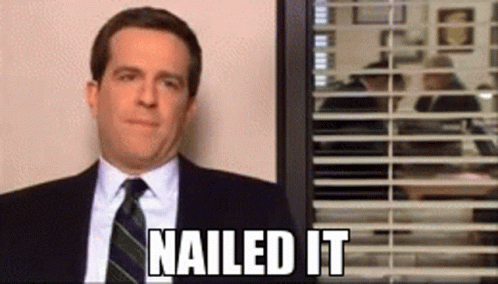 I worked with the team at FiftyFlowers to design florals to compliment the event. FiftyFlowers is a DIY floral company who was kind enough to partner with me for the baby shower. I had looked into their services for my wedding six years ago, but the timing just didn't work out. I knew I wanted to reach out and work together this time. 
They were so kind in working with me. They sent me instructions on what to do each step of the way with written and video directions. We also had a zoom call with their in house florist who helped me envision how to create the pieces I needed for the event. I'm not gonna lie, I was a little nervous about the DIY portion of it – but honestly, it was so great! Much easier than expected.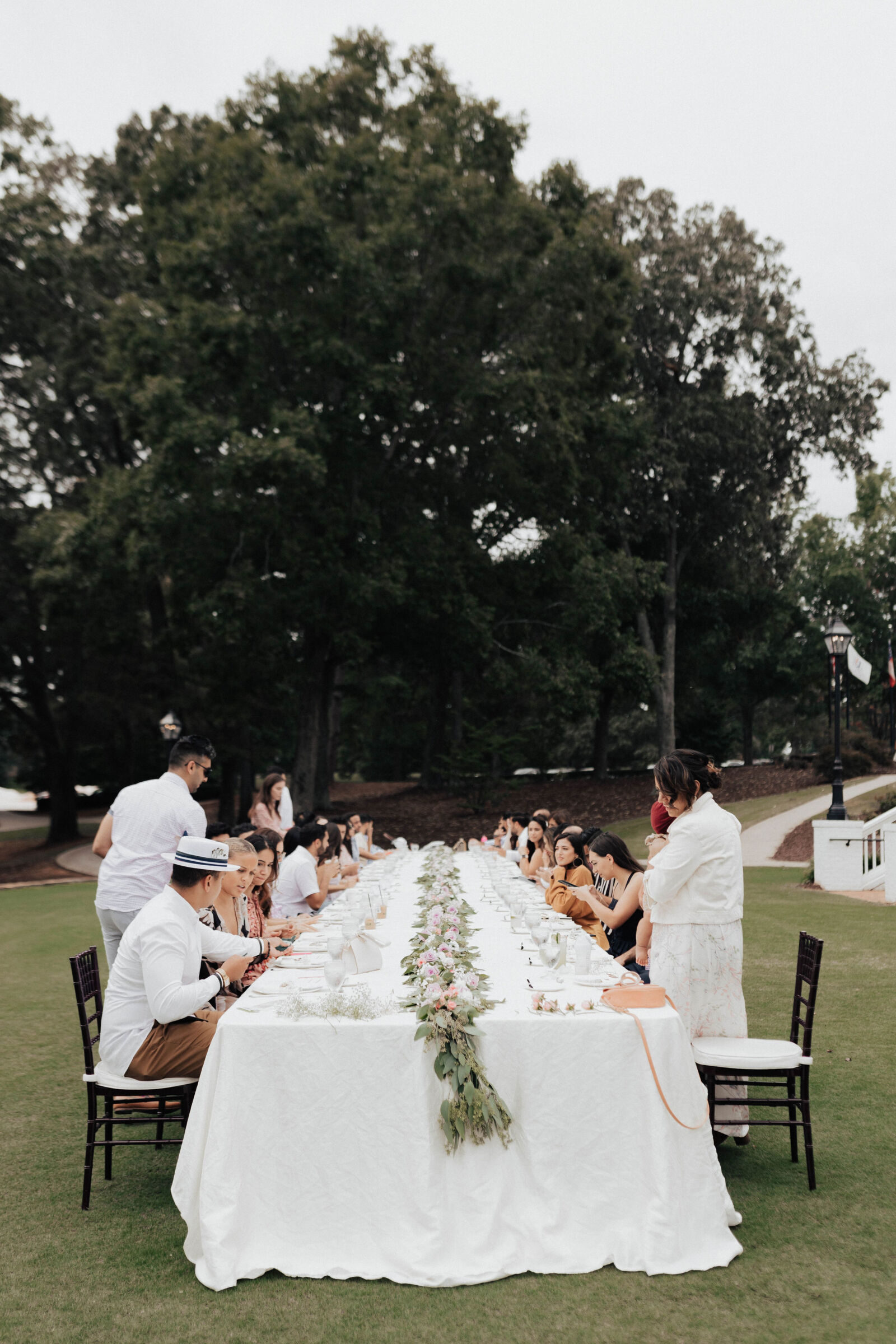 There were 3 big pieces to the florals. 
The table garland
The smaller letter arrangements

This was probably the most DIY of it all. We used the directions from the team at FiftyFlowers, some floral twine, and floral wire to create mini garlands for each letter. When I say "we" I actually mean Sahir and my mother in law who were rockstars. They knocked all 8 out the night before in less than 90 minutes. They were so great!

The loose flowers + baby's breathe

Here we did a mix of carnations, purple roses, and baby's breathe. I added in a few other pink roses that I found at a local store and made a trip to Home Depot to buy some spray paint to gently paint half of the baby's breath pink. This added a layer of color and elegance that turned out even better than I imagined – and was so easy to do!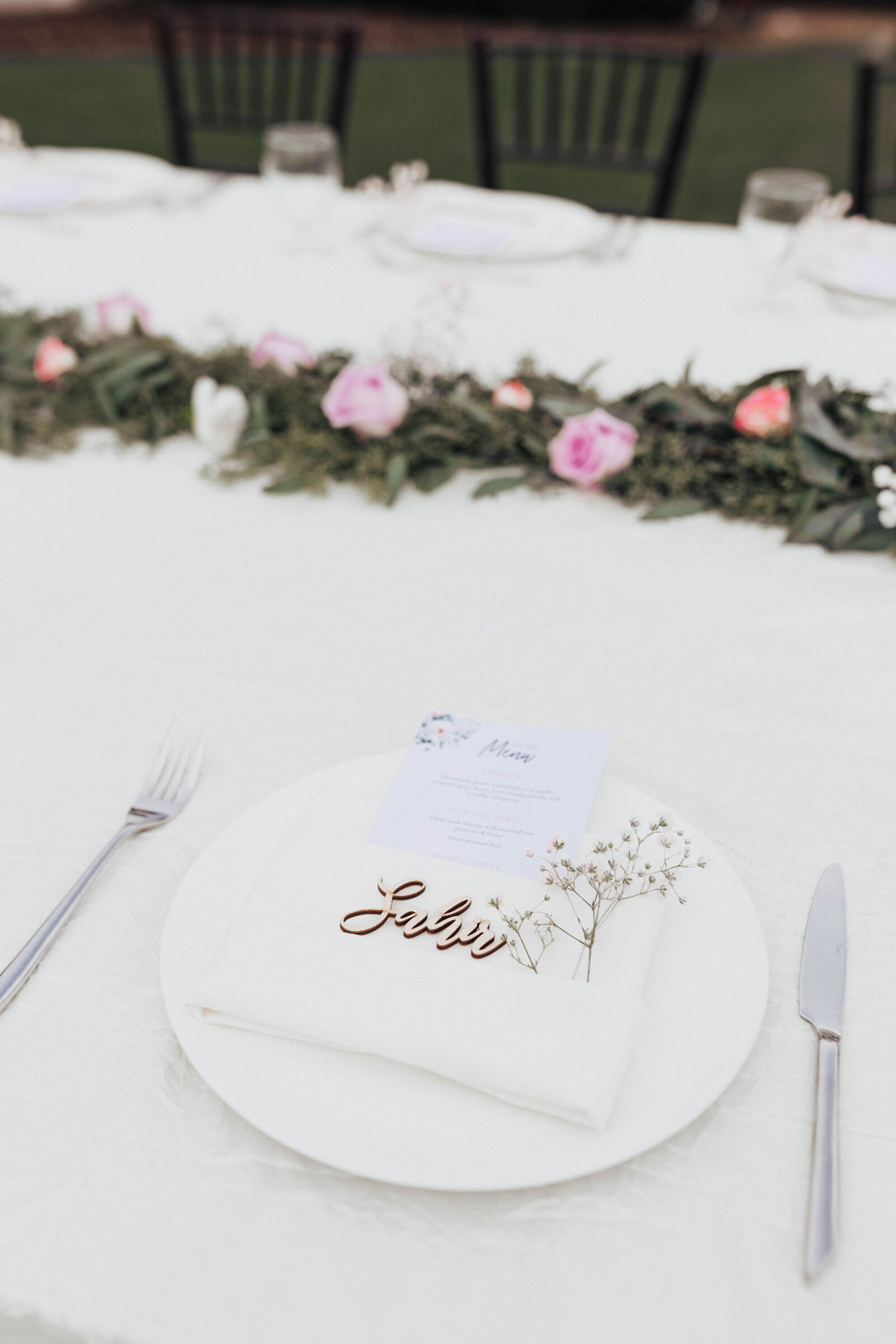 The Letters
I've seen large marquee letters but they are usually light up options. Since our event was outdoor, I wanted to do something that was a little bit different and Simply Lit was the ultimate partner. They provided a rental for 4ft shadowbox letters for our "Mini Molu" sign. I had only ever seen balloons decorating letters, and I knew I wanted to do florals – so it took some creativity on our end. Honestly, couldn't find a picture on the internet of exactly what I was looking for, but we nailed it. 
We used floral twine to create loops at the end of each of the smaller arrangements and hung them from each letter with command hooks. It worked perfectly.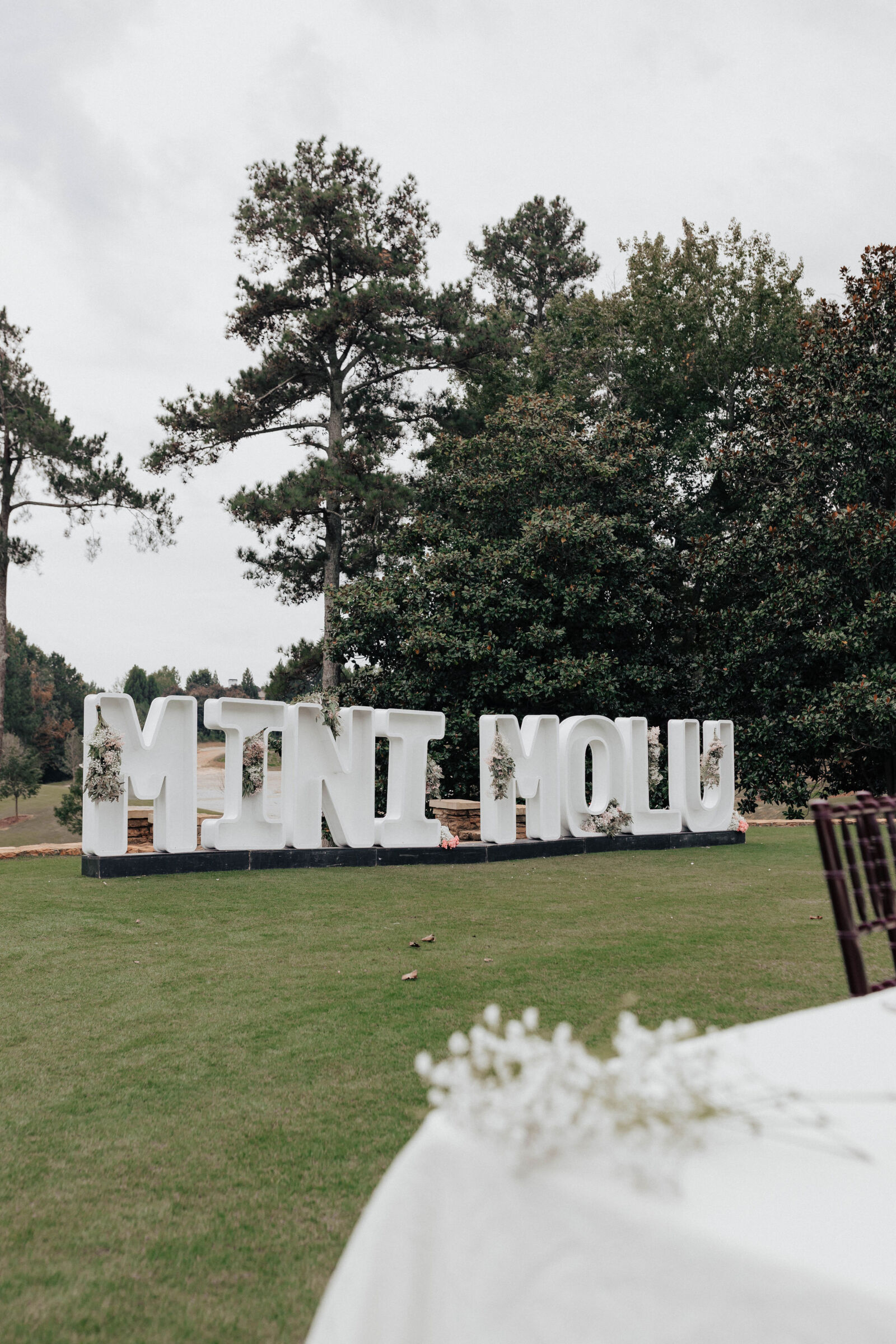 My Look
My Dress
I wanted something flowy but girly, and who knew that October is not the time of year to try to find a lavender pastel dress. I found this dress online and happened to see that it was from a place called Society Boutique had 4 locations – in Atlanta! They fished this dress out of their warehouse for me and I picked it up on Thursday. It was perfect!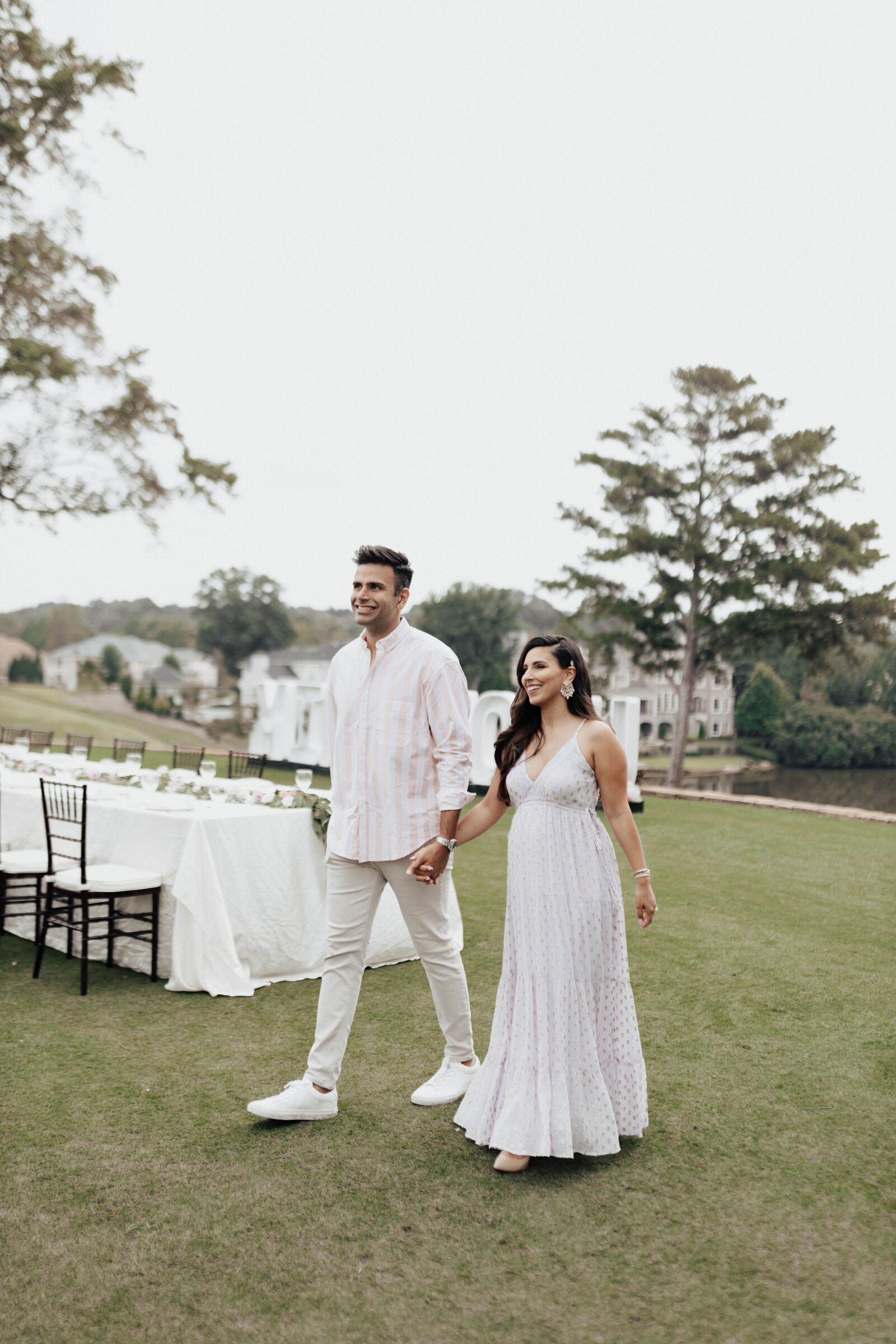 My Hair & Makeup
I partnered with Van Michael Salon, where I've been going for over 5 years, for my hair and makeup. Brandon (who you know as the mastermind behind my hair cut) did my elegant waves and Story did my makeup. We were for a natural glam look since it was a daytime event and I love the way it turned out. 
My Earrings
My sweet friend Amy, the owner of House of Naveda, gifted these earrings to me years ago. They are still some of my favorite and even though they have an eastern spin, worked perfectly with this dress.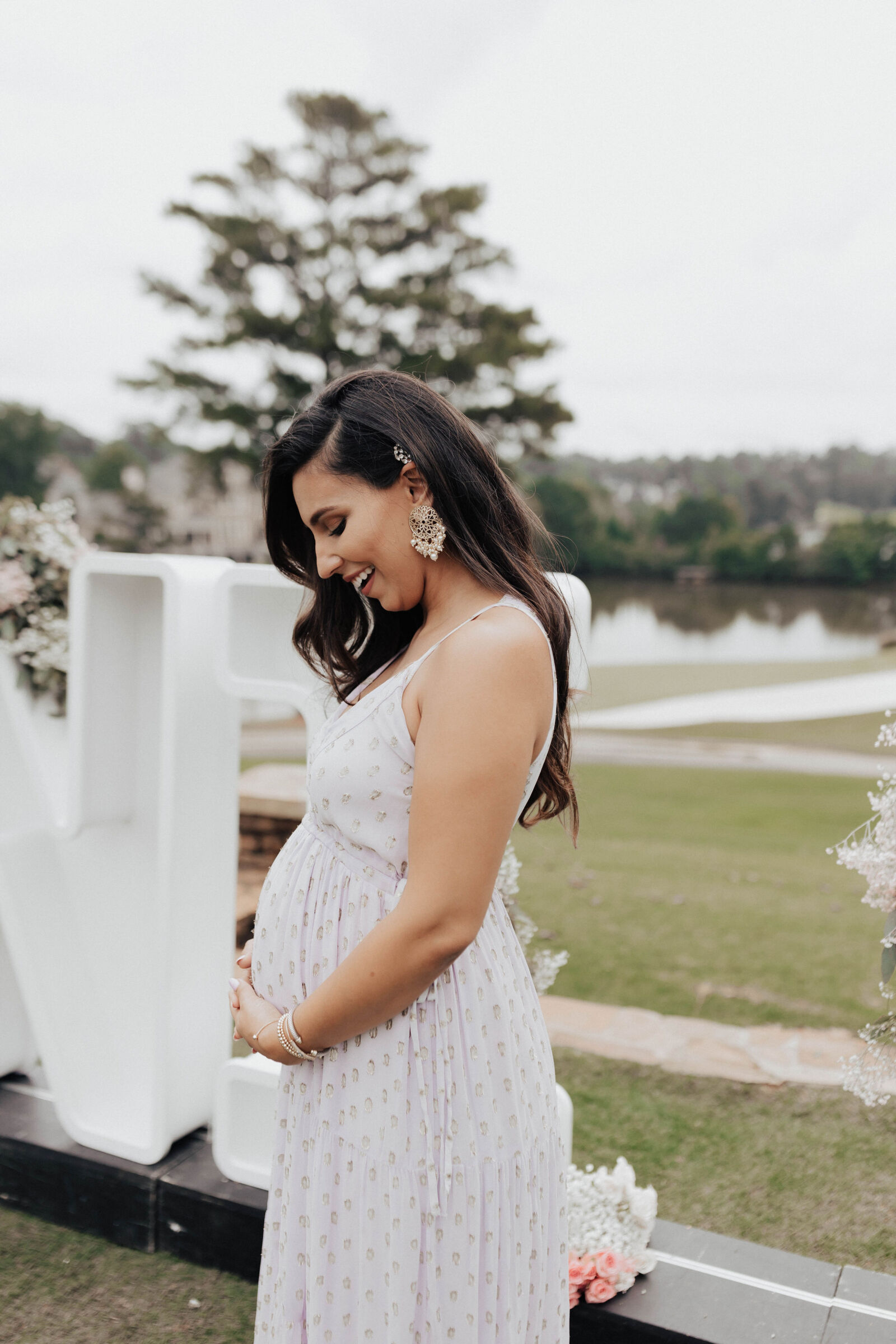 Paper Products
I forgot how much fun it is to design things. Early in my blogging career I used to make all of my collages, graphics, and images myself. It was a creative stress reliever for me that I truly enjoyed. As I have moved into more business operations for my brand and my team has grown, I don't get to do these things as often. Designing a logo, signs, and the menu for our baby shower was such a treat for me. I designed this cute grey bunny and did wrap around writing that said "Mini Molu". We used complimentary colors on all of the signs like for the mocktail bar + coffee cart.
Menu, Coffee Cart + Cocktail Bar Signs – Designed myself, printed at Toco Hills Printing, a local printer in Atlanta
Stickers – Designed myself, printed by LilyLlamaPrints on Etsy
Wooden Name Cards – KnKarts on Etsy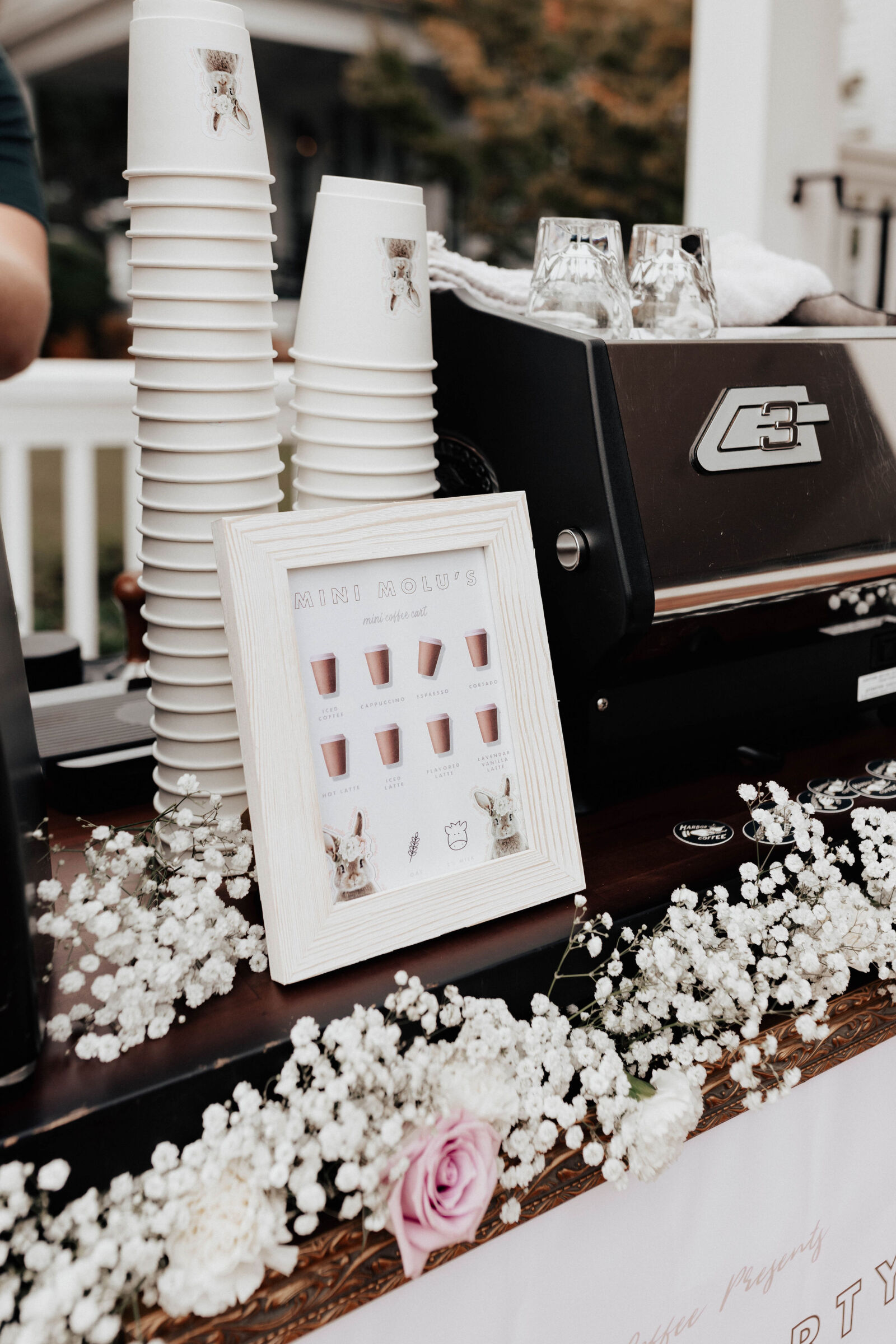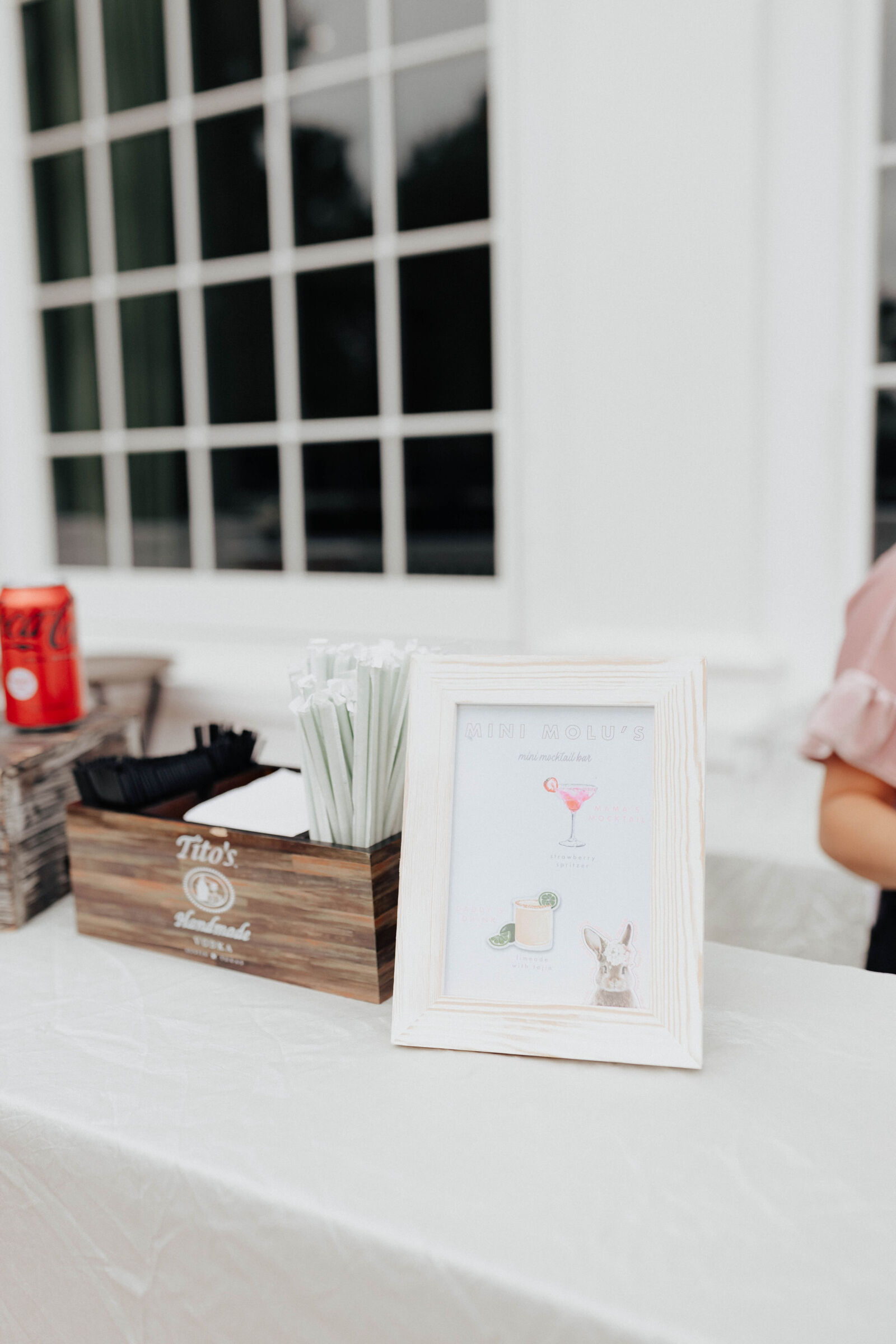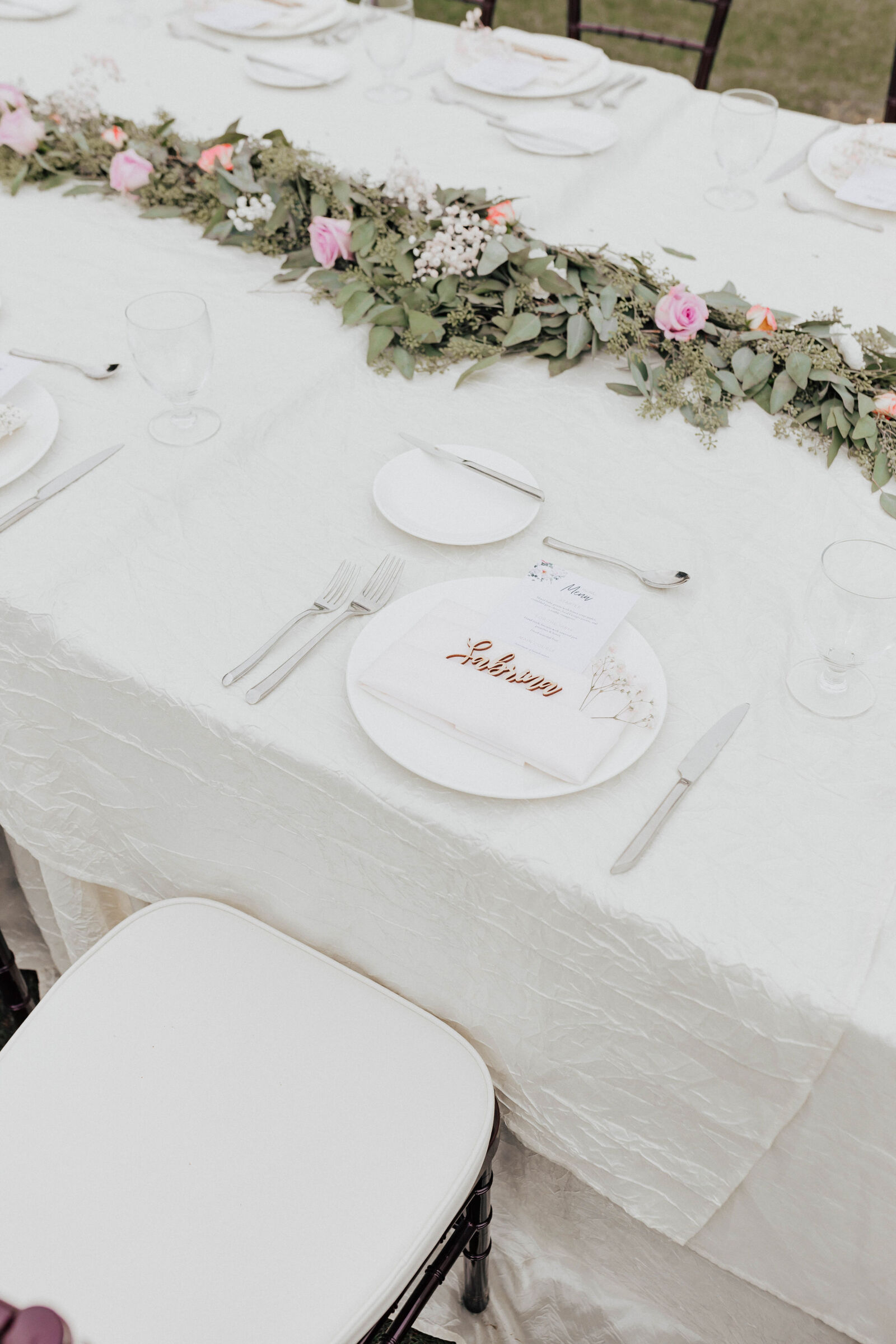 Activities & Games
Coffee Cart
All brunch events with our friends start with coffee, so having a coffee cart was something I really wanted. It served as an activity when the guests arrived and they were able to get any drink they wanted – hot or iced. The team at Harbor Coffee in Atlanta were so easy to work with and helped making our vision come to life. ++ they even had decaf for me!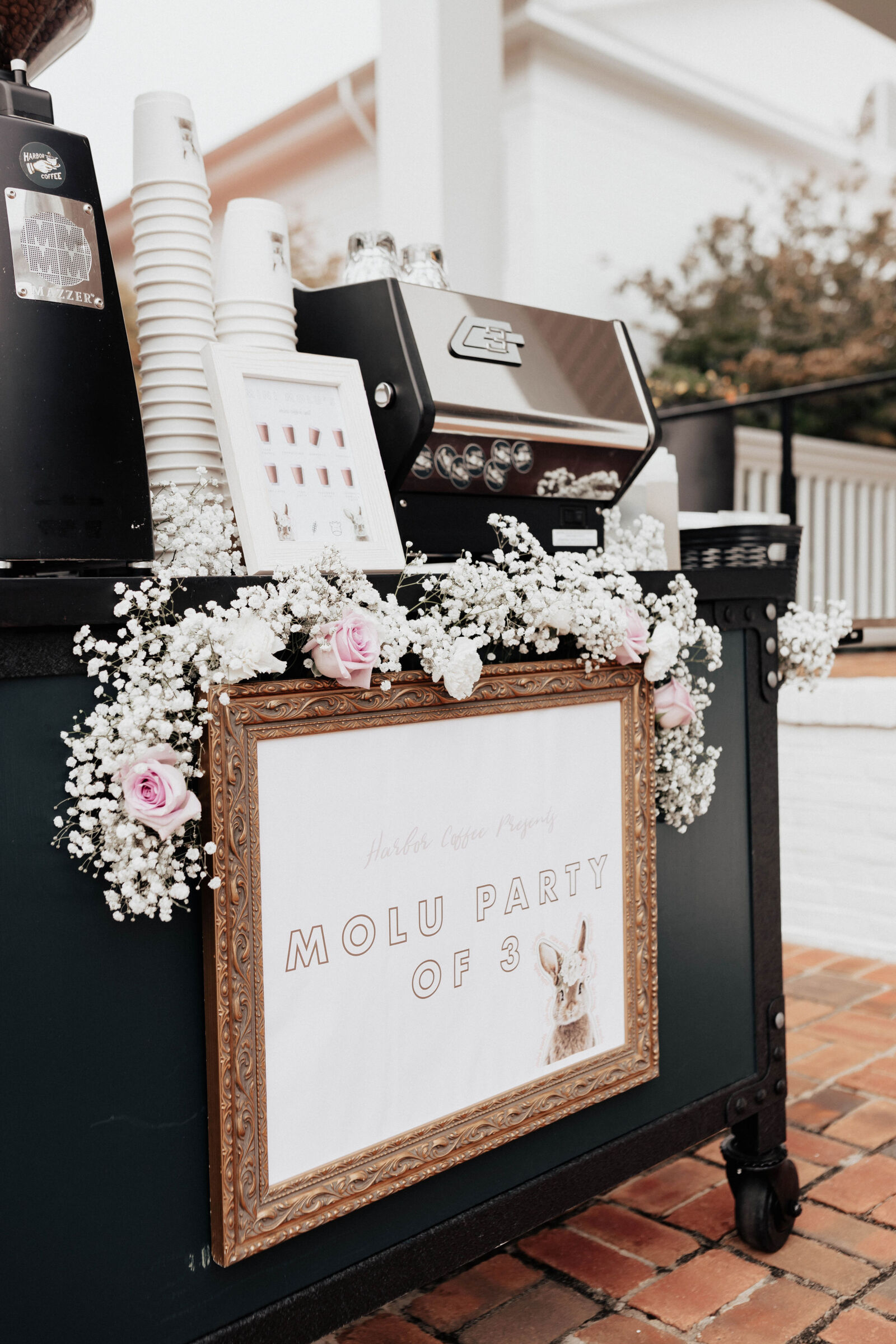 Speeches
Sahir said a few words welcoming our guest and saying really sweet things about our relationship and me at the beginning of the seated brunch. My sister gave a short speech before the salad course from the perspective of a mom, and Sahir's brothers closed out the brunch with short toasts. 
Games
Pass The Present
We played a game similar to this when I designed my sister's baby shower a few years ago. The idea is that you have a wrapped present and all of the guests stand in a circle and pass it to the person that the line in the poem correlates to. My best friend Payal hosted this game and read out of a poem with things like who is wearing the most rings, who traveled the furthest, and who has on a blue dress. We changed a few of the words to make it more gender neutral since we had both men and women at our couples' shower, but otherwise it was pretty straight forward. 
We used this as an ice breaker between the "mocktail + passed appetizers hour" before the guests went down to the lawn to take their seats. It was the best idea!
Mom Vs. Dad
My brother in law, Samir, hosted this game where he took questions from my mom and mother in law and Sahir and I faced off on who knew more. We bought colored popsicle sticks for all of the guests so that they could participate in the fun by guessing too. The questions were like "who weighed the most at birth?", "who slept through the night first?", and "who was a more spoiled baby?" – spoiler the answers to those were: Sahir, Sabrina, Sahir.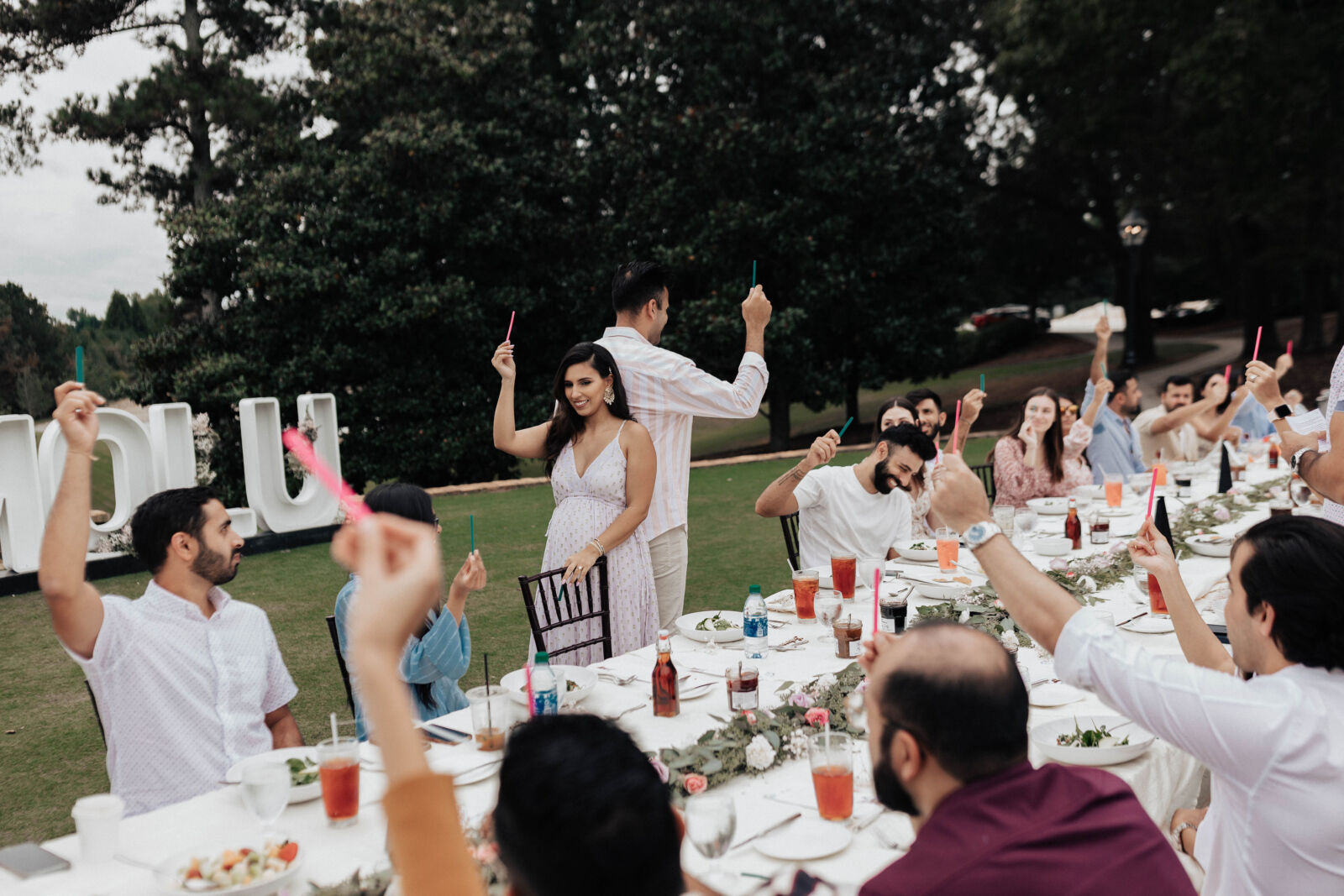 Poll The Crowd
Using the same popsicle sticks, we had our friend Becky host this fun game. These were more questions like "who's fashion sense should be baby have", "who will take more photos of the baby", and who's done more shopping for the baby. These were actually so fun to do and see what all of our family and friends guessed. The answer to the last one is definitely my mother in law, by a long shot! 
Name That Songs
At the end of the event, my brother in laws – Shan and Shaz, gave a short toast and then circled into our last game of the event. He had a baby themed playlist that he played and in order to get a point you had to name the artist + song. Even with 40+ people, this was kinda hard! It was fun to see everyone trying to figure it out together. Songs on this playlist were like "Push It" by Salt + Peppa, "Born This Way" by Lady Gaga, and "Baby" by Justin Bieber. 
Related: My First Trimester Must Haves & Frequently Asked Questions
Final Thoughts on Elegant Baby Shower
Of all of the events in my life, this one was put together in the shortest amount of time and honestly turned out so incredible. I'm grateful that the rain stayed away long enough for us to have this outdoor meal together with people who will be aunts and uncles to our little Mini Molu. We are grateful to the people in our lives whom we are lucky enough to be friends with, that took time out to celebrate this exciting new chapter with us. 
Vendor List
Venue + Catering: TPC Sugarloaf
Mini Cake: Dipped by Rani
Coffee Cart: Harbor Coffee
Letters: Simply Lit
Florals: Fifty Flowers
Hair & Makeup: Brandon + Story from Van Michaels Buckhead
Photographer: J.Sand Photography
My Dress: Society Boutique
Earrings: House of Naveda
Paper Suite: Designed myself, printed at Toco Hills Printing
Custom Stickers: Designed myself, printed by LilyLlamaPrints on Etsy
Wooden Name Cards: KnKarts on Etsy