Organizing your makeup and skincare can be such a battle and I understand that. I've been trying to develop the right system since I was in college (actually no, this has been going on since I got my first 3 step skin care routine, mascara and lip gloss) and trust me the more my collection grew the harder organizing my products got.
I've spent hours on the internet trying to find the right hacks to organize my products and trying to find the perfect solution. It took a lot of experimenting before I got here.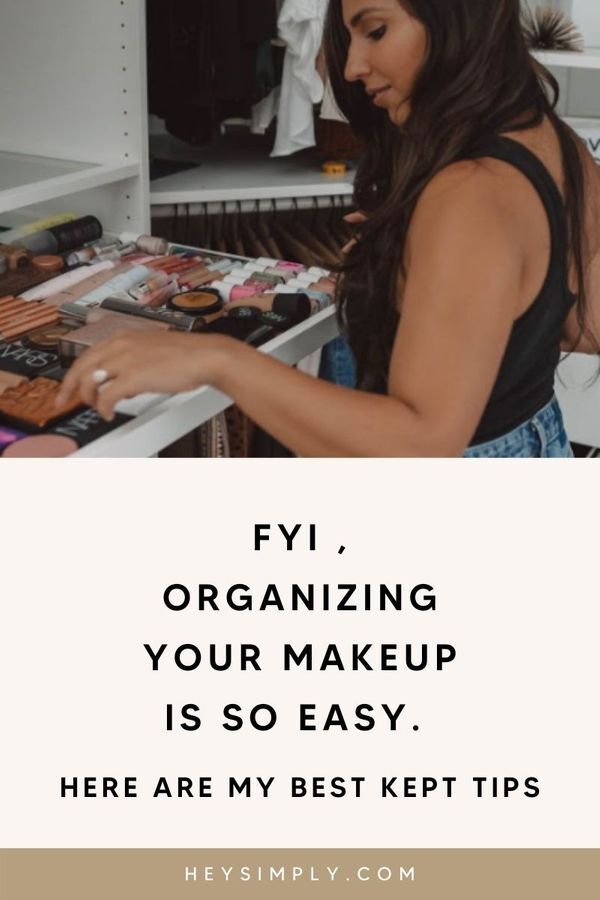 Here are some essential tips to helping your get your organizational game on and Marie Kondo your makeup and skincare. Ready? Let's go.
How do I store my makeup and skincare?
Categorizing your products is key to organizing your makeup. It doesn't have to be based on anything too rigid, but your usage and convenience is something you need to consider. The most important thing is to customize organization techniques to fit your lifestyle and routines. It is about creating a system that works for you.
How to organize your makeup
Choosing how to organize your makeup can be the real struggle. You'll have to choose a system and commit to it.
Of course, you can combine a couple of these strategies to best suit your system. You'll want to apply the basic principals below, and then customize it to your personal needs.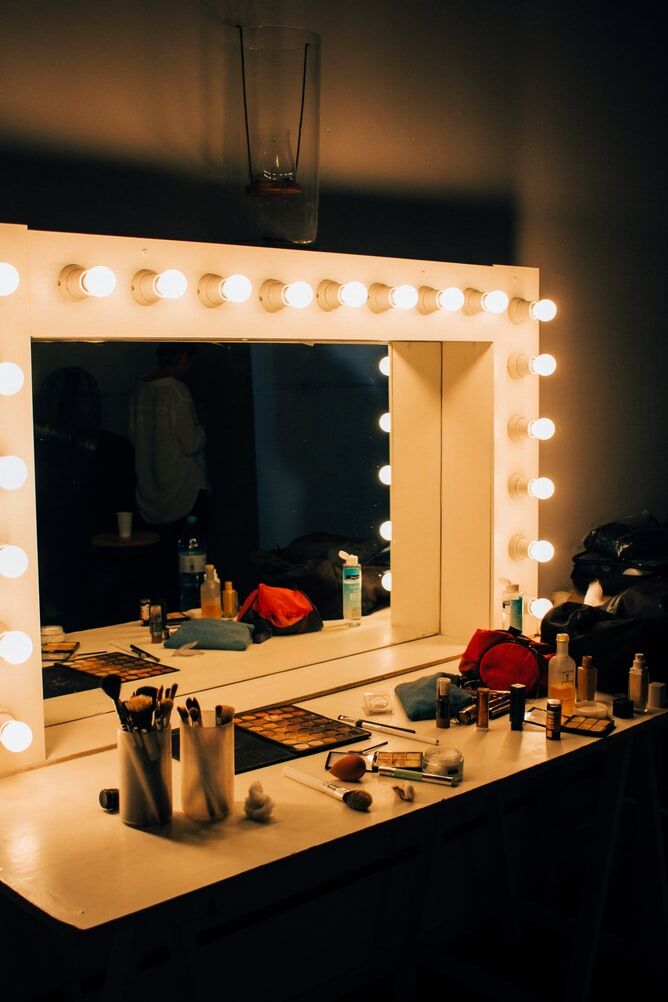 How to declutter makeup
The first thing you need to do it go through your makeup collection and declutter. It will definitely make the organizing part of the process easier. With fewer items, you will need less space to fit all your products.
Get rid of old and expired products. When was the last time you replaced your favourite mascara? If it was anytime before six months ago I'd suggest that you read this article. I know that it can be hard to let go of your holy grail products, but it is necessary to protect your skin and save space.
Sometimes we do buy makeup products that we think will work for us, but don't end up using them. But I spent so much money on it?! I know, I feel your pain. Give products that didn't work with you away to a friend, sister or a cousin. Someone else be able to get use out of it and love it.
Sort makeup by item or product type
The next step is to sort the items that you own by product type. This will give you a clearer picture of how many you have of each type and how often you use the products. If you have 3 bronzers, you and I both know that you have a favorite and the others only come out to play on special occasions.
For example, this can be the baseline for your organization and you can subcategorize your products by color or any other measure that works for you.
By expiration date
Organizing your makeup by expiration date is genius because this will reduce wastage and create a system where you prioritize using your products before it goes bad.
Makeup expiration date is something many people tend to ignore, and we advise that you don't do that. I'm linking this post again to help your get started on understanding the lifespan of your makeup and skincare products.
Related: The Truth About When To Throw Out Your Beauty Products
Frequency of use
Arranging your makeup products based on frequency of use is especially helpful for those that wear makeup every day to an office setting or something similar. This is a practical tip that you can apply for the products that you use every day.
By color
If you have a large makeup collection organizing the products by color will be an appealing option especially when it comes to eye makeup, lipsticks and even blushes.
This way it will easier for you to find what you are looking for, for instance you'll know exactly where all your berry lipsticks are or where you have kept all your blue eyeshadows (I hope nowhere, blue eyeshadow should be used in limited capacities after 1998).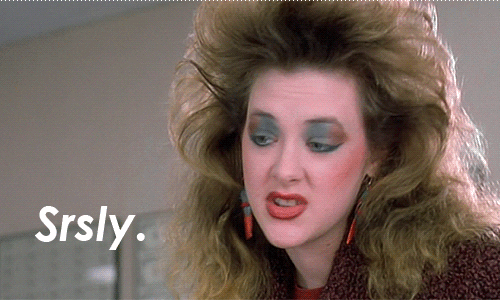 Organization for makeup on a budget
Organizing your makeup products is largely personal and heavily depends on who you are and what your makeup routine and collection looks like. It is not a one size fits all situation.
There are few things you can do to ease the process of organizing your makeup. The tips below might help alleviate the pressure from both your space and your wallet.
Use a spice rack organizer
Don't want to spend too much on a makeup organizer? A spice rack will come to your rescue. You can find these at any store at various price points.
Spice racks don't take up too much space and yet can fit a bunch of your makeup products.
It is a lovely affordable solution to your makeup storage issues.
Using desk organizers to store makeup
Stationery stores might be the best place for you to go and buy organizers for your makeup collection. Desk organizers, pencil holders and other items that are designed to hold stationery will work wonderfully to organize your makeup.
It may not be the traditional option but it will do.
Clear shoe boxes to store makeup and skincare
The Container Store carries stackable clear shoe boxes. These are a godsend when you are putting away your skincare products. They fit quite a few items and are convenient to put under your sink or at the bottom of your vanity or even in your closet if you need to.
How to organize makeup brushes
Yes, brushes do take up a bunch of space and they do roll away sometimes. Mugs, jars and any other vessels do the trick to store them on your tabletop.
However, for makeup brushes that you don't use often it is best to store them in a covered container to prevent dust from settling in the bristles. I'd recommend a clear container so that you can keep track of the brushes without having to open it each time to check what's in there. Separating them by eye makeup brushes and face brushes also will help you organize them better.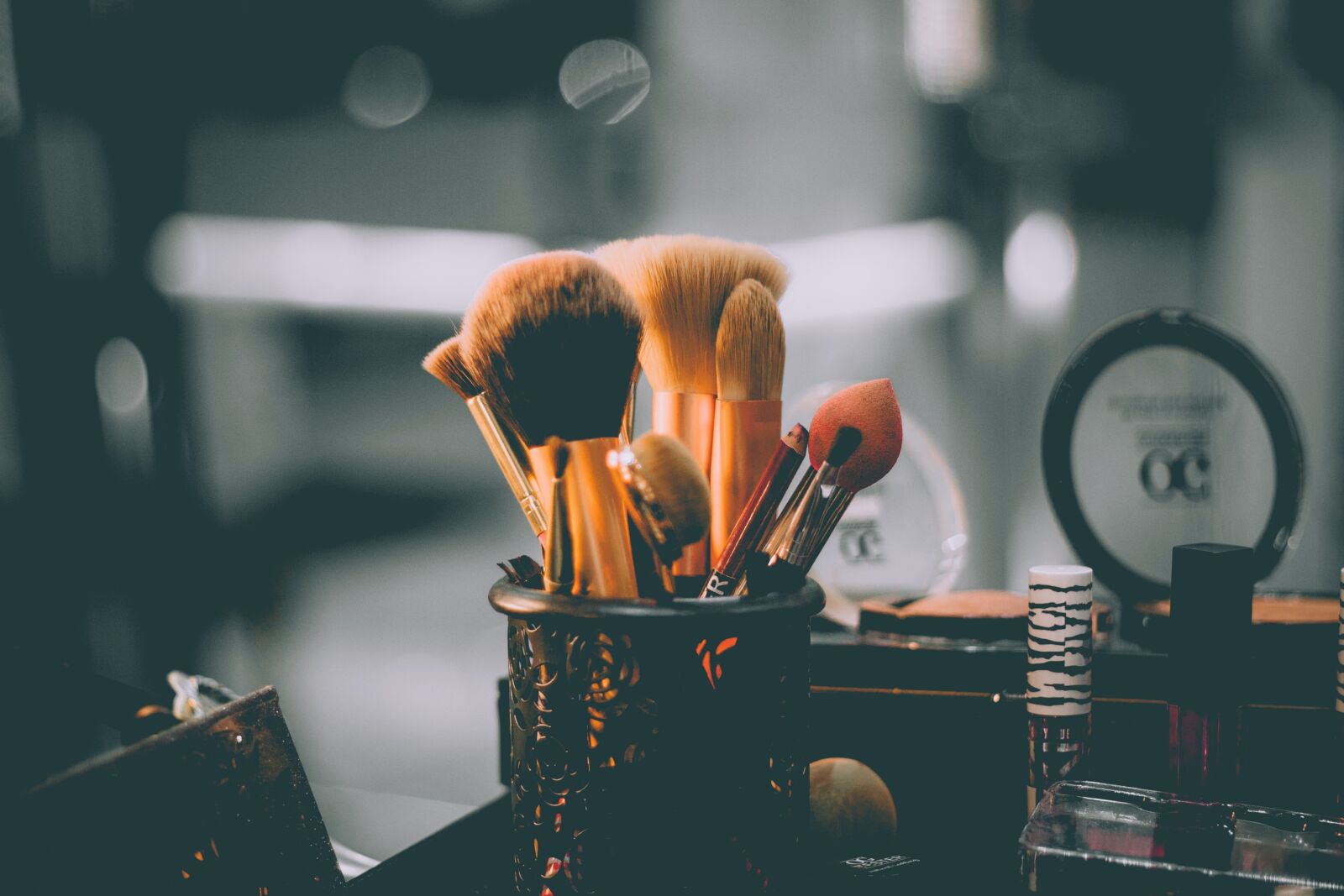 DIY Brush holders
Use your old candle jars to store your brushes. It is a cheap and sustainable solution to your needs. You don't always have to go out and buy something new to start a new habit, but you can just repurpose an old item to fulfil your current needs.
Use some hot water to clean out the wax from old candle jar and voila you have a place to put your makeup brushes.
Related: The Biggest Mistake You're Making When Cleaning Your Makeup Brushes
Makeup organization essentials
Any kind of boxes and shelves will work to organize makeup. We like to use something that is clear because that will allow you to easily recognize whether or not you are reaching for the correct area.
We love the clear shoeboxes from the container store. These are great to store both your makeup and skincare. You can even use these boxes to separate the products by routines, one for morning and on for evening.
Types of makeup organizers
Here are a few makeup organizers that will help your journey to having an organized space. The tools and organizer will simplify the process of organizing your makeup and create a clutter free space for you to enjoy.
Acrylic organizers
Clear acrylic containers are a very popular choice for makeup organization. This Luxe Large Acrylic Makeup Organizer from the Container Store is a great option for your vanity.
Caboodles
If you like putting away your makeup out of sight or you like taking them with you, a caboodle is a fabulous investment. Something like this one from Target can help you keep your makeup in one place and away from dust or any other contaminants.
Rotating makeup organizer
If you are all about the aesthetics then you have to go for a rotating makeup organizer. It is pretty and all the items you need are there well within reach.
This one from sanipoe has great reviews on Amazon. The rotating organizer has multiple compartments for easy organization.
Makeup Bags
Another great solution to your makeup organization problem is a makeup bag. There are so many in the market from hard cases to those that you can hang on your wall. Yes, these are great option for your next vacation, but they can also work in your daily life.
This one by ROWNYEON and this one by Mossio are great options you can find on Amazon.
Related: The Amazon Travel Item That You've Been Seeing All Over IG
Where do you keep your makeup?
We all do it differently. I have a vanity, but you might keep your makeup by your bathroom mirror or keep it in a desk in your room. No matter where your makeup is, the basic rules still apply for effectively organizing your makeup.
Popular locations to store makeup:
Bathroom Vanity
Mirror Cabinet
Under the bathroom sink
Vanity Desk
Bathroom or Desk drawer
Your organization method heavily depends on the space you have wherever you are storing your makeup. You need to optimize based on your needs. If you have drawers or a ton of space on the top of the counter of your vanity you can opt to layout your products horizontally.
This way you can see everything at a glance and keep the clutter to a minimum while doing your makeup.
However, if the space is limited you need to think about arranging them vertically. Categorizing your products and using clear containers will help this process.
These clear dividers by the Container Store are a great option for you to store your items.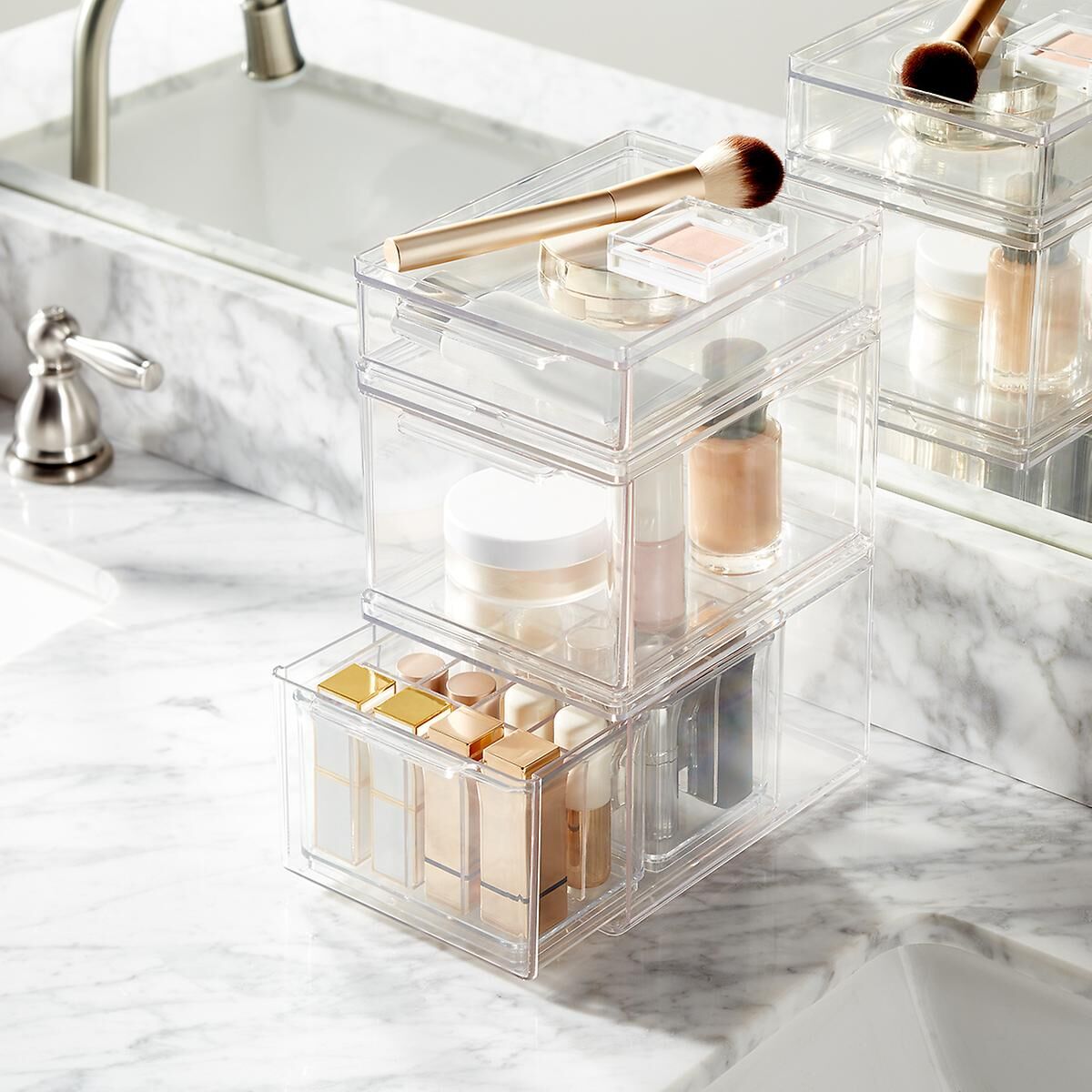 These stack up well vertically or to divide spaces horizontally as well. They versatile and easy to use in any type of space.
If there is limited space you might even consider an organizer that swivels to store items that you use everyday.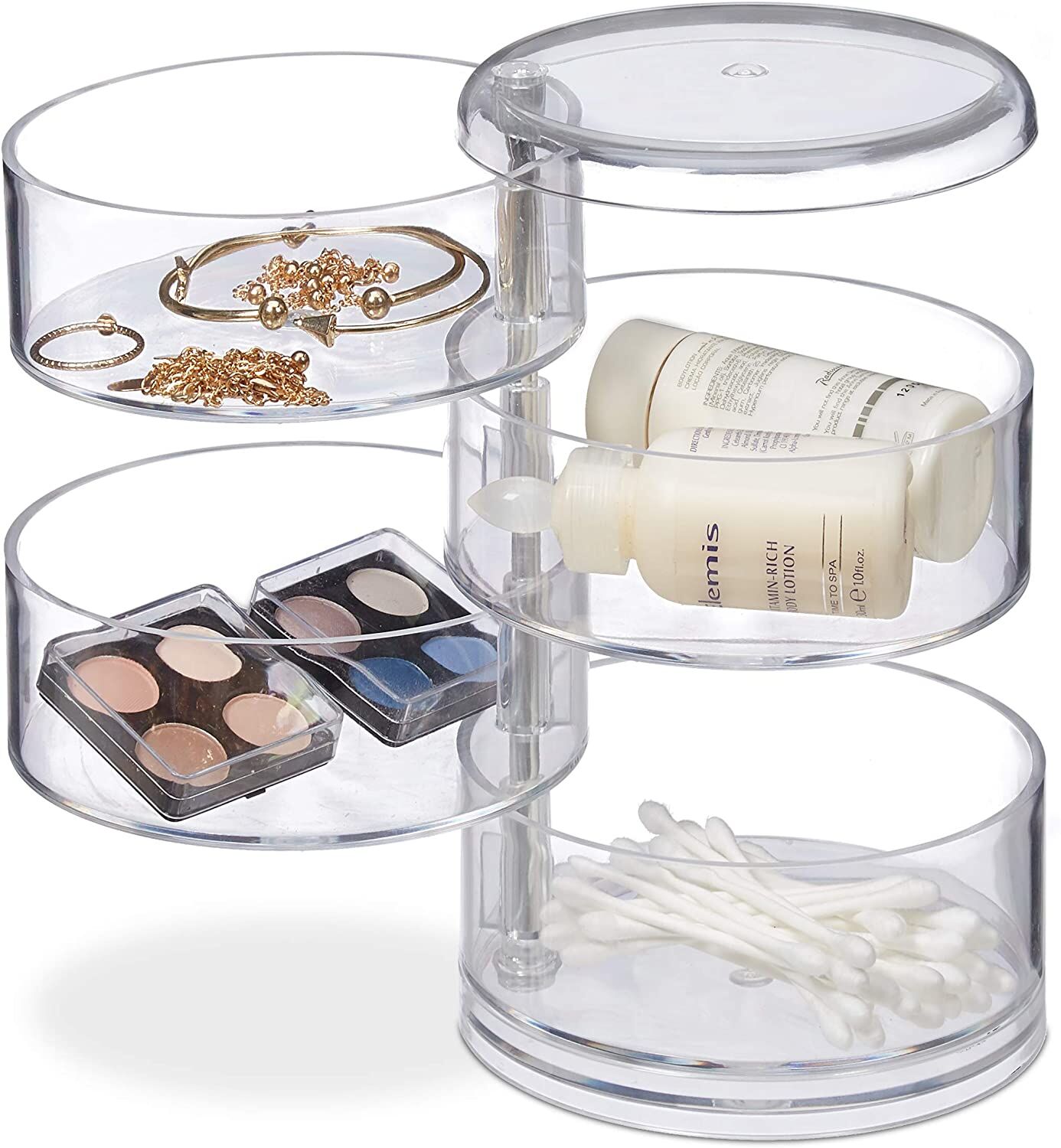 Having the items you use regularly on the top and accessible will make your life so much easier.
Final thoughts on makeup organization
Organizing your makeup is a long term process. You can choose a system today and in three months discover that it no longer fits into your life. So, always be open minded about tweaking your system or even trying out new tools and methods to organize your makeup.
The most important thing is that it works for you and creates a calmer environment and provides you with a better experience.