There comes a point in every millennial's life when they realize how the time has flown by and just how old they really are. For me, it's when I realized how old the starts of my favorite Disney Channel Original Movies are today. Disney Channel movies were the highlight of my Friday nights growing up and my friends and I would wait all month for the premier. Remember Zenon, you know, girl of the 21st century? She is 33 years old now. Do you know what that means? It means that it's been two decades since Zenon first made our hearts go boom boom.
The nostalgia of DCOMs triggered a deep dive into what other Disney channel gems we've been missing out over the years. I turned to my Insta-fam to help me populate a list of the top Disney Channel Original Movies and boy did they deliver. Here is the final list:
Related: Documentaries You Can't Miss on Netflix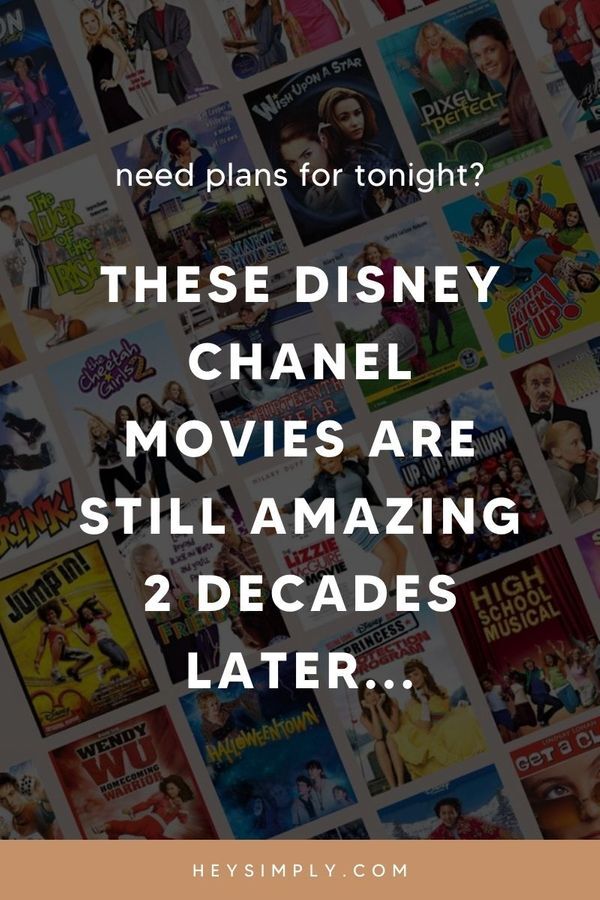 SMART HOUSE
A voice-activated home assistant that helps you accomplish menial tasks like changing the channel or turning on the lights? No way! You don't say! Ben Cooper & his family get the pre-Alexa scope on what it's like when you have an augmented reality interacting with a very real home.
HALLOWEENTOWN
This is pretty much the only movie where the name "Marnie" is considered cool. Halloweentown is a crazy cool place where witches, ghosts, and vampires live in harmony – that is until people start disappearing. Insert the 13-year-old witch in training and her two younger siblings to take on the case!
JOHNNY TSUNAMI
A cool surfer kid with a kalabunga-like attitude is forced to move to Vermont with his family and falls into a Capulet and Montague type of standoff between the skiers and the snowboarders with a beautiful Kristen Storm, as Emily, in the middle.
ZENON: GIRL OF THE 21ST CENTURY
Emily from Vermont & Johnny Tsunami is over being considered the property of whoever wins between the Skies and the Urchins that she literally leaves the planet and moves to the international space station with her BFF Raven Simone and develops a bomb ass catch phrase.
CHEETAH GIRLS 2
Raven knew she was a better singer than Proto Zoa so she left the International Space Station and created an all-girl band where she starred, ahem, co-starred with 3 other female leads. Tensions arise when they don't feel they are valued evenly. But don't worry, they make it to two more movies (you can skip #1 – btw)
WISH UPON A STAR
This is one of the OG- DCOMS and features Katherine Heigl's first experience with sibling rivalry (foreshadowing to her 27 Dresses role?) Shooting stars are involved.
THE THIRTEENTH YEAR
What did you get for your 13th birthday? Oh, you didn't turn into a merman? Me neither – but for Cody Griffin things are getting a little fishy. The expert swimmer goes searching for some answers when things take a dive.
LUCK OF THE IRISH
Pre Ancestry.com, the only way you really knew where you came from was from asking your parents and when they are from a family of Leprechauns, they may not tell you the truth. This star basketball player needs more than a four-leaf clover to fix his family's secret curse.
MY DATE WITH THE PRESIDENT'S DAUGHTER
Hands down of my favorite movies – ever. Back in the day when the office of the presidency was still an honored role, going on a casual date with the first daughter was kinda a big deal. It's such a feel-good movie and watching Will Friedle (Eric Matthews) in anything is such a nostalgic treat.
MODEL BEHAVIOR
Miss the days when JT had ramen noodle hair? Watch 90 minutes of it in its full glory when he plays the love interest of two girls with incredible different lives who happen to look exactly alike. It's the predecessor of every single Hallmark Christmas movie plot.
ALLEY CATS STRIKE
If you know, you know. That split at the end of the movie still gives me chills.
GOTTA KICK IT UP
Finally a movie about a group of marginalized teens. In an era of Bring It On Again (and Again and Again) GKIU was a Disney Channel movie about girls who were dealing with issues in their community and came together through dance.
HIGH SCHOOL MUSICAL
This list wouldn't be complete without the one that was such a hit that it launched an omni-channel brand of it's own. A Disney Channel Original Movie that made it's way to the big screen and introduced the world to Zac Efron deserves to be on any Disney hits list.
JUMP IN!
Chad was over being #2 to Troy so he left East High School and tried to live up to his name as the son of a boxing legend only to get carried away with another sport, jump roping. Drama commences.
UP UP UP AND AWAY
A family of superheroes with a weakness of aluminum foil are the only ones who can stop Fortnite I mean, Earth Protectors from brainwashing and manipulating children.
Related: The Best Netflix Shows You Can Watch With Your Man
LIFE SIZE
Tyra Banks as a real-life doll? Yes, please! Eve is your best friend and we can even get on board with Lindsey Lohan in the movie since it's pre- Mean Girls era. Fun Fact: A Life Size 2 recently came out, and Tyra looks exactly the same. Sorcery.
BRINK!
Andy "Brink" Brinker, a high school inline skater who joins a group of sponsored aggressive inline skaters to earn money to help his financially troubled family. TBH, I never watched this one.
DOUBLE TEAMED
The Disney Channel adaptation of the real-life story of WNBA players Heather and Heidi Burge. The end of the movie is epic where it shows the sisters playing for two different professional basketball teams tip off against each other. Sad part is that their time in the WNBA never overlaped and they never faced each other in a game. Boo.
THE LIZZIE MCGUIRE MOVIE
Oh Paulo, don't you know that no one scams Lizzie! This feel-good movie is the reason every teen girl dreamed of visiting Italy and having a Roman adventure with a cute Italian boy with a Vespa. Oh, and all of the pasta.
CADET KELLY
As punishment for running off to Italy and impersonating a pop star, Lizzie is renamed Kelly and sent to a military academy where she is stripped of her sass and taught the importance of discipline.
THE COLOR OF FRIENDSHIP
A movie that was truly ahead of its time. The Color of Friendship was a Disney Channel Original Movie that covered issues of race between kids that was all sorts of woke.
---
That's it! Granted there are some that certainly deserved honorable mention on the list like "Seventeen Again" with Taj Mowry or "Wendy Wu Homecoming Warrior" but I won't apologize for leaving Twitches off the list. Don't @ me.