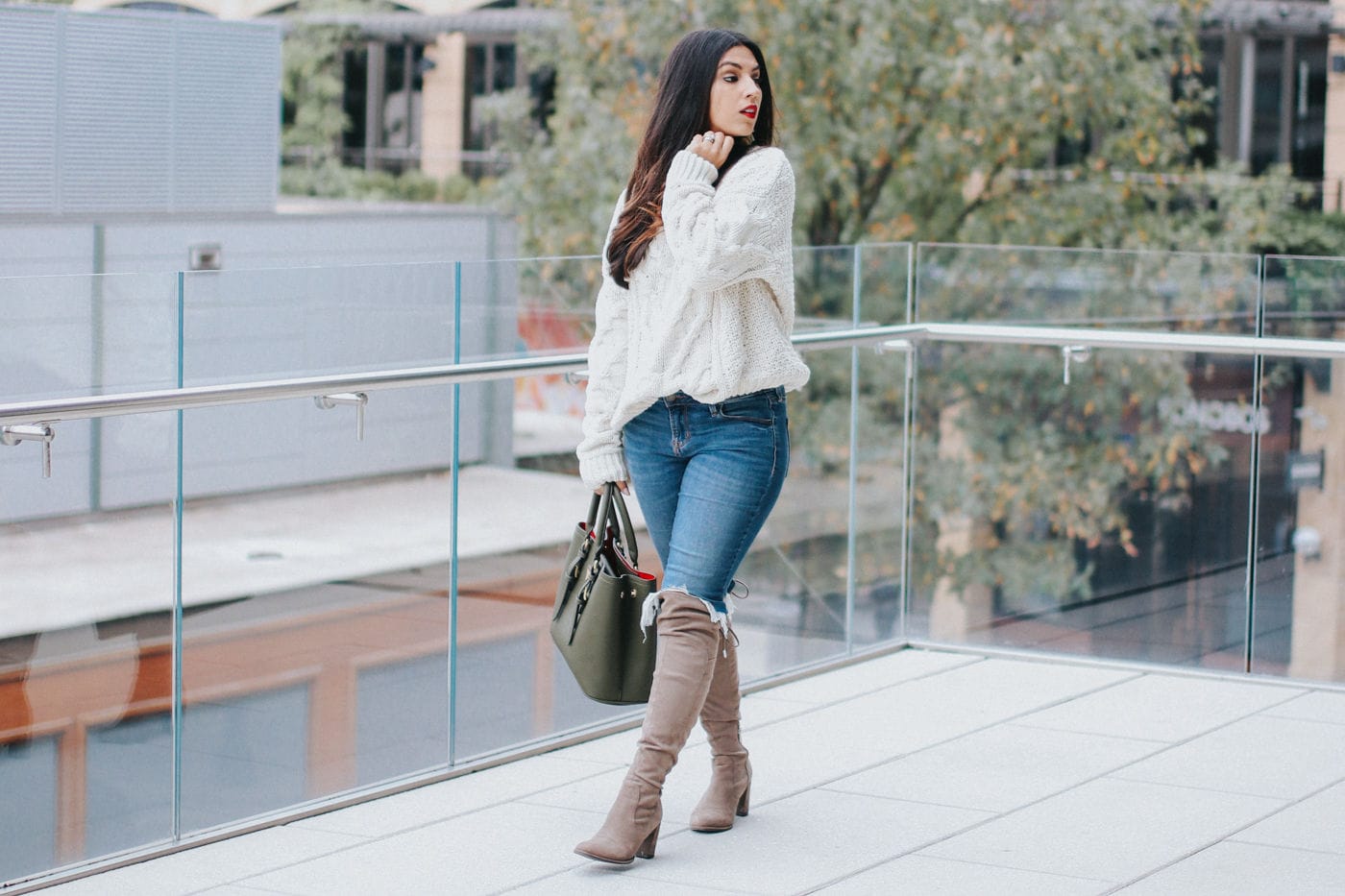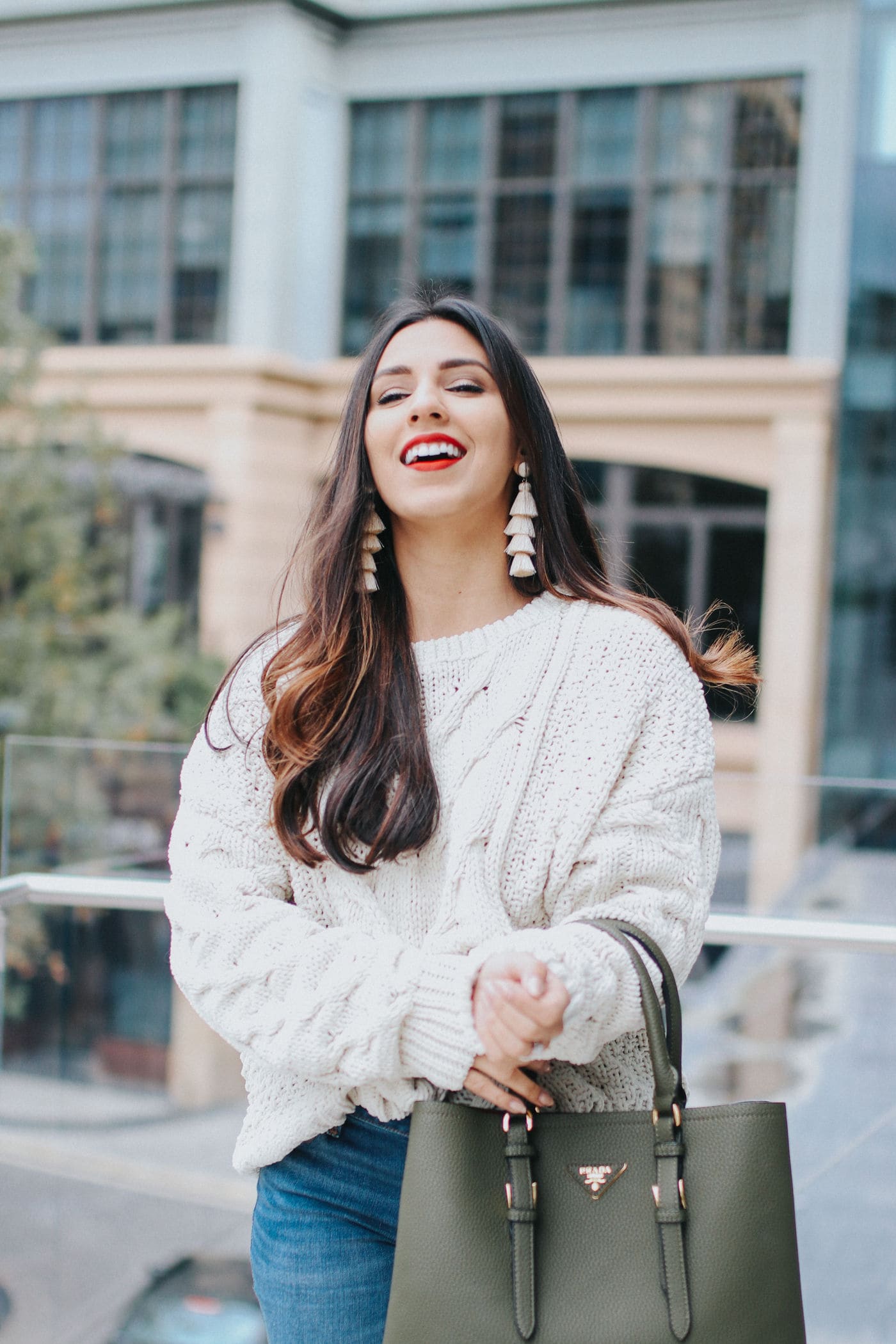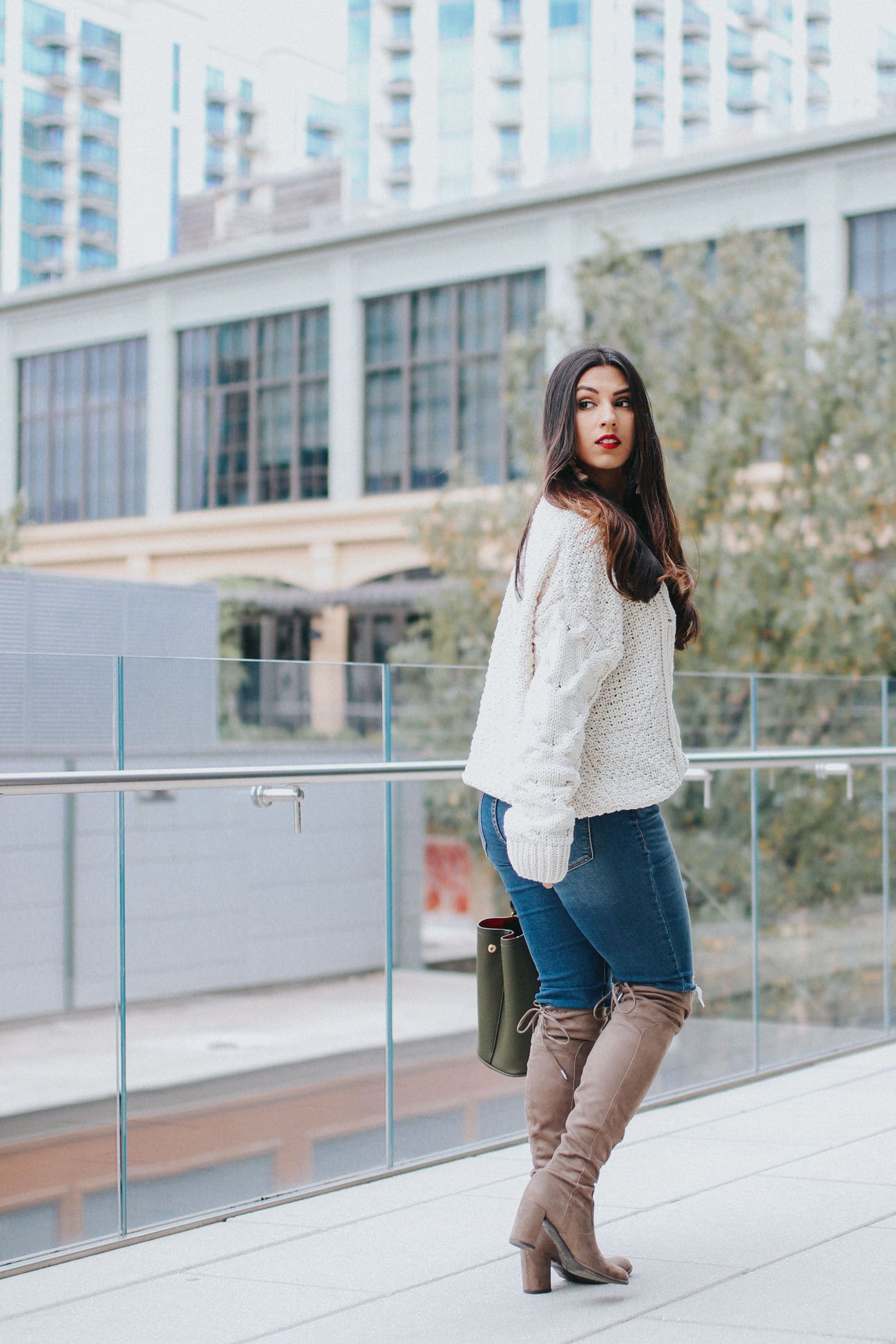 As you know from Instagram, last week I attended this awesome event with Her Campus & Aeropostale to kickoff the holiday season with an in-store shopping experience. I spent over two hours rummaging through every single rack because I was so surprised with the new winter styles. Every section had something I wanted: oversized scarves, chunky sweaters, shirts so soft they were made to sleep in – but cute enough to wear out, and of course lots of velvet & leather. Best of all? Aeropostale already kicked off their Black Friday sale so everything was over 40% off! I had so much stuff, I even did my first try on session in store on Insta-stories and it was so fun seeing what you guys thought of the pieces.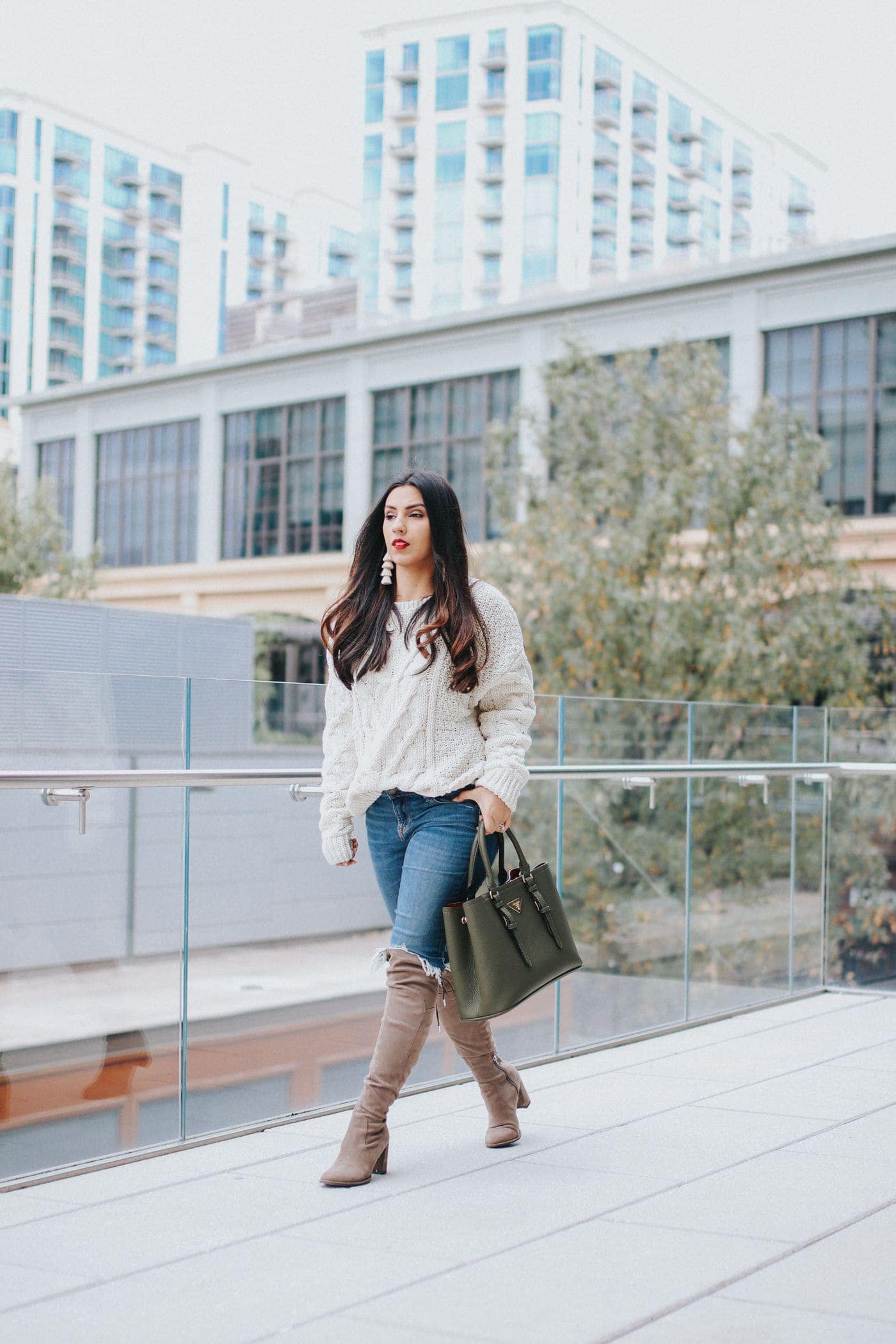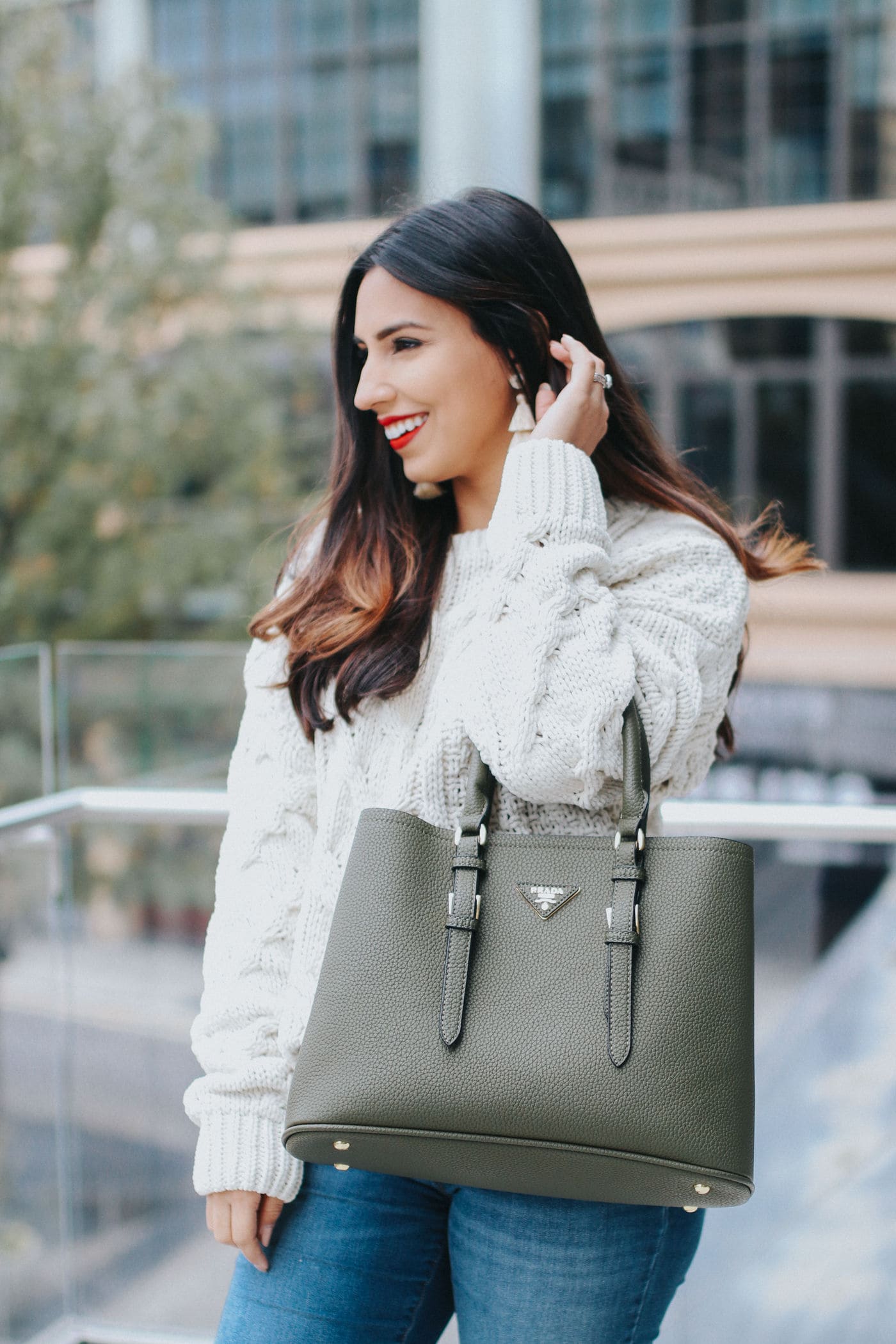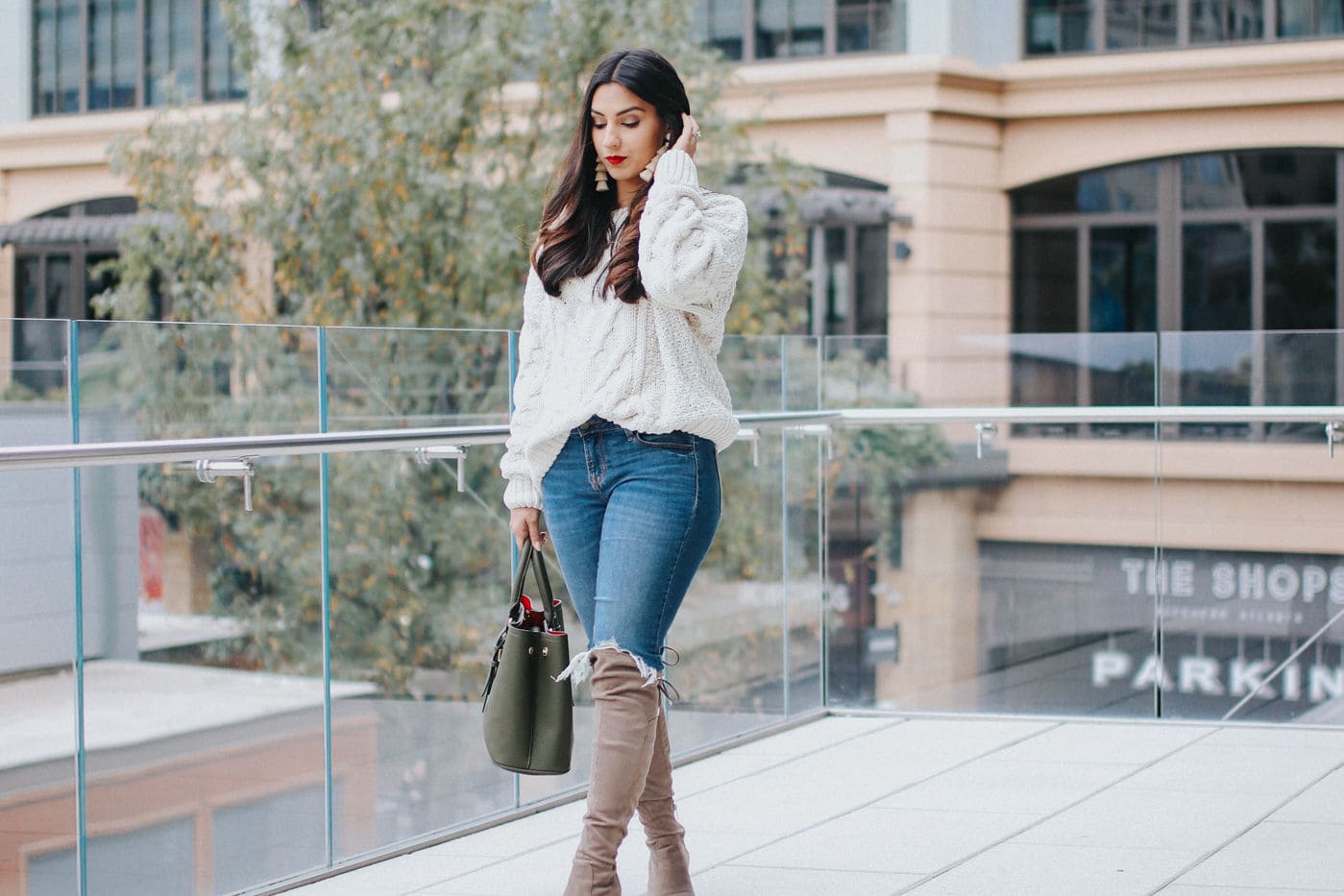 This sweater is technically in the loungewear / sleep section, but I won't tell if you don't. Kid you not, I wore it all weekend. It is so incredibly soft and while I wanted to sleep in it – it's much too cute to stay homebound. I'm wearing a small because I wanted the fit to be a little more oversized and it's available in two different colors: cream & beige. Best part? Right now it's only $22!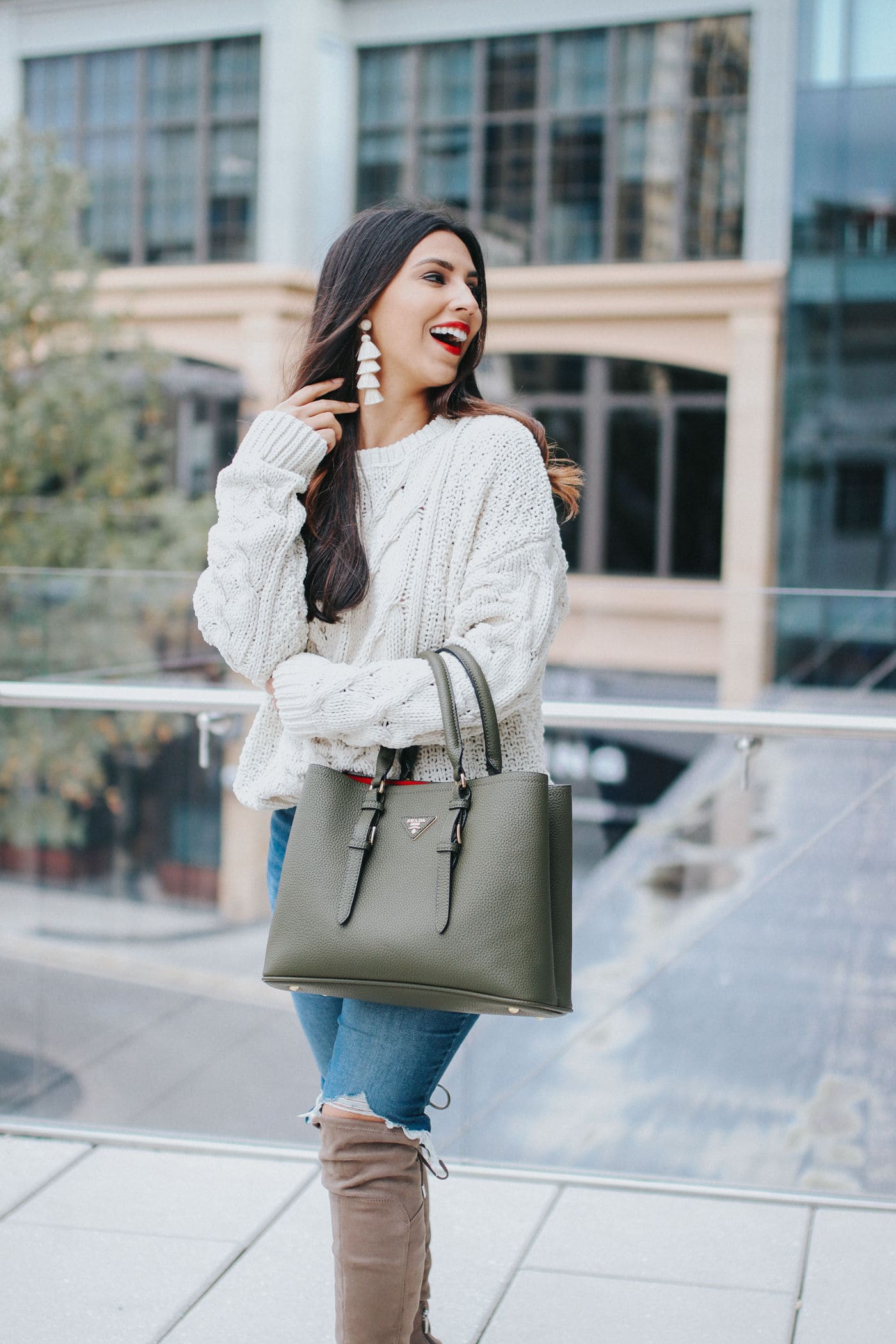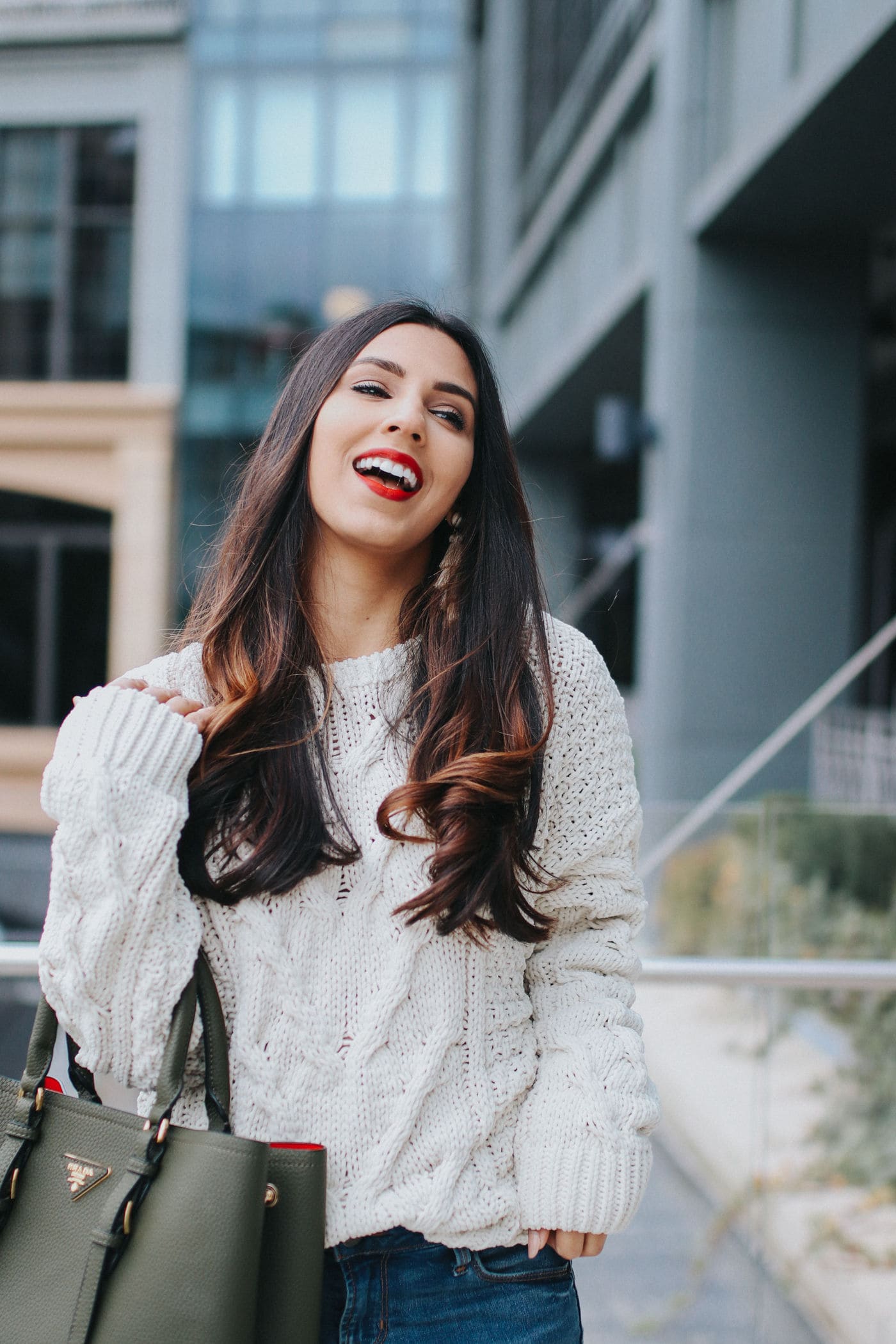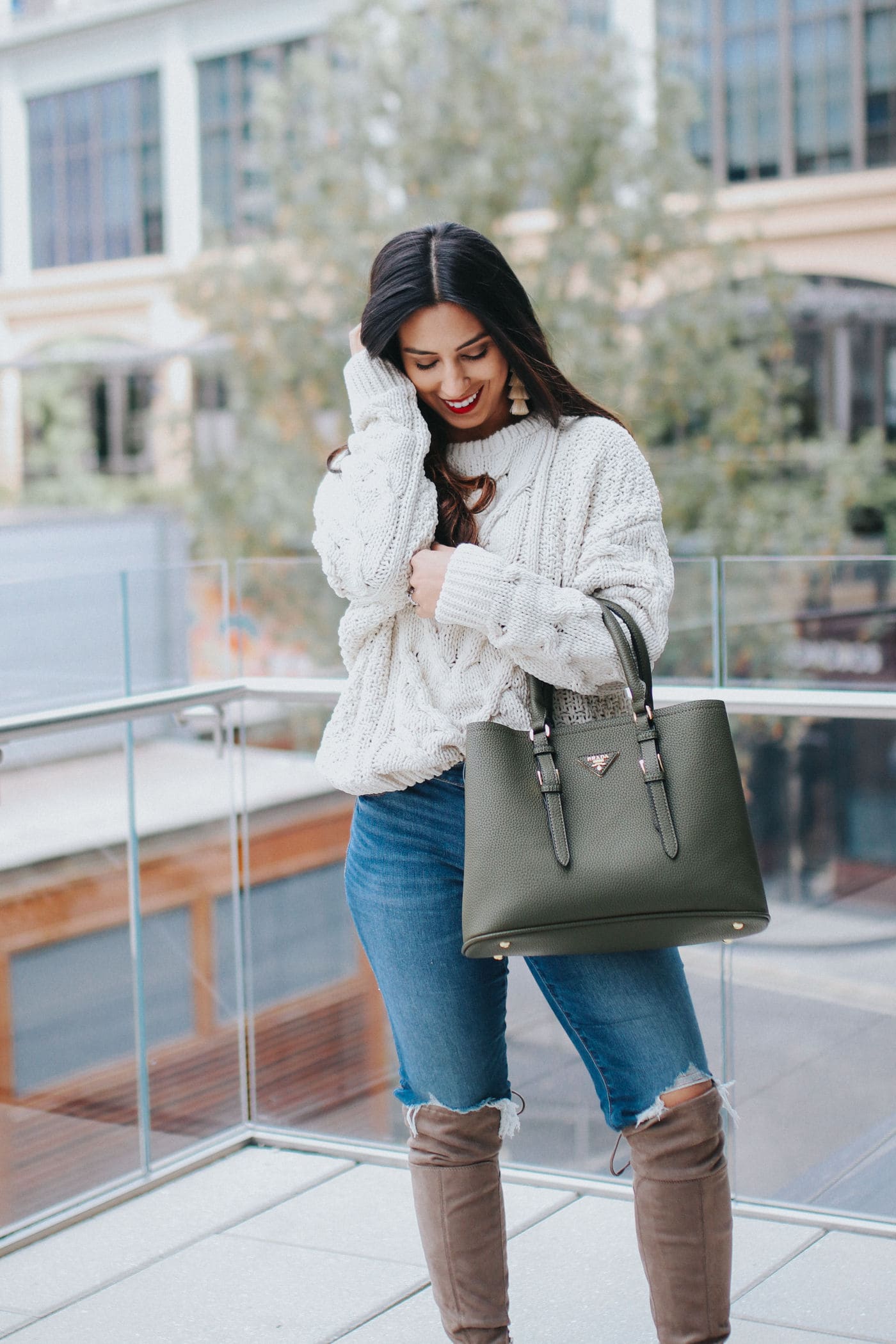 I also promised you that you would be seeing more of these boots (a ridiculous amount of times, to be more accurate) but I can't help it. I love them. If I was ever trying to show you how versatile these boots are, consider that my mission now. A little fun fact: when I put together this outfit to shoot I thought I had grabbed a different pair of non-torn jeans. Turns out, I like this so much better! I didn't think that you could do excessively torn jeans with OTK boots, turns out – you can do anything you want as long as you are rocking a red lip.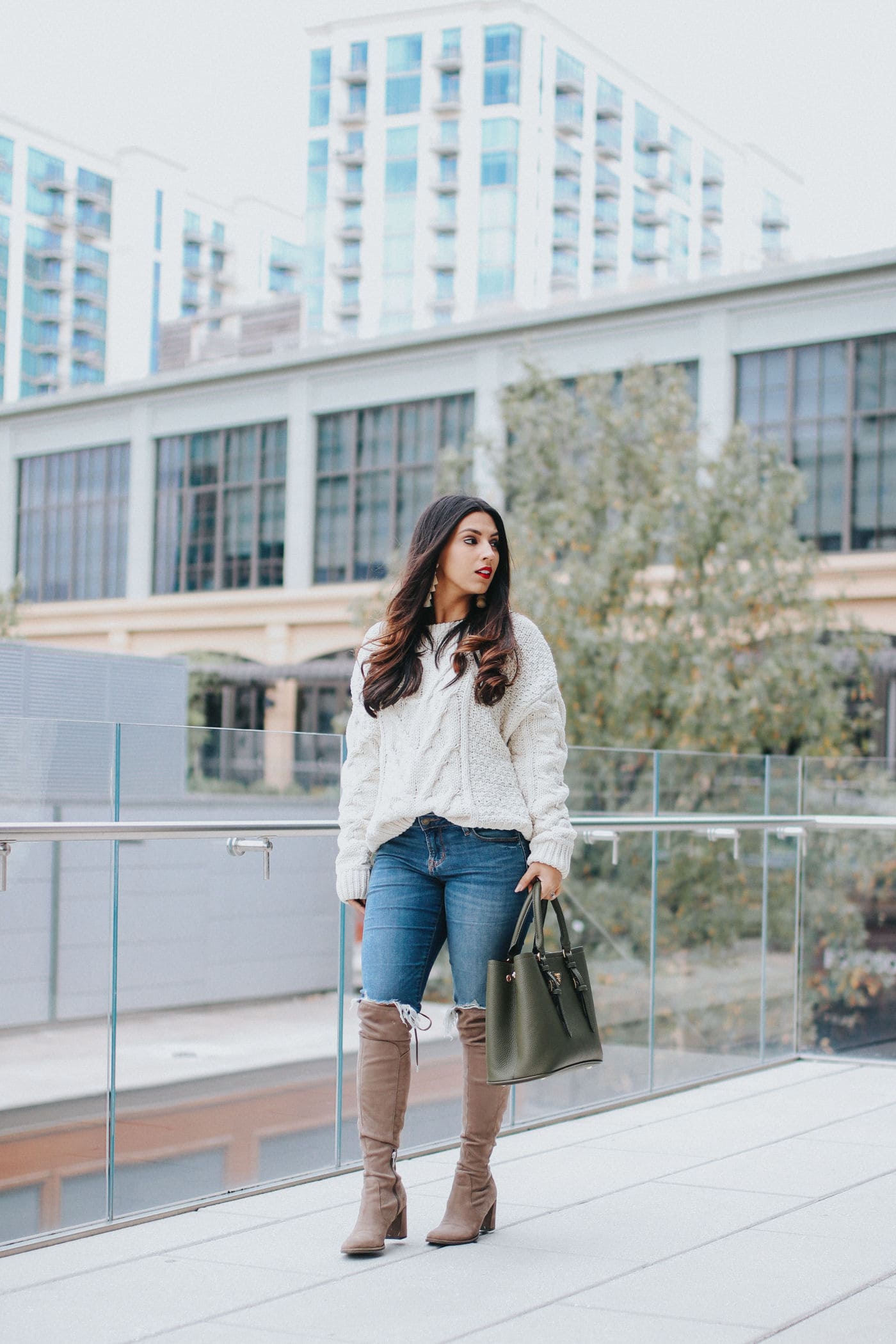 SWEATER (ON SALE FOR $22) | JEANS | BOOTS | EARRINGS | BAG | LIPSTICK
When it comes to wearing chunky sweaters – which is pretty much my exclusive uniform for winter – I like to keep 3 rules in mind:
1) WEAR A BOLD LIP
For this time of year, all shades of red are my favorite. Ruby red, deep red, blood red, orange red, even maroon/brown – but no matter what your color of choice is, spice up that white, brown, beige, black, or grey sweater with a fun lip. It will add style to your otherwise basic perfect choice of top.
2) STATEMENT EARRINGS
No matter what you love wearing its fun studs, long tassle earrings, or colorful hoops – this is your time to break open that jewerly drawer and show your personality. I am a huge fan of tassle earrings: yarn tassles, beaded tassles, you name it. (In case you were wondering, Theo is also a fan. [insert rolling eyes emoji here]
3) CHOOSE FUN SHOES
I'm a pretty boring person when it comes to shoes with sweaters. I almost always choose boots. The silver lining is that I have like 6 pairs of boots in rotation so whether its an OTK grey, short beige, calf high brown, or lace up in both black and brown (don't judge me H&M had a sale 2 years ago) – my options are aplenty. Don't be afraid to venture out with fabric too. Boots in suede, leather, or even velvet can certainly jazz up a chunky sweater.
SHOP THE POST

This post was created in partnership with Her Campus & Aeropostale. As always, all thoughts and opinions are my own. Thank you for supporting the brands that work with Simply Sabrina and keep us up & running!