It's that time of year again! I know how overwhelming it can get when you are trying to decide what (if anything!) you want to pick up from the Annual Sephora Sale.
That's why we put together our top picks in each beauty category that brings your whopping total to under $150. Hopefully, these recommendations of tried and true favorites will help you craft a cart to be proud of and goodies you'll be excited to receive.
We also included a "what to skip" section where we linked to some of our favorite drugstores and Amazon favorite beauty finds in case you are looking for those instead.
Happy Shopping!
Related: The 7 Best Brown Girl Lip Colors You Need To Try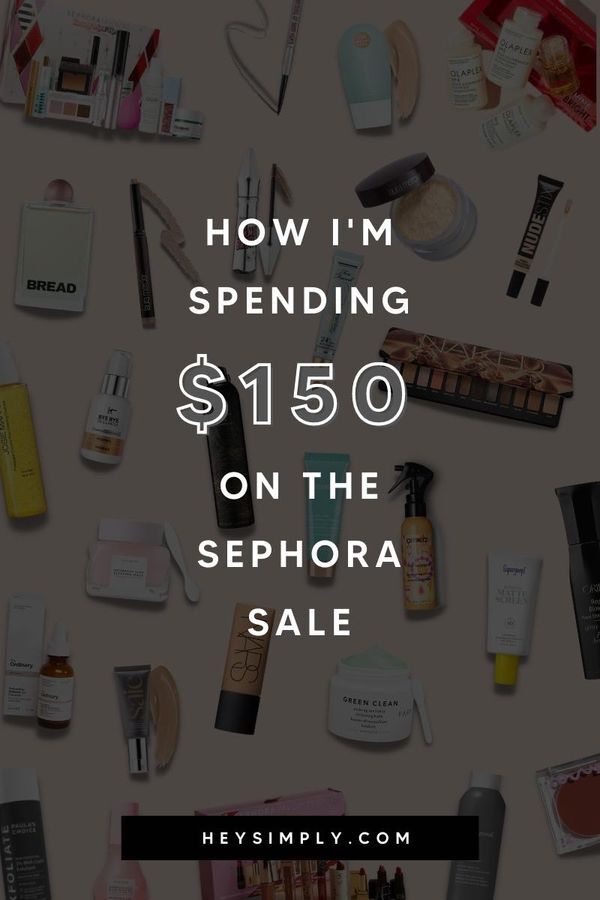 Eye Product Picks
Eye products are some of my favorite things to buy because it's what I think transforms your makeup game the most. Here I picked products that I use every single day like my Naked Reloaded palette (beautiful for medium skin tones), LM Eye Stick that I use as a quick eyeshadow or top liner, and a brow gel that truly holds up.
What I Would Buy:

Urban Decay Reloaded Palette // Too Faced Shadow Insurance Primer // Benefit Precisely My Brow Pencil // Benefit Gimme Brow Gel // Laura Mercier Caviar Eye Stick
What I Would Skip:

Related: 6 Can't-Miss Amazon Beauty Finds
Face Product Picks
Phew, not gonna lie – this one was HARD to narrow down. I have a post coming out with my top foundation favorites, but in the meantime – here's what I think you'll love. From my go-to tinted moisturizer to my favorite full coverage foundation these are the best face products.
What I Would Buy:

Tarte Hydroflex Serum Foundation // NARS Soft Matte Blur Foundation // Laura Mercier Setting Powder // Nudestix Cream Concealer
What I Would Skip:

Related: No White Cast Mineral Sunscreens You Need To Try
Hair Product Picks
My favorite hair products are the ones that I actually use and that work for me. Hair products can get really expensive, so I included a few minis for you to try out to see if you like the product before investing in a full-size version. These are things that I've used for years.
What I Would Buy:

Living Proof PhD Dry Shampoo // Oribe Dry Texturizing Spray // Oribe Royal Blowout Hair Styling Mini // Amika Detangling Hair Primer // Bread Hair Oil Everyday Gloss
What I Would Skip:

Related: The Truth About When Your Beauty Products Expire
Skincare
This one was really hard too since skincare is so personal. I went with items that I've used daily either currently or before I was expecting. If you're looking for my pregnancy skincare routine, make sure you check out that post.
What I Would Buy:

Josie Maran Pineapple Enzyme Pore Clearing Cleanser // Paula's Choice Skin Perfecting 2% BHA Liquid Exfoliant // Biossance Squalane + Zinc Sheer Mineral Sunscreen SPF 30 // It Cosmetics Bye Bye Dullness Vitamin C Serum // The Ordinary Granactive Retinoid 2% Emulsion // Glow Recipe Watermelon Glow Sleeping Mask Mini
What I Would Skip:

Holiday Kits
I haven't tried any of these kits myself, but my team raves about some of these items in the kits, and for the price, it's worth checking out. I've never personally tried Olaplex, but so many people swear by the formula!
What I Would Buy:

Olaplex Healthy Hair Essentials // Sephora Favorites Bestselling Beauty Must-Haves Set // Sephora Favorites Swipe of Lip Color Lipstick & Lip Balm Set
What I Would Skip:

Related: 5 Best Products from IT Cosmetics
Clean Beauty
I know we are all trying to do a better job of including clean beauty products into our routine, I know that I am! So here are a few tried and true favorites that our team loves when it comes to rocking the clean beauty game.
What I Would Buy:

SuperGoop Unseen Sunscreen // Farmacy Green Clean Cleansing Balm // Glow Recipe Niacinamide Dew Drops // Saie Slip Tint Dewy Tinted Moisturizer // Tower 28 Lip & Cheek Cream Blush
What I Would Skip:

Final Thoughts on the Sephora Sale Picks
I hope this blog post helps you narrow down your cart to find some great beauty gems in this year's sale. Always remember that you don't *need* to buy anything, but if you've had your eye on something it's a great time to snag it.